Best Fiber Internet Providers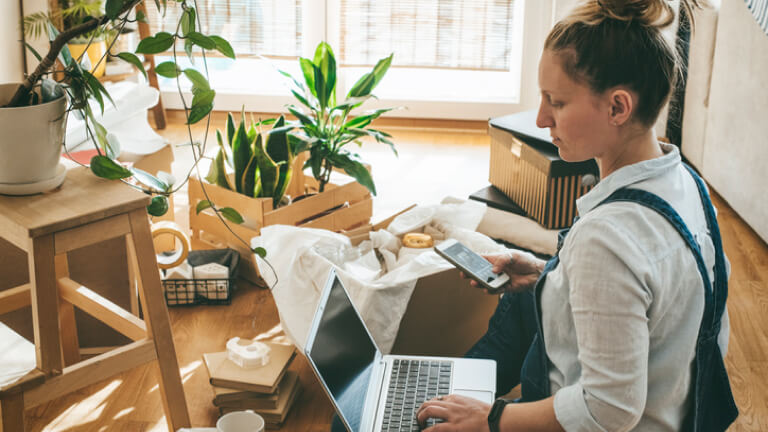 Locking down internet for your new home is one of the most important parts of any move. If you can get fiber at your address, the decision is a pretty easy one. As CNET's broadband writer David Anders told us, "The first thing I'm going to look for is the connection type between the providers. If one is fiber and one is cable, I'm going to lock onto that fiber one every time."
If you're asking, "Sounds good, how can I get fiber internet in my area?" you have about a 50/50 shot. Fiber internet providers currently service around 42% of the country, according to the FCC. If you're in that lucky half, fiber is almost always your best option for internet.
Compare the top fiber internet providers
AT&T – Best fiber internet provider overall
Verizon Fios – Best signup bonuses
Frontier – Cheapest fiber plans
Xfinity – Best availability
Google Fiber – Best for high speeds
| Provider | Price range | Download speeds | Availability |
| --- | --- | --- | --- |
| AT&T | $55.00 – $180.00/mo. | 300 – 4,700 Mbps | California, Midwest, Southeast |
| Verizon Fios | $49.99 – $89.99/mo. | 300 – 940 Mbps | Mid-Atlantic |
| Frontier | $49.99 – $149.99/mo. | 500 – 2,000 Mbps | Seattle, Portland, L.A., Dallas, Tampa |
| Xfinity | $30.00 – $299.95/mo. | 50 – 3,000 Mbps | West, Midwest, East, Southeast |
| Google Fiber | $70.00 – $100.00/mo. | 1,000 – 2,000 Mbps | 21 cities, including Chicago, Atlanta, Denver, San Francisco, Seattle |
Prices updated 08/23/22.
AT&T: Best fiber internet provider overall
Consider yourself lucky if you can get AT&T Fiber at your new home. Not only does the provider have the fastest speeds available — a way-more-than-anyone-needs 5,000 Mbps — but its prices are still on the low side. You'll pay $55/mo. for 300 Mbps, but there are no price hikes after a year, and that includes the cost of equipment. You'll also get a $150 or $200 reward card when you sign up, and AT&T will cover any early termination fees from your previous provider.
Verizon Fios: Best signup bonuses
Verizon Fios earned the number one spot in the American Customer Satisfaction Index for internet providers this year, and you should almost always get it if it's available in your area. It's actually a little cheaper than AT&T — $49.99/mo. for 300 Mbps — and Verizon locks in your price for two to four years when you sign up. If you're a Verizon Wireless customer, it's a no-brainer: the price on all plans is discounted $25/mo.
Frontier: Cheapest fiber plans
At first glance, Frontier looks like the best fiber provider out there. 500 Mbps for $49.99/mo.? That's more speed than Verizon and AT&T offer for the same price, right?
Unfortunately, Frontier's price increases to $64.99/mo. after 12 months. That's still a good deal, though, especially when you factor in that equipment is included. Frontier's fiber internet service isn't quite as available as its DSL plans — around 4% of the country has access to it — but it's still a great option.
Xfinity: Best availability
It can be tough to tell whether you're getting Xfinity cable or fiber internet. Rule of thumb: if you see plans with the same upload and download speeds, it's fiber. But even if you're not getting their 100% fiber service, Xfinity's hybrid fiber-coaxial network still delivers fast, reliable speeds. Most importantly, it's the most widely available provider, covering 36% of the country.
Google Fiber: Best for high speeds
Google Fiber is the least available fiber internet provider on our list — a little over 1% of the country has access to it — but we think it's still worth mentioning. There are only two plans to choose from: 1,000 Mbps and 2,000 Mbps. If you need bandwidth that high, Google Fiber is an excellent choice. It's currently available in 12 cities:
Atlanta, GA
Austin, TX
Charlotte, NC
Huntsville, AL
Kansas City, KS/MO
Nashville, TN
Orange County, CA
Provo, UT
Salt Lake City, UT
San Antonio, TX
The Triangle, NC
West Des Moines, IA
Benefits of fiber internet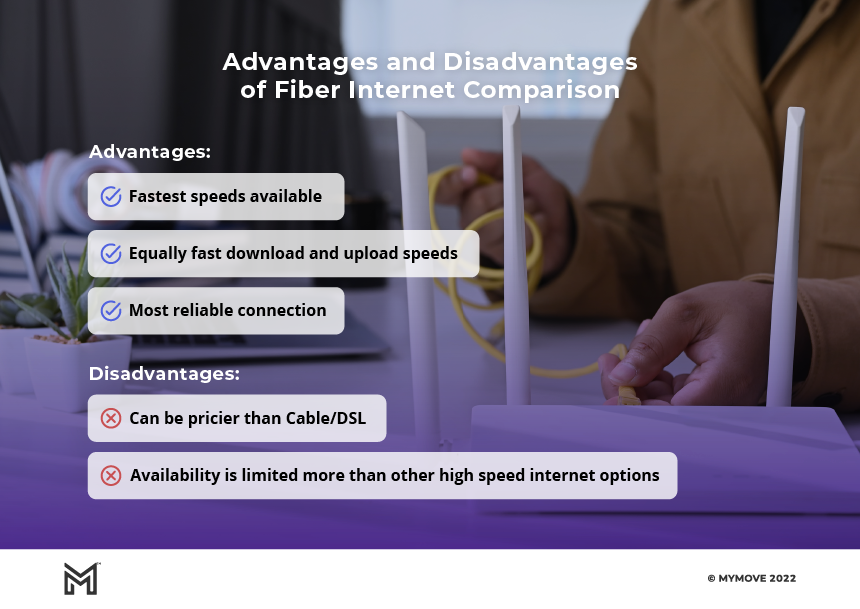 Right now, fiber is the undisputed champion of internet technology. Most internet providers are racing to expand their fiber footprint, and it's now available in nearly half of the country. But what makes fiber so special?
It's all about bandwidth. Most fiber internet plans start at 300 Mbps — enough to stream Netflix in 4K on 12 devices at once. Cable internet speeds usually start around 50 Mbps, and while they can often reach as high as 1,000 Mbps, you'll probably pay more for it. DSL and satellite internet, meanwhile, usually don't get much faster than 25 Mbps.
But those numbers only refer to download speed, which is what's used to receive data for things like streaming video and scrolling the internet. Upload speed is needed to send data out — when you're on a Zoom meeting or online gaming, for instance. When it comes to upload speeds, fiber internet provides the same as download speeds, while cable internet usually gets about ten times less.
AT&T's plan gets you 300 Mbps download and upload speeds, for instance, while Xfinity's gets you 300 Mbps download but just 10 Mbps upload. That's a big difference if you have multiple people working or learning from home at the same time, and one of the key reasons for the push to fiber over the past few years.
Fiber internet availability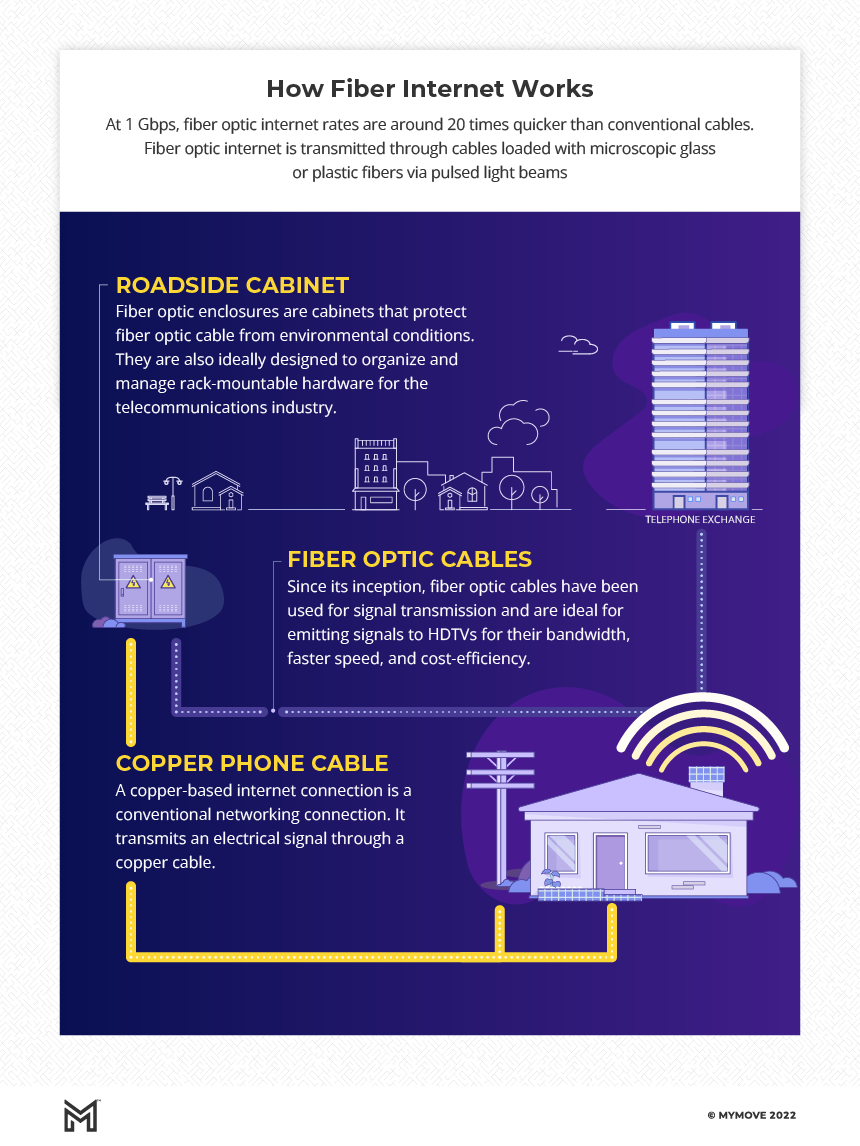 Right now, you might be thinking, "I'm sold, is there any fiber internet near me?" The answer is basically a coin flip, with fiber internet availability at about 42% of American addresses. Unfortunately, only 3% of addresses have two or more fiber internet providers available to them. If you're lucky enough to have fiber service at your address, your choice will likely be between fiber and cable.
To see what internet plans are actually available to you, you'll need to put in your exact address. Because of the way internet providers have installed cable, it's entirely possible that you may have different options than the house across the street. The only way to know for sure what you can get is to enter your address.
How do I know if a provider has fiber internet?
Unless a provider mentions "fiber" in their name — Google Fiber, Verizon Fios, Frontier Fiber — it might not be immediately obvious if the service they're offering you is fiber, cable, or some combination of the two.
The good news is that internet providers don't leave much room for questions. If they offer fiber internet, they're probably going to want to brag about it, and you'll see "fiber" all over their marketing.
Another good way to tell if you're offered fiber is by comparing the upload and download speeds. If they're the same, it's fiber. If upload speeds are well below download, it's cable, DSL, or 5G home.