Affordable Internet Options for Low-Income Families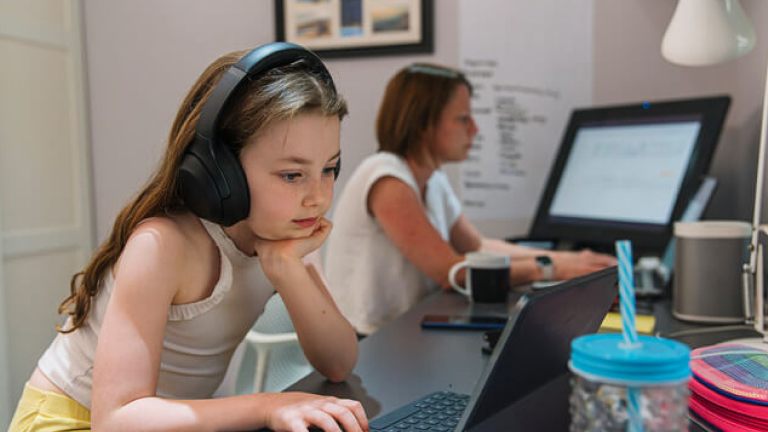 The internet is a critical utility that many Americans require access to on a daily basis. However, internet plans can be quite expensive in some areas. Studies have shown that 18 million households out of 122.8 million households in the United States are offline because they cannot afford an internet connection for their homes.
Jump to:
In the wake of the COVID-19 pandemic, having internet access has never been more important. Many jobs have become fully remote, online classes have become more common for students, and frequent zoom meetings can require a higher-speed internet connection. Working and attending school without an internet connection is nearly impossible.
Moving comes with a lot of different costs and can be challenging for low-income families, students, and seniors. Especially internet, which is one of the first things that needs to be set up when moving. But there are affordable internet plans for households that qualify. This guide is here to provide you with resources on how you can find a low-income internet plan to suit your household's needs.
The digital divide
Even in this modern, technological age, millions of Americans are still separated by the digital divide. The gap between those who have access to computers and the internet and those who don't is still very prominent. With more jobs and schools moving to an online environment, the digital divide seems to widen the gap even further. Many households that meet requirements for income or government assistance may qualify for discounted or low-cost internet plans.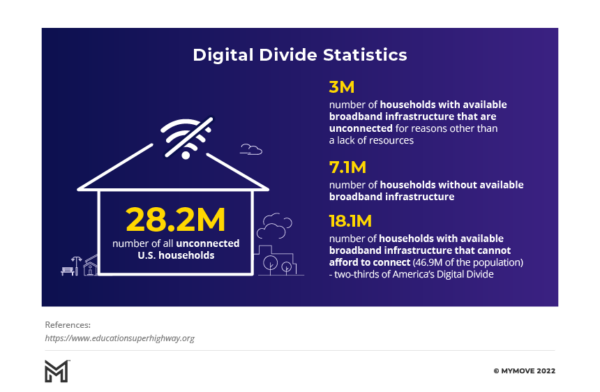 How to know if you qualify for low-income internet plans
Households that make less than or equal to 200% of the federal poverty level (FPL) are very likely to qualify for low-income internet plans. Larger size households are also more likely to meet the qualifications for low-income internet plans. An easy way to tell if your household qualifies for these plans is if you currently receive assistance or qualify for any of the following government aid programs.
National School Lunch Program (NSLP)
Public Housing (HUD)
Supplemental Nutrition Assistance Program (SNAP)
Supplemental Security Income (SSI)
Temporary Assistance for Needy Families (TANF)
Government-funded broadband assistance programs
The Federal Communications Commission (FCC) provides government-funded programs to help low-income families pay for internet and computer costs. The Affordable Connectivity Plan (ACP) and Lifeline are two government-funded broadband assistance programs that support low-income households.
Affordable Connectivity Plan
The Affordable Connectivity Plan (ACP) is a federal government program that assists low-income households with internet costs and paying for internet-connected devices. You can see if your household qualifies by visiting the ACP website. Applications can be made online, through mail, or by contacting your current internet provider. Eligible households can also check to see which companies in their area participate in the ACP program.
If your household is eligible for ACP, you may receive:
Discount of up to $30 per month on your internet service.
Discount of up to $75 per month if your household is on qualifying Tribal Lands.
One-time discount of up to $100 on a desktop computer, laptop, or tablet.
Low-cost service plan fully covered through ACP.
Lifeline
Lifeline is a subscription-based federal government program that assists in making internet and telephone services more affordable for low-income consumers. To qualify for Lifeline, you must have an income that is less than or equal to 135% of the Federal Poverty Guidelines, be participating in specific federal assistance programs, or certain Tribal Programs. You can apply for Lifeline by using their National Verifier application system or through a Lifeline program service provider in the area. Lifeline's "Companies Near Me" tool can be used to locate your nearest program service provider.
Eligible Lifeline subscribers can receive:
Discount of up to $9.25 per month on internet and telephone services.
Discount of up to $34.25 per month for those subscribers on Tribal Lands.
Support on broadband internet and voice bundles.
Note: Lifeline subscribers may receive a discount on a wireline or wireless service, but cannot receive a discount on both services at once.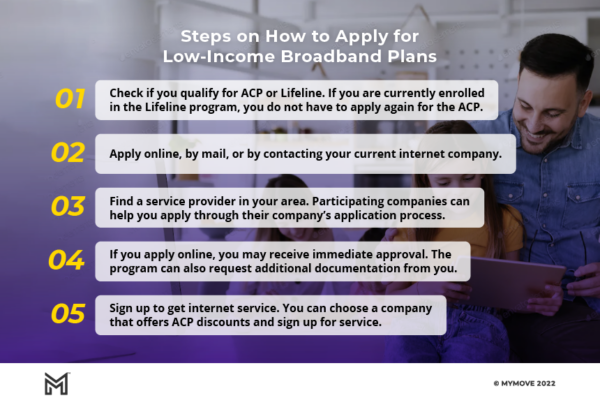 Family, student, and senior assistance programs
There are other low-income internet options available for households or individuals that don't qualify for government-funded broadband assistance programs. College students, senior citizens, and households with a K-12 student may be eligible for other low-cost internet plans and provider discounts.
Low-income internet discounts for K-12 students
Online instruction and assignments has become more common ever since the COVID-19 pandemic. In fact, 93% of parents with K-12 children say their children have had some form of online instruction since the beginning of the COVID-19 pandemic in February 2020. Also, around a third of parents with children whose schools were closed during the pandemic, 34% said that their child encountered at least one technology-related obstacle to completing their schoolwork during that time. As more school assignments become digital, the need for a reliable home internet connection becomes greater.
Internet provider discount programs
Non-profit assistance programs
The On It Foundation is a non-profit organization that provides free computers and internet to qualifying low-income families with a K-12 student. To qualify for a free computer, your household must meet these requirements:
Have a K-12 student.
Receive free or reduced-price school lunches.
Attend a public school within the United States.
K-12 Bridge to Broadband is a non-profit program through EducationSuperHighway that teams up with national and regional internet service providers to identify K-12 students who lack access to broadband internet at home. Contact EducationSuperHighway for more details and information on how to participate.
Free and discounted internet for college students
Many college assignments and exams are completed online, and with the surge in remote learning, having internet access has become almost mandatory. 16% of undergraduate students and 13% of graduate students said they lacked access to the technology necessary for online learning. Having a reliable internet connection also helps students stay connected in the job market.
College students looking for free or discounted internet access have options available to them:
Look for free public Wi-Fi hotspots.
Find internet services with free trial and intro periods.
Some internet service providers like Xfinity offer discounted internet for college students.
Discounted internet for senior citizens
Internet access is just as important for older generations as it is for younger ones. In fact, 75% of adults aged 65 and over use the internet. The internet helps seniors stay connected with family, friends, and their community, which can help prevent feelings of social isolation. Having internet access can also allow for implementing safety features like home security, fall monitoring, and automated temperature control.
Senior citizens who qualify for Supplemental Security Income (SSI) can receive discounted internet. A few options include:
The bottom line
There's no denying how important internet is in our modern day society. If you don't qualify for any low-income internet plans, check out cheap internet providers in your area. Be aware of any hidden internet fees when signing with an internet service provider, and ask your current provider if they offer any military, student, or senior discounts.