How to Use Your Phone as a Hotspot When You're Moving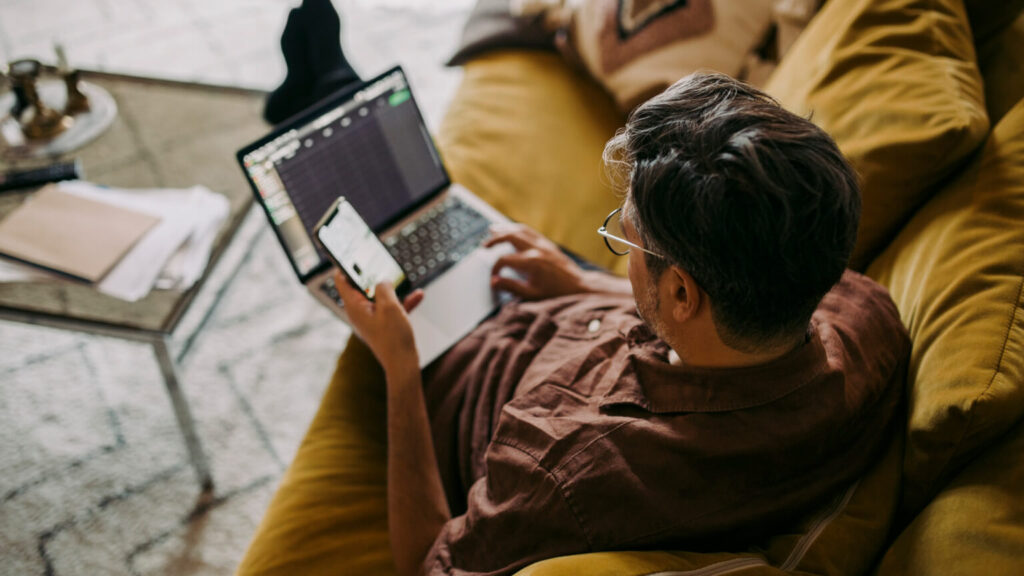 Picture this moving nightmare: the boxes are all unloaded, pizza's on the way, and all you want to do is unwind with your favorite show. Only one problem — the internet company isn't coming until the end of the week. Take a deep breath. The internet connection you need might already be in your pocket.
How to turn on your mobile hotspot
The process for using your phone as a hotspot will be a little different depending on whether you use an Android or an iPhone.
Set up a hotspot on an iPhone
On an iPhone or iPad, you'll follow these quick steps:
Go to Settings > Personal Hotspot.
Toggle the slider to "On" where it says Allow Others to Join.
On the device you want to connect, open the Wi-Fi settings and find your iPhone under the Personal Hotspot section.
Put in the password shown on your iPhone in Step 2.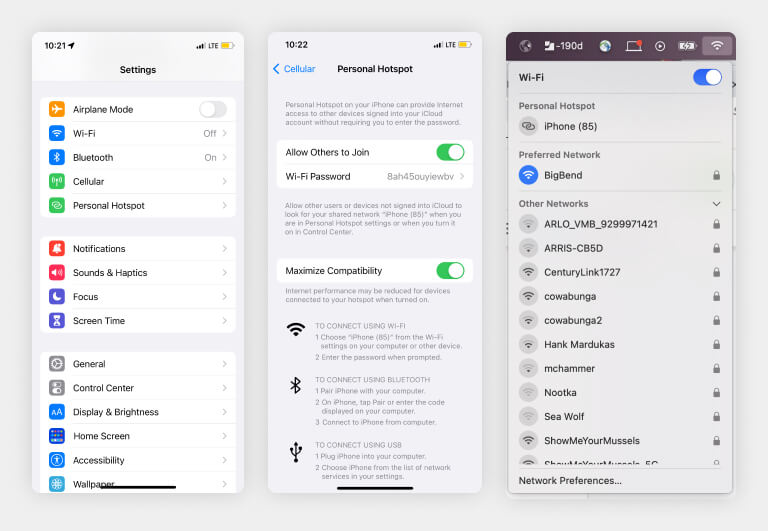 Set up a hotspot on an Android
If you have an Android phone, setting up a hotspot is very simple. On many phones, you can simply swipe down from the top of your screen and click the Hotspot button to turn it on. If you don't see it there, follow these steps:
Open the Settings app.
Click Network & internet > Hotspot & tethering > Wi-Fi hotspot.
Slide the toggle to "On" where it says Use Wi-Fi hotspot.
Open the Wi-Fi settings on the device you want to connect and find your phone under the Personal Hotspot section.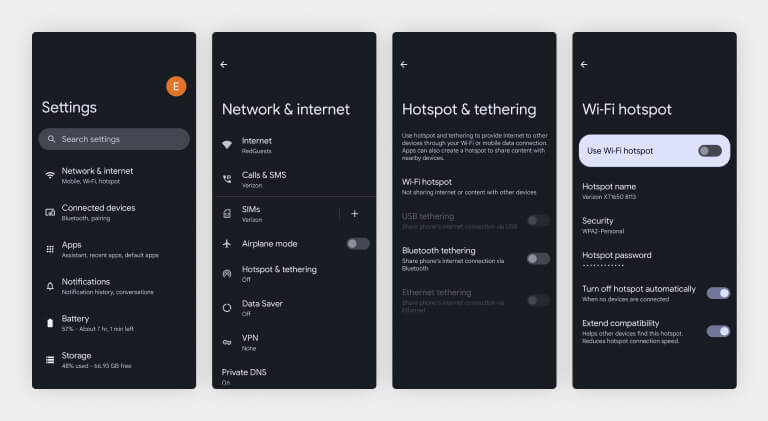 Things to consider when using hotspots
Using a mobile hotspot is a great option for the in-between days of moving, but it's probably not going to be a permanent solution.
Speed
You've probably noticed your phone's data connection isn't as fast as your Wi-Fi. On average, Americans get around 72 Mbps through their mobile connection and 183 Mbps when connected to broadband. In addition, the more devices that use your phone's hotspot, the more you'll see issues like slow load times and buffering. It's also more likely that your phone's connection will be slowed down during times of congestion — typically between 7-11 p.m.
Data caps
Your cellphone plan likely has a much lower data allowance than your home internet connection. In fact, the vast majority of broadband plans include unlimited data these days. That could be true of your cellphone plan, too, but it's much more likely that you have a data cap in the 50-100 GB range.
In addition, many cellphone companies put a cap on the amount of data you can use with your hotspot. Here's how some of the most popular carriers compare:
Verizon: You'll get between 5-50 GB of premium mobile hotspot data, which uses Verizon's 5G/4G network. After this is reached, you can still use your hotspot, but it will be at much slower speeds of 3 Mbps or slower.
AT&T: Depending on your plan, you'll have 3, 15, or 50 GB of mobile hotspot data with AT&T. After that's reached, speeds are slowed to 0.13 Mbps — enough to load a web page (slowly) but not much more.
T-Mobile: The cheapest plan from T-Mobile includes unlimited 3G data — around 0.6 Mbps — but no high-speed data. On the more expensive Magenta® and Magenta® MAX plans, you'll get 5 and 40 GB of high-speed hotspot data before you're slowed to 3G speeds.
How long will it take to reach your data cap?
If your phone comes with a cap on how much hotspot data you can use, you won't be able to rely on it forever. Depending on what you're using it for, you may only get a day or two before you hit your monthly data allowance. Here's how much data some common internet activities use:
| | |
| --- | --- |
| Activity | Data usage per hour |
| Web browsing | 0.015 GB per hour |
| Using Facebook | 0.09 GB per hour |
| Online gaming | 0.1 GB per hour |
| Zoom meeting with video | 0.5 GB per hour |
| Streaming Netflix in HD | 3.0 GB per hour |
| Streaming Netflix in 4K | 7.0 GB per hour |
The good news is that if you're only using your hotspot data to work from home or browse the internet, you can probably get by for a week or two depending on your cellphone plan. But once you start streaming video (especially in HD or 4K), your data will disappear quickly.
The bottom line
Moving is the perfect time to use your phone as a hotspot, but it's not a permanent solution. Depending on your phone plan, it might not even be more than a one- or two-day solution. But if you have to wait a while before your home internet gets set up, it can be a lifesaver.