Google Fiber: Packages, Prices, and Reviews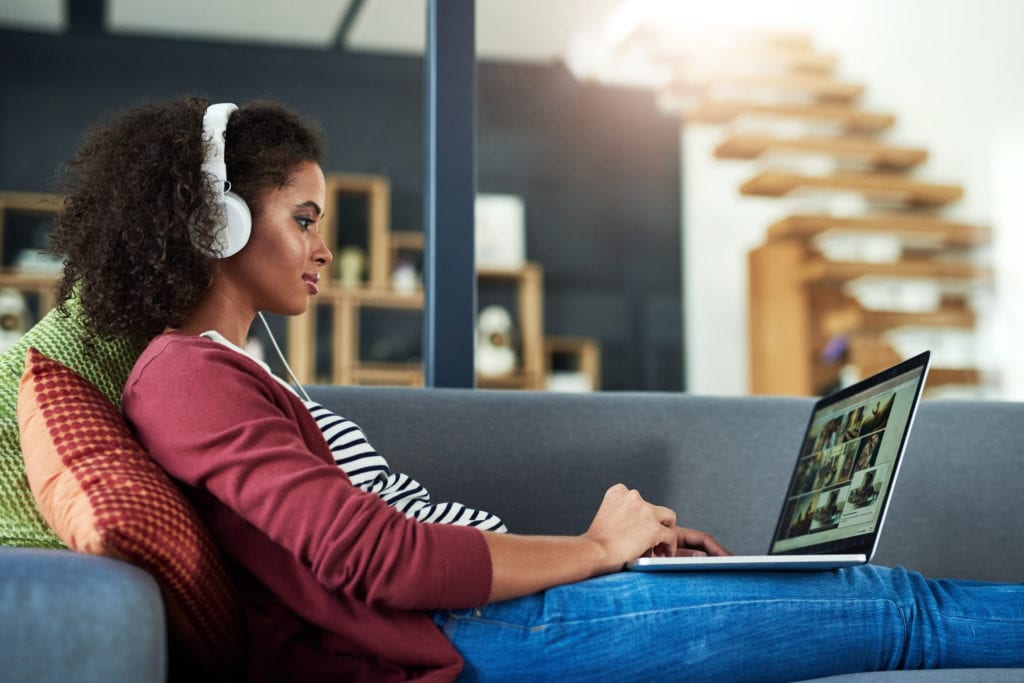 Choosing an internet service provider after making a move to another city is at the top of any mover's "To Do" list. Depending on what city you're living in, Google's Fiber internet and television services may be an excellent option. The Google Fiber product is among the best out there for true Gigabit home internet and TV services. Let's take a closer look at where Google Fiber is available, and what it offers in terms of bundles and cost.
What you need to know about Google Fiber
Which cities have Google Fiber as an Internet Service Provider?
Unfortunately, Google Fiber isn't in every city just yet. East Coast hubs like Washington D.C., Philadelphia, PA, and New York City, are all still the domain of ISP's like Verizon FIOS, Comcast/Xfinity, and other regional affiliates of those companies. The good news is that Google Fiber has a pretty solid foothold in almost every other region of the continental United States. As of January 8, 2021, Google has deployed its services to the following U.S. cities and metropolitan areas:

[deals-hub-ad]
There are also a number of these metro areas that are WEBPASS cities. WEBPASS is a Google affiliate that offers Google Fiber service on a no-contract basis. Out of the metro areas listed above, these are WEBPASS cities:
Denver, CO
Seattle, WA
Chicago, IL
San Diego, CA
San Francisco, CA
Oakland, CA
Miami, FL
As Google extends its reach into new urban areas, odds are that there will be a mix of Google Fiber cities and WEBPASS cities. Those designations hinge on the success of the service being deployed to the cities mentioned above. Let's take a look at the services that Google and its affiliates offer in these cities.
Google Fiber services and pricing: 
Google entered the ISP competition with a lot of promises, advertising some of the fastest unlimited data and internet speeds of any internet service provider on the market. But first, let us clarify the difference between WEBPASS and Google Fiber.
WEBPASS customers can expect speeds of 100, 200, and 500 megabits per second, for a flat rate of $60.00/mo. People who have used the service have offered some very positive feedback, as evidenced by a satisfied customer offering in this WEBPASS review courtesy of Business Insider.
WEBPASS is a strong alternative for residents in its available metro areas, but there are some limitations. The service is limited to densely-packed urban areas where the network supports it. (There's little-to-no support for rural residents at this time, though the service could expand as Google's parent service moves into more areas.)
For residents in Google Fiber cities where Google is the direct service provider, the tiered services and pricing are pretty even across the board for the areas being serviced. The most popular bundled package in many of these areas is the following:
| | | | | |
| --- | --- | --- | --- | --- |
| Package Name | Starting Prices | Google Fiber Speeds | Data Caps | Contract |
| Fiber 100 | $70/mo. | 100Mbps | None | No annual service contract |
| 1 Gig | $70/mo. | 1000Mbps | None | No annual service contract |
| WEBPASS | $60/mo. | 100 Mbps to 1000 Mbps, depending on location | None | Monthly price drops to $45.83 if you sign a one-year contract |
*Pricing as of January 8, 2021
Google Fiber/WEBPASS bundles and packages
Cities that have DIRECT Google Fiber service, have access to a myriad of bundled internet, TV, and Phone solutions for customers. Here's a breakdown of tiered packages in Google Fiber areas:
| | | | |
| --- | --- | --- | --- |
| Package Name | Google Fiber Speeds | Starting Prices | Price When Bundled With TV + Phone |
| Fiber 100 | 100Mbps | $50/mo. | $150.00/mo. |
| Fiber 1000 | 1000Mbps | $70/mo. | $170/mo. |
*Prices as of November 25, 2019
Both the 'Fiber 100' and 'Fiber 1000' packages can be bundled with Google's Internet TV component for an additional $90.00/mo. Phone service can also be added to each of the aforementioned packages on an 'a-la-carte' basis, for another $10.00/mo.
Unfortunately, customers that fall under the WEBPASS service umbrella do not have the option of adding Google's television or phone options with their existing internet service at this time. However, you can use other television services with WEBPASS services in your area.
Google Fiber reviews
Moving to any of the cities that have Google Fiber as an internet provider is exciting, but there are some caveats to all of the positive reviews we've heard about the products. The first concern for both current and prospective consumers is that the actual service hasn't been fully deployed in the areas where Google advertises coverage. There are a number of examples of initial rollouts of Google Fiber taking place in a given metro area, only to be delayed or stopped before full coverage in that region has taken place. In some areas, a different rollout strategy to get services sooner to consumers failed, as was the case in the Louisville, Kentucky metro area. The Raleigh/Durham/Chapel Hill metro area (commonly known as the Triangle) is also dealing with an incomplete deployment of Google services, resulting in a number of unhappy prospective customers.
In the neighborhoods where Google Fiber has been established, it's a worthy competitor to other traditional ISPs. But there's also the greater issue of Google Fiber having difficulty gaining a foothold in city markets where Verizon, Comcast, and other providers are already established. Residents of New York City, Washington, DC, and other larger hubs on the eastern seaboard are still waiting for Google to make inroads. As it stands, there are no current plans for Google to expand in these areas.
Even though Google has had its fair share of growing pains deploying the next generation of blazing-fast broadband services, it's provided those that have access to the platform with the unparalleled speed and flexibility that comes with gigabit connectivity to the internet. If you're moving to any of the areas that Google has the service established in, it's well worth the time to consider Google's offerings for yourself.
Digging deeper: Pros and cons of Google Fiber/WEBPASS service
Pros
Extremely fast, state-of-the-art, broadband internet service.
No data caps for usage.
Internet-only and Internet+TV packages for customers within Google Fiber direct service areas.
WEBPASS and a no-contract ISP option in urban areas that have WEBPASS affiliate service.
Offers a competitive ISP alternative to both national and regional internet service providers in metro areas that have the service.
Cons
Google Fiber isn't available in some large metro areas (Washington D.C./Metro, New York/New Jersey, Philadelphia, Los Angeles, etc.)
There are no plans for rural expansion in cities that have WEBPASS as the primary provider of Google Fiber service.
There have been delays in expanding coverage in some existing Google Fiber markets.
Frequently Asked Questions
Q:
What cities have Google Fiber?
A:
Google Fiber is currently available in 18 U.S. Cities and/or Metropolitan areas. These include Atlanta, Charlotte, The Triangle (Raleigh, Durham, and Chapel Hill), Denver, Kansas City, Seattle, Nashville, Orange County, San Antonio, San Francisco, Austin, Chicago, Huntsville, Miami, Oakland, San Diego, Provo, and Salt Lake City.
Q:
How much does Google Fiber cost?
A:
​In metro areas that carry the fully tiered Google Fiber direct service, plans range in cost from $50.00/mo. to $70.00/mo. for Internet-only packages. WEBPASS cities have a straight no contract rate of $60.00/mo. for Gigabit Internet service. There are also bundled internet TV and phone packages for Google Fiber direct customers, which are covered in the next section of this article.
Q:
Will Google Fiber be deployed to other cities?
A:
Google Fiber is coming soon to West Des Moines, IA.
Q:
What is the difference between Google Fiber and WEBPASS service?
A:
Google Fiber is the full, tiered, ISP service solution offered DIRECTLY from Google. WEBPASS is a 3rd-party reseller that is authorized to deliver Google Fiber service on a no-contract basis in select metropolitan areas.
Q:
Which cities have WEBPASS service?
A:
Denver, Seattle, Chicago, Miami, San Francisco, San Diego, and Oakland are designated as WEBPASS cities for Google Fiber service.
Q:
Is there a data cap for Google Fiber/WEBPASS service?
A:
No. there is no data cap for either direct Google Fiber or WEBPASS service.