Best Moving Companies of 2023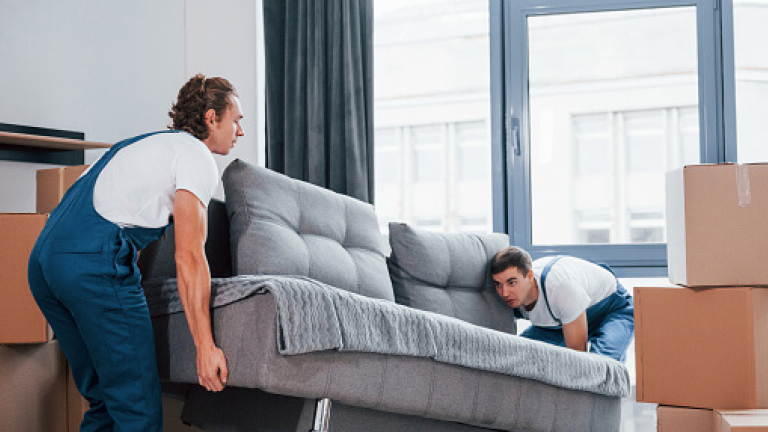 Moving is hard no matter what, but the best moving companies can simplify the process. They will also protect your most cherished belongings, effectively and efficiently ensuring that your home follows, no matter where you go. First, though, you have to find that mover, and that's made easy when you know where and what to look for.
There's far more to consider than just the initial moving quotes you receive. We compared pricing, discounts, and customer satisfaction to find the best moving companies. Whether this is your first move or your 10th, these tips will help you find the perfect long-distance mover for your cross-country move.
The five best moving companies
North American Van Lines: Best Full-Service Company
Allied Van Lines: Best for Customer Service
U-Pack: Best for DIYers
United Van Lines: Best Insurance Options
Atlas Van Lines: Best Relocation App
How we found the best moving companies
There are many movers out there, but few are able to stand up to our rigorous testing as the top moving companies. We review thousands of real customer reviews, checking for things like pricing, service area, and customer service and satisfaction. We regularly analyze industry ratings from leading organizations like the Better Business Bureau (BBB).
We also ensure that each company is licensed and bonded with an active license through the U.S. Department of Transportation (USDOT), with positive moving company reviews through the Federal Motor Carrier Safety Administration (FMCSA). Based on these factors and more, these are the most trusted options for the best long-distance movers for your family.
---
Best full-service moving company: North American Van Lines

Pros
International service
Offers its own crews
Excellent customer service ratings
Cons
Must contact a rep for pricing
Can be a little pricey
Established In 1933, North American Van Lines has performed countless long-distance moves over the more than 80 years it's been in business. North American Van Lines is a well-rounded mover, offering superior customer service and excellent resources that include packing tips and calculators, moving checklists, and even a virtual move survey. Customers can also rest easy knowing that North American is BBB-accredited with an impressive A+ rating.
Want to know more look into their USDOT number: 70851.
Quick look at North American Van Lines:
North American Van Lines specializes in a full range of moving services, including household, international, and corporate moves. It offers its own trained and vetted team of moving professionals, all of whom have passed a background check before arriving at your doorstep. You also benefit from your own personal relocation consultant who will coordinate the details of your move, helping you to plan and pack, while the company's tracking service monitors your belongings in real-time. The movers will even clean up after the move and take whatever belongings you like to climate-controlled storage that's available on a short-term or long-term basis.
However, we wish the pricing would be a little more transparent, as there's no way to know the cost until you speak with a representative. Thankfully, there's 24/7 customer service and more than 500 agents nationwide, so there's always someone around to help.
Read our full North American Van Lines review.
---
Best Customer Service: Allied Van Lines

Pros
Liability insurance included
Instant quote too specialized transport available
Cons
Contracts local agents
Can get pricey with extras like insurance
Allied Van Lines is a long-time pro and one of the best cross-country moving companies in the industry, ostensibly making more than 750,000 moves in the last 15 years. They're licensed and bonded with a national network of local moving professionals who will execute your move. While the locals move your things, you'll benefit from Allied's reliable customer service, complete with thorough, real-time tracking of all your belongings throughout your move.
Want to know more look into their USDOT number: 76235.
Allied Van Lines specializes in a number of different types of moves, such as international moves, long-distance moves, corporate relocations, and household moves. Allied is also one of the few long-distance moving companies to offer examples of pricing on its website, quoting a move from Chicago to Dallas at $3,500 for about 7,000 pounds of belongings and 1,000 miles total travel.
While they do not perform the move themselves, they do offer the 24/7 support of their own customer service specialists to help you throughout your move. Allied includes Basic Liability Protection on all its moves for free, providing basic insurance protection with upgraded coverage available if you need it. To get started, just visit the website for instant online quotes via the website's InstaQuote form.
Read our full Allied Van Lines review.
---
Best for DIYers: U-Pack

Pros
Upfront pricing
Pay for what you use
Also moves to Canada and Puerto Rico
Cons
No local moves
Does not offer long-term storage services.
You have three days to load/unload.
U-Pack is a container-based moving company that offers a pay-for-what-you-use model. This is an experienced moving company that is only available for long-distance moves — relocations that are 100 miles or more. It boasts more than one million moves since its inception in 1997, and offers easy online quotes and clear, upfront pricing.
Want to know more look into their USDOT number: 2632086.
Quick look at U-Pack:
With U-Pack, you can do it yourself with the assistance of container-based moving services. You can use trailers or U-Pack ReloCubes (which are available in a few different sizes to accommodate your needs).
U-Pack offers upfront, no-obligation pricing that's incredibly rare among interstate movers. Its pricing is comprehensive and flexible, and you have the option of just using U-Pack's transportation services or adding on loading/unloading help. U-Pack does not offer storage services, only giving you three days to load and unload your containers, but the online shipment tracker makes it easy to check on the location of your belongings in real time.
Read our full U-Pack review.
---
Best Insurance Options: United Van Lines

Pros
Cleaning and storage services
Full Value Protection
Online shipment tracking
Cons
Contracts independent movers 
No instant quotes
United Van Lines is a multi-faceted long-distance moving company designed to meet all your moving needs. In addition to local, long-distance, and international moves, United specializes in car shipping, military moves, and corporate services.
Want to know more look into their USDOT number: 77949.
Quick look at United Van Lines :
United Van Lines is a well-rounded mover offering additional services like auto transport, cleaning, packing, and storage services. It does partner with local movers to actually execute your move, which means customer service may vary, but for its part, United provides great support throughout.
There are also excellent resources to simplify your move, plus options for move-out house cleaning, debris removal, and storage services. You can even hire help for home theater mounting and setup, as well as PC disassembly and setup. However, to get a quote, you'll first need to complete an in-person or virtual walk-through with a moving professional to fully assess your needs before those services are translated to dollars and cents on paper.
Read our full United Van Lines review.
---
Best Relocation App: Atlas Van Lines

Pros
More than 430 agents to help
Video surveys available
Special AAA discounts 
Cons
Uses a network of local movers (which means customer service can vary)
Moving survey required for pricing
It's intimidating moving to a new place, which is why Atlas Van Lines offers a lending hand with over 430 local agents throughout the U.S. and Canada for in-person support. Before you get to town, Atlas helps to keep you organized with extensive online resources. Perhaps, that's why it proudly reminds visitors that it holds an A+ rating with the Better Business Bureau (BBB).
Want to know more look into their USDOT number: 125550.
Quick look at Atlas Van Lines :
Whether you're looking for the best moving companies for a local, interstate, or cross-country move, Atlas Van Lines can fit the bill. Unlike many other top moving companies, Atlas also specializes in smaller moves with SimpliCityTM, a new addition to its menu of services. This new program is designed for small moves when you don't have a ton of stuff to relocate but need a moving company nonetheless.
There are several other benefits to working with Atlas. There's date-specific pick-up and delivery with national coverage and online tracking. In addition to international moving services, Atlas offers the support of agents in 17 countries to ensure there is always someone to help, no matter where you go. It's especially important because it does contract out to local crews. However, Atlas assures customers that all members undergo background checks as part of its No Stranger In Your Home® guarantee.
You'll also benefit from a personal relocation expert who will manage the move and help with anything you need. Atlas will even throw in free debris removal — something other interstate movers readily charge you for.
Atlas has the added convenience of submitting a video survey of your home if you prefer to skip the virtual meeting with an actual rep. It's an extra time-saving feature that's much appreciated in today's busy world.
Read our full Atlas Van Lines review.
---
The bottom line
Moving long-distance is far more complicated than your everyday local move, so you want to have the best moving companies by your side to help you through the process. Price is far from the only thing to consider: you also want to be sure that you have a mover who is experienced in the kind of move you need and can efficiently and affordably transport your things long-distance. The top moving companies will be able to accomplish this and more, so you feel right at home at your new address.
Frequently asked Questions
Q:
How much does long-distance moving cost?
A:
When budgeting for your long-distance move, it's important to remember that costs can vary. How much you pay for interstate moving companies depends on a few factors, such as how many belongings you have to move, how far you are moving, and how much labor is required. To find out what your move may cost you, compare pricing with our moving quote comparison tool.
Q:
How far in advance do I need to schedule my moving company?
A:
When you move cross-country, it's important to give yourself adequate time to plan and prepare. Your movers need time, too, so they're able to properly gather and vet the best moving team. It's best to plan your long-distance move about four to eight weeks in advance, so you have plenty of time to iron out the kinks.
Q:
Do long-distance movers have a minimum load requirement?
A:
Every long-distance moving company is different. While some moving companies may require a minimum load or minimum distance, others specialize in more niche forms of moving, such as local or small moves. Be sure to inquire with each long-distance moving company to ensure that you meet the minimum requirements for a cross-country move.
Q:
Can I negotiate with my long-distance moving company?
A:
It happens every day: people pay too much for movers.  You should always negotiate with your movers by asking what you can do to lower the price. This could include lowering or removing fees or even receiving free or discounted moving supplies. Before you commit to any mover, attempt to negotiate the price to save yourself precious dollars where you can.