AT&T Internet: Packages and Prices for Your Home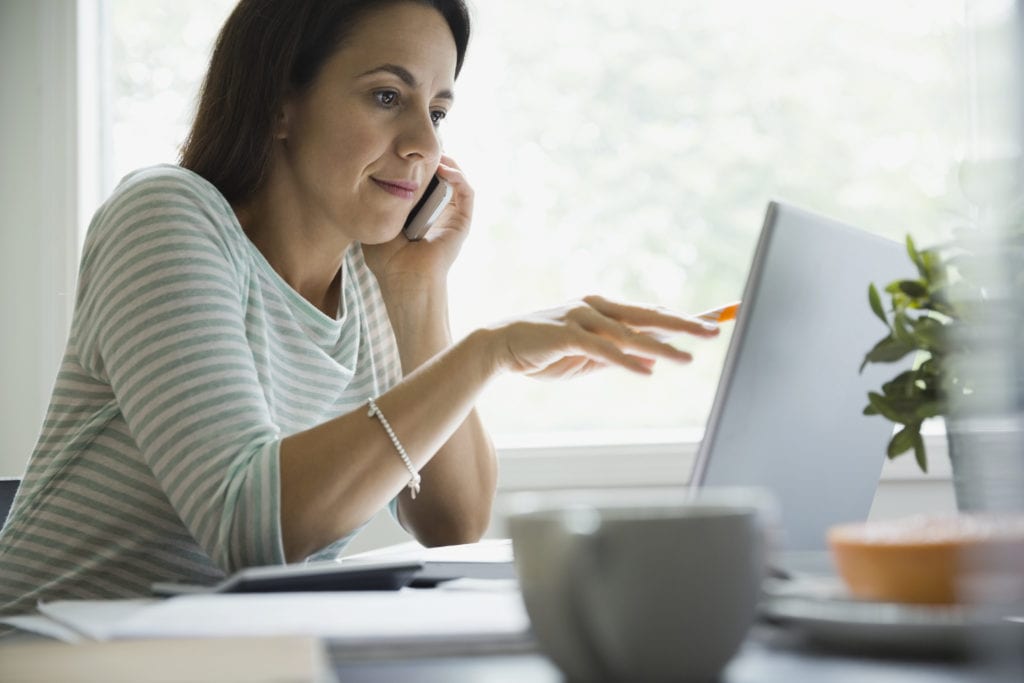 Everything you need to know about AT&T internet
Moving is one of the most convenient times to try out new home services. If the internet service provider in your last place missed the mark, it might be time to look into something new, like AT&T internet.

AT&T home internet options are plentiful enough to provide internet to nearly any household. The AT&T coverage map shows availability in 22 states, plus tens of thousands more AT&T Wi-Fi hotspots.

Many areas receive AT&T's fastest internet option, AT&T Fiber, while others rely on Fixed Wireless or Digital Subscriber Lines (DSL). These internet plans come with varying speeds depending on the type of AT&T internet service and service location.

If you are choosing an AT&T internet-only package, there may be a no-contract option. However, the most significant discounts in pricing come with a one to two-year contract. AT&T has some of the best internet packages available on the market today.

[deals-hub-ad]
AT&T home internet plans, prices, and deals
Looking for a faster internet connection? Consider AT&T Fiber, a fiber-optic network similar to a cable network, but with better speeds and connectivity. If you have a smart home or many connected devices, look for top-tier plans to support heavy usage. Here's a breakdown of the AT&T internet prices.
| Plans | Pricing | Download speeds |
| --- | --- | --- |
| AT&T Internet 100 | $55/mo. for 12 months | 100 Mbps |
| AT&T Internet 300 | $65/mo. for 12 months | 300 Mbps |
| AT&T Internet 1000 | $80/mo. for 12 months | 1,000 Mbps |
Fixed Wireless is an internet service offered by AT&T to cater to customers living in more rural areas who cannot get a traditional AT&T internet service. This service involves wireless equipment and an antenna.
| Plans | Pricing | Download speeds |
| --- | --- | --- |
| Fixed Wireless Internet | $49.99/mo. for 12 months | 10 Mbps |
The type of AT&T internet available varies depending on location. These packages are for Digital Subscriber Line (DSL) internet service.
| Plans | Pricing | Download speeds |
| --- | --- | --- |
| Internet 10 | $55/mo. for 12 months | 10 Mbps |
| Internet 18 | $55/mo. for 12 months | 18 Mbps |
| Internet 25 | $55/mo. for 12 months | 25 Mbps |
| Internet 50 | $55/mo. for 12 months | 50 Mbps |
| Internet 100 | $55/mo. for 12 months | 100 Mbps |
| Internet Basic 768 | $55/mo. for 12 months | 8 Mbps |
| Internet Basic 1.5 | $55/mo. for 12 months | 1.5 Mbps |
| Internet Basic 5 | $55/mo. for 12 months | 5 Mbps |
AT&T must-know deals and promotions
Every AT&T internet plan comes with a 1-year new customer promotion. This usually includes at least $10 off the regular monthly price for the service.
AT&T also offers mobile device plans, telephone plans and DirecTV plans, so there is the potential to bundle services and save. Currently, AT&T is also offering a $300 AT&T Visa Rewards Card to customers who order an internet and TV bundle online.
Here are some additional AT&T specials to watch for:
New customers can receive six months of Spotify Premium free. This offer is available on a high-speed internet plan (768k–1000M) with a 12-month contract (DSL excluded).
Stream everything from a free Roku Streaming Stick. New customers with 25 Mbps and high internet-only plans qualify. This is a limited time deal and available while supplies last.
AT&T THANKS® is a hassle-free appreciation program. No cards, no extra sign-ups, and no stress. Receive deals on entertainment, dining, and more. Your point totals are located in your myAT&T account.
Is AT&T internet available in my area?
AT&T internet options are currently available in 21 states and many cities throughout. To find out what specific options are available in your city, you can visit their website and check availability using your ZIP code.
Can I save money by bundling my AT&T internet service?
Yes. How much you can save will depend on what AT&T services you have that can be bundled. AT&T's bundles are usually cheaper than the costs for individual services. For example, currently, you can save $120 in your first year on an AT&T TV package when you bundle with AT&T internet.
What do I need to know about an AT&T internet plan contract?
A contract is not required to purchase AT&T internet. However, contract options are offered and in some cases, required to qualify for promotions. If you have a contract with AT&T internet, it will typically be one to two years and will be subject to an early termination fee if you cancel early.
If you disconnect your service more than 14 days after activation, you will be charged a prorated early termination fee. You must also return any AT&T-owned equipment within 21 days of cancellation. If you don't return the equipment or return it damaged, you will be charged a $150 fee. If you then return the equipment within six months of cancellation, the fee will be refunded.
Do I get an AT&T modem and router with my internet service?
All AT&T internet plans have a $10 per month equipment fee for the equipment necessary for your service, including a modem and Wi-Fi gateway. A modem and gateway or router are what connect Wi-Fi devices in your home to the internet service. AT&T's gateways are a combination of modem and router.
AT&T internet features
From speedy AT&T Fiber to DSL, you have options with AT&T internet. These internet packages boast plenty of perks (especially for new customers), and AT&T internet ranks high in terms of support, internet speed, and uptime.
AT&T customers receive access to more than 30,000 Wi-Fi hotspots across the country. Save your data and stay connected no matter where you roam.
AT&T promises a high-speed internet connection of more than 99% up-time (the amount of time a provider's service is active). Note: This excludes DSL and depends on your network availability.
When you have a smart home, manage your devices with the AT&T Smart Home Manager app. Track your home and Wi-Fi network from anywhere.
AT&T internet service pros and cons
Pros
Cons

When things go wrong, the company's comprehensive support page is always available. With a forum, social media chat, live chat options, and phone support, help is a phone call, tweet, or chat away.
Keep everyone on the same page with almost limitless email storage for up to eleven AT&T internet email accounts.
AT&T Internet Security Suite from McAfee© is included in every internet package for antivirus security and a firewall.

Early termination fees do apply. If you back out of your contract, you will pay the price. Depending on your promotion, you'll pay a one-time early termination fee of $180 or more.
AT&T is available in 21 states, so there are many states where coverage is not available.
AT&T internet setup fees require a service tech and an installation fee that vary by plan.
Customers sometimes complain of feeling "nickel and dimed." AT&T internet bills carry extra fees for things like installation, equipment, and other one-time recurring costs.
AT&T internet reviews
The ACSI Customer Satisfaction Report shows that AT&T internet scores a 68 on the American Customer Satisfaction Index's (ACSI®) 100-point scale. That's only five points behind the top provider on the list (Verizon) in terms of customer happiness levels. AT&T's scores have been increasing year over year — evidence that AT&T is a company that keeps improving.
The bottom line
AT&T offers a variety of internet options for people in 21 U.S. states and many cities throughout. While the fastest speeds are reserved for users in areas where fiber is available, other AT&T internet options also offer great speeds. AT&T is like a one-stop-shop for mobile, landline, internet, and television needs offering affordable prices and great promotions for new customers. 
Other frequently asked questions
Q:
What areas does AT&T Wi-Fi cover?
A:
AT&T internet coverage is available in some areas within Alabama, Arkansas, California, Florida, Georgia, Illinois, Indiana, Kansas, Kentucky, Louisiana, Michigan, Mississippi, Missouri, Nevada, North Carolina, Ohio, Oklahoma, South Carolina, Tennessee, Texas, and Wisconsin.
Q:
What is AT&T Fixed Wireless Internet Service?
A:
Some rural areas don't have traditional wireline AT&T internet service. For those areas, the installation of wireless equipment and an antenna are available with 250 GB of internet data and 10 Mbps per month.
Q:
What is an AT&T Wi-Fi hotspot?
A:
It's a service connecting your Wi-Fi-enabled device to an AT&T hotspot for fast internet speeds that won't consume your data. This may be a great option for those in rural areas where other ATT internet options are not available.
Q:
What's the cheapest AT&T internet plan?
A:
The AT&T Basic 5 is the most inexpensive plan with speeds of up to 5 Mbps. It's a good fit for light internet users. However, prices vary depending on your location. Some internet plans when bundled with TV start as low as $39.99 per month.
Q:
What is AT&T's best plan for rural customers?
A:
AT&T's Fixed Wireless internet was created with rural areas in mind. This allows rural customers to enjoy great internet service when there would otherwise be none available. However, Fixed Wireless is not available in all rural areas.
Q:
What AT&T internet service can I get at my address?
A:
Check AT&T's website to discover what deals are available at your address.
Ashlee Tilford Contributed to this article