Could Paint Colors Help or Hurt the Sale of Your Home by Thousands?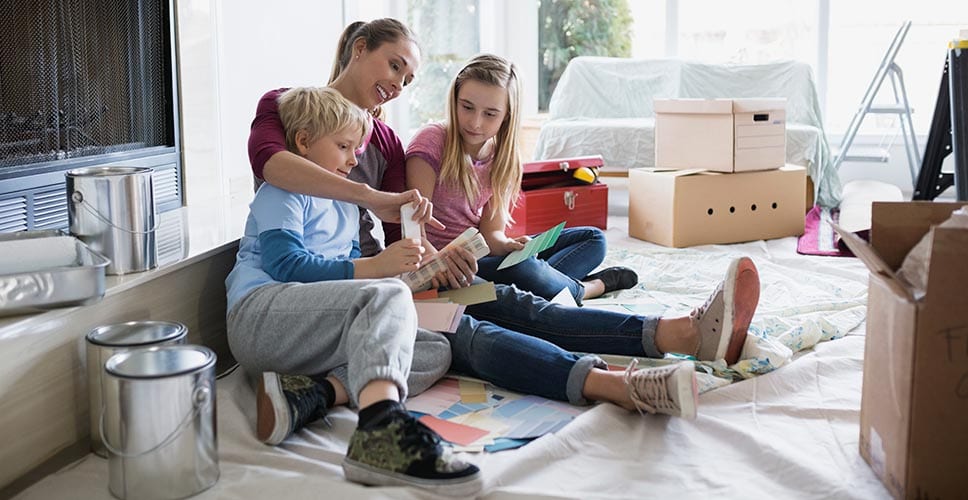 We've heard homes for sale should be painted and staged so that potential buyers can envision their own interior style and personality. We've learned from color psychology that hues can scientifically influence our moods, behaviors, and even our decisions. But is it too far-fetched to assume that colors have the power to impact the sale price of our homes? Some people believe that there are house colors that sell.
Can a paint color really help or hurt a home sale by thousands? Through their 2018 Paint Color Analysis, Zillow set out to find out the best color to paint house to sell. They examined more than 135,000 photos from sold U.S. listings by comparing average sale prices to similar homes with white walls.
With the coronavirus pandemic still raging, there's an unprecedented level of uncertainty at this time. If painting can improve your bottom dollar, now might be the time to learn the best exterior color to paint a house. Let's explore how Zillow's findings can apply to our current and future homes and what color house sells the best.
Shut the front door — then paint it this color
No color seems off-limits these days when it comes to statement front doors. Trending visuals reveal vibrant greens, purples, reds, yellows, and even pinks as first-impression hues. What color truly opens doors to increased sale possibilities though? According to the analysis, black and charcoal grey. Painting a front door one of these colors could increase a U.S. home sale price by 2.9% — up to$6,271 more than expected. That's a statement.
It's okay to have the blues in this room
Do you ask yourself "what color should I paint my house?" Blue is known as a universal favorite in interior design because of its harmonic and relaxing qualities. Evoking tranquility in bedrooms, living rooms, and spas, it's often used to recreate the openness of the water and sky. But in what room is this hue raising more than just ceilings? Zillow's report reveals that a bathroom painted pale blue — specifically one with a gray-blue periwinkle tint or the like — can raise a sale price by 1.3%, or up to $2,786.
Avoid seeing red
Red envelopes many kitchens since it's known to stimulate appetite and conversation, but results reveal a specific shade of this energetic hue could reduce home prices by $2,310. Barn and brick red top the charts as what colors not to paint your kitchen.
So what kitchen palette can increase price? When it comes to house colors that sell, dark cabinets and light wall color pairings ("tuxedo kitchens") were tied to a $1,547 increase possibly due to a contrast that plays well in listing photos. In Portland, Oregon specifically, blue kitchens were found to have a 6.8 percent higher sale.
Taupe: the living image of neutral luxury?
It probably won't surprise you that a neutral like taupe was a chart-topper for living rooms, but what undertones were behind this generic hue? Living rooms painted a warm tan with pink and peach undertones were tied to a $2,793 — or a 1.3 % — increase. Darker peach and pink undertones of this shade were commonly found on accent walls. Punching it up in San Francisco, California specifically, burnt orange living rooms were said to increase the sale price by up to 5.2%. Channeling admiration for the Golden Gate Bridge, possibly?
Better to dash from this color than dine-in it
When it comes to rooms for wining and dining, what color wasn't stirring up success? Browns with yellow undertones — oat brown to medium sandy brown —were linked to a decrease of $1,684 when used in dining rooms. In Tampa, Florida specifically, "greige" (a mix of grey and beige) in dining rooms was contrarily linked to an 11.8% increase.
The bottom line
There you have it — proof from the home sale experts that paint colors truly are influential on our homes. Choosing the right paint color can make all the difference. A couple of simple projects such as adding some colorful accent walls and painting your doors can help you sell your home for more. Some people even turn to choosing colors based on color psychology! For a more analytical approach you can view Zillow's paint color analysis breakdown here.
Frequently asked questions
Is it worth painting your house before selling?
Painting your home is a fairly simple and inexpensive project that can bring you big returns. It's definitely worth painting your house before selling to freshen it up. If you're on a budget, you can do the project yourself. Round up some friends over a weekend and invest in paint and supplies. The cost is minimal, but the increase in your sales price can be big.
Should I paint my walls white?
There are house colors that sell, and basic white is not at the top of the list. White walls can be perceived as generic or uninspiring. If you want to stand apart from the crowd of homes for sale, consider warming up a space with an off white or taupe color instead. Living rooms painted in a warm tan can bring you an extra $2,793, or 1.3 % when your home sells. Remember that figure when you're thinking about whether you should paint your walls white.
What is the best color to paint a bedroom for resale?
The Zillow study doesn't specify which bedroom paint color sells best. To promote a restful space, steer clear of bold or vibrant colors in the bedroom unless it's a single accent wall. A warm neutral works in any room. If you had to choose a bedroom paint color, consider a taupe or light mocha color with warm undertones. Or if you're going for a modern look, a fashionable grey could create a memorable, eye-catching bedroom space.