Your Guide to Moving to Portland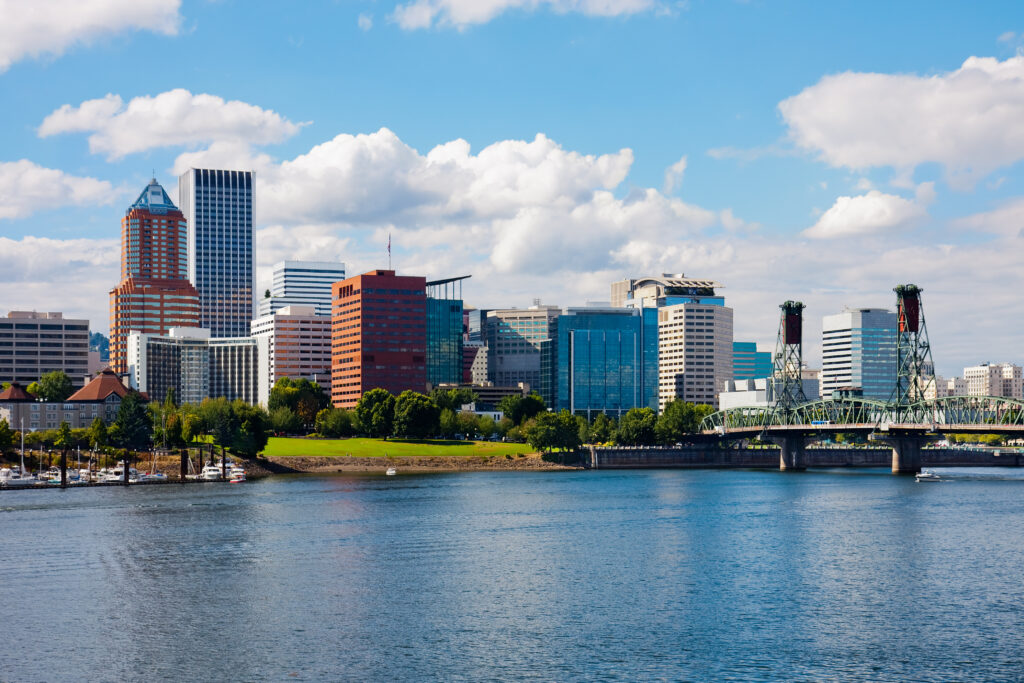 Portland at a glance:
Portland has roughly 650,000 residents in the city proper, with just under 2.5 million in the greater metro area. The cost of living is 29% higher than the national average.
Portland is one of only two cities in the U.S. with a dormant volcano in its city limits.
The top industries in Portland are technology, athletic and outdoor apparel, manufacturing, and healthcare.
Portland is the "unofficial" world-wide headquarters for outdoor and sporting apparel. Big names such as Nike, Adidas, Columbia Sportswear, and Keen footwear all make their homes here.
Portland was named as the "Best Foodie City in America" by WalletHub in 2019.
There are more food carts per capita in Portland than anywhere else in North America.
Moving to Portland: The basics
What's the population of Portland?
According to the last U.S. Census count in 2019, the population of the city of Portland was 653,115. Young professionals flock to the city, making Portland's median age about 37, with 49% of the population between the ages of 20 and 49.
Currently, the gender split in Portland is pretty even. And if you're looking for love, you're in luck. About 57% of the city's residents are single.
What is the cost of living in Portland?
Payscale reports that the cost of living in the city is 29% higher than the national average across-the-board. Housing costs are a key factor driving up those costs. In fact, housing is 79% more expensive in Portland than it is across the U.S. Census data says the median value of a home in the city is $383,600 — significantly higher than the national median of $204,900. The median rent is also higher in Portland, coming in around $1,187/mo.
Groceries are also 15% more expensive in the city, according to Payscale. When walking down the grocery store aisle, expect to pay $3.84 for a loaf of bread, $2.23 for a gallon of milk, and $2.09 for a dozen eggs.
But, Census data reports, incomes are generally higher in Portland. The median household income in the city is $65,740 — about $5,000 greater than the national median. The median per capita income is also higher at $38,647.
See below how Portland stacks up compared to other similarly-sized cities in the U.S., and major metropolitan areas, such as New York City.
| City Name | Population | Cost of Living (Compared to National Average) | Per Capita Income | Median Home Price | Median Rent |
| --- | --- | --- | --- | --- | --- |
| Portland, OR | 653,115 | +29% | $38,674 | $383,600 | $1,187/mo. |
| Memphis, TN | 650,618 | -17% | $24,243 | $97,000 | $884/mo. |
| Detroit, MI | 672,662 | -3% | $17,338 | $45,700 | $798/mo. |
| New York City | 8,398,748 | +129% | $37,693 | $570,500 | $1,396/mo. |
*Data from Payscale and the U.S. Census
How's the Portland job market?
After a period of good job growth in 2019, Portland is expected to experience slower job growth in 2020, according to the Portland Relocation Guide — likely adding approximately the same amount of jobs as last year. However, Portland's year-over-year job growth is 2.04%, which is 7% higher than the rest of the U.S. This makes the city an attractive place for new talent.
The unemployment rate dropped to 3.7% in December 2019 — the lowest since 1976, according to the Oregon Employment Department. But, that was before the global impact of the coronavirus hit the U.S. Like most everywhere in the country, unemployment rose due to COVID-19. The latest march numbers show an unemployment rate of 3.1% — which is still lower than both the state and national rates.
Portland is known for its diverse industries, ranging from manufacturing, tech, and healthcare, to outdoor and athletic apparel. The education sector is also a major employer. Some notable Fortune 500 and Fortune 1000 companies in Portland include Nike, Columbia Sportswear, Berkshire Hathaway, Greenbrier Cos., and Portland General Electric.
The average salary across all industries in Portland is $67,000, according to PayScale. The minimum wage in Oregon is $11.25 per hour.
What do I need to know about Portland education?
The main school system is Portland Public Schools (PPS), a PK–12 district with an enrollment of more than 49,000 students. It's comprised of 79 schools at more than 100 locations city-wide. PPS ranks as above-average compared to nationwide statistics.
According to Niche, PPS ranks at 60% proficiency in reading and 49% proficiency in math, and the average graduation rate for Portland high school seniors is 78%. PPS offers a good array of extracurricular and after-school activities, and there are many pre-K options for young parents.
There are also 11 charter schools, 125 private schools, and 34 higher education institutions in Portland.
What are the safest areas in Portland?
The three safest neighborhoods in Portland, according to NeighborhoodScout. are:
Eastmoreland: Located in southeast Portland, this neighborhood experiences far less crime than other areas of the city.
Northwest District: Located just north of downtown Portland, the Northwest, or "Nob Hill," neighborhood of Portland is another very safe area.
Northwest Heights: Located in the far northwest corner of Portland's city lines and north of the suburb of Beaverton, this neighborhood has a more suburban feeling than most other areas of Portland.
Overall, Portland experiences a higher crime rate than most other cities in the U.S., and a higher crime rate than other cities of its size (an exception being Detroit), with most of the crimes being property crimes.
This is only a high-level look at the crime statistics in the city. If you want to learn more about safety in the area, be sure to visit the Portland Police Bureau website for more information.
How do I get around Portland?
TriMet is the city's premier public transportation provider, with a convenient network of busses, light rail, and streetcars. If you live and work within Portland city limits, you don't really need a car, as the transportation system will get you where you need to go.
According to the local news source KGW, the average commute time by car in Portland is about 26 minutes. This is despite the fact that in 2017, 8.9% of people carpooled, 12.3% took public transportation, and 6.5% of commuters rode their bikes to work.
Rideshare apps are alive and well in Portland, with Uber and Lyft both being a popular option. In addition, Portland is well-known as a biking town. Nike has partnered with the City of Portland to provide a pay-as-you-go bike service, with convenient bike rental stations all over town. E-scooters are also a good way to travel short distances. Currently, there are three main scooter providers: Lime, Razor, and Spin.
What's the weather like in Portland?
Portland is well-known for having more rainy than sunny days. However, the climate is temperate, with warm, dry summers, and mild, wet winters. Thanks to its location at the confluence of the Willamette and Columbia Rivers, it lies in a low altitude location. Couple that with its short distance to the Pacific Ocean, Portland does not experience extreme weather, generally feels all four seasons.
In the summer, Portland's average high temperature is 81° F, and the low is 56° F. Autumn brings average highs of 64° F and lows of 46° F. In winter, the average high is 51° F, and the low is 36° F. And in spring, you can expect average high temps of 62° F, and lows of 43° F.
What are Portland's fastest-growing neighborhoods?
As evidenced by the building cranes you see scattered throughout Portland, this is a fast-growing city. When moving to Portland, there are many different neighborhoods and suburbs to consider. According to RealEstateAgentPDX, these are the fastest-growing:
In Portland:
Pearl District
As one of the city's trendiest neighborhoods, "The Pearl" is located in inner Northwest Portland, just north of downtown. The last few years have seen exponential growth in condos and high-rise apartment buildings. It's very convenient to public transportation and great shopping, plus it's the central hub for art galleries in town. The median list price for homes is $582,475, and the average rent is $1,887/mo.
Centennial
Located in Portland's far east side and neighboring the suburb of Gresham, this neighborhood has seen just as many homes sold as the Pearl District and has a population of about 25,000. However, its outer-lying location means you are more likely to need a car to get around. The median list price for homes here is just under $300,000, and the average rent is $1,149/mo. (making it one of the cheaper areas for renters).
Powellhurst-Gilbert
This neighborhood lies just to the southwest of Centennial, with a similar population of just over 24,000. While it is slightly closer to good shopping and other cultural attractions, a car is always handy. The median list price for homes here is $290,000, and the average rent is $1,245/mo.
Brentwood-Darlington
This neighborhood is considered "close" in southeast Portland, nearer to the Willamette River, which divides east and west Portland. It boasts the highest rate of homeownership among the fastest-growing neighborhoods, with approximately 13,000 residents. The median home price is $347,000, and the average rent is $1,237/mo.
Lents
This neighborhood is located in central southeast Portland, bordering the I-205 corridor. As such, it's very convenient to hop on the Interstate to get to other parts of the city and has lots of transportation options. The median home price has ballooned in recent years to a still-modest $318,500, with an average rent of $1,303/mo.
In the greater Portland metro area:
Happy Valley
This suburb with an idyllic name is located just southeast of Portland, and it has grown a full 46% since 2010. Not surprisingly, much of the city is made up of new housing, with the median list price in the mid-$500,000 range, according to Zillow, and the average rent at $1,409/mo. The commute time to downtown Portland is roughly 23 minutes, depending on traffic.
Wilsonville
Conveniently located south of Portland and straddling Interstate 5, Wilsonville is an easy commute into the city (25 minutes from downtown) and all of its dining, shopping, and culture. This former farming town has seen tremendous growth in new single-family homes, with a 23.2% growth over the last ten years. According to Zillow, the average home price is around $475,000, and the median rent is $1,449/mo.
Hillsboro
This high-tech hub lies to the west of Portland and is an easy 26-minute drive on Highway 26 into downtown. Young people have been flooding this suburb at a record rate over the last eight years, giving it a growth rate of 15.5%. Zillow says that the median home price here is around $400,000, with the median rent at $1,567/mo.
Living in Portland: The fun part
For the sports fan
If you love basketball, you are in luck: The world-famous Portland Blazers make their home here, and having a season ticket to their venue at the Moda Center is high on a sports fan's list. Soccer fans will find their home in the Portland Timbers (men's) soccer league, and Portland Thorns (women's) soccer league. Hockey fans will enjoy watching the Portland Winterhawks, and baseball fans can watch the collegiate Portland Pickles, as well as the minor league Hillsboro Hops.
For the culture-seeker
There is no shortage of culture in Portland, whether you're a fan of theater, live music, or the traditional arts. Some notable theaters are the Arlene Schnitzer Concert Hall, Portland's Center for the Arts, and Keller Auditorium. There are currently 27 theaters, over 24 historical sites, and an untold number of music venues, big and small. Travel Portland is the city's premier publication for culture.
Families with kids will enjoy Portland's many parks, the Oregon Museum of Science and Industry (OMSI), and the Portland Zoo.
For the foodie
Any foodie will rejoice at living here, as you can literally take a culinary adventure around the world in Portland. There are restaurants, pubs, and bars to suit any taste and budget, from the affordable and eclectic, to Michelin-star establishments. Make sure to also explore the plethora of incredible food carts scattered throughout the town. PDX Eater is a wealth of information.
For the traveler
For those who love to explore, Portland is uniquely situated: It's a short, 1.5-hour drive to the Cascade Mountain range to the east and the Oregon coast to the west. And with Seattle only a 3-hour drive away, you can explore so much by car alone. And if you want to board a flight, Portland International Airport is located just 14 miles east — about a 20 minutes' drive from downtown.
For the outdoor explorer
Portland is a mecca for outdoor enthusiasts. Mt. Hood, located in the Cascade Mountain range, offers world-class skiing and other winter sports. Forest Park is Portland's largest urban green space, with many miles of forest hiking to enjoy. There's a wide variety of outdoor activities to keep you exploring for years, from waterfalls and high desert surroundings in eastern Oregon to the rugged Oregon coastline.
What you probably didn't know about Portland…
If you're interested in moving to the area check out our city page on Portland!
The bottom line
While this guide to Portland is helpful, it only scratches the surface. Some local publications you may want to explore are Travel Portland, Willamette Week, and The Oregonian. They will give you a deeper sense of what Portland is really about.
Portland is a beautiful and friendly place to live. With its large number of green spaces, its wide array of cultural and outdoor activities, and its world-class food scene, Portland should be high on your list if you're looking for a new adventure or a fun place to call home.
---
Everything for your move, all in one place
Curate your personalized moving checklist, set up TV & Internet, and more with a free MYMOVE account.
Save on your move and tackle upcoming to-dos with your free MYMOVE account.