8 Unique Christmas Decor Ideas to Try This Year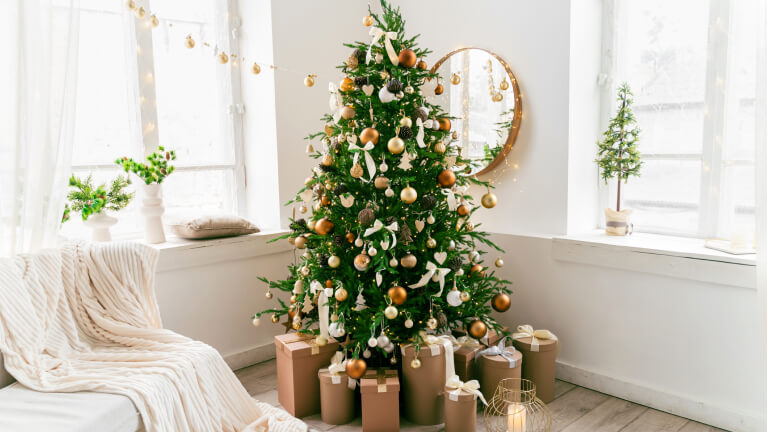 The products featured here are independently selected based on thorough research from our editorial team. If you buy something through links on our site, we may receive a commission.
The best way to get into the holiday spirit is by making your home as festive as possible. Most of us have our Christmas decor favorites that go up every year. But it's also nice to switch things up and try something new. Here are some unique Christmas decor ideas to try in your home this year.
Smart Christmas tree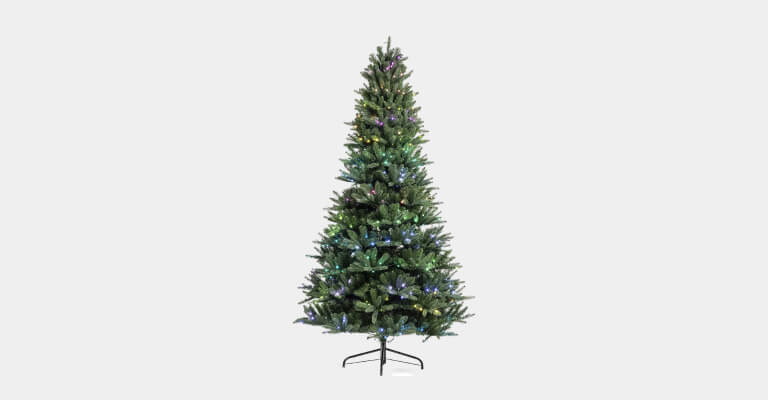 Tired of buying a live Christmas tree every year? Try a smart artificial Christmas tree (yes, you heard that right.) Even if you're not a smart home fanatic, there's no denying that a smart Christmas tree is pretty cool. Using your tree's app or voice control features, you can experiment with different color patterns and effects with just the tap of a finger. And if you're feeling extra creative, many smart Christmas trees come with a mappable smart light feature that allows you to customize and create your own festive light patterns.
Pro tip: the best smart Christmas trees also sync with music, turning your holiday centerpiece into a festive showpiece. For the best experience possible, make sure you have a strong internet connection.
DIY Christmas garland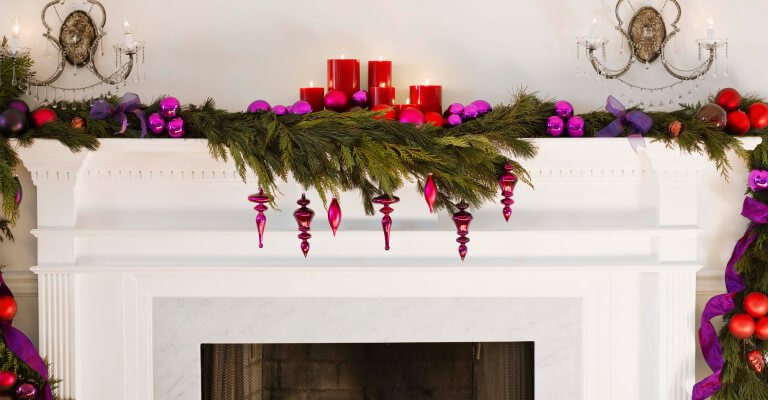 The best part about garland is you can put it literally anywhere. And it does an amazing job at making any space look festive. Most people buy pre-made Christmas garland, but if you're looking for a fun holiday DIY project, you can make your own. The best part? It's super easy.
How to make your own Christmas garland:
Wind two or three pine garlands together. You can even try combining different colors and types of greenery together for a unique look.
Add as many lights as you want and try to keep the wires tucked inside the branches and out of sight. If you want your garland to look extra colorful, blend strands of light colors together.
Use florist wire to attach any accessories you want to your garland. Ribbons, holy berry branches, ornaments, and pine cones are just a few popular decor choices for Christmas garlands. But it's your garland, so dress it up however you want.
Snowflake window clings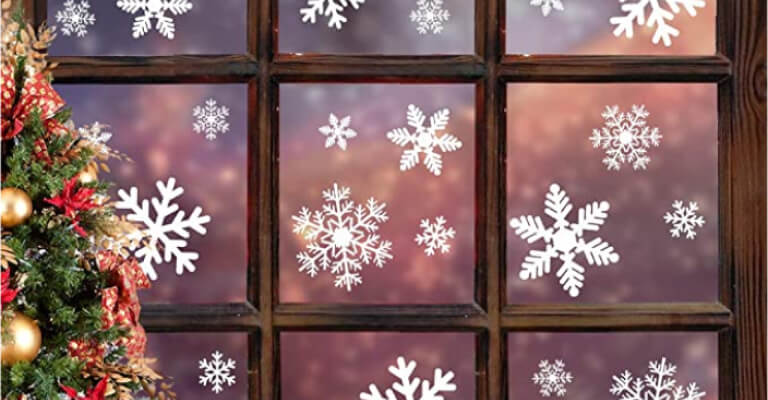 You don't need to wait around for it to snow to have a white Christmas. Snowflake window clings are simple, but can do so much for building a cozy holiday and winter atmosphere. This is especially nice if you live in an area that gets little to no snow each year. They're easy to apply too. Just clean your window surface, stick them on, and you'll be greeted with a pleasant snowfall every time you open your curtains.
Lighted gift boxes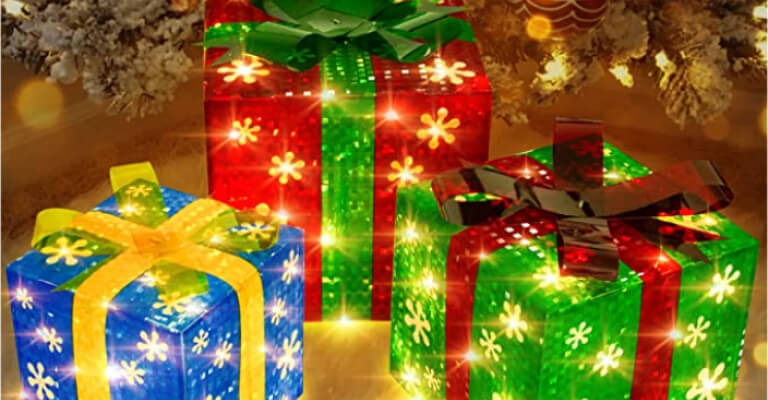 Gifts under the tree complete the holiday look perfectly, making lighted gift boxes a nice finishing touch. Just set them under the tree, plug them in, and you'll have an even brighter and festive room.
These are also great if you aren't ready to put gifts out yet but still want to fill in that awkward empty space under the tree, or you have pets that insist on chewing up the gift bags and tissue paper.
Christmas projector lights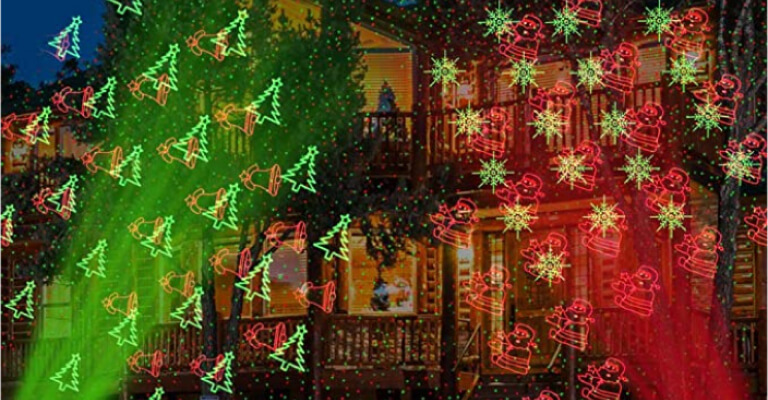 Christmas projector lights are one of the best ways to get the outside of your home feeling festive with minimal effort. Most are remote-controlled, so you won't have to go out in the cold to unplug it or fiddle with the settings. There's quite a variety of holiday projection patterns to choose from as well. Pick your favorite one (or two), plug it in outside, and you'll have your own Christmas light show.
Christmas tree candle lights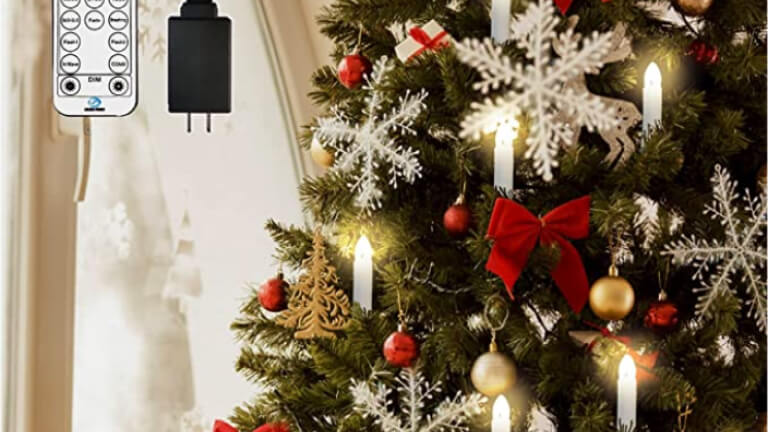 Candles do a fantastic job of bringing cozy holiday vibes to your home. However, candles can be a bit of a fire hazard depending on where you place them. Christmas tree candle lights are designed to be hung from your tree and make it feel all the more merry and bright, but they're also incredibly versatile and can really be placed anywhere you want, without the fire hazard.
Brighten up your holiday decor by placing a Christmas tree candle light in other places as well:
Along or inside garland
On your windowsills
On a wreath
Around your dining table centerpiece
On the mantle
Hung from your front porch railing
Pro tip: Take your cozy holiday atmosphere to the next level by using LED candles that flicker.
Homemade snow globes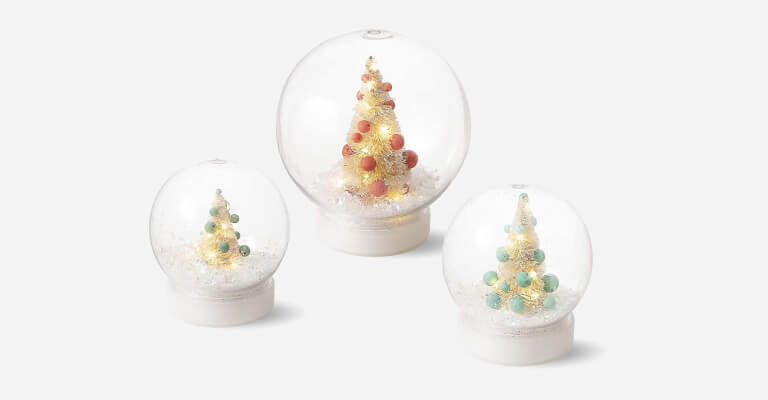 Snow globes are a classic holiday staple. And they make great handmade gifts. If you're looking for an easy DIY holiday craft to do with your family or kids this year, pick a day to relax and make your own snow globes.
Items you'll need to make your snow globe:
How to make your own snow globes:
Clean and dry your snow globe jar.
Attach your snow globe centerpiece to the lid with some epoxy.
After the epoxy has completely set, fill most of the jar with distilled water.
Add a small drop of glycerin to the water in the jar.
Add your glitter to the water.
Grab your lid and carefully submerge your centerpiece into the jar and screw the lid on tight.
Give it a test shake and make sure everything stays in place.
Meteor shower lights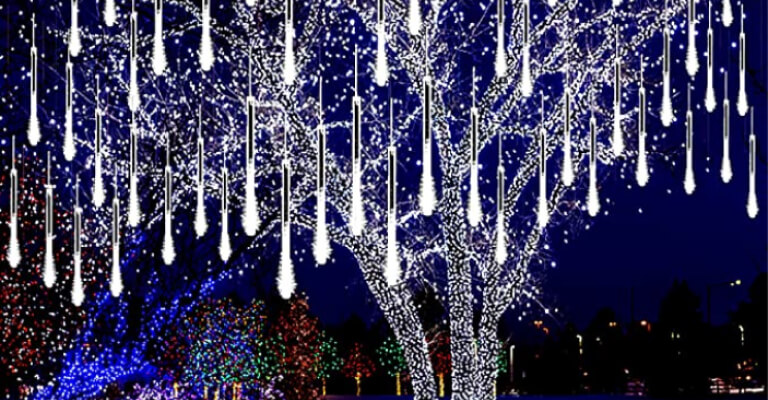 Need a little something different to outshine your neighbor's Christmas light display this year? Hung by themselves, meteor shower lights mimic a marvelous meteor fall look when viewed from a distance. But if you hang clear meteor shower lights with your regular Christmas lights, you get a magical snowfall display that's gorgeous when viewed from up close and far away.
If clear lights aren't your thing, you can try blue, pink, or multi-color meteor shower lights to give your home an otherworldly effect. You'll definitely have one of the best-looking houses on the block either way.
Pro tip: plug your outdoor Christmas lights into an outdoor smart plug, and you'll never have to go out in the cold to unplug them again.
The bottom line
Experimenting with new holiday decor can be a lot of fun. From classic and traditional to unique and distinct, there are so many styles and ideas surrounding Christmas decor. But at the end of the day, your holiday decor is very personal and should be done exactly the way you like it.