Your Guide to Moving to San Francisco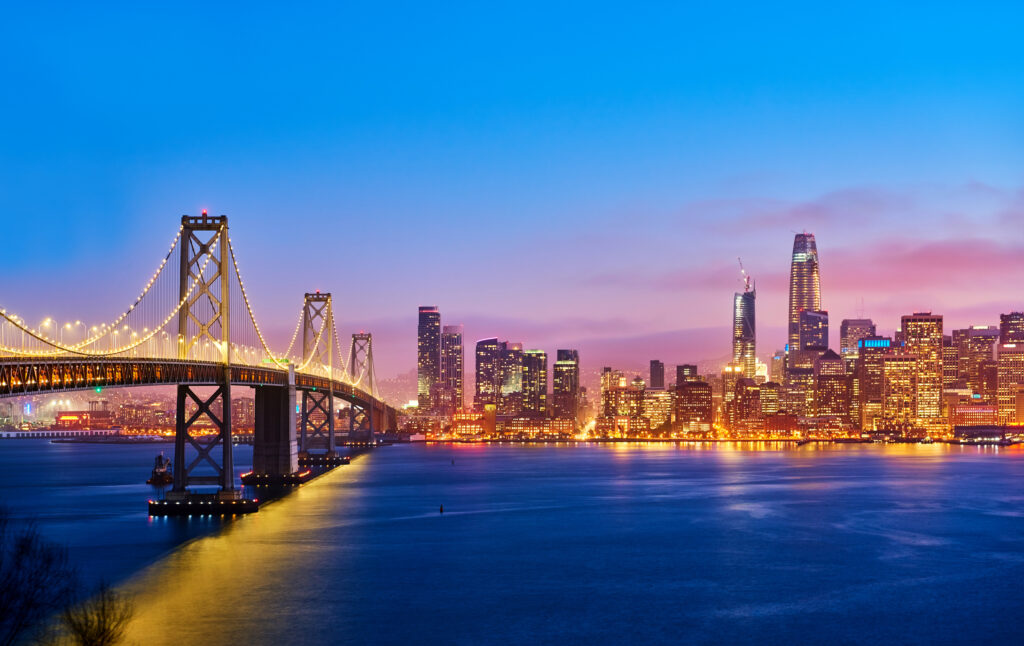 San Francisco at a glance:
With around 805,000 residents, the city ranks 16th in the nation for population.
Separating the Pacific Ocean and San Francisco Bay, the city is a peninsula measuring only seven by seven miles.
San Francisco is highly walkable with plenty of scenic overlooks and steep hills that provide dramatic vistas of skyline and coastline.
The cost of living in San Francisco is one of the nation's priciest.
The Bay Area is internationally known for its startup culture, including a high concentration of technology headquarters, and Silicon Valley, the launchpad of tech giants such as Google, Apple, and Facebook.
Weather in the city is a mix of micro-climates, including a signature fog that can keep summer days chilly.
Moving to San Francisco: The basics
Moving to San Francisco: The basics
What's the population of San Francisco?
San Francisco's population is about 805,000, making it one of the most populous U.S. cities. There's an almost equal amount of men and women in the city, and the median age is 38. If you want somewhere with a thriving dating culture, you'll find it in San Francisco, where 58% of city dwellers are single.

Considered a top choice for young professionals and the highly educated, San Francisco boasts a whopping 60% of residents with a bachelor's degree or higher — twice the national average. And reflecting San Francisco's long historical ties to the far east, there's a large population of residents with Asian descent.

[deals-hub-ad]

The San Francisco Bay Area stretches across nine counties, from wine country to Silicon Valley. This includes the North Bay, East Bay, and South Bay/Peninsula, which gives the metro a much larger population of 7.75 million.
What's the cost of living in San Francisco?
By every standard, San Francisco is one of America's most expensive cities. As of December 2019, The Cost of Living Index by the Council for Community and Economic Research indicated San Francisco is second only to Manhattan. The overall cost of living in the city is 97.6% higher than the national average.
Costly housing is one of the key indicators affecting affordability in San Francisco. According to the US Census, housing costs are more than double than the national numbers. The latest Census numbers also indicate that the median value of homes in San Francisco tops one million. The median rent in the city is $1,805/mo.
Here's how San Francisco stacks up against other cities for cost of living:
| | | | | |
| --- | --- | --- | --- | --- |
| City | Cost of Living (Compared to National Average) | Average Salary | Median Home Price | Median Rent |
| San Francisco | +97.6% | $66,833 | $1,309,475 | $4,185/  mo. |
| New York | +141.4% | $53,996 | $2,105,921 | $5,063/mo. |
| Charlotte | -1.5% | $46,237 | $300,819 | $1,207/mo. |
| Seattle | +57.6% | $60,258 | $824,117 | $2,650/mo. |
*Data sourced from the Council for Community and Economic Research's Cost of Living Index
How's the San Francisco job market?
High technology has a big presence and the region maintains its reputation as a global center for innovation. San Francisco and the Bay Area are home to famous brands that grew massively from startup seeds: Google, Apple, Facebook, Salesforce, Twitter, Pinterest, Uber, and Airbnb.
The Bureau of Labor Statistics reports that software engineers compare with other occupations in San Francisco and San Mateo counties at a rate of about 27 developers per thousand jobs. Among occupations, jobs related to the computer and mathematical segment make up more than 6% of local employment — twice the national share — and attract significantly higher wages than many other job segments.
The U.S. Bureau of Labor Statistics also indicates that workers in the San Francisco Metropolitan Statistical Area (including San Francisco, Alameda, Contra Costa, San Mateo, and Marin counties) earned an average hourly wage of $34.81 in May 2018, almost 40% above the nationwide average of $24.98.
Per capita income is more than double the national average at $71,606 and the San Francisco minimum hourly wage slightly boosted in mid-2019 to $15.59. With all of this in mind, San Francisco was not immune to the impact of COVID-19. Between September 2019 and September 2020, the Los Angeles Times reports that unemployment in San Francisco is up by 10.6% year over year and up by 9.5% YoY in San Mateo County. Sales at restaurants dropped by 91% between March and September 2020, placing a significant burden on service and hospitality workers.
What do I need to know about education in San Francisco?
The San Francisco United School District (SFUSD) operates 136 public schools with more than 52,000 students. The city also has 116 private schools through grade 12. For parents seeking bilingual teaching or baccalaureate certification, the Bay Area has 17 international schools for different languages and various age groups. As of September 2020, SF Unified District schools in San Francisco opened their school year with remote learning. Each individual school must submit a safety plan to the district to be approved for reopening. Elementary schools may submit plans in September, middle schools can submit plans in October, and high schools can't be considered for reopening until November.
Children in the SFUSD can get an early start, with pre-kindergarten optional from age three, followed by kindergarten entry for all children turning five by the first of September. Registration opens in January when parents select their school preferences, with results coming out in June. School typically opens during the third week of August and runs through late May.
Lowell High School tops the list of San Francisco's 14 public high schools. It's ranked #6 in California and #56 in national rankings. It offers many Advanced Placement courses for the 2,700 students and boasts athletic stars — as well as three Nobel Prize-winning alumni.
For parents moving to San Francisco, SFUSD publishes a school location map and facts-at-a-glance for quick reference that includes student demographics, proficiency, and high school graduation rates. A district performance overview provides more details on the California School Dashboard by the California Department of Education. San Francisco Bay Area also has three of the nation's most prestigious institutions of higher learning: Stanford University, University of California-Berkeley, and University of California-San Francisco.
What are the safest areas in San Francisco?
According to Neighborhood Scout, the safest areas in the city are located near the following cross-streets:
Clement Street and Legion of Honor Drive, in the northwest part of the city
Lake Street and El Camino Del Mar, also in the northwest part of the city
Ocean Avenue and Miramar Avenue, a little south of center-city
Neighborhood Scout says San Francisco is safer than only 2% of American cities. The city has a higher-than-average crime rate when compared to the rest of the country and to communities of the same population size. But those numbers just give a high-level understanding of what safety is like in the area. For more detailed localized information, visit the city's crime dashboard, which can be filtered by each district of the San Francisco Police Department. There are also quick links to the most frequently requested information.
How do I get around San Francisco?
The San Francisco Municipal Transit Agency (SFMTA, or Muni) operates a system of interlocking modes of transit: electric buses, regular buses, historic streetcars, and both underground and overground light rail trains. The famous cable cars that ride the hills operate on three scenic routes, aimed primarily at visitors rather than commuters (they are well worth the price of the ticket, though, if you want to experience all of the beautiful sites the city has to offer!).
A prepaid Clipper Card gives slightly reduced fare access to all Muni transport and also offers discounts on buses to San Francisco suburbs, pedestrian ferries across San Francisco Bay, Caltrain commuter trains along the South Bay/Peninsula corridor and Bay Area Rapid Transit (BART) serving the San Francisco and the East Bay.
Crazy hills aside, San Francisco is a highly walkable city (just be ready to work out those calf muscles!). But as a resident, you'll soon learn how to circumnavigate the steepest inclines, as a slight detour may make all the difference. Rideshare apps like Uber and Lyft are only ever minutes away if you want to catch a ride.
Homes with dedicated parking or a garage command a premium. Residential Parking Permits are managed by SFMTA for on-street parking by residents.
Overall, the average commute time in San Francisco is 34 minutes, with a growing contingent of bicyclists and remote workers. In January 2020, the main downtown thoroughfare, Market Street, was converted permanently to be car-free.
What's the weather like in San Francisco?
The weather is always a go-to conversational topic in a town where the fog has its own name (Karl) and a Twitter account followed by 360,000.
A blanket of rolling fog provides natural air conditioning for city dwellers and startled tourists. The summer daily average temperature is just 61 degrees. San Francisco's warmest, sunniest, and driest months are May and September when the fog disappears, but highs rarely reach the 80s. Rain comes in winter months — it's never cold enough for snow — and by April, it's generally dry for six months or longer.
In San Francisco, micro-climates are a quirky anomaly. Surprisingly, a few blocks can make a big difference and the shift from day to evening can be dramatic. Dressing in layers is the golden rule. The eastern side of the city is warmer and sunnier, growing gradually cooler and foggier to the west.
A quick trip across the Golden Gate Bridge or the Bay Bridge usually means completely different weather on the other side. Moments away in the San Francisco suburbs, daytime weather conditions are much warmer and sunnier year-round, frequently by 15 to 20 degrees.
What are San Francisco's fastest-growing neighborhoods?
In San Francisco:
As a peninsula, San Francisco has little potential for sprawl. There are tight protections around historic preservation and landmark conservation, as well as height restrictions. Living in San Francisco means being able to see the sky, wander through a forest, and dip your toes in (cold!) ocean water.
Mission Bay
This 300-acre area of contemporary, luxury high rises near Oracle Park and a new campus of UCSF Medical Center has sprouted as a planned community over the past 10 years. It offers sophisticated urban living with views and amenities, targeted at young professionals. The newest addition is Chase Center, home to the Golden State Warriors and a state-of-the-art venue for mega-name entertainers and the performing arts.
Niche.com indicates that in Mission Bay, the median home value is $923,500 and the median monthly rent is $3,032. If you want to be a renter, you're in good company — two-thirds of the approximately 6,550 residents rent their homes.
East Cut
This brand new neighborhood that incorporates Rincon Hill is still getting used to its name, East Cut. "Gleaming glass towers," says Business Insider, "where the average rent is nearly $5,000 per month." In one luxury tower, the penthouse comes with a $46 million price tag and connects to the new $2.2 billion Salesforce Transit Center with a four-block-long public urban park. At One Steuart, a new 120-condominium tower has a sun terrace, private fitness center, and spa. Niche.com shows the 4,100 residents of Rincon Hill and East Cut have median home values at $1,123,660 and median rentals at $3,125 monthly.
Mid-Market
This corner of the sprawling SoMa (South of Market Street) neighborhood is always controversial but undeniably central. Mid-Market has been making headlines since Twitter moved its headquarters there in 2012. Five years later, the swanky San Francisco Proper Hotel joined the neighborhood.
Among the current mixed-use projects transforming Mid-Market are Serif at 950 Market Street — where condos start in the $500's — and the 5M development of three buildings adding nearly 700 housing units (plus retail, restaurants, parks, and rooftop open spaces).
In SoMa where 71% of the 25,577 residents rent, median home values are $924,757 and monthly rentals are $2,006, says Niche.com.
India Basin
After much debate, in 2018 the city of San Francisco approved the development of 1,500 new homes in India Basin. The residential project will also include parkland, commercial space, and parking. What was once a semi-wild gravel yard, according to the India Basin community website, will now be a pedestrian-friendly residential area with walkable amenities. With Niche putting the average rent in the area currently at just $802 per month and home values at $514,200, there probably couldn't be a better time to lock down a home here.
Outer Sunset
Outer Sunset is the flip side of Outer Richmond, bordering Golden Gate Park along its southern edge right out to the vast sands of Ocean Beach. Don't be misled by the name; it's not particularly sunny because the fog rolls in most days. However, it's a surfer's paradise and stunning sunsets do happen. Nothing will block your view, thanks to low-density zoning and low-rise zoning. Niche.com says the median home value in this area is $964,069. Outer Sunset's 53,324 residents are looking at median rent prices of $2,143/mo.
In the Greater San Francisco Metro Area:
East Bay via BART is the quickest commute to San Francisco, so Oakland and Berkeley are always an option for city living. Across the Golden Gate Bridge in North Bay, Marin County attracts families and outdoorsy types for the open spaces of Mt. Tam and proximity to the seashore. A bit further north, it's hard to beat the rolling hills, vines, and views of wine country in Sonoma and Napa wine country. Bedroom communities are popular with tech workers in South Bay and the Peninsula.
Rockridge, Oakland
Choose this East Bay community for its urban vibe, energy, and proximity to BART — with the baked-in plus of saving money over San Francisco's real estate. Niche.com says slightly more than half of Rockridge residents (population: 4,111) are homeowners looking at today's median home price of over $1.1 million or renters paying a median price of  $1,667/mo. Residents can also enjoy good public schools and a historic country club.
San Leonardo
Located just south of Oakland, this Easy Bay city has relatively affordable homes (prices average about $730,000, and you can even find rents under $2,000. The area maintains a certain charm from having homes built in the 1920s, and it continues to grow its food scene and the city has been courting tech companies. It's already home to major food processing plants, including for Coca-Cola.
Mountain View
In the heart of Silicon Valley, Mountain View (population 80,993) is home to Alphabet, Google, Waymo, LinkedIn, Intuit, and Mozilla, among other tech and life sciences companies. Niche.com indicates 58% of residents are renters paying a median monthly price of $2,314. The median home value is over $1.2 million.
Located 39 miles south of San Francisco, Mountain View benefits from a Caltrain commuter connection and station that's a short walk from a vibrant downtown. Mountain View schools are rated A+ and the Peninsula daytime weather is noticeably warmer and sunnier than in the city.
Living in San Francisco: The fun part
For the sports fan
San Francisco has high-caliber professional sports action all year. The San Francisco Giants (MLB) play at Oracle Park located right in downtown, while the Oakland Athletics (also MLB) play at Oakland Coliseum across the bay. The Golden State Warriors (NBA) play at the new Chase Center, while the San Francisco 49ers (NFL) play at Levi's Stadium in South Bay. And don't forget the San Jose Sharks (NHL) and San Jose Earthquakes (MLS), who both play just 45 minutes south of San Francisco.
For the culture-seeker
Home to the acclaimed San Francisco Ballet, San Francisco Opera, and San Francisco Symphony, the Civic Center is a collection of Beaux-Arts buildings that complement the landmark San Francisco City Hall.
The museum scene is equally rich, with 85 options throughout the city. The San Francisco Museum of Modern Art (SFMOMA), the de Young Museum and Legion of Honor, the California Academy of Sciences, the Asian Art Museum, and the Exploratorium are just a few of the more popular venues.
Top hits from Broadway play the biggest venues and small theaters present live shows around the city. Concerts, film festivals, comedy festivals, and a free summer-long concert series staged outdoors in the natural amphitheater at Stern Grove are all part of the San Francisco cultural scene. In all, San Francisco has 68 official music venues.
For the foodie
For at least 20 years, San Francisco has been celebrated worldwide as a foodie destination. Michelin-star restaurants and James Beard Award winners decorate the city, but even the food trucks and farmers' markets are staples — since northern California is blessed with exceptional farm-to-table access for seafood, shellfish, and wine grapes.
As for signature dishes and drinks, San Francisco claims sourdough bread, Cioppino, Dungeness crab, Mission burritos, and the fortune cookie. On the drinks side, the Mai Tai, Martini, Pisco Sour, and Irish Coffee were first introduced to America in 1952 at the Buena Vista Café. You can also find 64 breweries (many with full menus) scattered throughout SF.
For the traveler
Served by 49 airlines with direct flights all over the world, San Francisco International Airport is only 14 miles south of the city. Three smaller airports are nearby: Oakland International Airport (served by 11 carriers), Norman Y. Mineta San Jose International Airport (served by 12 airlines), and Charles M. Schulz–Sonoma County Airport (served by three airlines to 10 destinations).
Natural beauty is a highlight in Northern California; San Francisco is surrounded by wine country and rugged Pacific coastline to the north and south. Popular weekend getaways include Napa Valley, Lake Tahoe, and Yosemite. The 600-mile coastal scenic Pacific Coast Highway, California Route 1, runs through San Francisco and is considered one of America's "Great Road Trips."
For the outdoor explorer
It's easy to enjoy the great outdoors in San Francisco. In the middle of San Francisco Bay, Angel Island has 13 miles of bike trails. Hugging the Pacific Coast, Land's End Trail is four miles of hiking with great views of the Golden Gate Bridge. Walk or bike over the bridge itself, go sailing in the bay, boat in Stow Lake, and explore the large open spaces of Golden Gate Park and the Presidio, where San Francisco began. The city has a grand total of 263 trails and 471 city parks — pretty impressive for such an urban sprawl.
For outdoor adventures willing to travel beyond the Golden Gate, head to Mt. Tam above the Marin Headlands, see the giant redwoods in the Muir Woods National Monument, or take a day to bike Marin's 30-mile Alpine Dam Loop.
What you probably didn't know about San Francisco
The Golden Gate Bridge is painted in a primer called International Orange. Instead of applying black and yellow stripes as planned in 1937, builders decided to leave it permanently in its signature orange color.
San Francisco has the second-largest Chinatown outside Asia, and it's also the oldest in North America. Plus, it has the oldest Japantown in America, one of only three that still remain.
The "Chinese" fortune cookie was first created by Makoto Hagiwara, the landscape designer of the Japanese Tea Garden in Golden Gate Park. Fortune cookies were (and still are) served in the tea house during the 1894 California Midwinter International Exposition.
The "Crookedest Street in the World" actually isn't. Despite its eight switchbacks, Lombard Street isn't even the most crooked street in San Francisco. Vermont Street between 20th and 22nd streets on Potrero Hill is steeper and twistier.
Near Dolores Park, there's a "golden" fire hydrant, freshly painted every year on April 18, the anniversary of the Great Earthquake and Fire of 1906. This hydrant produced water and saved part of the city from flames while other hydrants were dry due to broken water mains.
If you're interested in moving to the area check out our city page on San Francisco!
The bottom line
If you're thinking of moving to San Francisco or the greater Bay Area, this guide is a good place to start. But there are plenty of useful resources to consider as part of your research. You may want to follow the official tourism board, San Francisco Travel, or keep up with the dining and cocktail scene from Eater SF. Check out independent media Thrillist, 7×7.com, and Hoodline.
Lara Vukelich contributed to this article