Your Guide to Moving to Tampa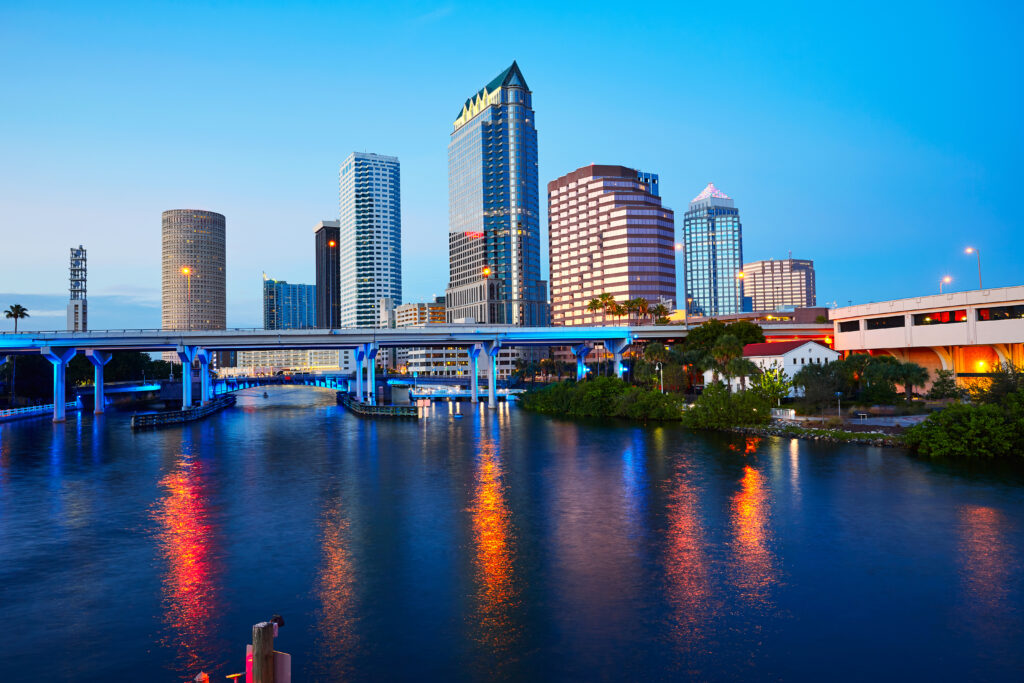 Your Guide to Moving to Tampa
Moving to Tampa: The basics
What's the population of Tampa?
Tampa has a population of 712,097. According to the Tampa Bay Economic Development Corporation, Hillsborough County, which includes the city of Tampa, is on track for 8.7% growth through 2024. This puts it ahead of the state of Florida overall, as well as the United States.

The population of Tampa is young and fairly diverse. Young professionals abound, bringing the median age to 34. There's a pretty even gender split in the city, and 43% of residents are married. More than 17% were born in another country. The majority of foreign-born residents (64%) are from Latin America — but Asia and Europe are also well represented in the count.

[deals-hub-ad]
What's the cost of living in Tampa?
The cost of living in the city is 8.1% below the national average.
The average home price in Tampa is $259,102, and the average rent is $1,147/mo.
If you're wondering about food costs in Tampa, know that they're about the same as the national averages. Expect to pay $3.22 for a loaf of bread, $1.59 for a half-gallon of milk, and $1.60 for a dozen eggs.
The average salary in the city is $41,404.
Here's how the cost of living in Tampa compares to other U.S. cities:
| | | | | |
| --- | --- | --- | --- | --- |
| City | Cost of Living (Compared to national average) | Average Salary | Average Home Price | Average Median Rent |
| Tampa, FL | -8.1% | $41,404 | $259,102 | $1,147/mo. |
| Orlando, FL | -7.9% | $39,752 | $278,563 | $1,138/mo. |
| Tucson, AZ | -2.5% | $36,227 | $332,387 | $919/mo. |
| New York, NY | +141.4 | $53,996 | $2,105,921 | $5,063/mo. |
How's the Tampa job market?
Prior to the global outbreak of the coronavirus (and its subsequent economic impact), Tampa had been experiencing record-low unemployment rates. In January 2020, the Bureau of Labor Statistics reported that Tampa had an unemployment rate of 3.1% (which was lower than the national rate at the time). The latest numbers from July show the unemployment rate rising to 10.1%, a trend cities across the U.S. experienced due to COVID-19.
If you're looking for a job in the city, know that the greater Tampa Bay area is home to seven Fortune 500 companies, two of which are headquartered in the city proper.
What do I need to know about Tampa education?
Hillsborough County Public Schools (HCPS) is the seventh-largest school district in the nation, with more than 200,000 students in K-12. Most students attend schools based on their geographic location, but school choice is readily available. Options include magnet schools, career and technical institutes, homeschooling, and even virtual school. According to Niche, HCPS ranks #19 of 67 school districts in Florida overall, #4 in diversity, and #7 in school athletics.
Florida allowed many of their schools to re-open during the COVID-19 pandemic. About half of the students of all schools in Hillsborough county went back to school. However, they are requiring everyone to wear a mask and parents can access a dashboard on the school's website to stay up to date with any COVID cases that might arise in their kids' school.
In addition to HCPS, the Tampa Bay area has more than four dozen charter schools and a plethora of highly-rated private schools, both independent and faith-based.
Area colleges and universities include a variety of two-year trade schools and community colleges, private four-year institutions, and major universities such as the University of South Florida.
What are the safest areas in Tampa?
An important part of moving to a new city is deciding where to live. NeighborhoodScout aggregates crime data from a variety of law enforcement agencies. According to that site, the safest neighborhoods in Tampa are near the following cross-streets:
Race Track Road/Nine Eagles Drive on the west side of the city near Palm Harbor
New Tampa Boulevard/Wood Sage Drive to the north near Lutz
North Boundary Boulevard/Radar Road to the south by MacDill Air Force Base
When compared to cities of similar population size, Tampa has a significantly lower crime rate. If you want to learn more, you can get detailed information from the local FBI crime statistics and the Tampa Police Department's Interactive Crime Map.
How do I get around Tampa?
Moving to Tampa most likely means relying on a car. The average commuter spends 27 minutes each way, but using public transportation can add significantly to your travel time. The exception is if you live and work in the downtown area — including Ybor City and Channelside — which are two of the best places to live.
Throughout downtown, travel options include everything from historic streetcars to pirate-themed water taxis. Outside of this area, the public buses will get you where you need to go, but not necessarily in a timely manner. The Tampa Bay Partnership is working on the transit issues, but so far, commute times are still pretty long.
What's the weather like in Tampa?
Tampa's weather is generally warm and balmy but can surprise residents with bursts of temperature extremes. Average winter temperatures are in the 70s during the day and the 50s at night, but it's common to experience sub-freezing weather for a few days at a time. Likewise, summertime highs are normally around 90, but can easily reach 100 degrees or more for a few days.
In addition, Tampa is no stranger to severe weather. June 1 through Nov. 30 is hurricane season, and tornadoes are common across central Florida, with an annual average of 66 (although they're typically smaller than midwestern tornadoes). The Interstate 4 corridor, which starts in Tampa, is nicknamed Lightning Alley, and Florida is known as the lightning capital of the country.
What are Tampa's fastest-growing neighborhoods?
In Tampa:
Ybor City
A National Historic Landmark District just outside downtown, Ybor City has been a thriving, eclectic, highly diverse neighborhood for the past 135 years. From shopping to dining to entertainment, Ybor caters to a more indie lifestyle.
SoHo
SoHo (South Howard) is a tiny but bustling arts district within the larger Hyde Park neighborhood. A fascinating blend of old and new, upscale and divey, SoHo is especially attractive to millennials moving to Tampa.
Hunter's Green
If you prefer the convenience of a planned community, Hunter's Green may be for you. From well-manicured green spaces to community events, this is a neighborhood you may rarely want to leave.
Harbour Island
A planned community within walking distance of downtown, Harbour Island is an excellent choice for those who want to live near the water. Everything you need is close by — you can enjoy the bustle of downtown whenever you like, then escape to your quiet oasis.
In the Greater Tampa Metro Area:
St. Petersburg
Located on the coast just west of Tampa, St. Pete was founded as a resort town in 1875. Today, it's a thriving year-round city known for its arts and culture, as well as its natural beauty. St. Pete is about a half-hour drive from downtown Tampa, depending on traffic.
Clearwater
North of St. Pete and also on the coast, Clearwater is known for its white-sand beaches and thriving downtown corridor. Commuting to downtown Tampa takes about 40 minutes or so, depending on the time of day.
Brandon
Located east of Tampa, Brandon is ideal for those who prefer a home base in a smaller community. It tends to draw residents who are younger residents. Your commute to downtown Tampa will be around 20 minutes, though it can take longer at rush hour.
Living in Tampa: The fun part
For the sports fan
Sports fans will be happy to know that Tampa is home to four professional sports teams: the Tampa Bay Buccaneers (NFL), the Tampa Bay Lightning (NHL), the Tampa Bay Rowdies (USL) and the Tampa Bay Rays (MLB).
For the culture-seeker
Whether your interests include children's museums, living history, science, or photography, you won't run out of cultural spots to explore in Tampa. The city has a total of 28 museums. Annual don't-miss events include the Gasparilla Pirate Festival and the Bay Area Renaissance Festival. Tampa Magazine will keep you up to date with everything you need to know.
For the foodie
West Tampa and Ybor City are home to a strong Cuban culture, and mouthwatering, authentic Cuban cuisine can be found there. But Tampa's food scene is growing rapidly. With an emphasis on hyperlocal recipes, dining options in Tampa are full of tasty surprises. Combine these culinary delights with a fresh brew from one of the city's 30 local breweries.
For the traveler
Tampa International Airport is on the west side of the city, making it easy for Tampa residents to explore the globe. If you want to stay closer to home, though, just head west to the legendary white sand beaches of Clearwater and St. Petersburg. Or for something completely different, hop on Interstate 4 to the Orlando-area theme parks, from Walt Disney World to Universal Orlando.
For the outdoor explorer
Outdoor enthusiasts will love golfing, kayaking, jogging, and fishing throughout the Tampa Bay area. Camping, biking, and hiking are also popular choices. Tampa has 194 parks and 49 hiking trails, so you'll have plenty of new scenes to take in. Visit Hillsborough County's outdoor recreation page for details on where to go for your favorite outdoor activities.
What you probably didn't know about Tampa
When moving to Tampa, you probably want to know as much as possible to help you think like a local. Here are a few fun facts:
If you're interested in moving to the area, check out our city page on Tampa!
The bottom line
While an in-depth guide can be a useful resource for any move, one article can only scratch the surface. When moving to Tampa, it's important to consult local resources such as Visit Tampa Bay, the Tampa Bay Times, and Tampa Magazine for more in-depth information.
Sean Jackson contributed to this post.