Room Color and How it Affects Your Mood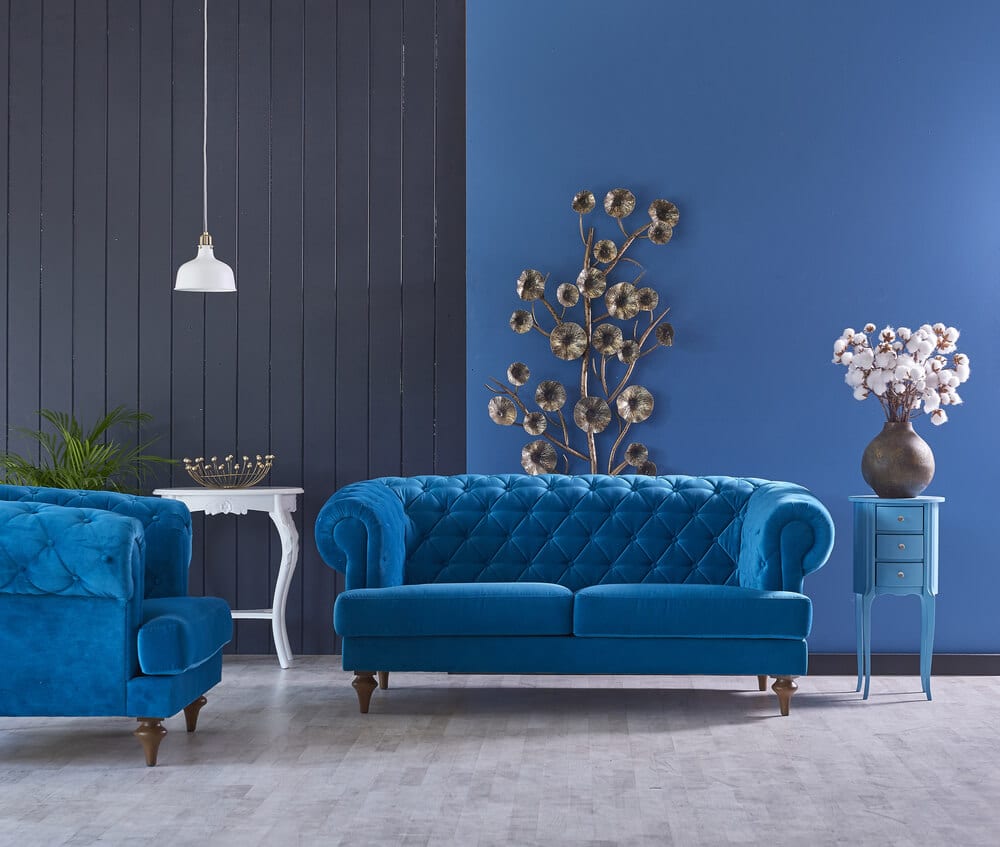 Shop These Products Now: Sofa – Flower Pot – Round Table – Ceiling Lights
Room color psychology is an integral part of your daily life, affecting your moods and energy levels with just the room color you choose for your walls. The colors of the rooms in your home also serve as a direct reflection of your personality. The people who live in a home make it beautiful by choosing colors that reflect their preferences and personalities. Color has the power to change the shape and size of furnishings, as well as the shape and size of the room itself.
Selecting colors is not difficult if you equip yourself with some basic information about color and its effects. Color trends come and go, so you don't have to worry about trends in order to have a beautiful home, especially when you are looking to sell. The trick is to blend the colors you like into a pleasing combination, but choosing color combinations is one of the most intimidating steps for beginners.
That's where we can help.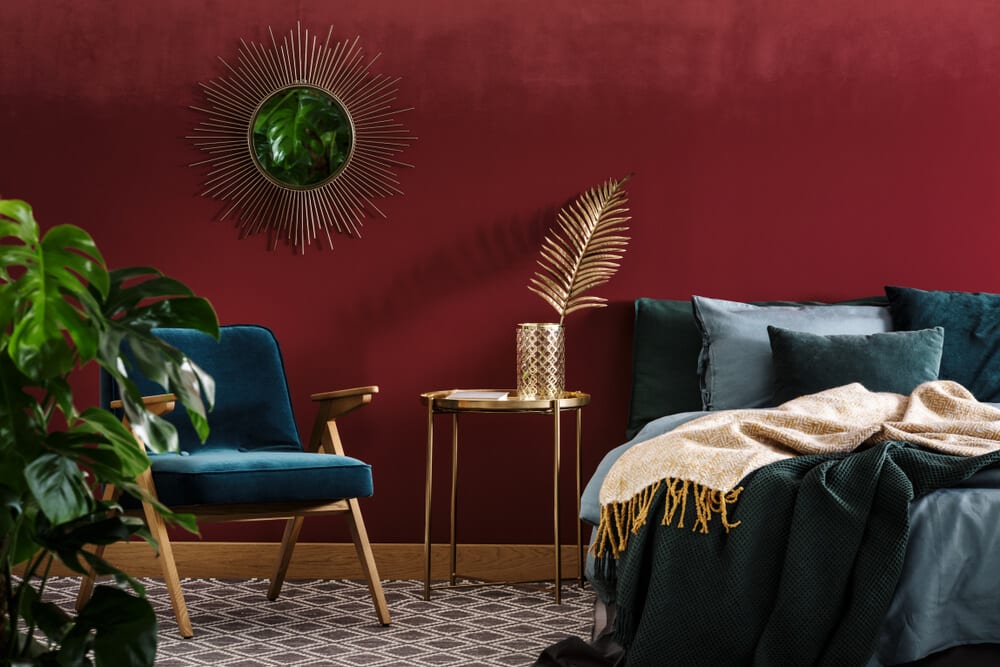 Shop These Products Now: Wall Decor – Blanket – Velvet Chair
What is room color psychology?
While most of us may not spend a lot of time thinking about room color, it affects us every day. Room color can impact our moods and our thoughts and affect us in many ways, depending on age, gender, ethnic background, and climate. Certain colors or even groups of colors tend to receive a common reaction from most people, which is why it's so important to choose colors wisely when it comes to decorating.
Let's take a closer look at what colors can do for a room.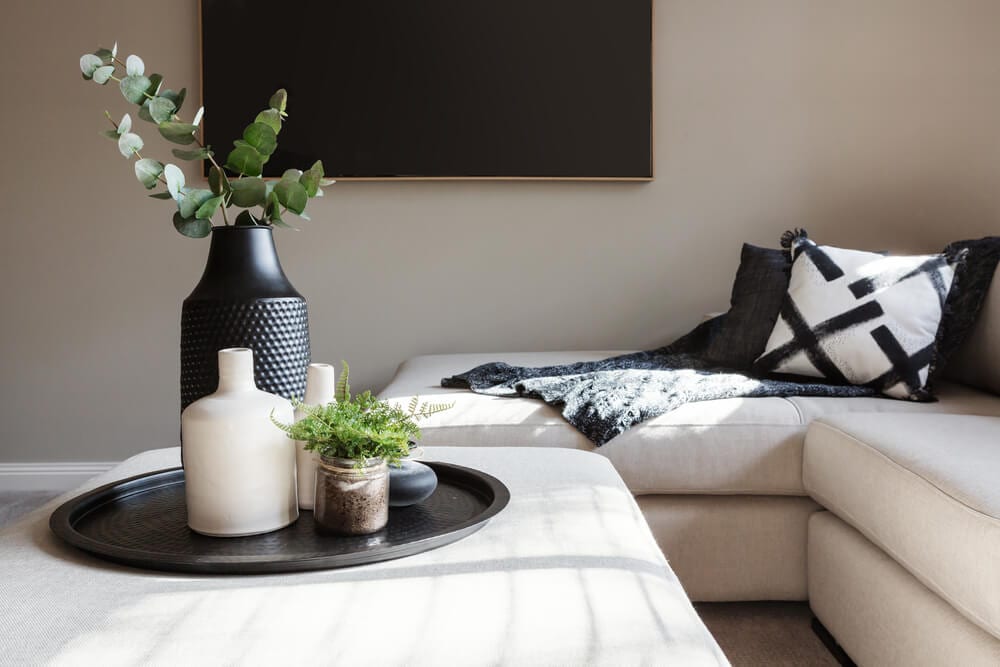 Shop These Products Now: L-Shape Sofa – Throw Pillow – Table Pots
What should I paint my room? Room colors and how they can impact your mood
When deciding what color to paint, ask yourself:
What mood do you want to create in your room?
What colors match that mood?
If you need help answering these questions, gather inspiration from magazines and design websites. Also, take note of your textiles. Let your rug, throw blankets, and pillows guide your color scheme.
Once you find something you like, limit your colors in a room to a select few. Too many colors can make a room feel chaotic or cluttered.
Color:
Moods it can convey:
Best for:
Our three favorite paint shades
Warmer Colors
Red, the most intense color

Red raises a room's energy level.
Can stimulate love, passion, anger, and power.

Dining room
Living room
Entryway

Orange, an energetic color

Evokes excitement and enthusiasm.
Promotes activity.

Yellow, the color of happiness

Captures the joy of sunshine.
Communicates happiness.

Living room
Bathroom
Kitchen
Dining room

Pink, the calming color of love

Associated with love and kindness.
Boosts creativity.

Cooler Colors
Green, the most restful color

Has a calming effect.
Relieves stress.
Said to improve fertility.

Bedroom
Living room
Kitchen

Blue, the color of calm
Purple, the color of sophisticated drama

Rich sophistication for darker purples.
Relaxation for lighter purples.

Bedroom
Office
Living room

Neutral Colors
Brown, the color of traditional comfort

Adds warmth.
Common with traditional decor.
Brings elegance and sophistication.

Any
Grey, the new "in" color

Brings comfort and warmth.
Completely versatile.
Timeless and classic in lighter shades.
Edgy and modern in darker hues.

Any
White, a timeless classic

Brings calming effects.
Makes the room feel more open and spacious.

Any
Black, a bit of edge

Best used in small doses as an accent.
Grounds your color scheme.
Gives depth.

Any, as an accent
Metallics, a sparkling refresh

Gives instant style.
Adds extra durability.
Promotes excitement and creativity.

Any
What's the best color for my bedroom?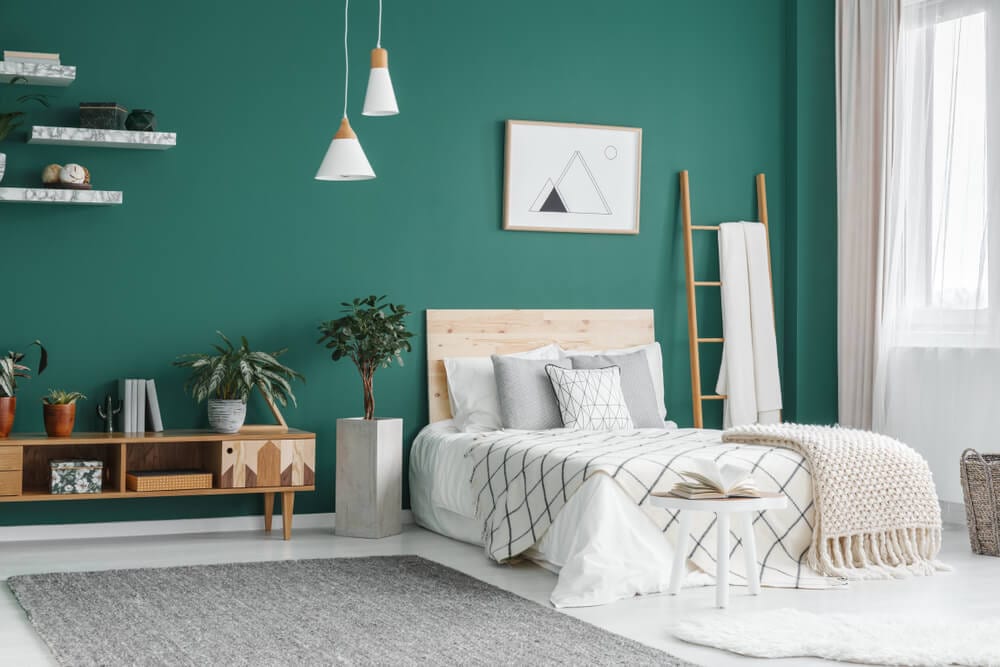 Shop These Products Now: Throw Pillow – Blanket – Rug – Bedroom Plants
Your bedroom is a place of peace and relaxation, so bedroom colors and mood should incorporate colors that bring a general peace and restfulness to the space. When deciding on a room color for your bedroom, consider the room color psychology of such colors as green, blue, and purple for their relaxing qualities.
Colors to use in your bedroom:
Green is believed to relieve stress and help with fertility, making it a great choice for the bedroom.
Blue is said to lower blood pressure while slowing your respiration and heart rate.
Purple in lighter shades, such as lavender and lilac, still bring a relaxing quality to the bedrooms without the risk of feeling too cold.
Colors to avoid in your bedroom:
Orange is a bright color of energy that directly contradicts the relaxing mood of your bedroom.
Pastel blue can become unpleasantly chilly on the walls, especially in a room that receives little natural light.
What's the best color for my living room?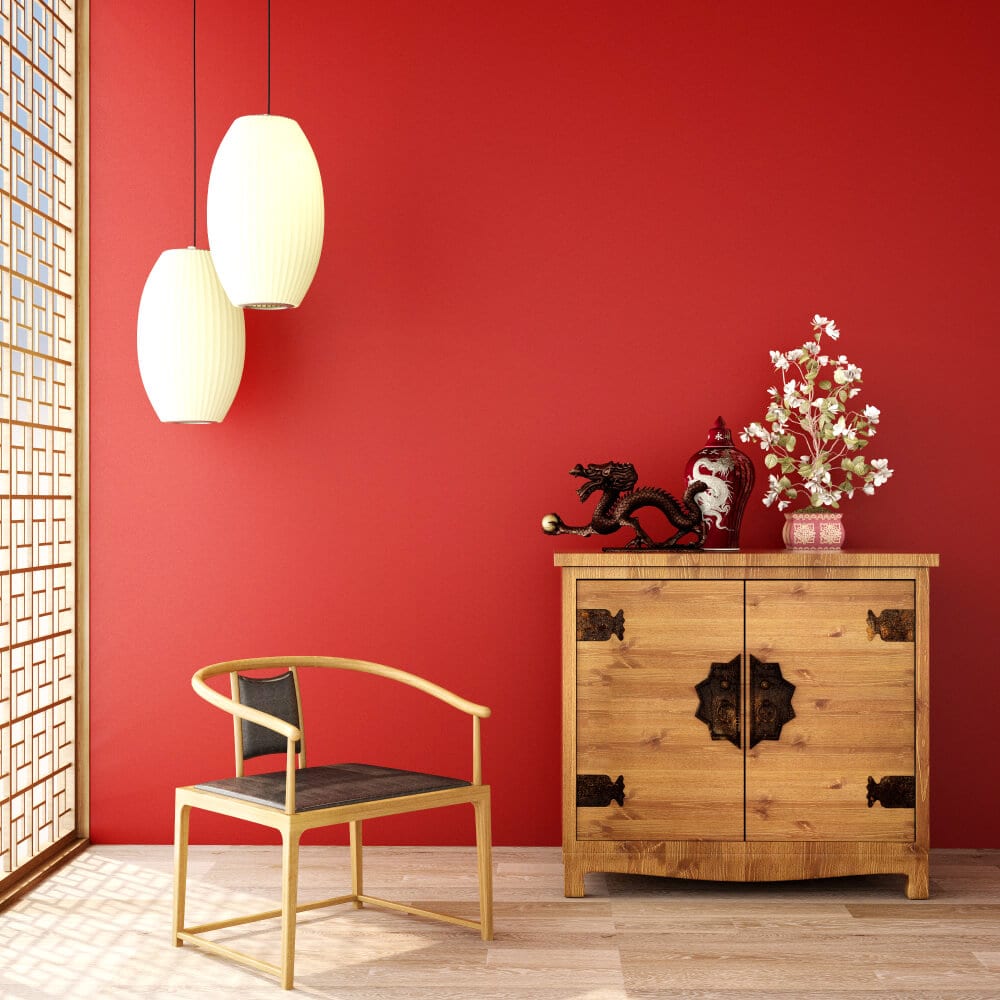 Shop These Products Now: Ceiling Lamp – Wishbone Chair – Room Storage – Antique Decor
The room color psychology of your living room is simple: find living room colors that fit the overall mood of comfort, conversation, and camaraderie for your space. When asking yourself what should I paint my living room, consider happy, calming colors like green and blue. For more excitement, consider red.
Colors to use in your living room:
Red pumps the adrenaline like no other hue. It is a good choice when you want to stir up excitement, particularly at night.
Green is considered the most restful color for the eye, combining the refreshing quality of blue and the cheerfulness of yellow.
Blue can encourage relaxation and calm in social areas but go for softer shades.
Colors to avoid in your living room:
Orange is too energetic to promote relaxation.
What's the best color for my bathroom?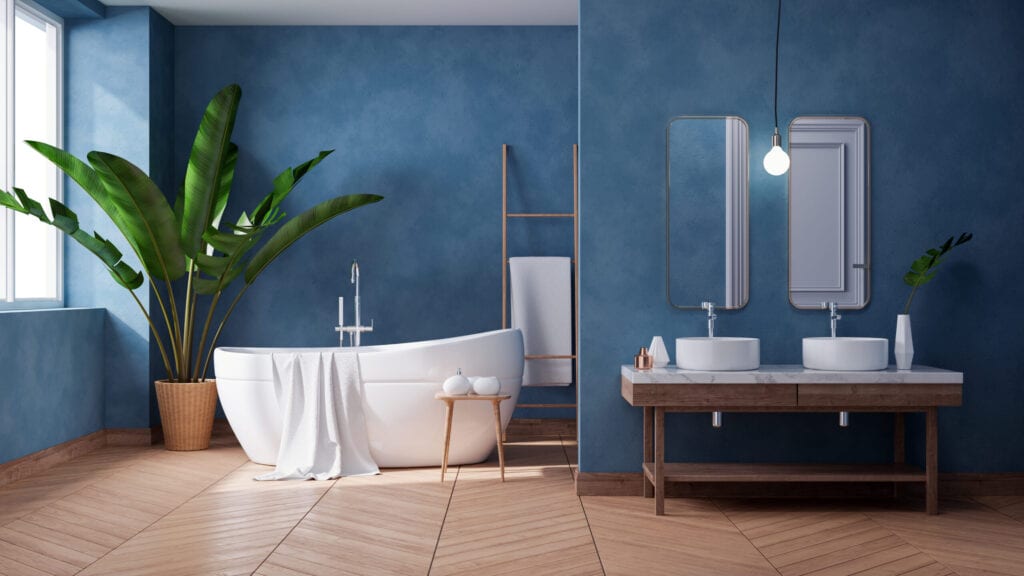 In the bathroom, your room color psychology should focus on calming colors. This can include yellows, blues, and purples for your wall color.
Colors to use in your bathroom:
Yellow is an uplighting color that brings energy to your bathroom.
Blue brings feelings of relaxation to your bath.
Purple in lighter shades can add extra serenity.
Colors to avoid in your bathroom:
Red in brighter shades can be a bit too severe for the bath.
Orange can prove to be overstimulating for a place that should be relaxing.
What's the best color for my kitchen?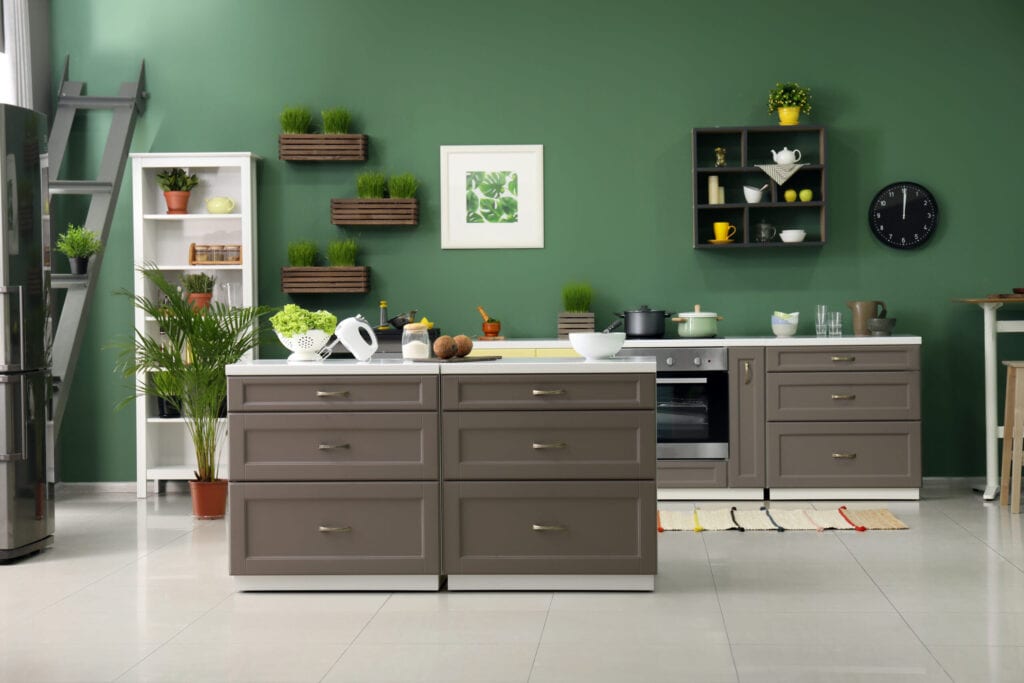 The kitchen is a communal space where creativity is born and the family gathers. That is why you want kitchen paint colors that promote creativity and happiness. Shades of yellow, green, and blue can all improve your room color psychology, instantly improving the mood with the cheery wall color.
Colors to use in your kitchen:
Yellow brings an energizing vibe to your kitchen.
Green can make your kitchen feel cozy.
Warm blues can promote relaxation in your kitchen.
Purple adds a level of rich sophistication and edge.
Colors to avoid in your kitchen:
Black is too sharp and dramatic for a place based on easy conversation.
Brown is a color that is not commonly associated with hunger, making it better suited for other areas.
What's the best color for my dining room?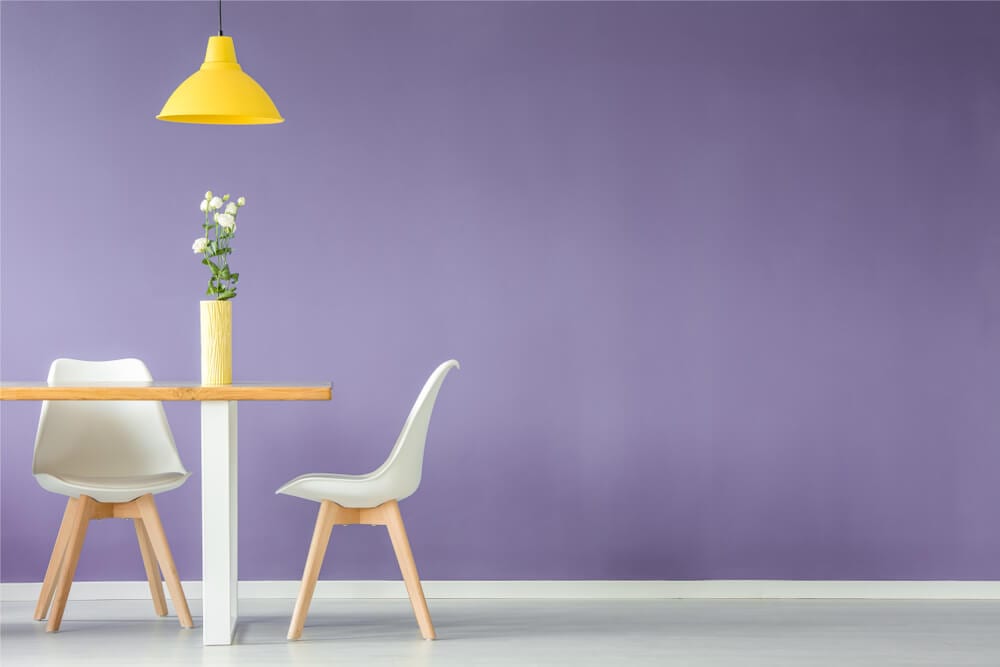 Shop These Products Now: Dining Chair – Wallpaper – Flower Decor
When considering the best room color and mood for your dining room, room color psychology says you want to go with colors that promote appetite. Some colors have actually been proven to make you less hungry, something you definitely want to avoid in your dining room.
Colors to use in your dining room:
Red draws people together and stimulates conversation.
Yellow can add positive energy and happy vibes, as well as increase hunger.
Purple brings excitement and luxury.
Colors to avoid in your dining room:
Blue can actually make you sleepy, reducing your appetite.
Greens in bright hues can energize you, leaving you less inclined to eat.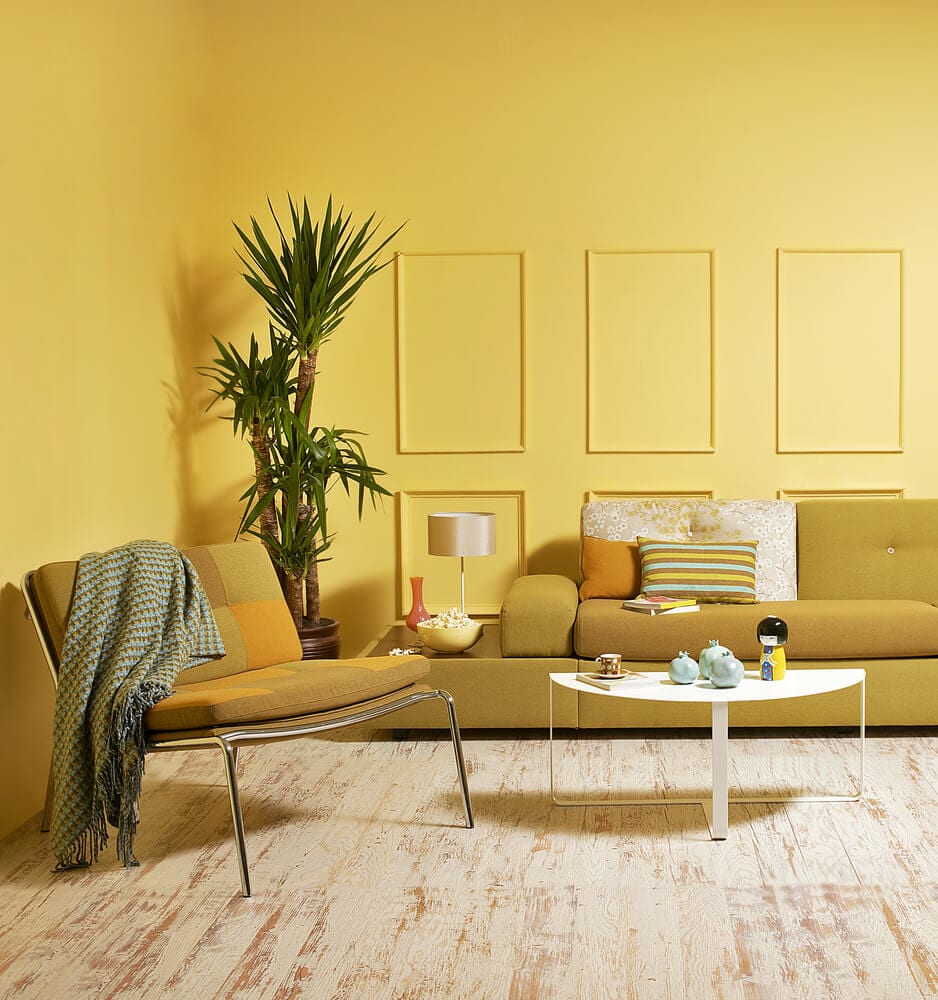 The bottom line
The room color psychology of your home is far more than just a collection of pretty colors. The colors you choose for your walls can significantly influence your mood and behavior, creating changes that ultimately affect your entire life. That's why it is important to choose happy, positive, and encourage colors for your home, so it becomes a space that brings out the very best in you and your family.
Frequently asked questions
Q:
What room colors affect your mood?
A:
Ancient cultures believed that orange could heal the lungs and increase energy levels, while yellow can also overstimulate the body, while colors like blue, green, and light purple are all calming, soothing shades.
Q:
Does the color of a room affect human behavior?
A:
Some colors are especially known for influencing human behavior. For example, red is usually considered too stimulating for bedrooms, and crimson is a shade that can make some people feel irritable, invoking feelings of rage and hostility. However, if you're typically in the room only after dark, you'll be seeing it mostly by lamplight, when reds could appear muted, rich and elegant, promoting more relaxing feelings.
Q:
What is the most depressing color?
A:
Dark blues and black are best used in small doses as accents. They can easily become too overwhelming and darken your home.
Q:
What color can make a small room feel bigger?
A:
Light colors are expansive and airy, making rooms seem larger and brighter, while dark colors are sophisticated and warm; they give large rooms a more intimate appearance. In halls, entries, and small spaces, yellow is a popular pick because it can feel expansive and welcoming.