15 Tips for Moving into Your First House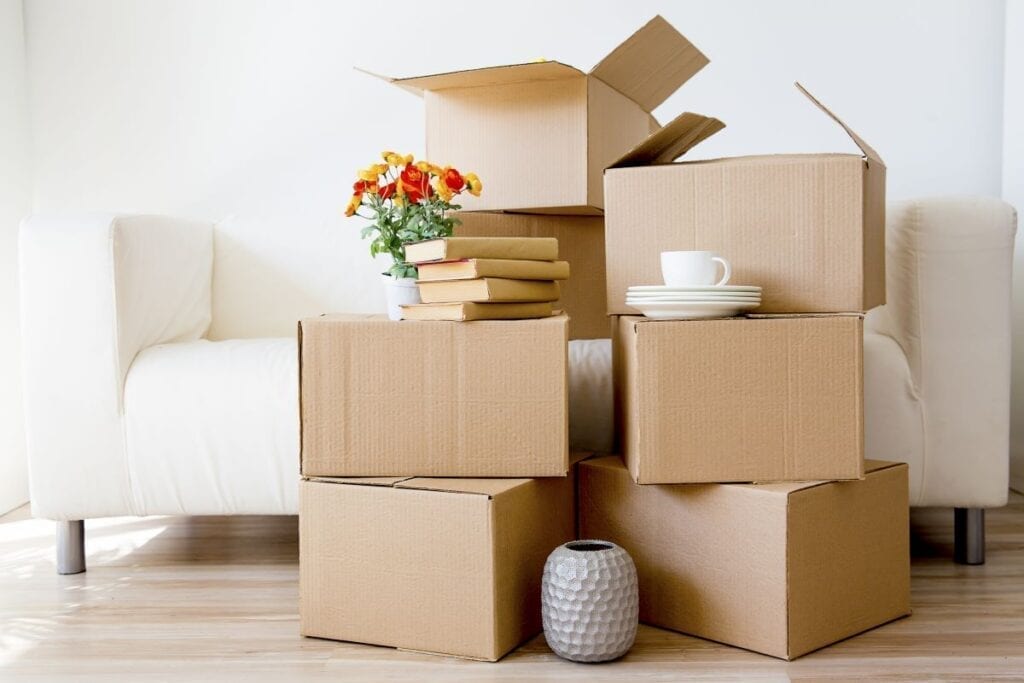 The apartment life-we know it well. Weekends by the pool. Your neighbors two buildings over who throw the best parties (no Uber necessary). Broken faucet? Let the landlord handle it.
Apartment living has its advantages, but sometimes you just need to move on. Whether it's a recent marriage (congratulations!), a new job, or just the accomplishment of a life goal you've been dreaming about for years, you've made the down payment, signed all the paperwork, and you're ready (and so excited) to move into your first house.
There are some pretty big differences between living in an apartment complex and living in a home. Luckily, MYMOVE is here to make the transition as easy as possible, with our top 15 tips to make moving into your first house easier.
Hire Professional Movers
Find trusted professionals to help lighten the load
Save yourself time, stress, and back pain by calling in the pros. Whether you're planning to DIY or just need help with the heavy lifting, we can help you find a solution that fits your move and your budget.
Moving Supplies

Packing & Unpacking

Loading & Unloading

Licensed & Insured

Storage & Containers
15 Tips for Moving Into your First House:
1. Handle the Basics
At least two weeks in advance, make sure you change your address at the official USPS website, cancel your utilities and arrange for them to be set up at your new address, and research movers in your area (or decide if you want to move yourself).
2. Get an Inspection
Repairs and maintenance now come out of your wallet, not your landlord's. Make a list of things you want checked. Stay in the house during the inspection. If anything needs fixing, request the seller takes care of costs prior to closing.
3. Plan for Chores
All those duties your landlord once handled are now your responsibility. Start thinking about investing in a lawnmower, weed trimmer, rake, shovel and sprinklers, as well as a tool set to take care of household fixes. Sound expensive? See #4
4. Purge your Possessions
Unless you absolutely cannot live without it, a move is a great time to get rid of it. Hold a garage or yard sale for extra cash to finance your move.
5. Furnish your Home with Items that Grow with You
Consider the sofa: why skimp on a second-hand option (which, to be honest, doesn't really match your carpet anyway)? Instead, pick up a high-quality sofa that's designed specifically for your living room-and designed to follow you, move after move. Online innovator Burrow's modular sofas come with your choice of fabrics, legs, arm heights, and lengths. They're completely modular, meaning that if your space changes, your sofa can grow with you. Best of all, Burrow ships your sofa directly to you, removing all retail markups and over 70% of standard shipping costs. That's over $600 in sofa savings for you-and one less piece of furniture to move.
Shop the Burrow collection here.
6. Clean, Paint, Exterminate, Install
Some things are best done without furniture around. Steam clean the carpet, wipe out the cabinets, paint the walls, spray for pests, and plug in power strips before everything's moved in. It will never be this easy again.
7. Pack a "First Day Box"
A shower curtain & rings, toilet paper, lamp, extension cord, dinnerware, paper plates, and trash bags will make your first day and night in your new home easier.
8. Hire Some (Reasonably-Priced) Help
Maybe full-service movers were too expensive for your budget, or maybe your friends all bailed at the last minute (really, guys?!). Either way, you've got a truck full of boxes to unload, and you're still not sure how you're going to fit that inconveniently-shaped couch through the door and up the stairs. Don't sweat it. Hybrid moving is an affordable option that sends local professional helpers to unload anything you've got: big or small, from your moving truck or storage container, so you can say goodbye to late-night, last-minute moving stress and focus on the new adventure ahead.
After the Move:
9. Make a Maintenance Checklist
It's easy to take for granted everything your apartment complex's maintenance team took care of. Compile a list right from the start, so these chores aren't forgotten later.
Some (nonexhaustive) suggestions:
Monthly
• Clean plumbing fixtures
• Clean range hood filter
• Clean garbage disposal
• Inspect fire extinguishers
• Change HVAC filters
• Clean drains
Bi-Annually
• Deep clean entire home
• Inspect water filtration systems
• Run water in seldom used faucets
• Test carbon monoxide and smoke detectors
• Vacuum refrigerator coils
Annually
• Schedule termite inspection
• Check kitchen and bathroom grout and caulking
• Clean patio and porch areas
• Clean out the exterior dryer vent
• Evaluate exterior drainage
• Clean chimney
• Inspect all plumbing
• Inspect home exterior and roof
• Service heating/cooling systems
• Clean gutters
10. Change the Locks
You never know how many copies of the keys were in circulation before you got them or who had them. Also consider installing a deadbolt or home security system, and have an extra copy of your key made.
11. Replace your Air Filters
It takes about 10 seconds and will not only improve air flow but keep your air system or HVAC from using more energy pumping out lower quality air.
12. Locate your Fuse Box and Main Water Valve
Good to know in case of emergencies, or if you're about to fix a power or water issue and need to turn off the electricity or cut off the water supply.
13. Fire Protection
Make sure smoke alarms are installed, and make sure they work. If you have a second or third story, consider purchasing a roll-up ladder.
14. Meet the Neighbors
Don't be afraid to knock on their door and introduce yourself (also, you can't go wrong with treating them to a batch of freshly-baked cookies). If they're next-door, ask about property lines, and who owns what. You should already have a survey, but it never hurts to make sure their perception conforms to your survey.
15. Explore the neighborhood
Drive around. Find a new favorite restaurant. Stay up to date on the local events and happenings by monitoring local websites or, if you're old school, subscribing to local newspapers or magazines. It's the best way to help your new location begin to feel like home.
Now all that's left to do is put together that housewarming party guest list. Welcome to your new home!