15 Tips for Moving into Your First House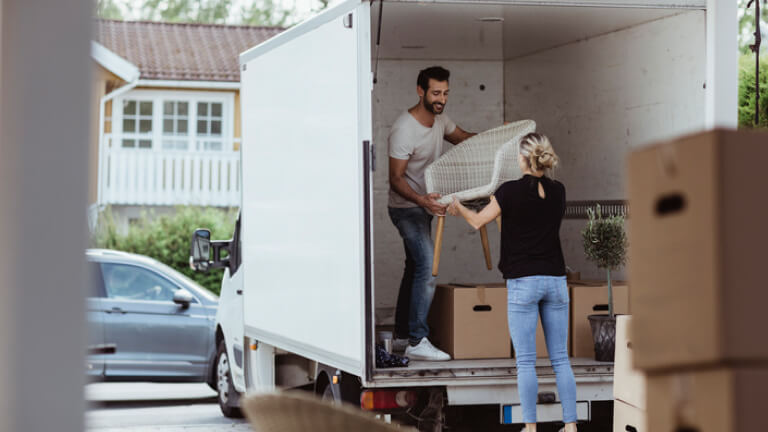 Finally, you're ready to move out of your apartment into your first house. Apartment living has its advantages, but sometimes you just need to move on. There are some pretty big differences between living in an apartment complex and living in a home.
Such a large transition may feel a bit overwhelming, but don't stress. We're here to help with our top 15 tips to make moving into your first house easier.
Before the move:

1. Handle the basics
The first step is to start formulating your pre-move plan. Make sure to change your address at least two weeks in advance. Save yourself a trip (and a long post office line) by changing your address from the comfort of your home. Don't forget to cancel your utilities and arrange for them to be set up at your new address, and research movers in your area (or decide if you want to move yourself).
2. Hire some (reasonably-priced) help
Moving is easier when you have a few extra sets of hands. If hiring full-service movers is out of your budget, hybrid moving might be a more affordable option. Hybrid moving is a way of moving that focuses on getting the specific help you need for less than a traditional moving company would charge. Instead of hiring movers, purchase a rental truck or a portable storage container. The largest cost associated with hiring moving companies are the movers themselves. Hiring local hourly laborers to load and unload your truck may be something to consider instead of paying top dollar for a moving company.
3. Get an inspection
Repairs and maintenance now come out of your wallet, not your landlord's. Make a list of things you want checked. Stay in the house during the inspection. If anything needs to be fixed, request the seller take care of costs prior to closing.
4. Plan for chores
All those duties your landlord once handled are now your responsibility. A few items to consider investing in are:
Lawnmower
Weed trimmer
Rake
Shovel
Sprinklers
Tools for everyday household fixes
5. Clear out the clutter
Unless you absolutely cannot live without it, a move is a great time to get rid of it. Hold a garage or yard sale for extra cash to finance your move. Donating is another quick way to get rid of any clutter or unwanted items, and you can give back to your community while doing it.
6. Furnish your new home
Apartments aren't exactly known for being spacious. Thankfully, you have a whole house to work with now. Your new house may have an extra room for that home office you've always wanted, or chances are your new living room is larger than your apartment's living room. It's time to get that giant sectional sofa you've dreamt about for years – so much space and so many options.
The best approach might be to take it one room at a time. Make a list of furniture you need for every room and let the interior designer in you shine.
7. Clean, paint, exterminate, install
Some things are best done before everything's moved in, without furniture around. Home maintenance will never be this easy again.
Steam clean the carpet
Wipe out the cabinets
Paint the walls
Spray for pests
Plug in power strips
8. Pack a "first day box"
Having a prepped first day box will make your first day and night in your first house easier. Rooting around in multiple boxes trying to find the items you need can be a headache. Setting aside all your daily necessities into a designated box ahead of time will save you the trouble of rummaging for them later. Some first day essentials to consider are:
Shower curtains & rings
Toilet paper
Lamp
Extension cord
Dinnerware
Paper plates
Trash bags
After the move:
9. Change the locks
You never know how many copies of the keys were in circulation before you got them or who had them. Also consider installing a deadbolt or home security system, and have an extra copy of your key made.
10. Locate your fuse box and main water valve
One of the most important things to learn about your house is where your fuse box and main water valve are. These locations are a must know in case of emergencies, or if you're about to fix a power or water issue and need to turn off the electricity or cut off the water supply.
11. Make a maintenance checklist
It's easy to take for granted everything your apartment complex's maintenance team took care of. As the seasons change, so do your new home's maintenance needs. winter, spring, summer, and fall checklists will help ensure your new home stays flawless all year long.
12. Replace your air filters
Changing your air filters only takes about 10 seconds and will not only improve air flow but keep your air system or HVAC from using more energy pumping out lower quality air. Getting to know your HVAC system will help keep you comfortable in your new home. Find a trusted technician and have your HVAC system checked on a seasonal basis.
13. Check your smoke alarms
Nothing is more important than the safety of you, your family, and your home. Make sure smoke alarms are installed, and make sure they work. Three out of 5 home fire deaths result from fires in properties without working smoke alarms. If you have a second or third story, consider purchasing a roll-up ladder.
14. Meet the neighbors
Don't be afraid to knock on your neighbor's door and introduce yourself (also, you can't go wrong with treating them to a batch of freshly-baked cookies). Plus, being on good terms with next-door neighbors makes any discussions about property and boundary lines much easier. You'll both want to have that awkward conversation eventually.
15. Explore the neighborhood
Drive around and check out the neighborhood. Find a new favorite restaurant. Stay up to date on the local events and happenings by monitoring local websites or subscribing to local newspapers or magazines. It's the best way to help your new location begin to feel like home.
The bottom line
Moving into your first house can feel overwhelming, but we hope these tips help you start to feel right at home in your new house. Now all that's left to do is put together that housewarming party. Welcome to your new home!