The Complete Guide to Furniture Donation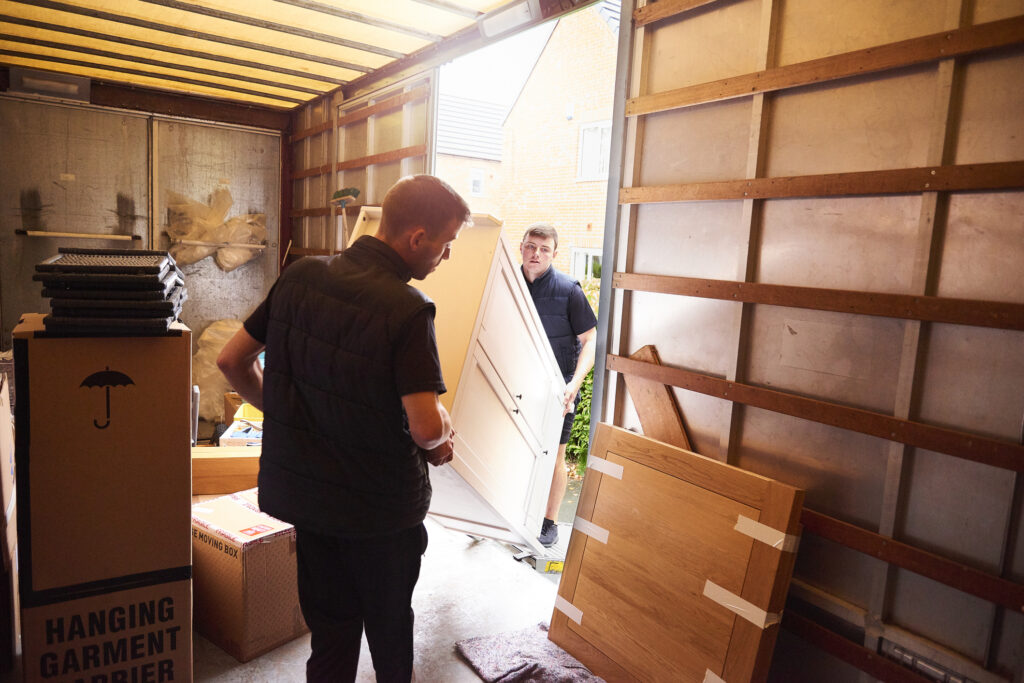 When it comes to moving home, this old adage couldn't be truer: "Out with the old and in with the new!" Moving from one place to another is an excellent opportunity to update your furniture, but what should you do with your old items? Sure, you can sell them online, but unless you've got a heap of spare time on your hands, the easiest, most generous, and sustainable option is donating furniture, especially when numerous local charities offer free furniture donation pick up.
Don't know where to begin with furniture donation? This simple guide will tell you which charities offer furniture donation, as well as how you can organize furniture pickup donation, what you should and shouldn't donate, how your furniture donation can be tax-deductible, and more.
Furniture donation near me: 5 charities that do furniture donation pick up
Here's a list of organizations that will pick up your furniture donations, free of charge:
The Salvation Army
Goodwill
Furniture Bank Network
Habitat for Humanity ReStore
AMVETS National Service Foundation
1. The Salvation Army
The Salvation Army has been in operation since 1865 and is reported to assist as many as 23 million Americans each year. The funds they raise in part by selling donated goods through their Family stores assist with causes such as disaster relief, homeless shelters, life skills to escape poverty, alcohol and drug rehab, veteran services, and help for domestic abuse.
Where the Salvation Army operates
This international charity currently serves 130 countries.
How to set up a free furniture pick up
Schedule your furniture pickup donation directly through the Salvation website or by calling 1-800-SA-TRUCK (1-800-728-7825).
2. Goodwill
Goodwill aims to help people improve their lives by helping them find a job and grow their careers. The charity also offers supportive services, such as English language training, additional education, and access to transportation and childcare. Additionally, Goodwill operates brick and mortar stores selling donated furniture and clothing.
Where Goodwill operates
In addition to 157 independent community-based organizations in the United States and Canada – as well as over 3,300 stores – Goodwill also has a presence in 12 other countries, including Finland, Thailand, and Italy.
How to set up free furniture pick up
Locate your nearest Goodwill store using the charity's website, then use the contact details listed for your local store to organize your furniture donation pick up.
3. Furniture Bank Network
When you donate furniture to Furniture Banks, they redirect your items into the hands of those in need, including victims of fire, robbery, and natural disasters, individuals with mental or physical disabilities, immigrants, and the previously homeless.
Additionally, Furniture Banks work with both city authorities and private organizations in the hopes of recycling as many items and materials as possible, therefore preventing them from ending up in landfills.
Where the Furniture Bank Network operates
Furniture Banks are found in many states across North America.
How to set up free furniture pick up
Visit the Furniture Bank website to find a location near you, then use the local contact details provided to organize your free furniture donation pick up.
4. Habitat for Humanity
Habitat for Humanity is a non-profit organization that helps build safe and affordable homes for families who need them. They sell donated furniture in their ReStores, with proceeds from these sales going towards the building and repairing of the homes in their program.
Where Habitat for Humanity operates
This charity works in all 50 states across the U.S., as well as 70 countries internationally.
How to set up free furniture pick-up
Find your local Habitat for Humanity through the organization's website, then call to schedule your free furniture donation pick up.
5. AMVETS National Service Foundation
The mission of AMVETS National Service Foundation is to provide support to veterans through service programs, as well as providing local and youth-oriented programs promoting community and patriotism.
Where the AMVETS National Service Foundation operates
The organization operates in 22 U.S. states.
How to set up a free furniture pick-up
Visit amvets.org/thrift-stores and locate your state among the list. If the organization operates within your region, then the contact details of your local AMVETS will also be listed. Simply contact your local organization to arrange for the pick up of your furniture donation.
What furniture should you donate?
If you have an item of furniture that isn't broken, stained, or torn, consider donating it to one of the charities above. More specifically, these charities are looking for furniture such as:
Couches
Tables
Chairs
Shelves
Bookcases
TV units
Bedside tables
Chests of drawers
Cabinets
What shouldn't you donate?
Each charity may have different guidelines regarding what cannot be donated, but generally, the following items are often not accepted:
Mattresses and box springs
Medical equipment
Crutches and walkers
Children's items, such as cribs, car seats, and strollers
Beauty products (even if they're sealed)
Household chemicals, for example, cleaners and pesticides
Non-flatscreen TVs and computer monitors
A good rule of thumb: If the item of furniture isn't in good enough condition for you to give it to a friend, for example, then you shouldn't donate it.
How to make your furniture donation count on your taxes
Did you know you can claim your furniture donation pickup or drop off on your tax return? To make these items tax-deductible, you'll first need a receipt from the charity you donated the items to.
Secondly, you'll have to determine the approximate tax-deductible value of the furniture items you donated. Consult the Goodwill and Salvation Army valuation guides to help you make a reasonable estimate. When determining this value, you'll have to take factors such as the item's relative age and quality into account. You can also consult your tax advisor.
The bottom line
Donating furniture you no longer want, but that is still in good condition, is an excellent way to assist those in need. It's also more sustainable than dumping unused furniture into a landfill. Multiple charities operating both within the United States and worldwide accept furniture donations and will even pick up your items for free.
Frequently asked questions
Who will pick up my furniture donation?
You can arrange to have your furniture picked up directly by the charity you are donating it to. Some don't even require you to be home and allow you to leave the donated furniture outside for collection.
Is it better to sell or donate furniture?
If the furniture is in acceptable condition, meets the organization's requirements, and you're in a position to give it away, it's better to donate to help those in need. Charities rely on generous furniture donations to provide more vulnerable members of the community with vital assistance and affordable options.
What if I have other household items, such as clothing or décor, to donate with my furniture? What can I do with those?
Many of these charities also accept other donated goods, providing they meet their specific criteria. Be sure to check with your chosen charity or read our guide on donating household items here.