Fall is Coming: Follow This Ultimate Fall Home Maintenance Checklist To Keep Your Family Cozy All Season Long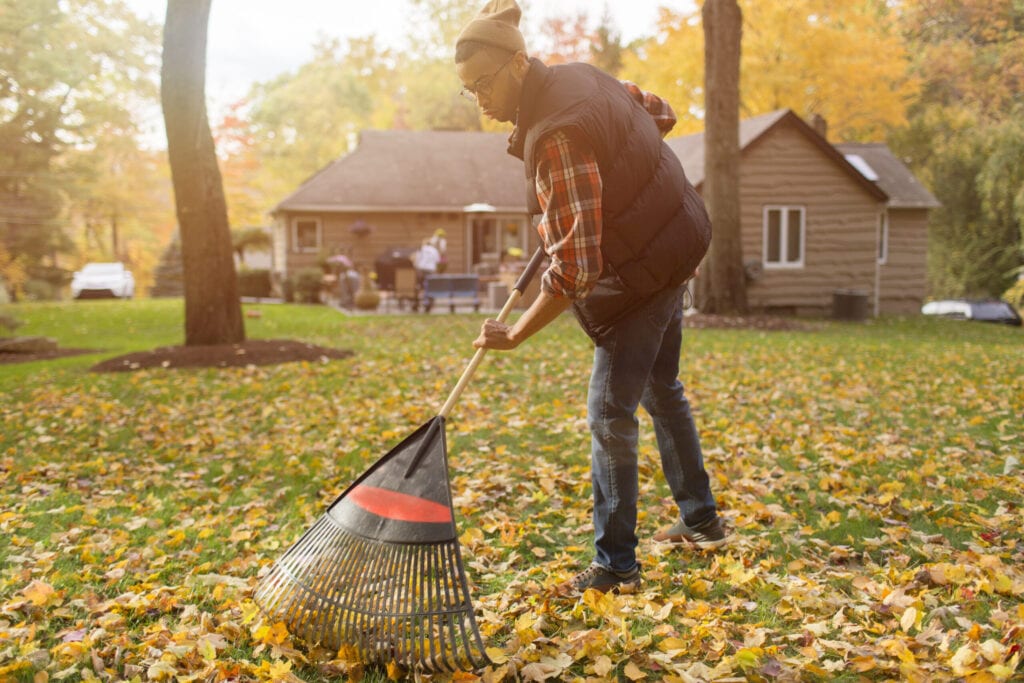 Ahh the joys of home ownership. Whether you're in your first home or been there for years, there's a few things every homeowner should know, and do, to prepare your home for fall. Taking care of these tasks now can save you from bigger problems and expensive repairs down the road. Use MYMOVE's printable fall moving checklist to help you keep your house looking great and feeling warm all season long.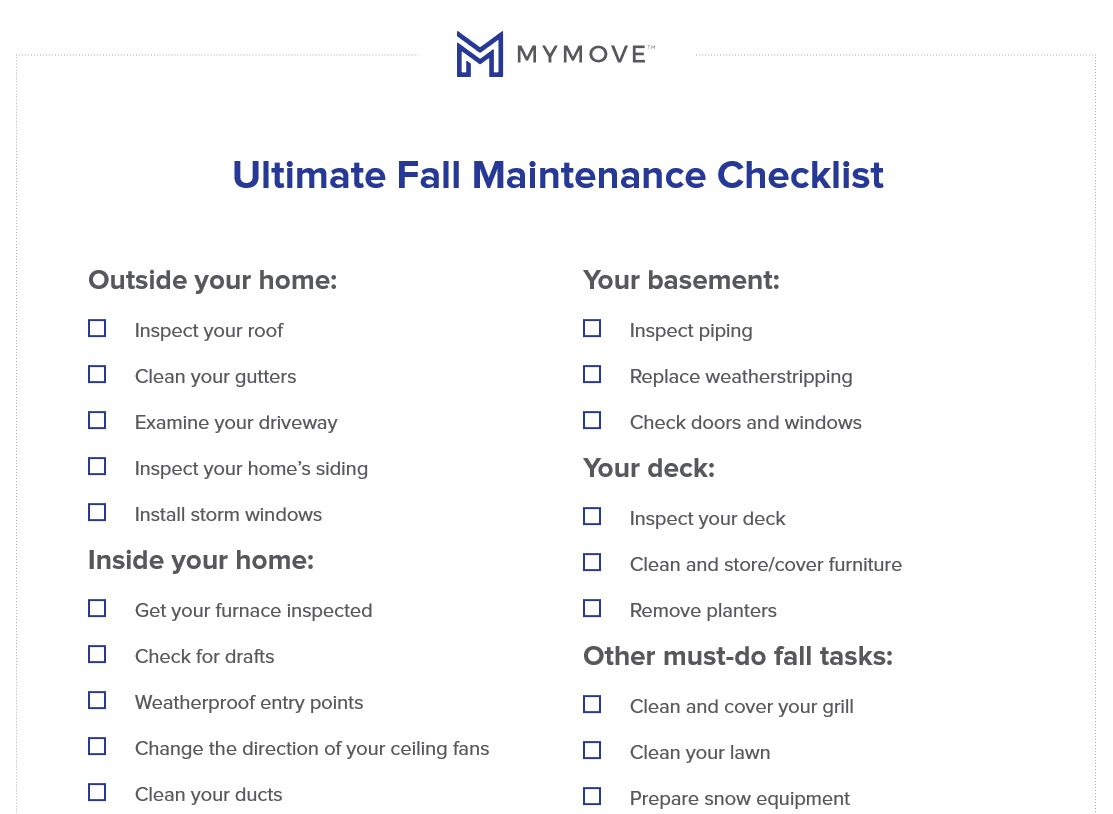 Outside of your home:
Inspect your roof:
When the weather changes, it can place much pressure on your roof. It is why it's imperative to inspect it for any signs of loose or warped shingles and other issues. Since your roof is your home's first line of defense, having an inspection done annually by a pro is a wise first step to take.
Clean your gutters:
Doing so prevents them from building up with gunk, pests, and other problems. You can use a telescoping pole to finish the task.
Examine your driveway:
You should check your driveway for any cracks and other signs of damage. If you discover cracks, you can use a driveway filler to rectify the problem.
Inspect your home's siding:
Inspect your siding for any signs of paint chipping or peeling. If you need a touch-up, you should paint it now before the weather becomes cold. Chipped paint could lead to larger problems down the road.
Install storm windows:
You want to remove the screen door then install storm windows. Storm windows are best-suited for the cooler weather, as they can provide better protection and more energy savings.
Inside your home:
Have a furnace inspection done
Keeping your furnace operating in top shape means you'll maximize energy efficiency. You can have a pro inspect it before the weather turns cold. And between inspections, make sure to replace your HVAC filter once a month.
Weatherproof entry points
Trace your fingers around entry points like your windows and doors to feel for drafts. Next, you'll want to install draft guards to keep the cold air out and apply caulk around the windows.
Change the direction of your ceiling fans
Changing your ceiling fan direction to clockwise allows it to keep warm air circulating through the home. It also takes the stress off your HVAC unit, resulting in a more comfortable home and lower energy bills.
Clean your air ducts
When your home's air ducts clog, it makes it more difficult for warm air to get out. In turn, your furnace works harder to compensate, and your energy bills reflect this effort. To clean the air ducts, you can use a portable vacuum.
Test your smoke detectors
As the weather draws cooler, it marks an excellent time to replace the batteries in your smoke and carbon monoxide detectors. Doing this ensures you have the protection you need through the winter.
Your attic:
Search for holes
Wait until the weather is sunny or during a rainstorm to inspect your attic. If you notice beams of light or water peeking through, it indicates you have a hole. When you find a gap, use foam to close it.
Check insulation levels
When you check your insulation, if you can see the joist, it means you don't have adequate insulation levels. Fix this by installing unfaced batt insulation perpendicularly to the existing insulation.
Weatherproof windows
If your attic has windows, run your finger around the perimeter to identify drafts. Then, apply caulking to keep the cool air out.
Your basement:
Inspect piping
Inspect the piping around the water heater for any signs of leakage. And if you find some, fix them immediately by contacting a professional.
Replace weatherstripping
You want to replace weatherstripping every fall. Doing so prevents it from wearing down, so you have a barrier against wind drafts.
Check doors and windows
Inspect your basement doors and windows to ensure there are no drafts. If you notice drafts, use caulking to keep the air leaks from entering. Also, it is wise to check your windows and doors to ensure they're functioning properly.
Your deck
Inspect your deck
Now is a smart time to check your deck to ensure it's in peak condition. If you plan to be outside often, make sure the handrails are secured tightly, so they offer support to visitors outside during slicker conditions.
Clean and store deck furniture
Clean all deck furniture, removing leaves and other debris that accumulates from the autumn weather. Next, store your furniture in a dry and covered area like a garage.
Remove planters
Start by removing soil from all planters, then thoroughly washing them out with a hose. Similar to patio furniture, store them someplace dry and covered.
Other must-do fall maintenance tasks
Clean and cover your grill
If you don't plan on using your grill during the winter, now is the time to clean it and cover it. Find a durable, all-weather grill cover so it can endure the harsh winter weather.
Clean lawn
Rake leaves and remove any lawn debris. At this time, you also want to drain all hoses and store them in the garage. Next, turn off all outdoor water valves to prevent the pipes from freezing.
Prepare your snow equipment
Start your snowblower to make sure it's good to go. You will also want to make other items like snow shovels, sand, and roof rakes easily accessible in your garage.
The bottom line
By using this fall maintenance checklist, you can prepare your home for the cold weather. Best of all, most of these tasks are small, inexpensive things to do. Yet, they yield results by way of a cozy home that can also save you money on your energy bills.
Frequently asked questions
How do I prepare my house for fall?
You can prepare by inspecting your windows and doors for leaks, having a furnace inspection, and inspecting your roof for any signs of damage.
How do I prepare my yard for cold weather?
Remove all garden hoses, shut off water valves, and use a phosphorus fertilizer on your lawn to prepare the grass for spring.
How do I save money on energy bills during the cold weather?
Have an inspection done on your home's HVAC system, and weatherproof all entry points of your home to keep air drafts out.

---