The Ultimate Fall Home Maintenance Checklist to Get Your Home Ready for Cooler Weather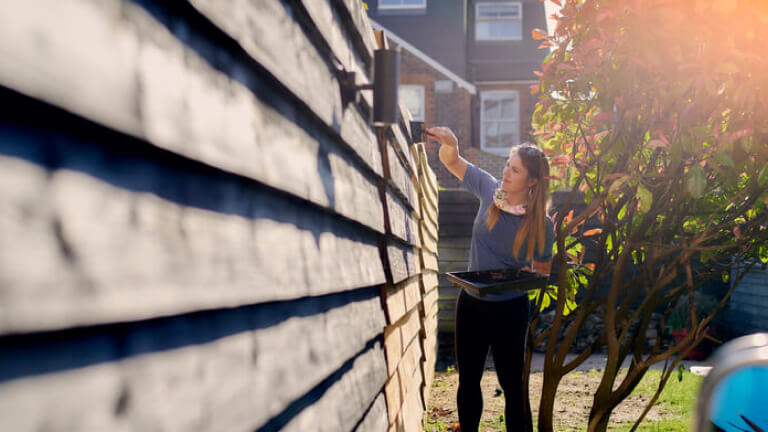 The products featured here are independently selected based on thorough research from our editorial team. If you buy something through links on our site, we may receive a commission.
Fall is here, and with it brings cool breezes, warm colors, and pumpkin spice. Now's the time to prepare your home for cooler weather (and an invasion of leaves). With so much to do, you might be wondering where to start. No worries, we've got you covered. Follow our fall home maintenance checklist to get your home on track for fall.
Jump to:
Outside of your home
Clean the gutters

Autumn leaves are gorgeous and a staple of the fall season, but they're not so pretty when they sit and clog up your gutter. While cleaning your gutters may not be the most fun chore in the world, it is essential to keeping your roof in tip-top shape. There are a few different methods you can use to get the job done. Some may be better than others, depending on what tools you have.
Carefully walk along the roof's edge and use a leaf blower to spray them away. Using an extension kit will make this a bit easier.
Suck up the mess out of the gutters with a wet/dry vacuum. This method also works better with an extension kit.
Give the gutters a deep clean and wash away the debris with a power washer. This is a good option if it has rained recently and there are lots of pesky wet leaves.
Scoop out all the gunk by hand with a pair of gloves and a ladder. Just be prepared to get down and dirty.
Don't forget to unclog the downspouts. Start at the bottom and clear any debris by hand, then run a hose from the top of the spout to push everything down.
MYMOVE pro tip
Never want to deep clean your gutters again? Invest in some gutter guards or covers.
Get your heating system serviced

Getting your heating system serviced ahead of time will make sure your home stays warm throughout the colder months. Even if you don't suspect anything is wrong with your heating system, it's best to have it serviced and inspected in the fall to get ready for the colder months. While most things should be left to the professionals, there are a few maintenance tasks you can do yourself if you're feeling handy.
Shut off power to the heating system.
Clear the area around the unit of any debris.
Remove the cover off the heating system
Replace the fan belt if it looks cracked, worn, or loose.
Look for any residue buildup and listen for any unusual sounds.
Place the cover back on the heating system once done inspecting.
Did you know?
Having your HVAC system serviced and cleaned once a year can keep it running for 15 to 20 years. And it saves you money on your energy bill when everything is running efficiently.
Inspect the roof

A roof inspection may be the last thing on your mind, but it's important to catch any leaks, mold, or weather damage before the colder months set in and it becomes a huge problem later. You should hire a professional to get a thorough roof inspection once a year but there are some issues that are a quick solve.
Clear off any leaves or branches on the roof.
Replace any damaged or broken shingles.
Wipe down skylights.
Clean out the gutters.
Apply a moss killer to any moss found on the roof. In the spring, you'll be able to sweep all the dead moss away.
MYMOVE pro tip
Lack of roof repair and maintenance is one of the leading causes of major roof damage. Even just cleaning your roof every year can go a long way.
Rake the yard

Temperatures aren't the only thing dropping during the fall season. Be prepared for an upcoming battle between you and the leaves landing in your yard. There are a few tactics you can use to gain the upper hand. Whichever method works best for you may depend on the equipment you already have.
Rake the leaves onto a tarp and drag them away.
If your lawn mower can collect clippings and debris, run your mower through your yard and empty the bag or attachment.
Shred the leaves with a lawn mower and use them as mulch.
Rake the leaves into a pile and collect them into trash bags.
MYMOVE pro tip
If you have a larger yard, divide it into small sections and tackle a little at a time. The whole yard doesn't need raking in one day.
Take care of the lawn

The first step to having a beautiful lawn for springtime is taking care of a few lawn maintenance tasks during the fall. It may seem like a chore now, but the payoff will be worth it during the warmer seasons.
Fertilize the grass.
Eliminate as many weeds as you can.
Seed and aerate the lawn.
Test the soil.
MYMOVE pro tip
Continue to water your lawn despite the cooler temperatures. Lawns entering winter that haven't been watered enough are more likely to become damaged by the cold weather and grow weaker in the spring.
Inside of your home
Seal any gaps

You're not the only one who enjoys a nice warm house during the colder months. When it gets cold out, critters and pests seek out warm spaces, which just so happens to be your home in this case. Make sure all gaps in your home are sealed off to avoid any unwanted guests. Plus, You'll save on your energy bill when there's nowhere for the heat to escape. Here are a few common places you may find holes or openings.
Underneath the porch or deck.
Foundation
Outer walls
Attic
Behind stairs
Window screens
Door sweeps
Did you know?
A mouse can fit through a hole about the size of a dime. It's best to seal up any hole or gap no matter the size.
Clear the air ducts

When your home's air ducts clog, it makes it more difficult for warm air to get out. Your heating system or furnace works harder to compensate, and your energy bills reflect this effort. To clean your air ducts, follow these easy steps.
Remove the vent covers with a screwdriver. While they're detached, rinse them off and set them away to dry.
Cover up the vent openings so that dust doesn't blow out and into your house.
Knock along the sides of the ductwork to loosen the dust.
Use a vacuum hose to suck up all the dirt and dust. If there's still dust stuck to the duct walls, use a paper towel to wipe it up.
Change your air filter to keep your air coming indoors even cleaner.
Place the vent covers back where they belong.
MYMOVE pro tip
Instead of lugging around a regular vacuum and extension cords, use a portable or hand vacuum.
Inspect the fireplace

If you have a fireplace, you're definitely going to want to enjoy the warmth it brings to your home. Just make sure you give your fireplace a thorough once-over before lighting anything. Call a professional to assist if you're not comfortable doing your own chimney inspection.
Check the interior of the fireplace for any cracks or gaps. If you can see steel body beneath the firebox lining, you'll need to have it repaired.
Shine a flashlight up into the chimney. You should be able to see light at the top.
Climb up on the roof and inspect the chimney from the top. Giving the chimney crown a good clean while you're up there is recommended.
Look for smoke stains. A prominent smoke stain could indicate that your fireplace isn't functioning correctly.
Double-check your grate size. It needs to be just the right size to avoid putting too much wood in the fireplace. If you're not careful, this can start a house fire.
Keep a fire extinguisher in the same room as the fireplace.
MYMOVE pro tip
To avoid a chimney fire, you should have your chimney professionally cleaned once a year.
Check the attic

It may seem like a daunting task, but taking a peek in your attic every once in a while will help you spot any little issues before they become big problems. Here are a few things to be on the lookout for during your inspection.
Wait until it's sunny or raining to search for any holes in the attic. If you notice beams of light or water peeking through, that indicates a potential hole and should be taken care of immediately.
Check your insulation levels. The lower your insulation levels, the less heat is being kept in the house.
Weatherproof the attic windows by running your finger along the perimeter to identify drafts. Apply caulk to keep the cool air out and seal up any gaps.
Look around for mice or other rodents that could have made their way into your attic.
MYMOVE pro tip
Wear knee pads to take some of the pain away while you are crawling on the joists.
Examine the basement

Knowing what's going on in your basement is important in identifying moisture levels and keeping up with the foundational integrity of your house. Spend some time doing a DIY basement inspection to make sure you're up to speed.
Clean and unclog window wells.
If you have a furnace, consider having it cleaned and serviced.
Inspect the piping for any leaks or water damage.
Check windows for any drafts or gaps. These can be sealed up by applying some caulk.
MYMOVE pro tip
While you inspect your pipes, check for mold too. Mold can build up and get out of control very quickly, which can turn into a huge health hazard.
The bottom line
Your home is all prepped and ready for cooler weather. All that's left is to break out your fall-scented candles, bake that perfect pumpkin pie, and enjoy the crisp autumn weather.