How to Choose the Right Packing Material and Moving Supplies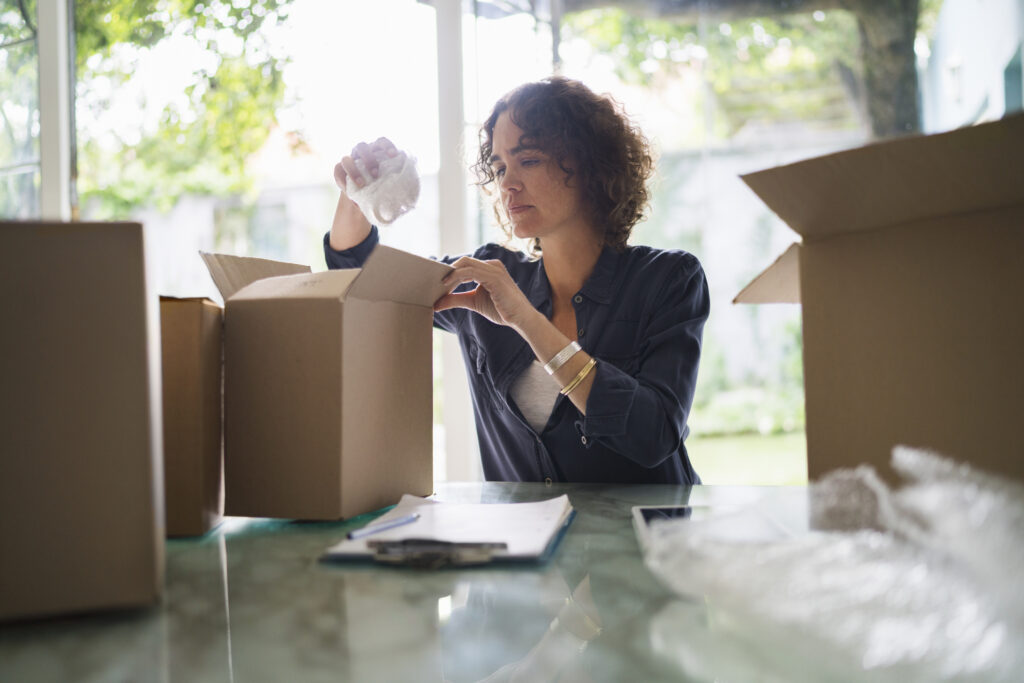 One of the most worrisome aspects of moving is whether or not your prized possessions will make it to your new home in one piece. That's where moving supplies come in! With the right packing material and proper techniques, even your most fragile items will survive the moving process. For example, plastic wrap for moving can keep items from getting scratched or shifting around.
Some moving equipment can also help you from breaking yourself by making it easier to lift and transport heavy items. Other supplies, such as markers for labeling or tools for quickly disassembling items for easier packing, simply make the moving process more efficient. The right supplies can help you stay organized, protect your stuff, and ease the entire process. Moving without the right supplies is a recipe for stress and disaster.
So, what packing material do you need to get the job done? Keep reading for a complete list of all the packing essentials.
Make sure you have these essential moving supplies
Before moving day rolls around, make sure you review the complete list of moving supplies below. Gather all of the packing materials — such as boxes and plastic wrap for moving — in advance of your move. It can take several days to pack all of the items in your home or apartment, so it's a good idea to get a head start once you know your moving date. Give yourself enough time to pack each item with care.
Gather all of your must-have items with MYMOVE's printable Essential Moving Supplies Checklist!!!
What you'll need for packing:
What you'll need for moving:
What you'll need for heavy lifting:
What you'll need for you:
How to choose the right packing supplies, step by step
Step 1: Make an inventory of all of the items you'll be moving.
This will give you a complete picture of all the packing supplies you need. Take note of fragile and valuable items that will require additional packing materials.
Step 2: Create a list of supplies.
Knowing everything that you have to transport to your new house will allow you to estimate the number of moving supplies you'll need for fragile items.
Mover hack: Use a moving supplies calculator, like this one from U-Haul. It can help you estimate how many boxes and other moving supplies you'll need, and how much the job could cost you.
Step 3: Buy quality boxes.
Not all boxes are created equal. Check to make sure that any boxes you buy have a box maker's certificate (BMC) that verifies that the box has been tested to carry a certain amount of weight. Otherwise, there's no guarantee that the box won't fall apart during your move. Also, make sure to think through all of the different types of boxes you have at your disposal, like regular cardboard boxes, plastic bins, wardrobe boxes, and more.
Step 4: Shop smart.
When it comes to the rest of the supplies on your list, be sure to read reviews and buy from reputable suppliers. Read product information carefully. For example, check the weight rating for any hand trucks or dollies you might buy to make sure it can support your heavy furniture.
How to save money on packing supplies
The cost of packing supplies can add up quickly, especially if you have a lot of stuff to move. If you're on a budget, there are a few tried-and-true ways that you can save money. For example, you can often score used boxes in good condition at storage facilities or truck rental locations. Liquor stores, too, can be a good source for free boxes.  Also, check on social media or classified sites for people looking to give away their boxes once they've finished moving. If you have to buy boxes, oftentimes, you can return any that you did not use.
You can cut back on items like tissue paper and bubble wrap by packing creatively. For example, wrap fragile items in bath towels to provide similar protection. Use pillows and comforters to fill in extra space inside of large moving boxes instead of using packing peanuts — which are messy, eco-unfriendly, and a pain to dispose of.
When it comes to moving supplies like hand trucks and furniture pads, you can rent these items for a small fee compared to the cost of buying them new. Or if you're lucky, you can borrow them from a friend or relative for free.
Packing pro tips
Frequently asked questions
Where can I get free boxes for moving?
People often leave perfectly good moving boxes behind at storage facilities or truck rental locations that you can take for free. Liquor stores and grocery stores are also good places to snag-free boxes.
Where can I get cheap moving supplies?
Shop around online for the best price on moving supplies. Also, check with local storage facilities and rental truck companies. You can also turn to social media or classifieds sites to see if anyone near you is selling or giving away supplies.
How many moving supplies do I need?
Typically you'll need 60 to 80 boxes for a two-bedroom house. You'll also need ample protective padding, like tissue paper or bubble wrap for any fragile items.
Do movers supply boxes?
Generally speaking, movers do not supply boxes, unless you are paying extra for packing services.