Moving Checklist, Month One: Settling Into Your New Home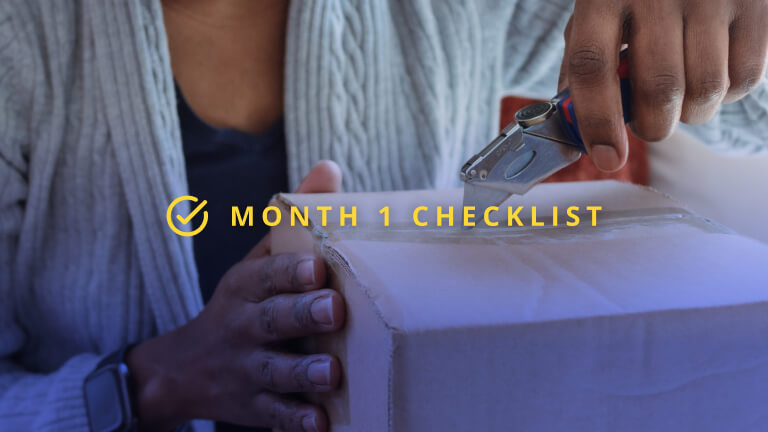 Moving Day is behind you and the dust is starting to settle (but hopefully not too much dust). Now you get to take on the considerably more fun work of making your house feel like home. Here's what you need to know while you get settled.
---
Jump to:
Celebrate the first spring in your new home
---
First week to-do list

In the chaos of unpacking, don't forget to cross these essential tasks off your list.
Find your circuit breaker and gas and water shutoff valves.
Change the locks and reprogram garage door openers.
Do a safety sweep: Check the expiration date and fill level on fire extinguishers, test smoke and carbon monoxide detectors, post an emergency contact list on the fridge.
Get the internet and TV connected.
Restock your pantry with the essentials.
Set up a play area for the kids.
Schedule lawn care services.
Find out your garbage and recycling schedule so you don't miss a pickup.
Apply for a pet license at your new address.
Have your carpets steam cleaned.
Pro tip
Unpack the important stuff first. You may love your books, but you'll love wearing clean clothes even more.
Moving week shopping list

With all the trips to the store, moving week might as well be called "shopping week." Save yourself some trips by stocking up on these essentials:
Paper towels
Toilet paper
Hand soap
Dish soap and sponge
Waste basket
Trash bags
Broom and dust pan
Laundry detergent and dryer sheets
First aid kit
Cleaning supplies
Flashlight
Batteries
Pro tip
Stock the kitchen with easy meals like frozen dinners, cereal, and pasta for your first week.
Start settling in

With boxes starting to slowly disappear, you can turn your attention to some of the less urgent tasks on your list.
Stock up on essentials like kitchen supplies, bath towels, bedding, and pillows.
Change your air filter.
Send your loved ones a "we moved" card to let them know your new address.
Introduce yourself to the neighbors.
Invite friends and family over for a housewarming party.
Get back into a regular routine.
Give your house a PhD with smart home devices like video doorbells, smart locks, and connected thermostats.
Pro tip
Pay it forward: Break down your empty boxes and offer them up for free on Craigslist or Nextdoor.
Month one projects

Quick and easy is the name of the game for your first month. Make a list of every home improvement project you want to tackle — painting, flooring, cabinets, curtains, etc. — and decide which ones you want to start right away and which ones can wait.
Hang curtains that fit your style.
Put up your artwork and frames.
Paint any rooms that need some fresh color.
Add some personality to your cabinets with patterned shelf liners.
Set up your home gym.
Did you know?
Christie's auction house hangs the center of the frame at 61 inches, roughly the average human eye level.
Celebrate the first spring in your new home

Part of the fun of moving is enjoying each season and holiday in a brand new way. Celebrate new beginnings by bringing spring decor inside and enjoying the warmer weather in your outdoor space.
Brighten up your new home with some fresh flowers — tulips, carnations, peonies, and lilacs are all in season.
Get creative with a spring wreath for your front door.
Plant cool-season vegetables like potatoes, artichokes, peas, and lettuce for an early summer harvest.
You did it!
Take a moment to look back on everything you've done since you decided to move — all the to-dos you crossed off, all the addresses you changed, all the boxes you unpacked. Now you get to enjoy your new home. For more ways to celebrate and settle in, check out our checklists for months two and three in your new home.