Where to Find Free Packing and Moving Boxes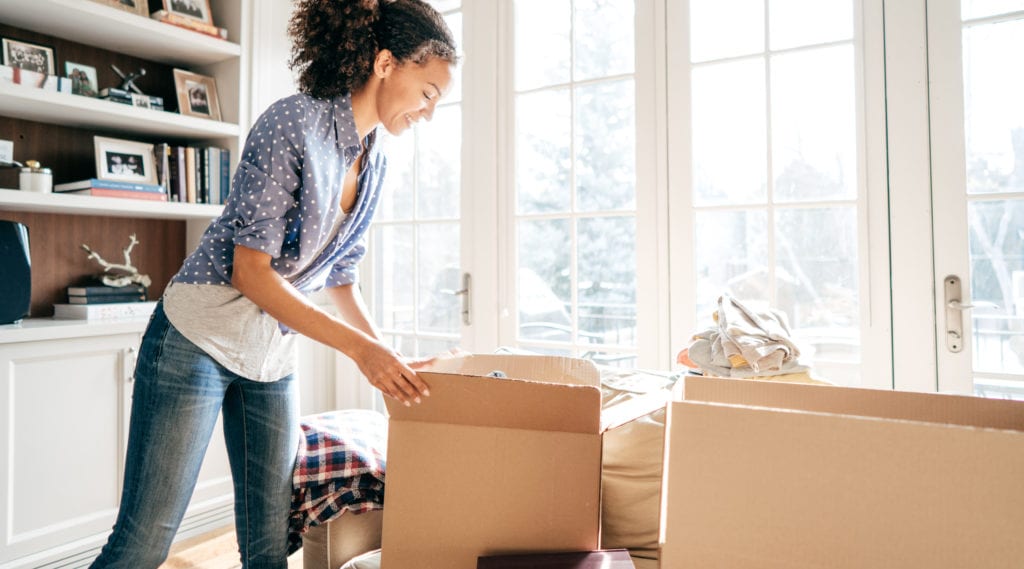 Let's face it — moving is expensive. Moving costs can vary depending on factors like the distance or the amount of stuff you're moving. But at the end of the day, those costs can add up unexpectedly and exceed your moving budget. So if you welcome any opportunities to cut costs, here's an easy place to start: free packing and moving boxes.
With a little bit of planning, creativity, and help from MYMOVE, you can get your hands on lightly used boxes and give your wallet a bit of a breather.
Determine How Many Packing and Moving Boxes You Need
When planning your next move, be proactive. Carefully determine the number of boxes you might need to search for or buy later. Taking the time and patience to get organized will save you from spending unnecessarily.
To determine the number of moving and packing boxes you'll need, start by creating a home inventory. This will help you know what stuff is moving with you. It's also the perfect time to consider every item you own, and whether or not you should keep it, donate it, or toss it. Decluttering before a move will save you the headache (and backache) of moving things you don't get any use out of.
You should complete your home inventory prior to any packing. Simply choose one room to start with and divide your paper into four columns: item, estimated value, condition, and location. Fill out this information for each item in the room that you plan on keeping. For items that will fit in a box, take note of their size and assign them a corresponding box number.
By making an educated guess of how much will fit in each box, you prevent the mistake of underestimating the number of boxes you may need or buying too many. Additionally, a detailed inventory makes it very easy to keep track of your belongings during a move (especially if you hire movers) and will help you find important items quickly.
Pro tip: Keep your home inventory on hand. You'll want it for reference when you start shopping around for homeowners or renters insurance.
Start by Asking Friends, Family, and Co-Workers for free boxes
The easiest way to get your hands on free boxes and other moving supplies is by asking people you know. Stop asking yourself where can I get free moving boxes near me, and go out and ask those that are nearest to you- your friends and family! Often, people will break down moving boxes following their own move and, if they don't recycle them, hold on to them. It's likely many of your friends or coworkers have some old moving boxes hidden somewhere in their garage or shed.
Make a quick list of the people you know have recently moved and reach out to them. If you don't know of anyone off the top of your head, post on social media. Make sure to ask for a specific number of boxes and be open to picking those boxes up yourself.
Also, be sure to note the condition of the boxes required. You don't want boxes that are falling apart, growing mold, or are too dirty. Moving your valuables using free but damaged boxes that won't hold up during the move isn't worth the risk (or stress) of broken items.
Look for Free Moving Boxes Online
If you strike out with friends and family, or you got a few boxes but know that you need more, sit down in front of your computer and do a few minutes of research. There are a number of websites and apps filled with people trying to get rid of the pile of packing and moving boxes taking up space in their garage and connecting with people that are wondering where to get free moving boxes through tech platforms is a great way for them to dispose of the free boxes.
Craigslist: To find free boxes on Craigslist, choose your location and look under the "For Sale" section. Under this section, you should see a link that reads "free." Click on it and it will take you to a page advertising-free goods in your area. Use the "search free stuff" bar to look for boxes.
Freecycle: The Freecycle Network™ is a grassroots nonprofit made up of members who intentionally reuse items in order to keep waste out of landfills and reduce peoples' ecological footprints. Freecycle is more popular in some states than others, but it's worth seeing if there's a community near you. There is usually a couple of posts from people who have just moved willingly to give away their packing and moving boxes for free.
Facebook Marketplace: This functions much like Craigslist and includes posts for free materials. There may not be any offers near you, but it's worth checking back every couple of days to see what you can get your hands on. If not free, oftentimes people will sell for cents on the dollar and large quantities.
Community groups like Nextdoor: Limited community or neighborhood groups are booming in popularity, likely because each group is tailored to one specific neighborhood. This means whatever content anyone adds will only be viewed by a specific area of people, making it the perfect place to ask for boxes.
Buying and selling apps, like 5miles, Offerup, and letGo: These are apps filled with people who want to get rid of things they don't need. Take advantage of it and scour the app's free materials section for boxes and other moving supplies.
Scope out Stores for Free Boxes
Items are shipped to stores every day in cardboard boxes. Usually, those boxes are immediately disposed of — unless someone knows to ask for them. It may seem daunting to make this out-of-the-blue request to a store manager, but trust us — it never hurts to ask.
Make sure to go into the store with an idea of how many boxes you'll need. Go up to the register and politely ask for a manager. Ask the manager if they have any boxes they're planning on tossing.
If they don't have any at the moment, ask what day they usually receive inventory. This will give you an idea of when to come back. You can always call the store on the day that they receive a new shipment and ask the manager to set aside used boxes for you.
If they do have free boxes for you, make sure to pick them up immediately. If you can't go right away, set up a time that you can drop by and adhere to it. Remember: The stores are doing you a big favor, so try to get the free boxes off their hands as soon as possible.
Here are some stores you should visit:
Bookstores
Liquor stores
Big box stores, like Sam's Club and Costco
These stores usually have ample amounts of packaging boxes that they've received their shipment in and are usually willing to give the packing boxes away for free. Just don't forget to check the condition of the free boxes!
Check Out Your Local Recycling Plant for Free Boxes
Before going to the recycling plant, check the hours online. Depending on where it is, you may need an employee's permission to enter the facility gates or take anything. If you call ahead, you may be able to take home boxes that day.
Depending on your city and state, you may have a local recycling drop-off point. This is similar to the plant, except the recycling undergoes no changes and the drop off location and this area is less formal. Often times, as long as there is not a "no trespassing" sign, you can pick up your free boxes for moving whenever someone else has dropped them off.
Be sure to double-check the quality of the free boxes you choose before taking them home to pack with.
Still don't have enough?
There are places where you can buy boxes cheap. If your search for free moving and packing boxes comes up short or you need to run last-minute to a store, there are places to buy moving boxes for cheap. These boxes will have the benefit of being brand new, so you won't have to worry about their condition.