Moving Checklist, Month Three: Projects to Take Your House to the Next Level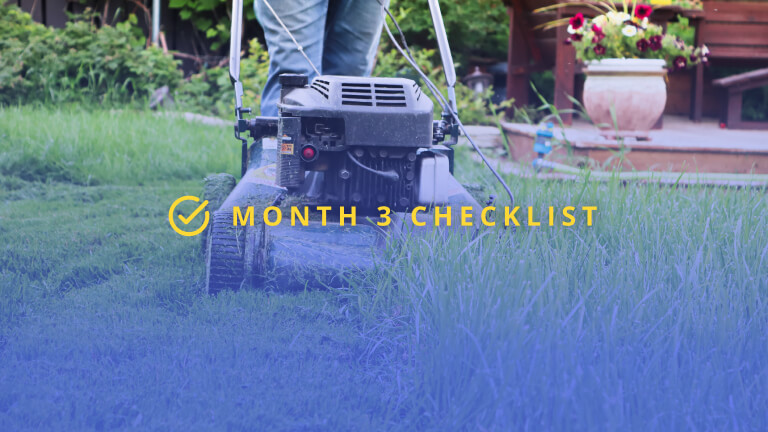 You made it to month three in your new house! With most of the moving to-dos checked off your list, you can finally turn your attention to the bigger renovations you've had your eye on.
---
Jump to:
Start planning your bigger projects
Celebrate the first spring in your new home
Create the yard of your dreams
---
Start planning your bigger projects

Now that you're feeling comfortable in your new home, it's time to get the ball rolling on the more ambitious projects you've been dreaming about.
Address any outstanding tasks in the guest bedroom, basement, laundry room, or attic.
Overhaul the flooring with new carpeting, hardwood, or laminate.
Swap out your bathroom sink, tub, or shower fixtures.
Give your kitchen a makeover with new appliances, countertops, cabinets, or flooring.
Finish the basement.
Did you know?
The Department of Energy estimates that you'll save between $126 and $465 each year by installing energy efficient windows.
DIY home hacks

Try these smaller projects to enhance the storage potential in your new home.
Mount drying racks to the walls in your laundry room.
Hang hooks, a copper rail, or a towel rack in the kitchen for quick access to pots, pans, and utensils.
Add a flip-down desk to turn any room into a home office.
Transform a laundry room side table into an ironing board.
Hang some skinny shelves in your bathroom for more storage.
Pro tip
Hang curtains 6″ to 12″ above the window frame and 3″ to 6″ on each side. They should just touch the floor or pool slightly.
Celebrate the first spring in your new home

Moving in the springtime gives you the perfect opportunity to enjoy your new outdoor space with friends and family.
Rent a pressure washer to make your patio or deck look brand new.
Grab a pair of high-quality weatherproof speakers for around $200. Some are even designed to look like rocks that blend into your yard.
Fill in your outdoor space with colorful plants in containers or hanging baskets.
Create the yard of your dreams

Your yard is a blank canvas. Indulge your creative side by building the perfect outdoor oasis.
Start small with a potted herb garden or raised vegetable bed.
Plan out your yard with zones for plant-filled beds, outdoor dining, or an herb garden.
Consider a fence or garden wall for added privacy in your yard.
Plant a few fast-growing trees.
Designate a play area for the kids with a sandbox, tree house, or swing set.
Pro tip
Research the "plant hardiness zone" to find out which plants will thrive in your new neighborhood.
Congrats!
You've come a long way since you first decided to make a move. It's never easy to box up your life and load it onto a truck, and the hard work doesn't stop there. No matter what bigger projects are still on your horizon, don't take for granted everything you've accomplished already.