Which Moving Boxes Are Best for You?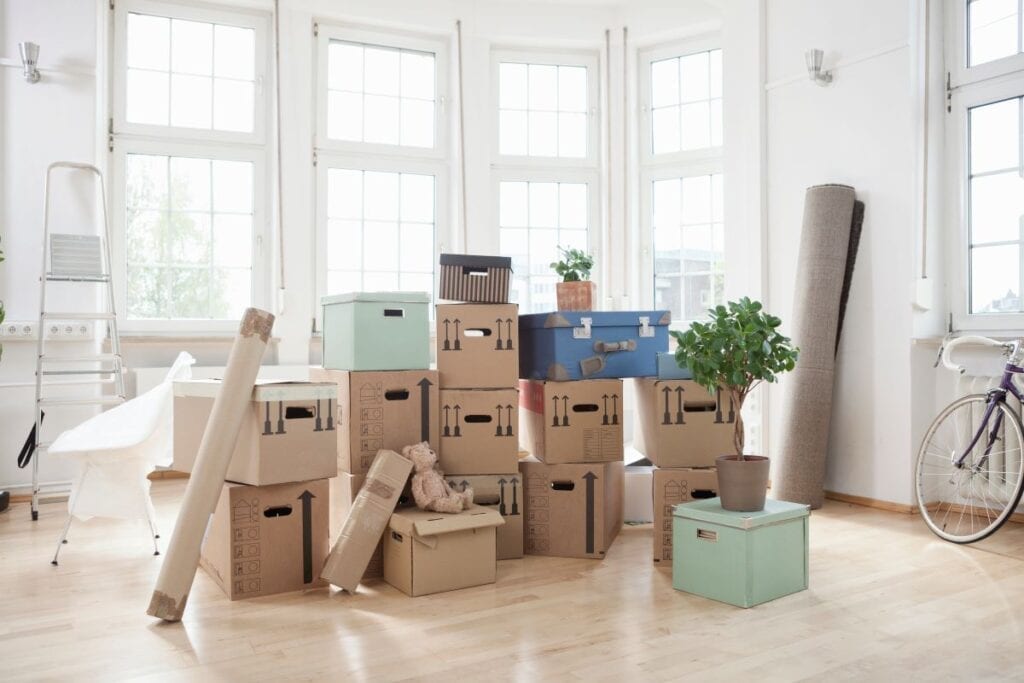 Whether you buy your own boxes for moving or have your movers provide them, you'll have an array of choices. But how do you know whether to go paper or plastic? And are those wardrobe boxes really worth it? Here is a quick guide to different types of moving boxes, and how to estimate the number you'll need.
Types of cardboard boxes for moving
Cardboard boxes have a few different advantages over plastic for moving. They break down easily after your move, so recycling or storing them is a cinch. Cardboard boxes are also lightweight and extremely affordable. When you're on a budget, cardboard simply can't be beaten.
You'll need to consider different types of cardboard boxes, depending on what you're packing:
Corrugated boxes – Corrugated boxes are specifically designed for moving breakable items. Insulated with double-wall construction, two layers of liner sandwich interior fluting. They're a bit more expensive than standard cardboard boxes, but are worth investing in if you have fine china or a beloved tea set that you want to protect during the move. We also recommend marking the outside of the box with the words "FRAGILE" or "DO NOT BREAK."
Wardrobe boxes – Wardrobe boxes have a hanging bar at the top and can be great moving boxes for transporting clothing. Instead of folding every item in your closet, you can simply transfer the clothing as-is on their hangers from your closet to the box. Be sure to inquire with your movers early on, as most will let you use two to three wardrobe boxes as a part of your moving fee.
Picture boxes – These skinny moving boxes are just the right size for a painting or large picture frame. Write the words "FRAGILE" or "GLASS" on the front and back of a picture box. This helps movers know there is something breakable inside the moving box that needs to be handled with extra care. If you want to protect your art or family pictures when you're on the move, these picture boxes will do the job.
Types of plastic moving boxes
Plastic moving boxes are also worth considering for a move, especially if you want to re-use them for storage post-move. They're extremely durable and you can use them for years to come as a part of your garage or attic organization strategy. Here are two common types of plastic moving boxes to consider:
Storage Bins
Plastic storage bins can serve as great, sturdy boxes for packing and are available in a variety of sizes, types, and prices. Skinny plastic bins are good for shoes, handbags and other items that you want to store in a closet or under your bed at your new home. When you store things in plastic bins, you may not have to unpack them immediately because they are resistant to things like humidity and pests. Wheeled bins are great for moving heavy items with ease. If you choose, you can select bins that are transparent, so sorting your belongings at the new place will go quickly.
Crates
Plastic crates have an open top and a crisscross pattern on the side, so they are more breathable than either a cardboard box or a closed plastic bin. Crates are excellent boxes for packing, as they can transport items that may need ventilation — items like cleaning supplies and sports equipment.
Estimating the Number of Boxes for a Move
There are a few ways to estimate how many boxes for moving and packing you'll need.
You can make a guess using square footage using this rule of thumb: For every thousand square feet in your home, you'll need about 40 boxes. Get a variety of sizes, with more small and medium boxes than large sizes, because filling large boxes to the top can make them difficult to carry and slow things down.
You can also use a calculator, like this Home Depot one, that allows you to input the number of bedrooms, bathrooms and other details of your home to estimate the number of moving boxes you'll need.
According to the Home Depot moving boxes calculator, here's a basic idea of how many boxes you might need based on the size of your home:
| | | | |
| --- | --- | --- | --- |
| Studio Apartment | 2-3 bedroom house | 4-5 bedroom house | 6+ bedroom house |
| 38 boxes | 87 boxes | 117 boxes | 135 boxes |
Regardless of what method you use to estimate the number of boxes for backing you'll need, it is important to be aware that the number of boxes needed will be determined by the size and number of rooms in the home as well as your personal style. Someone who is a minimalist will require fewer boxes than someone who is a collector with many things.
We also know that the cost of moving boxes and supplies can add up. Look for cheap moving boxes online or ask around to find free boxes for packing from friends that recently moved. With enough planning and creativity, you could save a much-needed buck (and cut down on waste!) by re-using boxes!
The bottom line
Paper or plastic moving boxes? The answer may be a blend of both. A regular box for packing and moving gets the job done for clothes and paperwork, and wrapped picture frames are a bit more secure in a plastic bin. Either way, happy packing!
Frequently asked questions
Q:
Where can I get free boxes for moving?
A:
Start by asking your friends and family for spare moving boxes. If that doesn't work, or you still need more, there are many websites and apps that may have free packing and moving boxes for you. Look at Craigslist, Freecycle, Facebook Marketplace, community groups (like Nextdoor), or other buying and selling apps.
Q:
How much do moving boxes cost?
A:
If you can't get free moving boxes from friends, family, or online groups, you can buy your own moving boxes. Large moving boxes from Home Depot or Lowes can cost less than $2 each.