How to Move Heavy Furniture by Yourself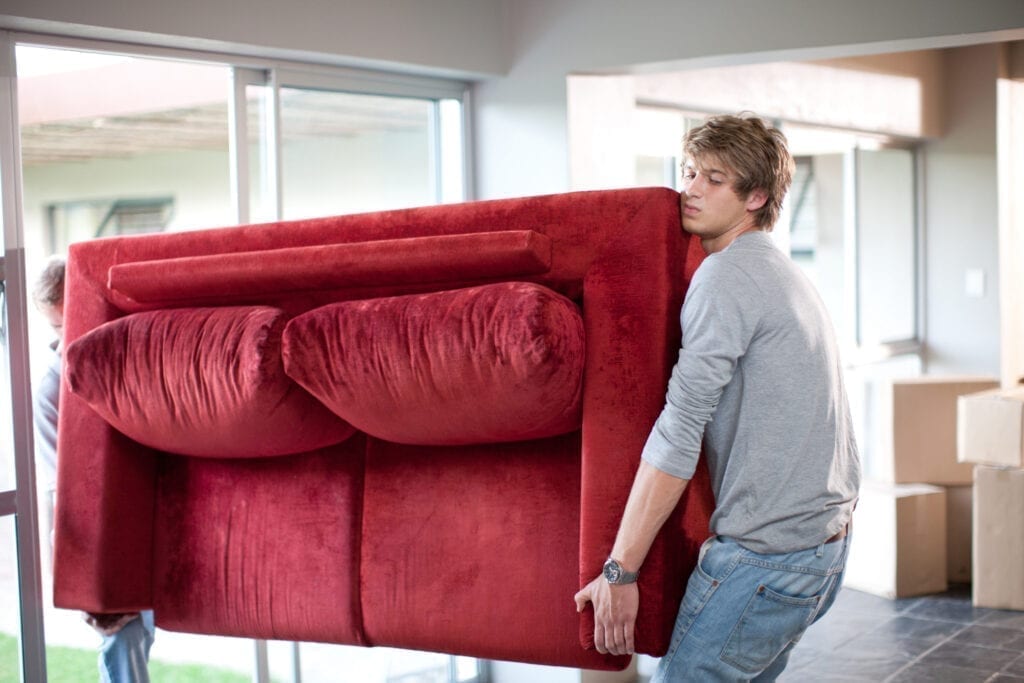 Getting ready for a move? You came to the right place. Lifting heavy furniture puts a lot of stress on our bodies. If you're not careful, days or weeks of back pain could be in the future. But we're here to help. Let's walk through how to lift heavy furniture the way pros do it.
How to move heavy furniture, step by step:
Step 1: Make a plan
Moving isn't always fun, so it's smart to be as efficient as you can. The best way to do this is by planning it out. Take note of the heavy stuff first. These items usually go in the moving truck before smaller belongings and boxes. Form a game plan for the route and the order of moving the large items, including measuring tight spaces, and keep in mind how those items will be unpacked.
You'll want to have a plan in place for unloading, too. Before you start taking stuff off the truck, go into your new home and map out where everything goes. Putting boxes and furniture in the appropriate rooms right away will keep you from doing the heavy lifting again later.
What you'll need for this step:
Step 2: Prepare for the move
Break down large furniture into smaller pieces, and make sure to keep all the screws and bolts in a safe place. Most couch and table legs come off, which makes it easier to move these heavy objects in tight spaces. It's also a good idea to wrap furniture in plastic wrap. The wrap keeps pieces together and reduces scratching. Having moving blankets and rope handy can help secure furniture in the truck.
What you'll need for this step:
Step 3: Use moving tools when possible
There's no reason to stress your back with heavy lifting when tools can do the work for you.
Furniture sliders are pads that go under the legs of heavy furniture like bed frames and couches to allow you to slide the furniture without damaging the floor.
A furniture dolly, also called a hand truck or dolly, is an L-shaped cart with two wheels that allows you to lift and roll heavier items. It's perfect for boxes or rectangular pieces of furniture. A 4-wheeler is similar, but instead of two wheels, it has — you guessed it — four, and is a flat platform instead of being tilted back like a dolly.
For unwieldy items or buildings with stairs, a shoulder dolly can reduce strain on your back. Two people attach straps around their shoulders, with the furniture in between them. This leaves your hands free, and helps you lift properly using your legs and torso.
If you're packing up a moving truck yourself, you'll also want to make sure you have some moving straps (or ratchet straps) on hand to ensure nothing moves around while you're driving.
What you'll need for this step:
Step 4: Lift heavy furniture the right way
Sometimes lifting is the only way. This is the step where most of us get hurt. So it's important to be careful and take your time. Here are some rules to follow for proper lifting technique.
Lift with your legs, while keeping your back straight and shoulders back.
Keep a wide base, with your legs roughly shoulder length apart.
Carry items close to you, and don't twist your body when you're moving the heavy stuff.
Bend your knees when you need to lift something off the ground, not your back.
Lift heavy items below waist level.
If you need two or more people to carry something, make sure you have a clear plan before you start lifting.
Anyone with existing back issues might want to pick up a back brace for the move.
For more tips on moving heavy furniture, Home Depot has a helpful video and guide that walk you through the steps in detail.
What you'll need for this step:
Step 5: Watch those stairs and doorways
Moving big furniture up or down stairs and through doorways is a team sport, so make sure to have at least one other person who can help. If you're carrying over stairs, use the high-low method, which means having the person lower on the stairs carry the item by the bottom surface, while the person higher on the stairs carries the item by the top surface. Doing so will help to evenly distribute the item's weight.
There's nothing worse than muscling a couch around a corner, before realizing you'll need to take the legs off to get it out the door. Here's where the planning and a tape measure come in handy. This is another time where it's easy to get hurt, so make sure to take your time.
What you'll need for this step:
What shouldn't you lift by yourself?
There are a few items you shouldn't lift yourself, no matter how strong your back is. Some items are so big or heavy that the only way to get the job done safely is to find professional help. Other items might be large and delicate, so they require special care and attention, as well as a few specialized moving tools. Here is a list of items we recommend hiring a moving company for:
Pool table
Fish tank
Large/heavy antiques
Exercise equipment
Washing machines and other appliances
The bottom line
The trick to a successful move is planning and patience. Plan out as much of the move in advance as you can. Then take as much time as you need to lift furniture and boxes correctly and carefully, so you don't get hurt. Use moving tools when you can, and you should be able to make it through without a trip to the chiropractor afterward.
Frequently asked questions
First, measure the couch and any tight spaces the couch needs to be moved through. Next, remove legs and anything else that can be moved separately. Then map out a clear path and note where you will set the couch down. Last, move with your legs, not your back.

Measure the mattress and any tight spaces, then map out the path you'll take while moving it. Mattresses are floppy and hard to manage, so using a mattress sling along the bottom of the mattress can be a huge help. If you don't feel like picking up a sling, a rope should also do the trick.

The cost of hiring movers changes depending on where you live. But if you want professional movers, expect to pay $1,000 to $1,400 for a partial move or $2,300 to $2,600 for a full move. These numbers are based on moving a three-bedroom home.