Home Security Guide: How to Feel Safe in Your New Home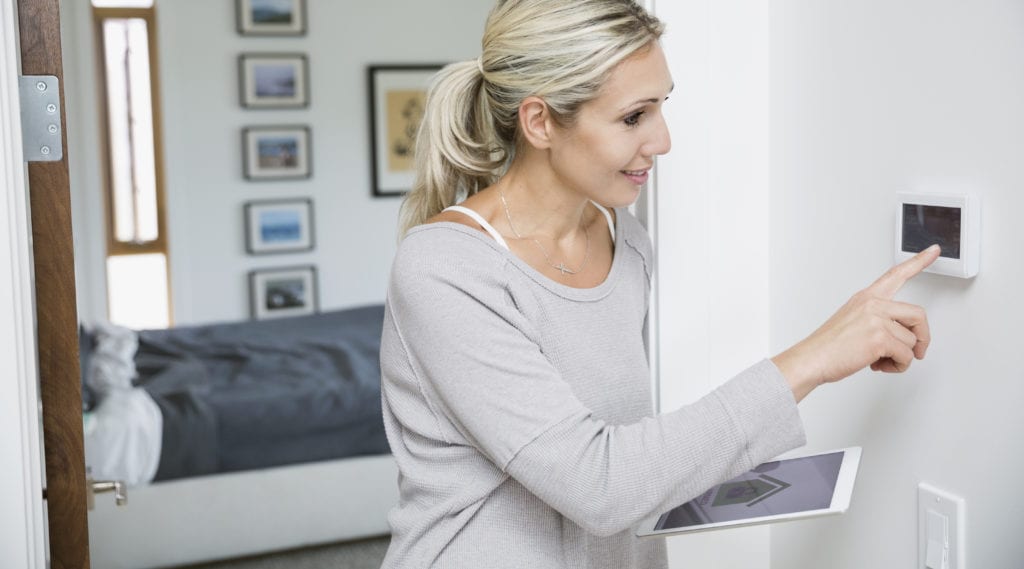 The products featured here are independently selected based on thorough research from our editorial team. If you buy something through links on our site, we may receive a commission.
You've moved into your new home. This space that you've worked so hard to get is now all your own, filled with your most precious belongings — and people. After signing your closing documents, you may be sitting back ready for a break.
But before you get too comfortable, now's the time to think about ways to keep you, your family, and your new home safe from theft. Have you taken the time to think through home security? What about a reliable internet connection to make sure your security system stays online?
Home security can also keep your family connected. SafeStreet's home security expert, Shane Campbell, says, "I've been in the home security industry for over 20 years, and when I first started, it was all about the fear and doom. The mindset was that you only get a security system because it's going to protect you from the home invaders. The big value now is how you can tie your family closer together."
To help you understand a bit more about home security, we'll help you think through some big questions and considerations to determine what home security and internet options may best suit you and your new house.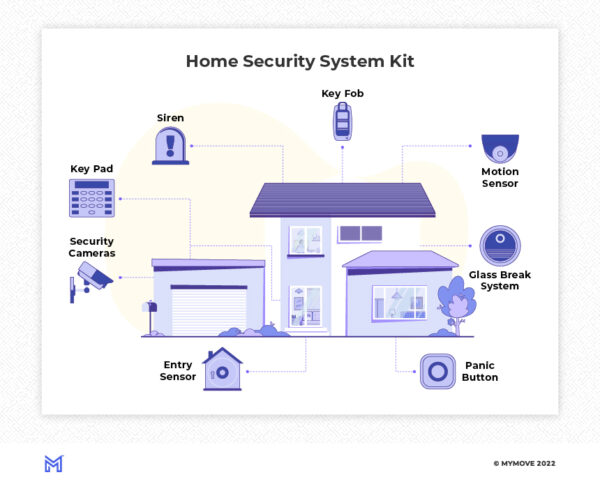 Jump to:
What do we know about burglars?
The first step to protecting yourself is to understand the mind of a burglar. You'll want to know how robbers target a home to determine what security measures could deter them. When considering a home to rob, burglars look for:
Easy access points: Time is of the essence for thieves, so they are often looking for houses with unlocked windows or doors. A 2012 study found that only one out of eight thieves reported picking a lock or using a key they found to gain entry into a home. Instead, most said they entered through open windows and doors.
The presence of an alarm system: Sound is a great deterrent for burglars. Most of the thieves surveyed in the study said prior to entry, they would try to determine if there was an alarm. About 60% of them said the presence of an alarm would lead them to seek another target. A barking and protective dog can also do the trick.
Dark or unkempt homes: Robbers are looking for houses they can get into without being seen. Homes covered by overgrown trees, shrubbery, or shrouded in darkness give burglars a better chance of getting in and out with ease.
Proximity to other people: Again, burglars want to get in and out of a home quickly without being detected. The study found that when selecting a target, robbers consider the home's proximity to traffic, other people, and law enforcement.
How can I burglar-proof my house?
Step one to securing your new home is to case it, looking at it with the eyes of a would-be burglar. Think through the considerations above to determine your weak points.
Do you have locks that could easily be picked? If so, you should install deadbolts to all of your doors. Do you often forget to lock your windows? Attach a label to each window, reminding you to lock it.
Do you have overgrown bushes or dark spots in your yard that could cloak an intruder? Cut your trees back, away from your windows, and install motion-sensor flood lights outside of your home.
Other robbery prevention tips to keep your property safe:
Install a security camera and an alarm system: Whether you're interested in a full-service security system like ADT or a more self-service option like Ring, having around-the-clock monitoring and the deterrent of an alarm system is sure to give your family peace of mind.
Get a dog: But choose the right one. Famous dog trainer and behaviorist Cesar Millan says German Shepherds, Giant Schnauzers, and Rottweilers are among the 15 best breeds for a kind and protective guard dog.
Watch who you let into your home: Without getting paranoid, keep an eye on those you let enter your space. Double-check your contractors' references and background checks before hiring them, and be wary of scammers. Secure all of your windows and door locks after contractors leave your home.
Do NOT leave your key under the mat or under that potted plant: Trust us, you're not fooling anyone — least of all a burglar. If you do have a habit of losing your keys, install a keyless smart lock that uses WiFi, Bluetooth, or a code to access.
Know your neighbors: Tap into your local community for help protecting your home. Keep tabs on their property, and ask them to do the same for you. Consider using local community apps like Nextdoor to stay up-to-date on any crime reports in your neighborhood. If you're a Ring Alarm user, you also gain access to the Ring Neighbors app, which is another good option for monitoring and reporting crime in your area.
Be careful with your trash: You never know who may be looking through your trash for signs of valuable belongings. Say you just bought a new TV. Leaving the box out on the curb is a sign to a robber that something worth stealing is inside of your house.
What do I look for when buying a home security system?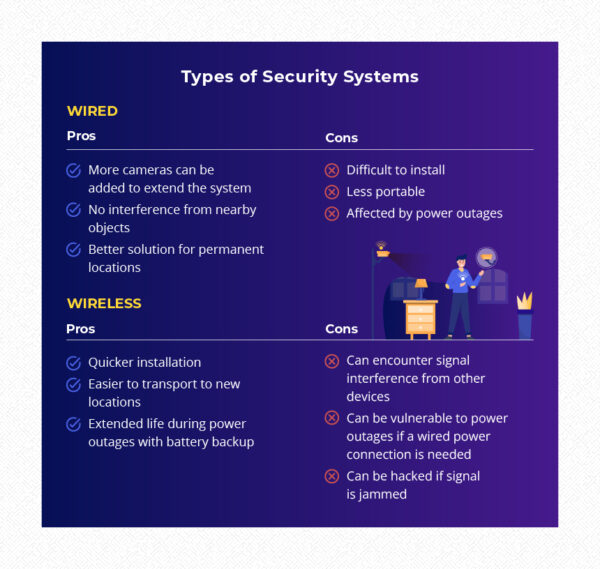 One of the biggest break-in deterrents is the obvious presence of a security system. Thieves may move onto another easier target if they encounter the prospect of triggering a blaring alarm or being caught on video. With the plethora of home security options, it's important to know what you're protecting and have a sense of how you want to protect it.
How to choose the best home security system for your home:
Check your internet: There's no denying the multitude of uses that a fast and secure internet connection brings to modern-day life. Many home security systems rely on an internet connection to keep them online and running. Make sure your internet plan has download and upload speeds that can accommodate one or multiple security cameras.
The equipment you'll need: Do you want a nanny camera for the nursery and a doorbell camera for the front entrance? Are you looking for sensors that notify you every time a door or window is opened? What about glass break sensors?
The features you need: Do you want 24/7 video monitoring? If so, do you want professional monitoring or does a live stream on your phone suffice? Are you hoping for smart home integration that allows you to control your system with your voice?
Your budget: The average monthly cost for a home security monitoring system ranges from $25/month to $50/month. Consider the equipment and features you put on your must-have list. Each one will impact the cost of your security package.
The size of your home: The bigger the home, the more robust the security system will have to be. As a good rule of thumb, all entrances and exits should be monitored by a sensor or camera — even basements and garages. Consider the rooms you really want to protect, like a nursery or office.
Current home infrastructure: The type of security system you choose — landline, wireless, or internet — will largely be impacted by your accessibility to a wired phone connection, a cellular signal, or WiFi.
Your DIY capacity: DIY home security systems are increasing in popularity, both for cost and service flexibility. Options like Ring, Frontpoint, SimpliSafe, and Arlo offer professional monitoring with easy DIY installation.
What can I do to keep my home safe while I'm on vacation?
Whether you're leaving for a weekend away or for an extended work trip, you want to know your home is safe.
How to secure your home while you're away:
Ask someone to pick up your mail: Nothing screams, "There's no one home!" like an overflowing mailbox. Have someone gather your mail and ask them to vary the times they come to your house, just in case a thief is watching your home.
Tell your neighbors that you'll be traveling: You can even notify the local neighborhood watch and ask them to keep an eye on your home.
Put your lights on a timer: You can make your lights go on and off according to your normal schedule. It will help convince anyone watching your home that someone is likely switching the lights manually.
Put your most valuable possessions in a safe: This is especially important for documents that have personal information (bills, passports, etc.) and weapons.
DON'T announce your plans on social media: You may be tempted to post about where and when you'll be going on vacation but know that burglars are smart enough to monitor social media, too. Maybe think about posting those travel pictures after you get home.
How do I know if I've been robbed?
Sometimes the signs of burglary aren't obvious — it's just a feeling you can't seem to shake. Go get a friend and walk through your home.
Signs that your home may have been robbed:
Your possessions are in disarray.
Valuable items — like art or electronics — are missing.
The locks have been tampered with.
There are scratches on the floor or marks on the walls where bigger items may have fallen or scraped on their way out.
Garden beds outside the window have been trampled on.
There are signs of forced entry — open or broken windows, broken doors, etc.
What do I do if I've been robbed?
If you arrive home to find that you've been robbed and you think the burglar is still on the premises, leave your house immediately. Go to a neighbor's house or another safe location and call the police. Do NOT confront the intruder. If you do get a look at the suspect, take a mental note of their clothing and physical appearance for the police.
Even if you're certain the robber is no longer on your property, leave your home. Make sure you leave everything in your home as-is, so you don't tamper with potential evidence. Call the police immediately.
When the police arrive, have them escort you to your home. Gather your home inventory (the list of all of your belongings that you made when you packed for your move or secured home insurance) and give it to the police. Also, show police any camera footage you may have captured of the intruder.
Note: You will need to file a police report within 24 hours of discovering the crime. Your home insurance company will ask for a copy of the report when you file a claim.
How do I recover after a robbery?
A home break-in can be a traumatic experience that leaves you feeling vulnerable and violated. Know that it will take your family time to heal and recover.
File the police report: Contacting the authorities and helping them find the robber can give you a sense of empowerment and control.
Fix up your home: Damage from a break-in can make you feel especially targeted and violated. Gather your reinforcements — friends and family who will want to help you recover. Board up broken windows, sweep away any glass, and install new locks. Maybe even rearrange your furniture or hang new decorations.
Shop for a new security system: You can ease anxiety after a break-in by upgrading to a new or higher-grade security system (maybe one that's professionally monitored).
Update your home inventory: Take note of what your new belongings cost. This will help you feel prepared for a future break-in.
Seek help: You and your family may need to talk through the trauma of the break-in. Seeing a professional counselor can help you heal by confronting the emotions and anxiety the robbery stirred up.
The bottom line
The truth is that a break-in can happen to anyone at any time. You can't live paranoid about that possibility, but you can be prepared. Easy steps like a new security system, additional locks, or a guard dog can help ease that anxiety so you can breathe easy knowing your new home is protected.