Ask an Expert: Why Home Security Matters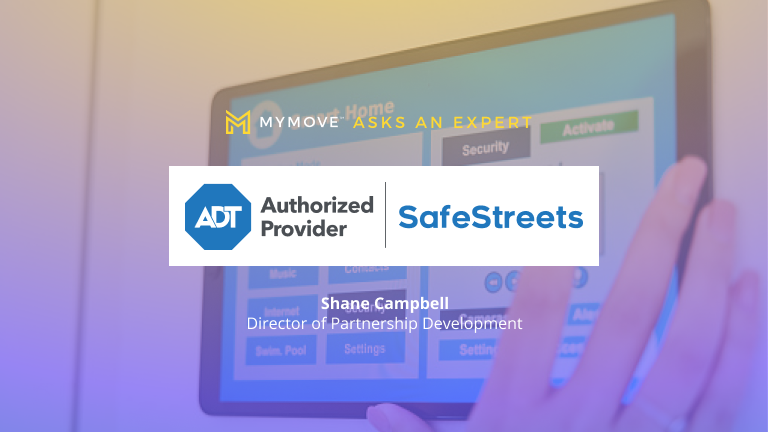 Making sure you are moving to a safe neighborhood is one of the many things to consider when house hunting. But crime can happen in any location, and that's why having a home security system you can rely on is so important. We asked Safestreet's Director of Partnership Development, Shane Campbell, who has done everything from sales to installation, to share how a home security system can help keep you and your home safe. Below is a lightly edited transcript of our conversation.
Jump to:
MYMOVE: Why is a home security system worth having?
Campbell: That's a great question that we get a lot. I would say it's the value of just feeling protected. Lifestyle trends have changed the home security market, and home automation is a big piece of that. Most people like having the cameras to be able to check in on their home. We find a lot of stay-at-home moms that want security systems because there are more people traveling for work and business trips, and they want to have that instant access to their loved ones.
I've been in the home security industry for over 20 years, and when I first started, it was all about the fear and doom. The mindset was that you only get a security system because it's going to protect you from the home invaders. But now nobody markets that way anymore. The big value now is how you can tie your family closer together.
MYMOVE: How can homeowners decide what type of home security is right for them?
Campbell: That's a great question. Home security has changed so much. Home security systems aren't just a box on the wall that screams at you anymore. They're a little bit more sophisticated these days. There are DIY systems out there now too, that allow people to customize what they want. But sometimes people don't know how all the different pieces of equipment work, what their limits are, or if there are any loopholes.
Most often, it's great to just get quotes from different companies. You can't really find a professionally installed system as a retail buyer, so you have to go call someone to get a technician to come by and do it professionally, and they can give you the best advice. I always recommend people to call around. There's always professional options, local options, and DIY options.
MYMOVE: What goes into getting a home security quote for a home?
Campbell: First, companies are going to try to build the value of their system with the client. A lot of times they'll ask like, "hey, why'd you call?" "What are the reasons why you're thinking about security?" They get into the nature of why someone's calling, and then just build on that value.
Our team really focuses on making sure that the needs are met. We'll ask how many doors and windows they have in the home, how many levels are in the home, and how big the home is. It's also good to gauge how many kids they have and how many pets.
Asking these questions helps to build out what a blueprint could look like for their system. They'll also list out what the needs of the home are, and then when the technician shows up, the technician can show them what they could get as far as wants on their security system.
MYMOVE: Should someone choose a professionally installed system or a DIY system?
Campbell:, You're going to get more a professional level of advice and tact from a professional technician that has been selling and installing these systems for a long time. I think the equipment's a little bit more diverse and secure too. A lot of the DIY systems are good, but they've not been around a long time versus other security companies and systems. Professional security companies have been around a long time. They use equipment that's been proven and that's really been put to the test.
DIY is great for people who can't afford a security system because they maybe have low credit, or they're a renter, or live in an apartment. There's a special place in the industry for DIY versus a professional install. When you compare the two, they're two separate things. They both have their pros and cons.
MYMOVE: Is a home security system worth having for renters?
Campbell: I definitely think so. A lot of times, if a renter is in a single family home, you can still probably get a professional install done if the owner of the home is okay with it. One of the reasons they might be ok with it is for the knowledge of who's coming and going all the time in the home. The owner is always going to want to make sure their home is protected for their renters and a lot of times, that is a great piece of knowledge – knowing the owner has a kind of pulse on what's going on in the home.
There's a lot of factors and variables that might lead someone towards DIY or professionally installed systems in a rental home.I think renters is kind of a 50/50 situation. Depending on the type of home, you can still get a professionally installed system versus DIY. It just depends on where the home is located, what kind of activities are going on inside the house, and who's living there.
MYMOVE: Does a home security sign on your property deter thieves?
Campbell: The sign does deter people because it's the first line of defense. With security systems, there are three lines of defense. You have the first one, which is outside of your home: the stickers and the signs – the things people can see. The second line of defense is the perimeter of the home, where you get the windows and doors protected that are on every entry level of the home. The third level of defense is inside. If someone actually did get inside, there are motion detectors and other things to deter them to go away.
The sign and the stickers are obviously the first line of defense to deter people, but some thieves don't care. And a thought for some people is that when they see the security sign, they could have something valuable. It's definitely a thought to keep in mind.
MYMOVE: What are some key indicators of a safe neighborhood?
Campbell: Any type of gated community has always been a plus to any community. Invaders can still get through the gates, but it's still a deterrent. Neighborhoods that have their yards kept up nice, and their homes look secure, are also good indicators. Houses that have a lot of clutter and stuff in the yard that hasn't been put away are usually a sign of a red flag. Watch out for places with open garage doors or any type of entry point that is open for a long period of time.
Fencing is also a big indicator of safety because people will have to actually get around the fence to get into the back of the house. The back is always the place where people like to go to get into a house, so fencing is always going to deter people. If there isn't fencing, it's easier to get access to the home.
Shane's top five home security tips:
Have an in-home security consultation
Consider professional and DIY options
Call around for different quotes
Renters should still consider home security
Foucs on your home's security needs first and then the wants
Considering home security?
Visit Safestreets to get your home's security quote and learn more about how to keep you and your family safe.