How to Protect Your Holiday Packages From Porch Thieves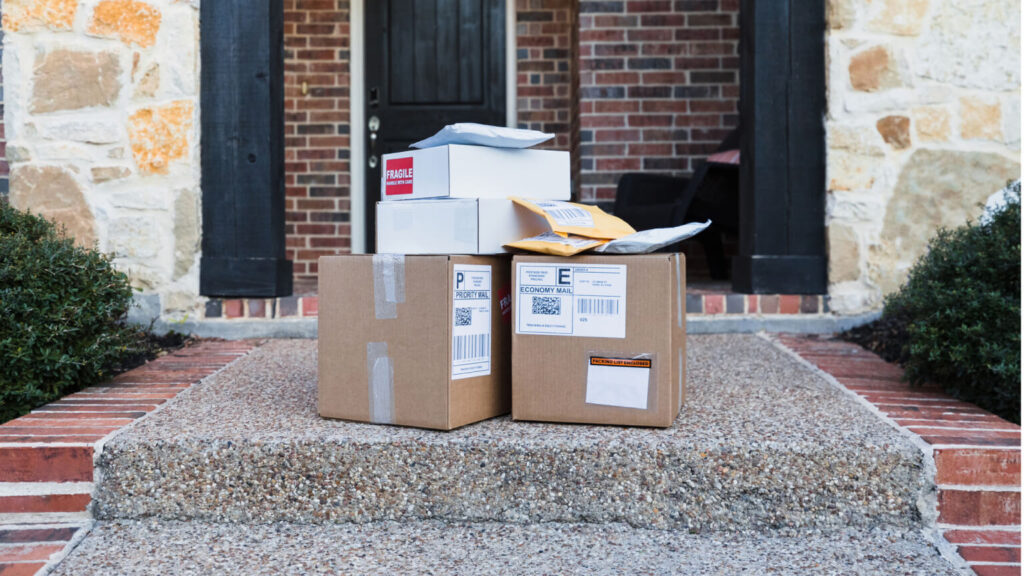 Did you know 1 in 7 Americans have had a package stolen from their mailbox or porch this year? To prevent packages from being stolen, you can be like this guy who created a hilarious way to get back at porch pirates using a glitter bomb. But if you don't have the time to implement his amazing plan, you can use our tips to keep your items safe during this holiday season.
How to keep your packages safe from porch thieves
1. Use an Amazon storage locker.
Amazon allows you to choose one of their storage lockers as a delivery option. It keeps your items secure, requiring you to go to the retailer to pick them up. Then, you can only access your items by scanning a barcode or entering a passcode. You can choose this option when you're checking out.
One of the best ways to deter thieves is to use a security camera. According to one survey of 422 burglars, over 40% said they would avoid a house if they saw a camera. By installing a security camera, you're communicating that anything they try to do will be on camera for police to see. It will thwart some thieves who will move on to porches not monitored.
3. Buy a package locker.
Instead of having packages delivered to your mailbox or porch, you can have a package locker installed next to your mailbox. They require key access to receive your items.
4. Have packages delivered in a hideaway.
A hideaway resembles outdoor furniture the delivery person can use to store items. This keeps porch pirates from seeing packages out in the open. And because your items are enclosed, they won't incur any damage from the weather.
5. Send packages to the office.
If you cannot be home when the delivery arrives, divert it to your office instead.
6. Use Amazon Key.
If available in your area, Amazon Key is a smart service to use. With it, you have packages delivered to your garage, home, or vehicle. It ensures contactless delivery, and you don't have to be home to receive your items. Best of all, it keeps porch thieves from being able to snag your gifts.
7. Work with your neighbors.
With so many packages stolen every year, working with your neighbors can cut down on theft. If you know you won't be home and are expecting a package, ask your neighbors to watch out for it. Then, when delivery occurs, have them bring the items inside until you come home. Offer to do the same for them, and together, you can work to reduce package theft in your area.
8. Have your packages held.
Another option is to have your packages delivered to your local UPS or FedEx store. Then, you can pick them up after they arrive. With UPS, you'll need to be a My Choice® member, but holding packages is included with the free version of the service. Fedex will hold your package for up to seven days at no extra cost — just enter your tracking number, select Manage Delivery, then Hold at Location.
9. Request signature confirmation.
You can also request a signature confirmation from the delivery company, so you can receive the package in-person. If you're not home that day and have your package stolen, you can also use this as evidence when you file a police report or try to receive a refund from the shipping company.
10. Use your leasing center.
For renters, you can have your packages delivered to the leasing office instead of your doorstep. It ensures your packages remain safe while you're away from home.
11. Choose your delivery time.
Some shippers allow you to choose a delivery window on the day you're expecting a package. That way, you can be home when your delivery happens.
12. Use the Package Guard.
Do you want to scare a porch pirate? Then the Package Guard is right for you. How it works is you instruct the delivery person to place your package on the device. If someone tries to snatch the package, it emits a high-pitched siren and alerts you through the app.
13. Forward your mail to a different address
If you're going to be out of town for a while, you can forward your mail to a temporary address for a minimum of two weeks. It only costs $1.10, and you can choose the exact dates you'd like the forwarding to take place.
What to do when your package is stolen
If you tried to secure packages on the porch but still had your items stolen, you will want to follow these steps.
Track your package.
To start, you need to track your package to see where they reported it delivered. Sometimes a delivery company might have misrouted the items. Also, if tracking shows the package arrived at your home, but you have no evidence of this being the case, then you know porch thieves probably stole it.
File a police report
Contact your local police to report the stolen package. If you have any video or written evidence (signature confirmation), be sure to provide it to them at that time. A police report gives local authorities a foundation to build on if a pattern of stolen packages arises in the area. It will also help you when you go to file your insurance claim requesting a refund.
Notify the delivery company
With package theft becoming an all-too-often occurrence, many senders have guidelines in place to help you if you become a victim. Amazon allows you to report the missing package through its website, and they will reorder a replacement for you. However, you might want to consider having the replacement sent to a package locker to prevent it from happening again.
With USPS, FedEx, or UPS, you will want to file a claim. Similar to Amazon, consider having them hold your package at a local facility for pick-up when the retailer re-ships it.
Inform the company where you ordered the product
From here, you want to inform the retailer or company where you ordered your items. While some retailers might wait for a determination from the shipping company, many provide tips or even call on your behalf to track down a package.
The bottom line
With the holiday season upcoming, there will be ample opportunities for porch pirates to steal packages from porches and mailboxes. By following our tips, it can help you secure packages on the porch safely and discreetly. Also, if you do have your package stolen, our recommendations can help you file a successful claim, so you receive a refund or your item sooner.