The Best Home Security for Renters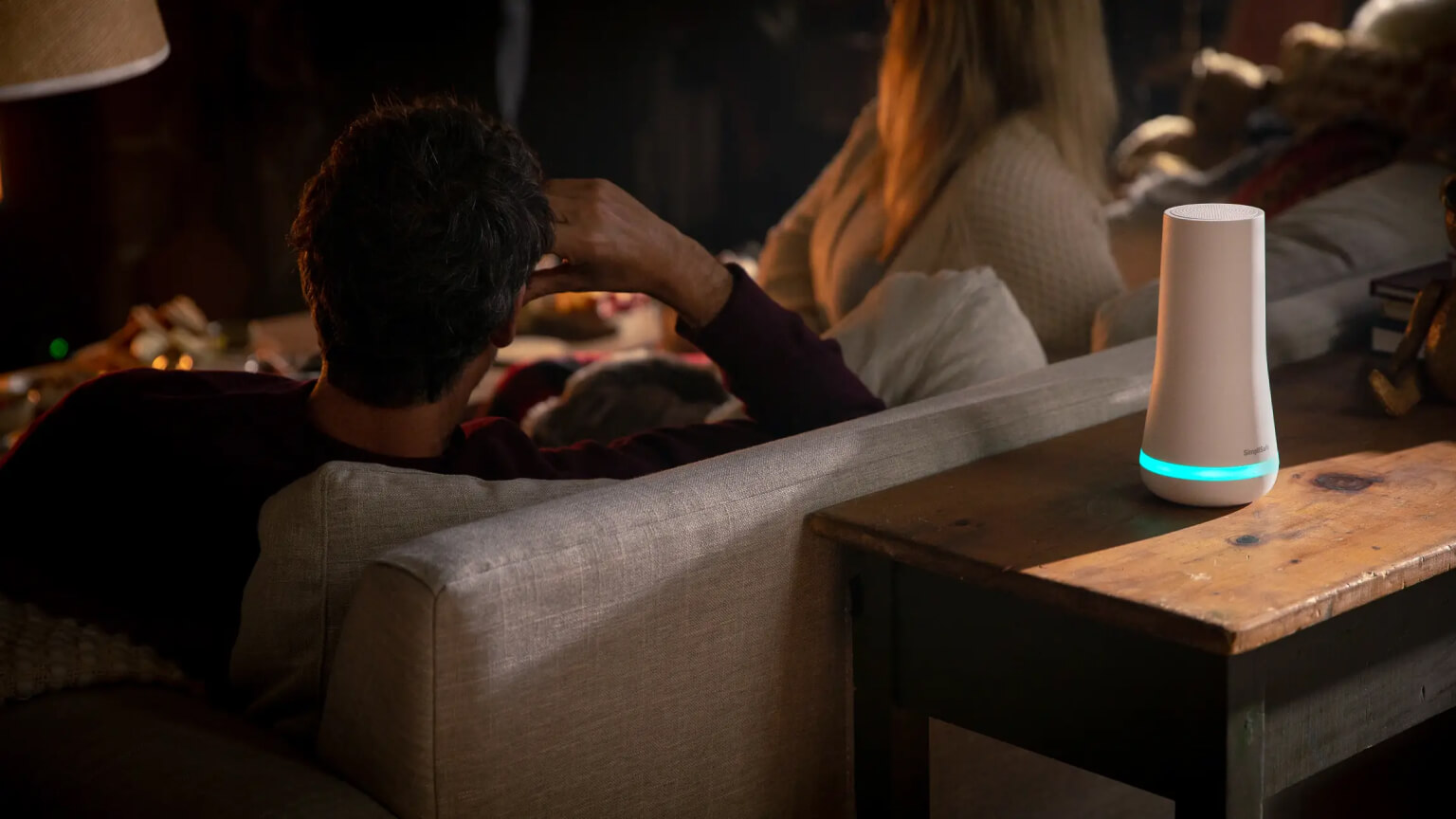 The products featured here are independently selected based on thorough research from our editorial team. If you buy something through links on our site, we may receive a commission.
The home in home security isn't just exclusive to houses. There are many home security options available for renters, and the best part is that they're usually cheaper. The less space that needs monitoring – the less you pay.
Whether you're moving out of your parent's house and into your own apartment (hooray for you) or just looking to downsize, it's important that you feel safe and comfortable no matter where you live.
DIY versus professionally installed home security
Professionally installed home security systems are monitored and installed by professional security companies and are hardwired into the home's electric system. This creates a more permanent security solution and can be better for homeowners. On the other hand, DIY systems are self-installed and are better suited for apartments and smaller homes (where punching holes in the wall is usually frowned upon). Both types of home security systems have their benefits – it's just a matter of deciding which one is best for your home.
DIY installed systems are best if you:
Live in an apartment or smaller residence.
Don't live with many people needing access to the security system.
Are on a budget.
Tech-savvy enough to install the security system on your own.
Professionally installed systems are best if you:
Own the home.
Live in a larger, multi-story home.
Have more people that need access to the security system.
Are wanting a particular home security setup.
Don't feel comfortable installing a home security system yourself.
Why DIY home security is best for renters
It's widely known that landlords hate damage, and if you're renting an apartment or home, you likely have restrictions on what you're allowed to do to your walls. DIY home security systems are better if you're renting because most of these systems don't involve any wiring, drilling, or mounting in your wall.
Most DIY systems get placed on your walls like a sticker. Just sync your devices, peel off the backing paper, and slap it on the wall. These types of systems typically are also no-contract, which is great if your lease is up and you plan on moving or getting a different home security system.
Pro tip: Looking to save a little bit of money on equipment? Many DIY home security equipment starter kits can be purchased from Amazon. We'll show you how below.
Best security systems for renters
| | | | |
| --- | --- | --- | --- |
| Home security system | Best in | Equipment price range | Security plan pricing range |
| SimpliSafe | Best overall | $$ – $$$ | $ – $$ |
| Ring Alarm | Range of cameras | $$ – $$$ | $ |
| Abode Home Security | Smart home compatibility | $$ | $ |
| Wyze Home Monitoring | Budget pick | $ | $ |
| ADT | Professionally installed | Get a free quote | $$ – $$$ |
Important note: most DIY home security cameras are sold separately and don't come with your equipment starter kit. If you're on a budget, think carefully about which gadgets you really want.
If you're up for taking a more customizable approach to your home security system, then SimpliSafe is a solid option. With such a large variety of equipment packages to choose from, you're sure to find the best system to fit your needs. SimpliSafe has a very intuitive 'build a system' process if you want to create your ideal home security system. Just keep in mind the price difference.
SimpliSafe offers two self-monitoring plans and two professional monitoring plans. Their self-monitoring plans are cheaper but offer very few features. While pricier, the interactive monitoring plan offers the most benefits, professional monitoring, and the best value overall. SimpliSafe is easy to set up and install and is generally rated highly by consumers.
Pros:
Equipment financing available.
Easy equipment setup and installation.
Plans and equipment packages offer good money value.
No contract.
Cons:
Limited smart home compatibility.
Costs of extra equipment needed for a larger home can add up.
Best range of cameras: Ring Alarm
Many home security companies don't provide a lot of options when it comes to security cameras. Ring Alarm has an impressive variety of cameras to choose from that are sure to cover any need and budget range you may have. Ring Alarm is owned by Amazon, which makes it an excellent choice if you're an Amazon Alexa user. Equipment for Ring Alarm can be purchased through Amazon and is sold in 5-14 piece starter kits. The average Amazon user rating for Ring Alarm's equipment is around 4.7 out of 5.
As far as plans go, you have four options: Free, Basic, Plus, and Pro. The Basic plan should be good enough if you just want a standard self-monitoring plan with a fair amount of features. However, if you want professional monitoring, cellular backup, or local video storage, then you'll want to go with the Pro plan.
With Ring Alarm, you'll also gain access to the Ring Neighbors App, which lets users anonymously post and report crimes, suspicious activity, and get security updates within a five-mile radius of your current location.
Pros:
Large variety of security cameras.
Affordable plans.
Starter kits suited for smaller and larger homes.
Access to Ring Neighbors App.
No contract.
Cons:
Known to have connectivity issues.
Not recommended if you have Google smart home devices.
Have a lot of smart home devices you love to use? All your devices should sync up nicely since Abode Home Security is compatible with up to 160 devices. Abode Home Security has two starter kits that can be purchased through Amazon: the Gen 2 Gateway or the Iota. Both kits have an average Amazon user rating of 4.1 out of 5. If you want something different, visit Abode Home Security's website for more starter kits and accessory options.
It's time to talk plans. This time, you have three options: Free, Standard, and Pro. The Free and Standard plans are self-monitoring with on-demand professional monitoring. Both plans have very limited features, but at least the Standard plan will net you home automations and customer support. If you're willing to pay a bit extra, the Pro plan gives you everything in Standard plus professional monitoring, cellular backup, and other various features.
Pros:
Excellent smart home compatibility.
One of the only systems compatible with Apple Homekit.
Cellular backup (with Pro plan).
No contract.
Cons:
May need to purchase lots of add-ons.
Not ideal for larger homes.
If you are in the market for an ultra-budget home security system, we've got just the pick for you. Wyze Home Monitoring is by far the cheapest home security system when it comes to professional monitoring and equipment prices. For reference, Wyze Home Monitoring equipment starts at around $100 – $150 cheaper than other DIY home security systems. You can purchase the Wyze Home Monitoring core starter kit on Amazon or the Wyze Home Monitoring website. This starter kit has an average Amazon user score of 4.2 out of 5.
Wyze Home Monitoring has four plans, but if you don't plan on purchasing a camera right away, their Home Monitoring plan is your best option. The plans themselves are pretty bare-bones in terms of features, with the only stand-out being that you can get professional monitoring at a very low price. If you're looking for a plan that includes cellular backup, any kind of automations, or lots of smart home compatibility options, then Wyze Home Montitoring might not be for you.
Pros:
Most affordable professional monitoring.
Ridiculously affordable equipment.
Easy setup.
No contract.
Cons:
Equipment selection is very limited in comparison to other brands.
No cellular backup plans.
Few options for plans.
Best professionally installed home security: ADT Home Security
If your landlord isn't too strict and allows you to mess with wiring and drill things into the walls, then consider getting professionally installed home security. ADT has over 130 years of experience in the home security and monitoring industry. Their experience makes them a great choice if you want reliable professional monitoring and help in getting your home security setup the way you want it.
Their packages are highly customizable, and if there's a specific feature that you really want, ADT will work with local retailers to try to get you exactly what you need. While ADT's plans come with a heftier price tag, it's well worth the investment. Visit their website to get a free quote for your home.
Pros:
Professionally installed equipment.
Over 130 years in the industry.
Professional monitoring.
Customizable home security packages and experience.
Cons:
Expensive plans.
Long contract.
The bottom line
Home security is accessible to just about any type of home nowadays, even if you're renting. With so many provider options, packages, and plans available, you're sure to find the best home security system to help you feel safe in your apartment or home.
FAQs:
What is on-demand professional monitoring?
If you're on a self-monitoring plan and are going away for a little while, you can pay for a few days of professional monitoring. This is great for weekend trips or vacations where you might not be able to self-monitor.
Why are DIY systems better for renters?
Lots of rental properties have restrictions on drilling and mounting things into the walls. Most DIY home security systems just adhere to the walls like a sticker and are easy to remove.
Can I put a security camera outside my apartment?
Don't install an outdoor security camera without checking with your landlord first. In most cases, you won't be allowed to install an outdoor camera due to privacy laws that keep you from monitoring public spaces.
What is cellular backup?
Cellular backup ensures your home security system stays online when the Wi-Fi or power goes out.
What is video verification?
Video verification is an alert that notifies your monitoring company when someone enters your home. They will access the alerted camera to verify if it was an intruder or just a false alarm.