10 Ways to Protect Your Home While On Vacation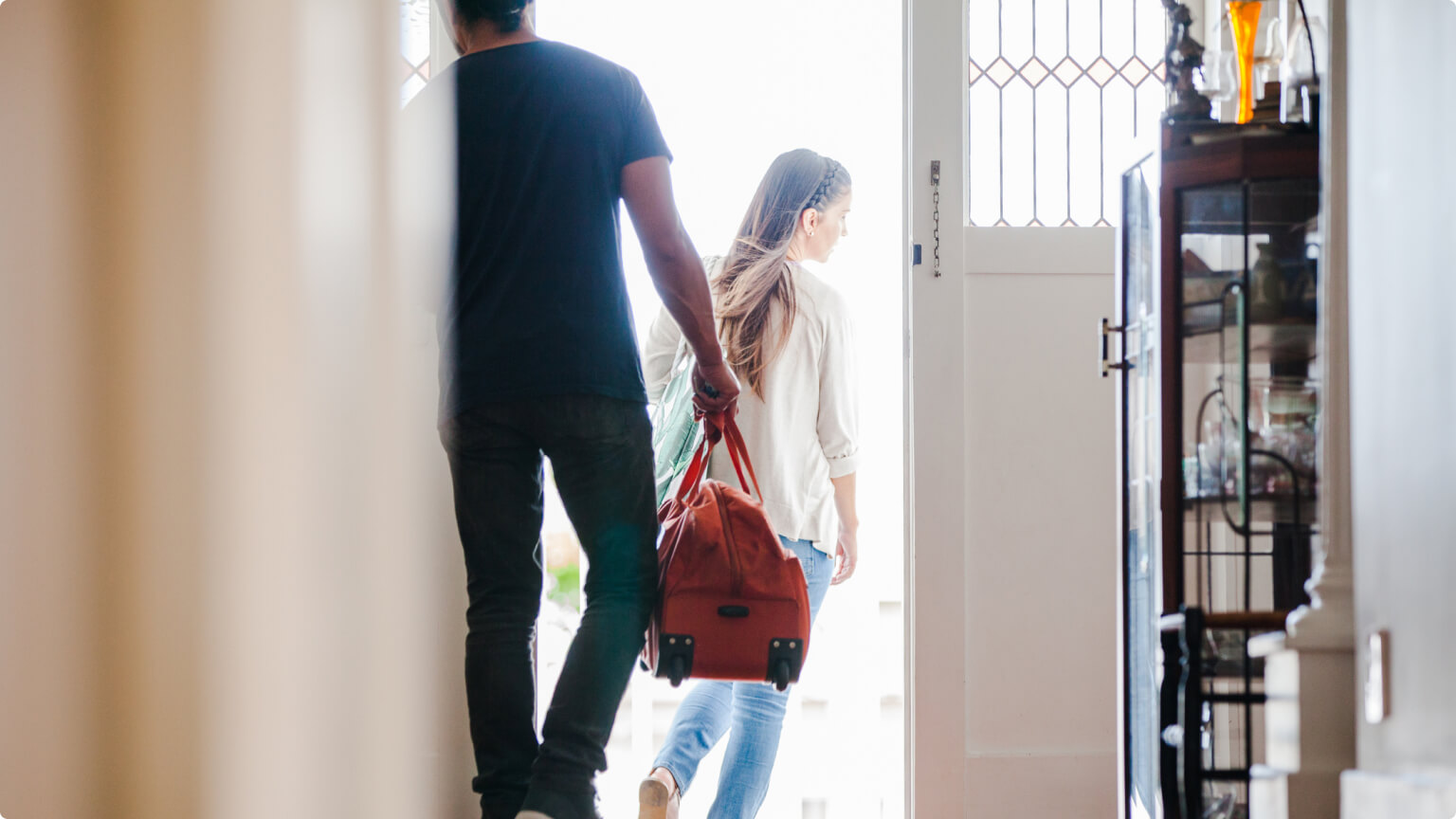 The products featured here are independently selected based on thorough research from our editorial team. If you buy something through links on our site, we may receive a commission.
It can be hard to defend your home when you're not physically there. And when you're on vacation, the last thing you want to worry about is if your home is going to be safe while you're gone. 
The good news is there are plenty of ways to keep your home safe while you enjoy your vacation. It's all about setting up the illusion that someone is actually home. We'll show you how with 10 ways to protect your home while on vacation.
Jump to:
1. Install a home security system
One of the best (and easiest) ways to protect your home while on vacation is to install a home security system. A home security system provides a way to secure and monitor your home from anywhere.
For extra peace of mind, you can also opt-in for 24/7 professional monitoring, so that you can kick back and enjoy your vacation without having to constantly monitor your cameras.
Whether you choose to have a professionally installed home security system or you choose to go the DIY route, having some kind of home security system is better than none.
2. Set up a timer for your lights
Lights being on is a telltale sign that someone is home. But you can't exactly turn on the lights while you're away, right? It turns out you can. Purchasing a few mechanical outlet timers allows you to set up a timer for your lights and other electronics.
Just place a few lamps near your windows, set a timer for them to turn on and off, and it'll look like you never left.
You should also consider setting your TVs or radios on a schedule as well. An Oregon news station, KGW8, surveyed 86 burglars. When asked "what is the one thing homeowners can do to avoid being burglarized?", a common response was to leave a TV or radio on.
3. Let your neighbors collect any packages
There's nothing more tempting for a porch thief than a pile of packages that have been sitting out for a few days. If you know you have packages on the way while you're on vacation, consider asking one of your neighbors to keep your delivered packages in a safe place until you return.
4. Submit a Hold Mail request
If you plan on leaving your house unoccupied for longer than a week, consider submitting a Hold Mail request with the USPS. A Hold Mail request stops mail from being delivered to your home for a desired amount of days. Keep in mind that a Hold Mail request is only valid for 30 days.
You can submit a Hold Mail request online or in-person at your local post office. Or if you're going to be gone for an extended period of time, you can set up a temporary change of address.
5. Hire a house sitter
Hiring someone you trust to watch your home while you're gone is another easy way to have a little peace of mind while you're on vacation. Make sure your house sitter knows who to call in case of an emergency and what actions they are allowed to take on their own.
6. Don't announce your vacation on social media
We've all heard the saying "watch what you say on social media", and you really should if you are talking about your vacation plans. You may not realize it, but posting about what days you are going on vacation is basically like sending a written invitation to a home invader.
It's best to wait until after you get home from vacation to share your amazing experiences online with the family.
7. Lock windows and doors
It's pretty obvious that you should make sure everything is locked before you leave. But it never hurts to be too careful. Go around your home and double-check that all your windows and exterior doors are locked. Just one unlocked window is all it takes for someone to get into your home.
8. Shut off your water
Water damage in your home isn't what you want to come back to after a relaxing week at the beach. Leaking pipes can cause expensive (and smelly) damage, especially if nobody is home to handle the situation. You can easily eliminate the risk of flooding and leaks in your home by remembering to shut off your water before you leave.
If you choose to hire a house sitter, you'll obviously need to leave the water on, but make sure your house sitter knows what to do and who to call if there's a situation.
9. Take care of any home or yard maintenance
The goal of protecting your home while on vacation is to make it look like someone is home. An overgrown lawn or bushes could be an indication that no one is home. Make sure to mow your lawn and take care of any yard work on your property before you leave for vacation.
If you plan on being gone for a longer period of time, consider hiring a neighbor or friend to mow your lawn for you while you're away. Fresh lawn clippings in the yard are a pretty good sign that someone may be home.
10. Secure any valuables
Your valuables are called valuables for a reason, meaning if someone sees them, they may take them. In the event that someone does get into your home while you're away, make sure all your valuables are secured away. It's best to keep your valuables in a sturdy safe of some kind. But if you don't have one, you'll need to get creative.
Hiding valuables in places and things that most people wouldn't think twice about is a great method. Places like full feminine hygiene product boxes, empty shampoo and conditioner bottles, or VHS tape boxes.
The bottom line
You should be able to enjoy your well-deserved vacation time without having to worry about the safety of your home and belongings. From installing a home security system to simply setting a timer for lights, there are plenty of ways to protect your home while on vacation.