Internet In My Area: Switch Before You Move
Click on Your State to Learn More
Click on Your State to Learn More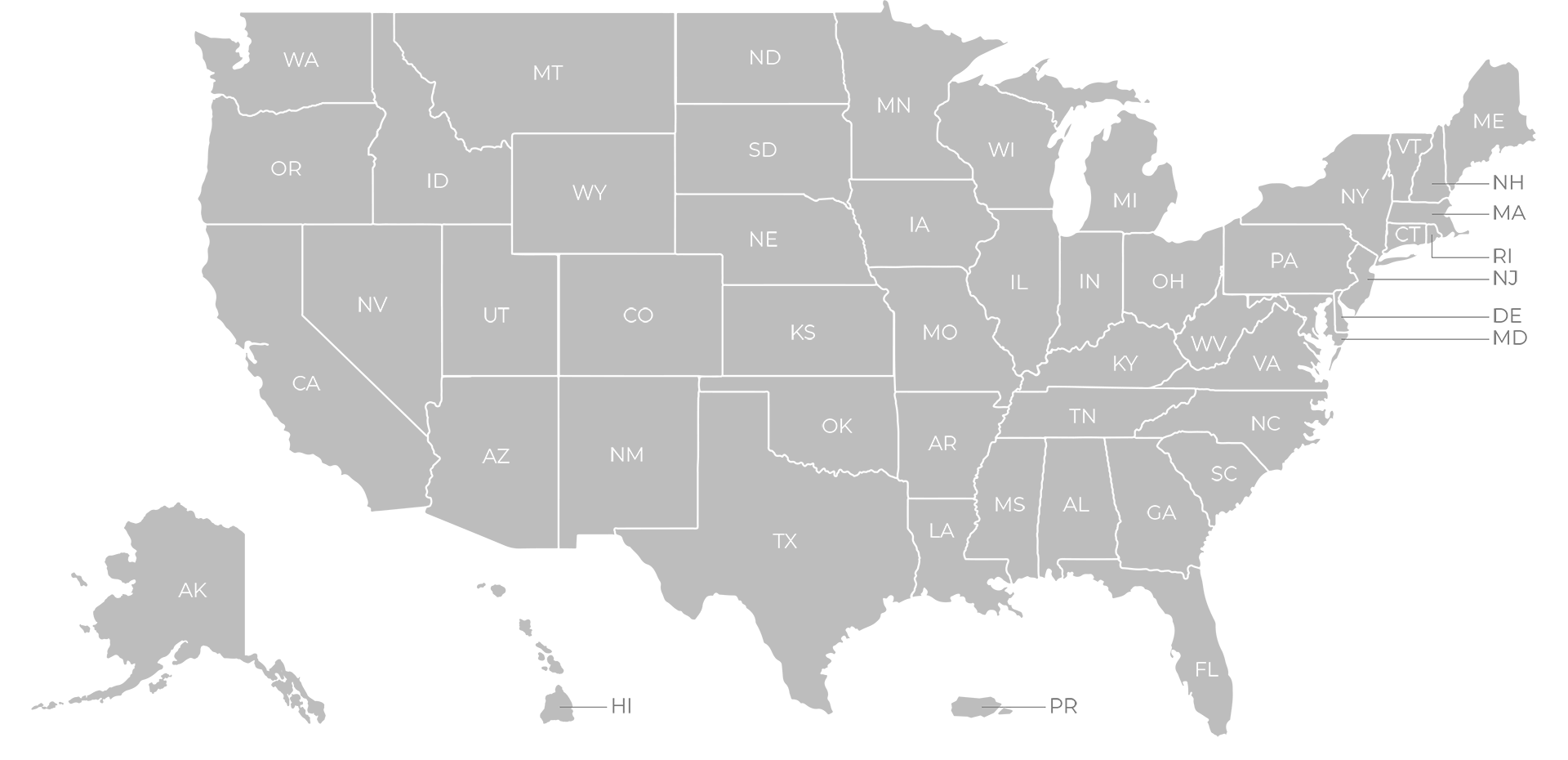 Checking off "find internet in my area" should be at the top of your moving to-do list. In times when working and schooling from home are becoming the norm, a stable internet connection has never been more important.
Googling "best internet in my area" and "internet providers near me" will give you a number of local options that range in pricing and services. We're here with a list of top internet providers by availability to help you narrow down your options, so you can make the best choice for you and your family.
Get your electronics promo code!
Discount electronics and other sweet deals are one click away.
Best internet in my area: Top internet service providers and their coverage areas
We've collected information about the largest internet providers in order to represent a big portion of the country. To start your search for internet services in your area, see which states each provider serves. Keep in mind that availability can also vary by city. For a detailed view of which internet providers are available near you, refer to the FCC's Broadband Map.
| Company | Internet type | Starting price | Download Speeds (across all plans) | Availability |
| --- | --- | --- | --- | --- |
| | DSL and Fiber | $29.95/mo. | 5 to 100 Mbps | 21 states |
| | Hybrid Fiber-Coaxial Cable | $45/mo. | 3 to 1,000 Mbps | 13 states |
| | DSL | $49/mo. | 3 Mbps to 940 Mbps | 36 states |
| | Cable | $49.99/mo. for 12 months | 60 to 940 Mbps | 41 states |
| | Cable | $25/mo. | 15 to 2,000 Mbps | 39 states |
| Cox | Cable | $29.99/ mo. | 10 to 940 Mbps | |
| Frontier | DSL and Fiber | $39.99/mo. | 1 to 1,000 Mbps | |
| HughesNet | Satellite | $49.99/mo. | 25 Mbps | |
| Verizon Fios | Fiber | $39.99/mo. | 200 to 940 Mbps | |
| Windstream | DSL | $45/mo. | 200 Mbps to 1 GIG | |
*Prices as of 11/2/2020. Prices may vary based on location.
Internet types and availability
There are four main types of internet service. Here's a closer look at what they are and where they're currently available.
What it is: Broadband internet access that transmits through cable television lines.
Availability: Services offered in all states through your local cable TV provider.
Pros: Reliable and available in many locations.
Cons: Can be slow if many neighbors are using the service at once because a neighborhood may share the same line.
What it is: Broadband internet access that transmits through telephone lines.
Availability: Services offered in all states through your local cable phone provider.
Pros: Inexpensive and relatively fast service. You don't share with your neighbors like cable internet.
Cons: Internet speed and quality depend on how close you are to the service provider's hub.
What it is: Internet data that are transmitted as light signals via small, flexible glass wires.
Availability: Services offered in some major metropolitan areas and growing.
Pros: The fastest internet with no bandwidth caps.
Cons: Relatively new and limited in availability.
What it is: Internet access provided through communications satellites.
Availability: Services offered nearly everywhere.
Pros: Available in rural areas where other internet options may not be possible.
Cons: Expensive and vulnerable to outage due to bad weather.
How can I compare internet service in my area?
Choosing the right internet provider can be achieved in just five easy steps. The faster internet your home needs, the more expensive the service usually is. The key to choosing the best service is to think about your usage ahead of time, so you're getting the speeds you require without paying for more than you need.
Follow these steps when comparing internet providers:
Step 1: Discover the types of internet near you.
Look up internet providers in your area using the FCC's Broadband Map.
Step 2: Examine your internet use.
Add up your activity to determine how much speed you currently use. According to the FCC:
| Activity | Minimum Download Speed |
| --- | --- |
| File Downloads | 10 Mbps |
| Game console connecting to the internet | 3 Mbps |
| Gaming online (multiplayer) | 4 Mbps |
| Social media | 1 Mbps |
| Streaming standard-definition video | 3 Mbps to 4 Mbps |
| Streaming HD video | 5 Mbps to 8 Mbps |
| Video calls | 1 Mbps |
| Video HD calls | 1.5 Mbps |
| VoIP calls | Less than 0.5 Mbps |
| Web surfing and email | 1 Mbps |
Step 3: Determine what speeds you need.
Now that you have an idea of how much each family member normally uses in Mbps, add up all the members of the household's internet activity totals to calculate the ideal download internet speed your home will need. An ideal minimum download speed is 10 Mbps, unless you're streaming HD videos and movies. According to a report by the FCC, "Basic web browsing improves with higher speeds up to 10 Mbps, but not beyond."
Step 4: Compare data limits.
Some providers limit the total monthly amount of data you can download and/or upload. This may be an issue when you consider that streaming a standard definition movie takes between 1 to 2 GB, and an HD movie may take 3 to 5 GB. How many movies will you be streaming per month?
Consider your internet needs and the speeds you will need to achieve those things. This can help you avoid getting a plan that doesn't meet your speed needs or paying for a plan that is more than you need.
Step 5: Shop for deals.
Once you've narrowed down what you're looking for, compare providers to find the best deals. Look for free equipment and installation, as well as monthly pricing deals. Be aware that most internet service providers offer a promotional monthly internet price for a limited time (like the first six months or the first year), and then the monthly price can increase.
The bottom line
There are a lot of things to think about when you're preparing for a move. With the constantly increasing need for internet technology in our lives, don't forget to make it a priority to get internet service ready at your new location. Then when you are settling into the new home and unpacking boxes, you won't also be trying to shop for new internet service.
Check to see what internet services are available at your new location, consider your speed needs, and then shop around to find your best deal.
Frequently Asked Questions
Q:
What types of internet are available near me?
A:
The most common type of internet is cable or DSL, making either the most readily available when you search for "internet service in my area." Rural zones may be limited to satellite internet, which transmits to even the hardest to reach areas in the country. Fiber-optic internet availability is growing as the major internet providers are working on installing fiber-optic cable infrastructure.
Q:
Why do internet service providers operate in select areas?
A:
Most of the internet infrastructure is owned by major companies like AT&T, Verizon, and Sprint. Known as Tier 1 internet providers, they lease the use of their internet pipelines to Tier 2 providers (like Comcast and Cox) that bring internet from the major pipelines into smaller metro and regional areas. In many cases, it isn't cost-effective for a single provider to lease large areas of the internet pipeline and their service areas are limited.
Q:
Who has the cheapest internet service in my area?
A:
The cost of your internet will depend on what internet service is available in your area, what speeds you need, the amount of data you need, and what internet service provider you select.
The more speed and data you need, the higher the price will be for your internet service. As you prepare for your move, see what's available at your new location and where you can get the best deal.
Q:
What is the best internet provider in rural areas?
A:
In many rural areas, satellite internet is the only internet option available. From our list of top internet service providers, HughesNet is a popular option for satellite internet. Viasat is another satellite option.
Some rural areas also have DSL availability. AT&T ranks at the top of the list of DSL providers, along with Windstream and CenturyLink.
Q:
What internet service is available in my area?
A:
If you live in a rural area, HughesNet, AT&T, CenturyLink, Frontier, and Windstream satellite or DSL service may be available. Cable and fiber options are unlikely to be available in rural areas.
If you live in a metropolitan area, you will most likely have your choice of fiber or cable providers like AT&T, Spectrum, Verizon, Cable ONE, Xfinity, and many others on our top providers list.
Ashlee Tilford contributed to this post.
---
Cynthia Paez Bowman is a real estate and personal finance journalist for websites like MSN.com, Freshome.com, and Bankrate.com. Travel is her passion and digital nomading makes it possible for her to run her small digital content marketing and public relations agency from anywhere there's internet available.
Save on your move and tackle upcoming to-dos with your free MYMOVE account
Related Articles
Modem vs Router
Mario Marco / Getty Images If you aren't already tech-savvy, it can be difficult to figure out the difference between a modem vs. router. But if you want to set up your own internet and WiFi, it's important to know what distinguishes the two. We've created this simple guide to help you learn what modems […]
Switching Internet Providers
What to Know When Switching Internet Providers Residential internet service is a competitive business. Internet technology continues to evolve and new players are always entering the market. Therefore, the best deal you could find five years ago may not be right for you today. Also, many internet providers offer limited-time reduced pricing, which can cause […]
How to check whether your internet provider is honest with Speedtest
Are you getting the advertised speeds from your internet service provider (ISP)? An internet speedtest can give you the answer. Not all internet service providers are honest about the speeds they provide to customers, so it's important to know if you're receiving the service for which you're paying. In fact, a report by the FCC […]