Find DSL Internet for Your Home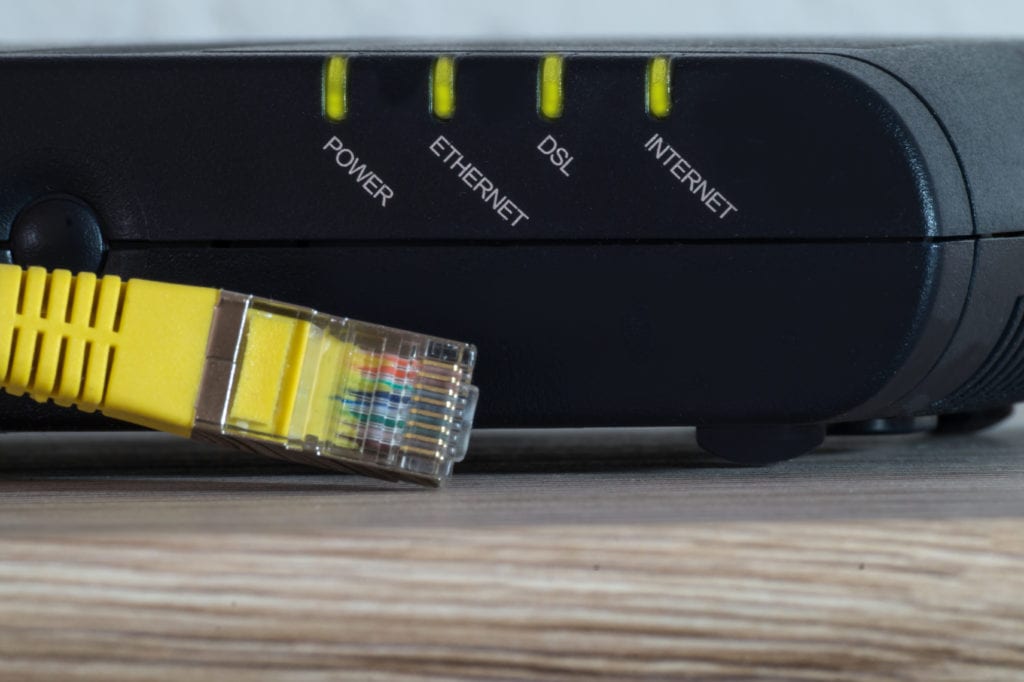 Moving to a new home is exciting, but there's a lot to do. You have to ensure all utilities and services are on and ready for when you move in. This makes your move the ideal time to re-evaluate your internet service provider (ISP) and consider DSL internet if it's available in your area.
What is DSL internet?
DSL, or Digital Subscriber Line, uses telephone lines to send digital signals. Traditional DSL speeds run between 125 Kbps and 8 Mbps. This internet type outperforms traditional dial-up internet, which has a maximum speed of about 56 Kbps but is slower than other wired connections — like cable and fiber, which can reach between 100 Mbps and 1 Gbps.
Because DSL runs through the phone line or through fiber optic cables that run alongside the phone lines, and the phone network covers more than 80% of the country, DSL service is more widely available than cable or fiber optic internet. If you're moving to a rural area, it may be your only option besides satellite internet.
How does DSL internet work?
Telephone wires can handle thousands of frequencies, and telephone communications only use a small fraction of those. Because DSL internet uses a much higher frequency than telephones, providers can offer DSL using the existing phone lines without interfering with telephone calls.
Although DSL and phone communications use different frequencies, a line filter is usually installed to ensure one doesn't interfere with the other.
There are two main types of DSL internet, symmetrical (SDSL), where upload and download speeds are equal, and asymmetrical (ADSL), where download speeds are much faster than upload speeds. Most DSL providers offer ADSL, which averages an 8 Mbps download speed and 384 Kbps upload speed as a typical user downloads much more than they upload. Some companies also offer VDSL, or "very-high-bit-rate digital subscriber line," which offers a faster connection than traditional DSL. VDSL averages speeds of 52 Mbps for downloads and 2.3 Mbps for uploads.
It's important to understand what type of DSL your provider offers, as this could affect internet speeds and performance.
DSL internet in my area
When it comes to DSL availability, this type of internet connection has a pretty wide reach. Your area might be served by a major internet service provider or a regional phone company. When you research DSL service, make sure to compare services, prices, and offers to find the best fit for your internet needs.
*Prices and offerings vary by location. Pricing information as of February 16, 2021.
Ways to save on DSL internet after you move
Moving can be expensive, but fortunately, there are often a few ways to save on your DSL internet after you move. Some of the things you can do to cut costs include:
Ask about move-in specials: Some DSL providers offer move-in specials or special prices for new customers. Most of the time, these discounts only run for a limited time, usually six months or a year.
Buy your own hardware: Equipment rental fees typically run about $10-$15 a month. That can add up quickly, especially if you're going to stay with the same DSL provider for a year or two. A good quality DSL modem and router combination usually costs around $200 or less, so you can often save money by purchasing your own hardware.
Sign a contract: If you're going to be staying in your new home for more than a few months, consider signing a contract with your DSL provider. Sometimes, being willing to commit for a year or two can lower the bill quite a bit.
The pros and cons of DSL internet
Pros of DSL internet
No additional wiring needed
Because DSL internet runs through your existing phone line, there's no additional wiring needed. This means that the DSL service is usually quick and easy to set up as there's no complicated installation needed. This can also save money as you don't have to pay for expensive upgrades.
Speed
While DSL internet is not as fast as some other internet options, like cable and fiber, it's much faster than traditional dial-up internet. Average speeds vary from about 6 Mbps to almost 100 Mbps depending on the type of DSL internet you subscribe to. DSL internet speeds can vary on a number of factors, including the condition of your phone lines and the distance between your home and the main hub.
Price
DSL internet can be less expensive than fiber or cable options. Depending on the provider you choose, you may be able to pick from a selection of connection speeds and prices. If your DSL provider also offers home phone services, you may be able to bundle and save.
Cons of DSL internet
Possible unreliable connections
DSL internet works best when the computer is closer to the provider's hub. If you live far away from the main hub, you may experience a slow or unreliable connection at times. Ideally, you shouldn't live any further than three miles from the main hub.
Availability
As newer technologies emerge in the market, there are fewer providers offering DSL internet. This means that DSL internet is becoming less widely available. According to the FCC, about 88% of households have access to one DSL provider, but less than 4% have access to two or more.
Poor upload speeds
DSL internet provides fast download speeds. However, its upload speeds are much slower, ranging from 384 Kbps to 1.5 Mbps. While this isn't usually a problem, it may cause issues if you upload files to cloud services.
Frequently Asked Questions
How fast is DSL internet?
Traditional DSL services have typical download speeds ranging from 8 to 35 Mbps. Some types of DSL can go up to 100 Mbps or more.
Which providers offer DSL?
As newer technologies emerge, fewer providers are offering DSL. Some of the larger companies that still offer DSL internet include AT&T, Verizon, CenturyLink, Windstream, and Earthlink. Your local telephone company may also offer DSL services.
Is DSL considered high-speed internet?
Yes. DSL is a type of high-speed internet. However, it's not as fast as fiber or cable internet.
Can you use Wi-Fi with DSL?
Yes. As long as you have a router, you can use Wi-Fi with DSL. Your DSL provider may supply a Wi-Fi router. If not, they should be able to give you a list of compatible models you can purchase.
What causes DSL to slow down?
The main causes of a permanently slow DSL connection are faulty wiring or being too far from the hub. Temporary slowdowns could be caused by your DSL provider or your computer having technical problems, and what you're doing at the time. You may experience a slow down in speeds if your downloading large files, uploading, or streaming high-resolution videos.