Everything You Need to Know About Renting an Apartment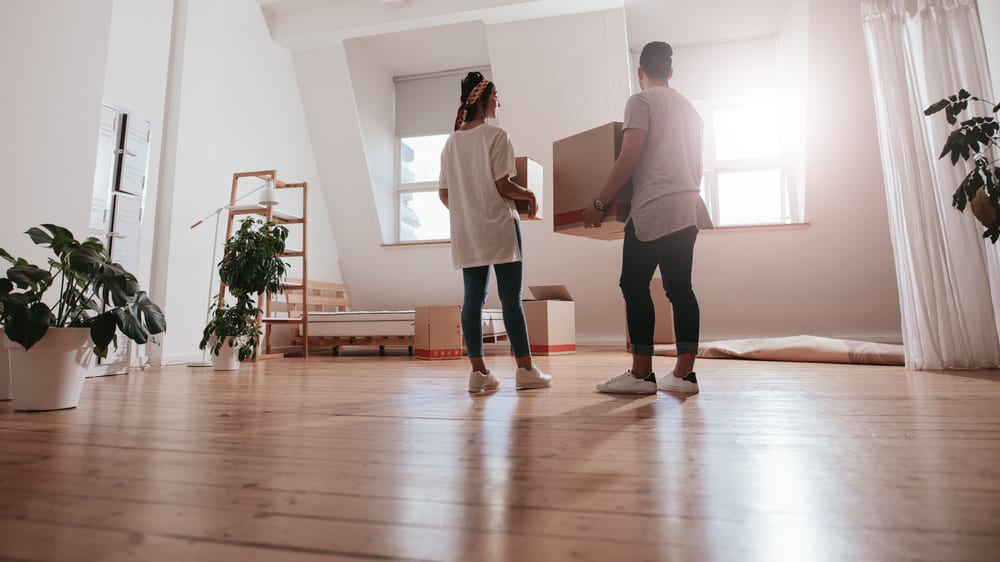 All of the considerations involved in renting a property can sometimes seem a bit overwhelming. Where do you look for an apartment? How do you qualify for an apartment? What is a rental agreement? What expenses should you include in your budget? We know — there's a lot to think about.
This guide breaks the process down for you, end to end. We walk you through how to rent an apartment, step by step — including what factors to consider when looking for a suitable place, how to get your rental application approved, and what to plan for, so you can get ready to move in.
What to consider when renting an apartment
Apartments come in all shapes, sizes, and setups. Finding the perfect apartment is largely about defining your unique needs and preferences. Don't just type "rent apartment" into your Google search — that will open the floodgates. Instead, make a list of your apartment must-haves and consider these factors:
Price: How much can you comfortably afford?
Size: How much space do you need or want?
Apartment type: Do you want a luxury apartment, multi-level unit, loft, or some other setup?
Location: Consider commute times to work or school as well as proximity to grocery stores and recreation.
Rental situation: Would you prefer a full-service apartment building with on-site management or a smaller building where you can work directly with the property owner?
Lease types: Can you commit to a one-year lease term, or do you need the flexibility of going month-to-month?
Amenities: How important is it for your apartment to provide amenities like covered parking, a fitness center, a pool, or a laundry room?
Where to look for an apartment
With so many websites listing apartments for rent, it's easier than ever to find a new apartment. Here are a few sites to help you start your search:
How to submit an apartment rental application
When you find an apartment that meets all your most important criteria, it's time to submit an apartment rental application. This application gives the landlord the information he or she needs to determine whether or not you qualify to rent the apartment.
Most rental applications require a non-refundable application fee, so before you complete a rental application, ask your landlord about their credit and income requirements. The landlord may have a minimum required credit score. And he or she will likely have a specific income requirement (this varies by location, but it's common for landlords to require your gross monthly income to be approximately 2.5 times the monthly rent amount). This is also a good time to discuss any concerns you may have about qualifying. If you have a criminal conviction or an eviction on your record, or have a large dog that may not be allowed, mention these concerns to the landlord before applying.
The application will cover your personal information, including full name, birth date, social security number, driver's license number, contact information, and recent employment and rental history. The landlord also might ask you to list personal references on your application.
Here's a list of everything you'll need to complete your rental application:
The application form for the property you've chosen (signing this form will authorize the landlord to run a credit and background check)
Proof of identification (a driver's license, state ID card, or passport)
Proof of income (pay stubs or bank statements for the past few months)
The application fee
Vet records if you have a pet (to confirm vaccinations and general good health)
Most landlords will require contact information for your previous landlord (or a personal or professional reference if you're a first-time renter)
What landlords will consider during the approval process
First, the landlord will review your income to make sure you can afford the rent. Then, he or she will review your credit report to see if you generally pay your bills on time. Depending on your local laws, the landlord may also run a background check to see if you have any criminal convictions. Finally, the landlord will likely contact your previous landlord and/or your references to confirm that you are reliable and responsible.
The landlord will be checking income, credit, and (possibly) criminal backgrounds for every applicant. Keep this in mind if you're applying with roommates or a cosigner. An issue with their application could prevent you from qualifying for the apartment.
Understanding your rental agreement (aka your lease)
Your rental agreement (commonly called a lease) is the document that outlines the terms and requirements of your rental. It will list important information, like the rent amount, monthly rent due date, late fees, deposit amount, and lease expiration date. It also outlines apartment policies and rules that govern how you behave on the property. This section commonly includes policies on everything from quiet hours to keeping any patios or balconies clean.
The lease also documents several "what if" situations. What happens if your rent is late? Who should you contact if you need maintenance repair? What if you need to break your lease? Can you renew your lease for another term? Are you able to add a pet later? Do you have permission to sublet your apartment? All of this will be covered in the lease.
Make sure to thoroughly read your lease. Make a note of anything that you don't understand, or that pops out as a red flag. You must understand your lease before you sign it.
All applicants will sign and date the lease, as will the landlord. All signatures must be on the document before you get keys, so if you have roommates or a cosigner, make sure everyone is available to sign the lease on (or even before) move-in day so you won't have a problem getting access to your new apartment.
Make sure to budget for these unexpected rental costs
Renting a property requires more than just the rent amount. There are a few additional costs to be aware of.
Before you move in, you'll have a few upfront rental costs. There's the rental application fee, the rental deposit, and the cost of the movers or moving truck. You will also have to pay the first months' rent upfront, and (depending on your local market customs), you may have to pay the last months' rent upfront also. And if you're bringing a pet, make sure to ask your landlord if they require an additional pet deposit and/or monthly pet rent.
Then there are the unexpected ongoing costs of renting an apartment. Some utilities, such as water, sewer, and trash, may be included in your rent. But they might not — check your lease!
Usually, your rent amount doesn't include electricity and internet, so be sure to include these costs in your monthly budget. There might also be separate monthly fees for optional spaces, like parking spots or storage units.
The bottom line
It's important to understand how to rent an apartment before you start your search to ensure you're prepared for the process. Once you find a place that meets your criteria, you need to prove to the landlord that you're responsible enough to be a good tenant. Making enough money to afford the apartment and having a solid credit history are keys to getting approved. And budgeting for the extra expenses that come with renting will make your rental experience as low stress as possible. Make sure you read over your rental agreement before signing and comply with all terms of the lease while you're a tenant.
Frequently asked questions
What is the best month to rent an apartment? 
If you're looking to get the lowest rent and best move-in deals, December is the best month to rent an apartment. Very few people like to move during winter weather and the busy holiday season, so landlords often offer incentives during this time.
How do you qualify for an apartment? 
A good credit score, a reliable source of income, and a positive rental history all help you qualify for an apartment. If you don't have enough credit history, income, or rental record, you can still qualify by having a cosigner share the responsibility for the apartment with you.
What expenses do you have when renting an apartment? 
The primary expense when renting an apartment is the monthly rent. You'll also have a few upfront expenses, like the application fee and deposit, and a few ongoing expenses, like electricity and internet. Depending on the services your rent amount covers, you may also have separate expenses for water, sewer, and trash.