How to Find a Roommate When Moving to a New Place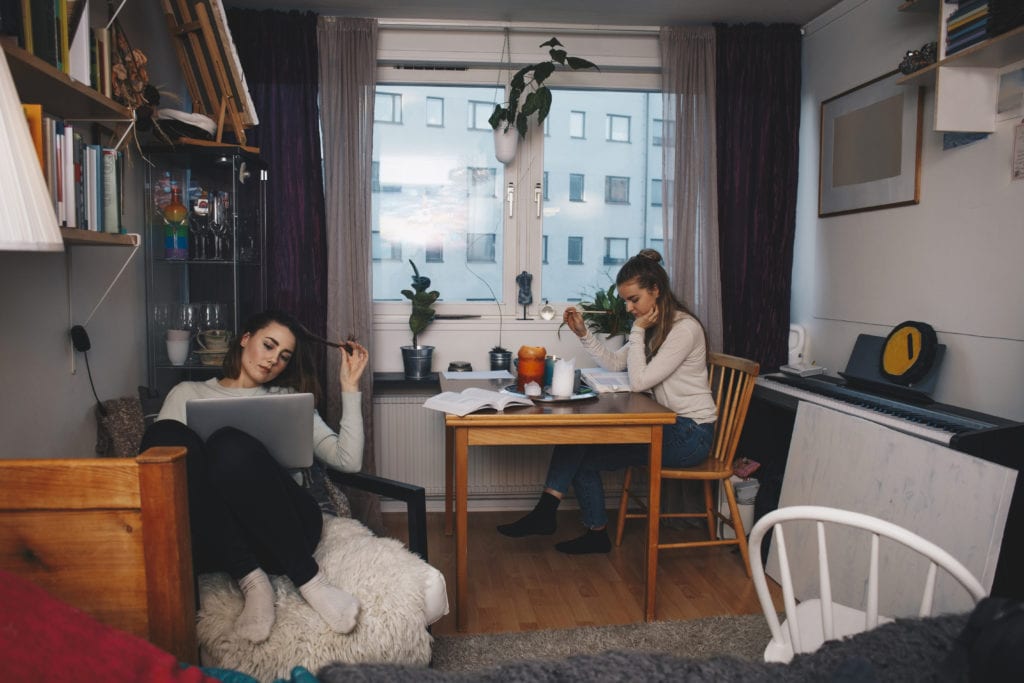 Are you moving to a new place but you're worried about the extra rent? You need to find a roommate — and fast. You'll want to find someone reliable who won't leave their dishes in the sink (at best) and won't skip out on rent (at worst). Luckily, there are plenty of places to help with your search.
The process of finding roommates is challenging (to say the least). It's hard to find someone (or multiple someones) who complements your lifestyle. But, it doesn't have to be a crap-shoot. Finding a roommate and moving in together can be painless if you know where to look.
Finding a roommate online
Multiple websites make finding a roommate as convenient as opening a browser. Scanning profiles on the websites listed below can help you determine your roommate requirements and browse a wider selection of potential candidates. Gone are the days when your friend-of-a-friend or your second cousin's college buddy are your only options.
Here are the top online roommate finder websites:
Other places to find a roommate
Don't begin and end your search to find roommates with the internet. The more ways that you try to find a roommate, the sooner your wallet will feel less of a pinch.
Community Bulletin Boards
Public libraries and grocery stores often have space for community postings like lost and found pets, moving sales, and roommate listings. Pop into stores, coffee shops, and restaurants in your area to find roommate wanted postings.
College Alumni Networks
Your alumni association may have an email list, social network groups, and an online forum or bulletin board filled with people who are moving. Don't forget your fraternity, sorority, or other campus groups to find roommates. More recent college grads might have the best luck with this one.
Sublease
Turn to sites like AirBNB to find short-term temporary housing (or post your own). Whether you rent a single room or a larger space, it can give you extra time to sort out your housing situation. Some people use subletting as a way to vet potential roommates before going long-term.
Ask Around
Tell everyone you know about your roomie search. Your family, friends, and co-workers can extend your reach. You never know if your high school friend's boyfriend's best friend from elementary school is looking for a roommate just like you.
The bottom line
Moving to a new area doesn't mean you have to go it alone. Whether you end up with a Craigslist roommate or luck out with a lead from the friend of a friend, you have a ton of tools at your disposal.
Frequently Asked Questions
How can I figure out if someone is a good roommate fit?
Interview a potential roomie about personal preferences. Do they want to be social and hangout? How do they feel about pets or smoking? Lay it all out to discover if you are roommate soulmates or need to keep looking.
What is a roommate agreement and should I have one?
A roommate agreement is different from a lease. It's a big-picture look at how you will live together and handle common issues. A roommate agreement can cover anything from how parking will work to the use of common spaces. While you don't need a lawyer to draft a roommate agreement, parts may still be legally binding should you need to represent yourself to your landlord or a court.
What should I include in a roommate agreement?
A roommate agreement keeps you on the same page. It's a list of mutual expectations used to keep the peace when sharing a space. Include how much each roommate will contribute each month for utilities, rent, and other bills (like the Internet). Jot down expectations for cleanliness and chores too. Don't forget to include notes on overnight guests or quiet hours.
What should I ask a potential roommate to find out if we're a good fit?
Did you get along with your last roommate? Do you smoke or vape? Do you have any pets (or do you intend to get one)? What's your idea of the best roommate situation? What kind of hobbies do you have? The responses can help you get a better sense of what your potential roomie wants and where you'll fit in.