Find Your First Apartment in 8 Simple Steps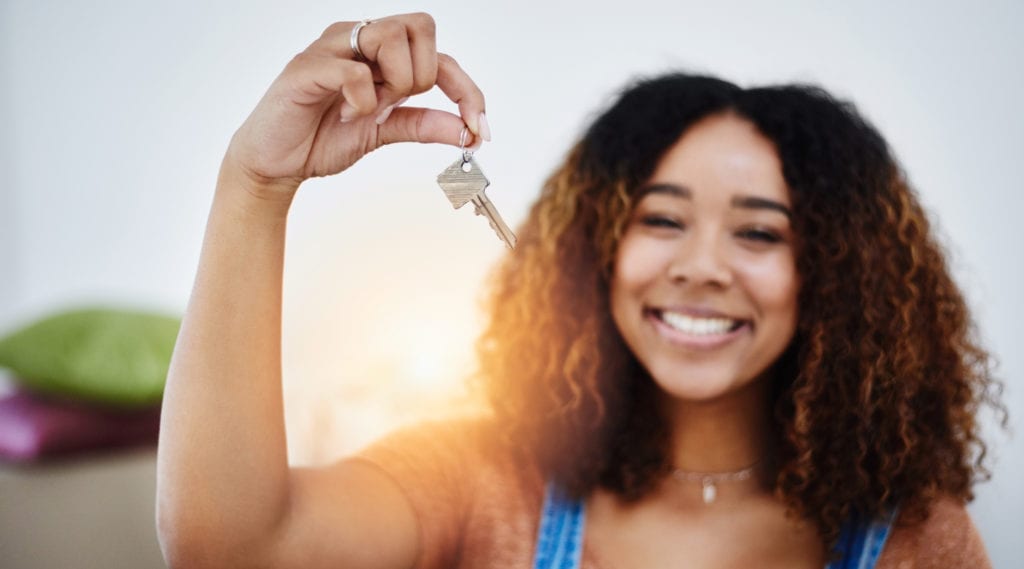 Moving into your first apartment is an exciting milestone and something you've probably been looking forward to for a long time now. Finally, you'll have a space of your own to decorate however you'd like.
Although the idea of renting your first apartment is super exciting, finding the perfect place can be stressful and overwhelming if you're unfamiliar with the process. We want your first rental experience to be as painless as possible, so read on and follow MYMOVE's simple steps. You'll be moving into your first apartment stress-free in no time.
Step 1: Establish a budget
A rental rule of thumb is to never spend more than a third of your paycheck on rent. Before you begin your search, calculate what you can afford.
Set a budget and stick to it. It's important to remember that there are both reoccurring and one-time costs involved.
Your reoccurring costs mainly include rent and utility bills. These costs might also include renter's insurance (should you choose to pay monthly), trash fees, pest control, and pet fees if you plan on bringing a furry friend.
One-time costs include an application fee and a security deposit. You're likely to get the security deposit back depending on the state of your apartment when you move out. These expenses fluctuate depending on the apartment you choose.
It's also wise to take into account the rest of your budget: How much money you plan to spend monthly on gas, groceries, internet service, and any other miscellaneous items or bills.
Along with these, calculate how much money you spend on lifestyle expenses — like outings with friends, eating out, and shopping.
Be aware that expenses will vary from one city to another, and one community to another.
Step 2: Consider a roommate
If you've done the calculation above and realize that dream apartment is a little out of your reach, factor in the benefits of looking for a roommate.
We know what you're thinking: Roommates were something you thought you'd left in the past. But hear us out. You're renting your first apartment. Money is probably tight. It would be beneficial to have someone to split the bills with, right?
A few advantages of having a roommate include:
Splitting costs
Sharing groceries
Dividing cleaning responsibilities
Having someone to hang out with
If you find the right apartment, everyone can have their own space, and it's likely that you might not be there at the same time very often. If you are, you could have your own room to retreat to when you want to be alone.
Plus, you get to choose who you live with. You get to be selective and pick your roommate — whether that be a friend, cousin, co-worker, or maybe just an acquaintance whose lifestyle is compatible with yours. Before you make any final decisions, ask questions to make sure their way of living is compatible with yours.
Step 3: Know your location
Aside from the budget, location is the next most important factor in finding the perfect place. It's nearly impossible to begin your apartment hunt without first knowing where you want to move. Think about what you need and how far you're willing to travel for it. Be mindful of the commute from the apartment to other destinations like work, school, or the grocery store.
Most importantly, it's imperative to feel safe where you live. If you're unfamiliar with the area you want to move to, visit the neighborhood and check out the atmosphere. If you're moving to an area sight unseen, check out local neighborhood Facebook pages or social media groups to get a sense of the community.
Step 4: Make a list of the apartment amenities you want
Based on your location, every apartment community has its own unique amenities. But it's hard to know exactly what type of amenities exist. Sometimes, the amenities offered can make or break a move-in decision.
Make sure to ask your potential landlord about these basic amenities:
Are a washer and dryer included with your unit? Are water and electric hookups available so you can bring your own?
If both answers to the above questions are no, do you have to go to a shared laundry room? How far is it from your apartment?
Is there a central heating and air system? Or do you have window AC/heating units?
What is parking like? (Make sure to ask if there are assigned spots or a fee associated with parking.)
Is the complex gated after certain hours?
Here are a few other perks offered by some apartment complexes:
Outdoor amenities:
Pool/hot tub
Dog park
Grill/lounge areas
Indoor amenities:
Office stations (computers & printers)
Gyms
Free coffee
Some apartments include even more amenities worth looking into. It just depends on your preferences.
Step 5: Research local rentals
There are countless websites thrown at you as soon as you search for something on Google. To prevent you from being bombarded with endless links as you look for an apartment, check out our list of best rental websites to use during your search.
Step 6: Gather Your Application Information
With most complexes, you must be 18 or older to rent an apartment. There's usually a $30 to $50 rental application fee, so make sure to have cash or a check on hand.
Like we referenced in the budget step earlier, your monthly rent shouldn't be more than a third of your take-home paycheck. To ensure that you'll be able to pay rent, landlords will often ask for proof of income (like bank statements or pay stubs) or proof of employment.
Some landlords may also require a credit score of 620 or higher. Without a good credit score, you may need someone (like a parent or family member) to co-sign your lease. A co-signer (aka a guarantor) is a person who agrees to pay your rent if you're unable to.
Make sure to have reliable identification to show your prospective landlord. Think driver's license, passport, or other proof of identity.
Lastly, gather references to have on hand. Not all landlords require references, but some may. Most rentals happen on a first-come, first-serve basis. You don't want to lose out on your dream rental because you don't have the proper documents prepared.
Step 7: Schedule apartment tours 
This could potentially be your home, so treat the tour like an inspection. Depending on the complex, you can call in or schedule the tour online.
Here is a short checklist of things to look out for:
Turn on all faucets. Make sure the water is clear and you like the water pressure.
Check floors, walls, and ceilings for water damage, mold, mildew, stains, or cracks.
Open and close all windows. Some windows get painted shut or are just flat out hard to open.
Go through all closets and cabinets in all rooms to make sure you have enough space. (Don't forget to check for a pantry!)
Plug something, like a phone charger, into each outlet to ensure they're all working properly.
Check to see which appliances come with the unit and make sure they are up to your standards.
Be aware of the noise level within the apartment and surrounding noises outside of the unit. (Are you near high traffic areas like the dumpster, pool, or gym?)
Check all locks to make sure they work.
Make sure to ask these questions on your tour: 
Is there anything included in the rent cost?
Sometimes your rent may include certain utilities. It really just depends on the complex.
How do I pay rent?
While some places prefer you to pay rent online, others require a money order or cashier's check to be dropped off at the front office by the due date. Usually, landlords will have you pay in person for the first time, and all remaining payments will be handled online. Most places have a "Residents Portal" on their website specifically for tenants.
How do maintenance requests work?
Filing a maintenance request will be your first step if something breaks or there's a leak. For most places, you can submit a maintenance request through an online portal.
Is renters insurance required?
This policy protects you and your belongings. Most, if not all, apartment complexes require renters insurance to have something to land on if your place ever becomes inhabitable. Sometimes you have the option to acquire insurance through the apartment complex, or you can choose to go through a different company. It depends on your preference and how much coverage you're looking for.
Are pets allowed?
Depending on how pet-friendly you are, this could play a major role when deciding whether or not the place is right for you. Ask which specific breeds are allowed. If your pet is allowed, ask how much it's going to cost you. Depending on the complex, there will be a monthly pet payment, a one-time pet fee, or a pet deposit. Typically, these fees are only subjected to cats and dogs. (If you have a different type of pet, be sure to clear it with the landlord.) If you plan on bringing a dog, find out if the complex has a dog park so your pup has somewhere to run around.
Step 8: Scrutinize Your Lease
Before you sign on the dotted line, there are things you need to understand about your lease. Although it seems tedious to read through the whole thing, your lease is a legally binding contract. It serves as a guideline for your apartment. It will tell you what you can and can't do, and the repercussions of certain actions. Being informed about what your lease entails will help ensure that you won't be left in the dark or surprised in the future.
The bottom line
Congratulations! You're on your way to finding the perfect place. Now that you've got an idea of what you're getting yourself into, we hope our insight has helped alleviate any potential stress. Use these steps during your apartment search and you're guaranteed to score your dream apartment. Happy hunting!