The Best Junk Removal Companies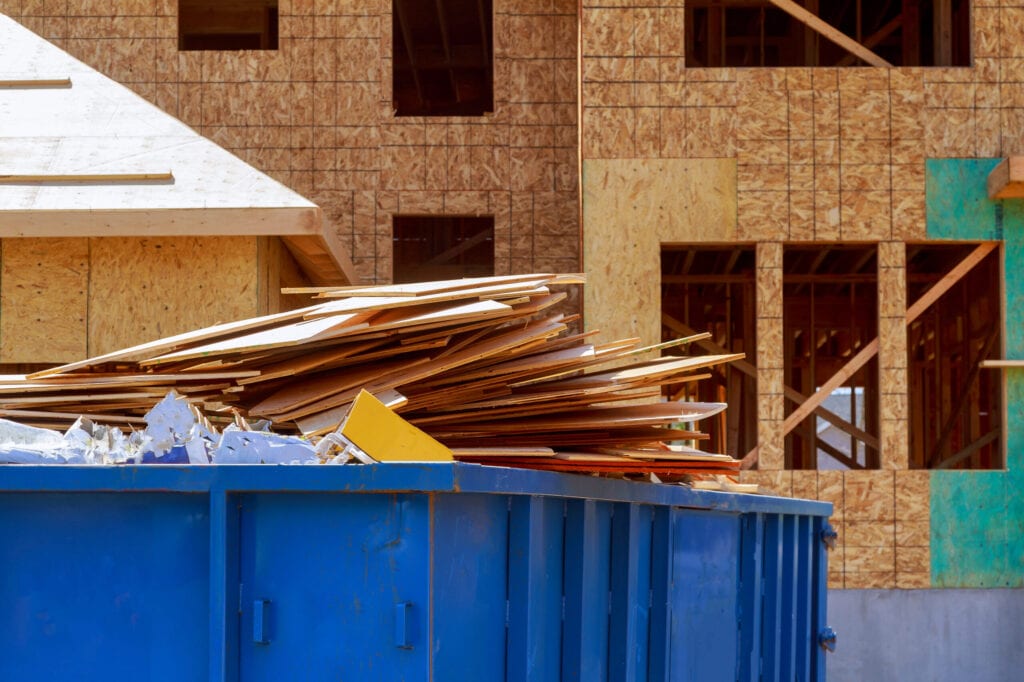 As a homeowner, there often comes a point when you need a junk removal company. Whether you're renovating part of your house or replacing a bunch of items that have outlived their usefulness, junk removal companies are there to take unwanted stuff off your hands that you can't just put in your trash bin.
Hauling companies take away everything from furniture and appliances to debris like shingles, flooring, and sheetrock. Companies that pick up junk often try to donate items first and then recycle or landfill the rest. When it comes to junk removal, you can typically choose between full-service, where a crew handles all the work for you, or dumpster rental, where you load items yourself.
While many local companies offer these services, several national companies have emerged as leaders in the junk removal industry. So, if you're wondering whether to hire Junk King vs. Got Junk, read our guide of the best junk removal services first to see which company might be best for you.
The 5 best junk removal services
Best DIY service: Waste Management Bagster
Best for big loads: 1-800-Got-Junk
Best for your budget: Junk King
Best environmental practices: Junkluggers
Best all-around: LoadUp
Best DIY service: Waste Management Bagster
If you can do your own lifting and loading, the Bagster service from Waste Management is a unique offering in the junk removal industry that is incredibly convenient. The Bagster is an alternative to a dumpster — it's literally an enormous plastic bag that can hold 3,300 pounds of junk. First, you buy the bag from a local retailer or order it online. Load it at your convenience, and then schedule and pay for final pick up.
What makes the Bagster great is its flexibility. Since you aren't renting a dumpster, you can take as long as you need to load your junk. For smaller jobs, such as remodeling a single room, it's an ideal solution. If you fill up your Bagster and still need more space, get another one. But for bigger jobs, we recommend renting a temporary roll-off dumpster. Though widely available, you'll need to input your ZIP code to confirm pickup is available where you live.
Bagster reviews:
Because major retailers such as Amazon and Home Depot sell Bagster, there are plenty of reviews to research. Most of the reviews from those retailers are 5-stars, with customers saying it was the perfect solution for small jobs. Critical reviews mostly concern problems getting the bag picked up, particularly in urban areas.
Pricing:
The Bagster itself costs about $30 through various retailers. The price of bag collection varies, ranging between $100 and $200 depending on location. Collection fees are per bag but are discounted after the first bag. For example, the collection fee for one bag in Austin, TX was $142, with additional bags costing $121 each.
How to get a Bagster estimate:
Just type in your Zip code on the Bagster website.  You can also call 877-789-2247 for service or to ask questions.
Pros:
Cons:

No usage deadline or fees
Great for small jobs

Not suitable for loads of more than 3 cubic yards
Pick up window of several days
Best for big loads: 1-800-GOT-JUNK
With service in 43 states plus Washington D.C., 1-800-GOT-JUNK bills itself as "the world's largest junk removal service." So it should be no surprise that this company is equipped to tackle the biggest loads, both residential and commercial. They will also try to donate or recycle as much of your load as possible before dumping the rest into a landfill.
Schedule an appointment, and a team of haulers will appear with a truck and give you a price on the spot. If you agree with the price, then they'll start the work right then and there. If your job requires multiple truckloads, 1-800-GOT-JUNK can bring additional trucks to your site to get the whole lot.
1-800-GOT-JUNK reviews:
1-800-GOT-JUNK has mixed reviews, and quality seems to vary by location. The company has an overall user review of one-star from the Better Business Bureau but a 3.8-star review from Trustpilot users. Negative reviews tend to note excessive pricing. Customer service is available 24/7.
Pricing:
Generally, the company charges by how much space your junk takes up in the truck. But they also do single-item pricing. A typical haul ranges from $139 to $700, according to Consumer Affairs.
How to get an estimate:
To get a price, you'll have to schedule an appointment online or by phone (1-800-468-5865). A truck will arrive, and the team members will quote you a price for removal. If you agree, they will remove your junk at that time. If you don't like the price, they'll leave (without your junk), and you will not be charged.
Pros:
Cons:

Available in most locations
Donate or recycle items when possible
Online scheduling

Pricing can be unpredictable
Can be expensive
Best for your budget: Junk King
Junk King is a reputable junk removal company with locations across 33 states. In addition to full-service junk removal, they also offer self-service dumpster rentals. The company provides both business and residential services.
What makes Junk King, so budget-friendly is its transparent pricing model. Plus, whether you opt for full-service or your own dumpster, you only pay for the amount of space you use with Junk King. For example, customers who only fill their dumpster halfway get a 30% discount off the full price. In addition to offering straight-forward competitive pricing, the company recycles 60% of its loads.
Junk King reviews:
Junk King's individual locations tend to have positive reviews on Yelp and Google. For example, all of Junk King's Texas locations have a 4.8-star average review from Google users. Similarly, its California locations are all rated 4 stars or higher on Google. Many of the reviews praise the company's great customer service and reasonable pricing.
Pricing:
For full-service junk hauling, Junk King charges by the amount of space your stuff takes up in the truck. Use their handy pricing estimator to see how much it will cost. For example, a half-full truck in Austin, TX, would cost between $348 to $388, and a full truckload tops out at $528 to $558. The company also claims its trucks are 20% larger than its competitors, so you get more bang for your buck that way too.
How to get a Junk King estimate:
For the most accurate estimate, schedule an appointment with Junk King online. When they arrive, they'll give you an accurate on-site quote, and you can have them start hauling stuff away right then and there. If you want a rough estimate beforehand, use the estimating tool mentioned earlier, or text pictures of your junk to 737-888-5865. You can also call and talk to a team member to obtain an estimate at 1-888-888-JUNK.
Pros:
Cons:

Fair pricing
High recycling rate
Full-service and dumpsters available
Best environmental practices: Junkluggers
If you're highly concerned about what happens to your junk after it's hauled away, look to Junkluggers. This junk hauling company has a goal of donating or recycling 100% of its loads by 2025. This is largely accomplished through partnerships with local charities that accept donated items. The company will provide you with receipts within 14 days so you can claim them on your taxes.
Junkluggers is located in 18 states. In addition to junk removal, the company offers residential moving and delivery services. It also offers commercial services to various businesses, including construction, property management, and professional organizers.
Junklugger reviews:
Junklugger lists several positive reviews on its site, with an average of 4.9 stars. Location-specific reviews on Google and Yelp also tend to be highly-rated. For example, the Junkluggers in Austin, TX, has a 5-star average review on Google. The company's three locations in Virginia also all have 5-stars on Google. Positive reviews highlight fast service and accurate pricing.
Pricing:
Like other junk removal companies, Junkluggers will provide you with an on-site estimate based on how much space your junk will take up in the truck. Discounts are available for same-day and next-day appointments.
How to get a Junkluggers estimate:
To get a quote, you will need to request an appointment on their website by filling out some information.  Or call 1-800-LUG-JUNK.
Pros:
Cons:

Donates as many items as possible and provides you with receipts.
Also offers moving and delivery services.

Available in limited number of states
On site estimate required
Best all-around junk removal company: LoadUp
LoadUp is a fast-growing junk removal company operating in 170 cities in 49 states. What makes LoadUp a great all-around choice for junk removal is its wide availability, range of services, and pricing transparency. The company offers full-service junk removal and dumpster rental.
One big difference you'll notice from LoadUp is its upfront online pricing instead of on-site estimates provided by its competitors. Crews are background checked, licensed, and insured. The company also donates and recycles items whenever possible before unloading at the landfill.
LoadUp reviews:
LoadUp boasts positive reviews across several different third-party sites. The company has an average Google review of 4.6 and an average Yelp review of 4.2. Reviews mention fast and friendly service, good communication, and professionalism.
Pricing:
LoadUp claims its prices are 20 to 30% lower than its competitors. You can obtain upfront guaranteed pricing for full-service junk removal by entering each item you need to be hauled along with your ZIP code. For example, hauling off a mattress, box spring, couch, dishwasher, and refrigerator in Beverly Hills would cost $227.05
How to get a Load Up estimate:
Other than inputting each item on the LoadUp website, you can text a photo of all of your junk to (770) 800-3302 to get an upfront estimate. Or, schedule an in-person appointment to get a no-obligation quote and complete the job at that time using their online form or calling (844) 239-7711.
Pros:
Cons:

Wide availability.
Up front pricing available.

Up front pricing not really applicable for large loads.
Some issues with scheduling and service reported
Is there anything that junk removal companies won't take?
Junk removal companies will take a lot of different items off your hands, including carpets, furniture, appliances, tires, yard debris, grills, office equipment, waste, and more. But they won't take everything. Generally speaking, junk removal companies will not take hazardous materials. This includes, but may not be limited to:
Gasoline
Motor oil
Antifreeze
Paint
Pesticides
Pool chemicals
Medical waste
Items containing freon or mercury (including some types of light bulbs)
Bleach
Batteries
If in doubt, we recommend asking about specific items ahead of time to make sure you don't waste your time.
How to prepare your junk for removal:
To make your junk removal appointment go as smoothly as possible, you should prepare your junk before your removal appointment. If possible, gather everything you can into one area, such as a single room, your garage, or in the driveway. Of course, you may not be able to lift or remove everything. In that case, leave those heavy and bulky items where they are.
It's a good idea to make a list ahead of time, so you don't forget anything. If you try to add an item or two at the last minute, it could throw off your quote, and you could end up being charged more than you expected. Make sure you point out everything to be hauled away the first time, so you get an accurate quote.
The bottom line:
The best junk removal companies offer a variety of services and fair pricing. Many will attempt to donate or recycle items, but some are more dedicated to this than others. If this is important to you, be sure to look into their environmental practices closely. Also, most companies will only give you a quote on the spot, so be prepared to say no if the price seems too high.
Frequently asked questions
How much does it cost to haul away junk? 
The cost of hauling away junk varies based on your location and how much stuff you need hauled away. Junk removal companies usually charge by the volume of junk, so get the best deal by obtaining a quote from multiple companies.
Can I remove junk myself?
Many companies rent temporary dumpsters, so you could do the same and move the junk yourself. If you have your own truck, you can also haul your own items to local donation centers, recycling centers, and landfills.
Who will pick up junk furniture for free?
Some charities, including the Salvation Army, will pick up furniture for free if it's in good condition. Many municipalities will also pick up junk furniture and bulky items for free once or twice a year.