How Much Does Junk Removal Typically Cost?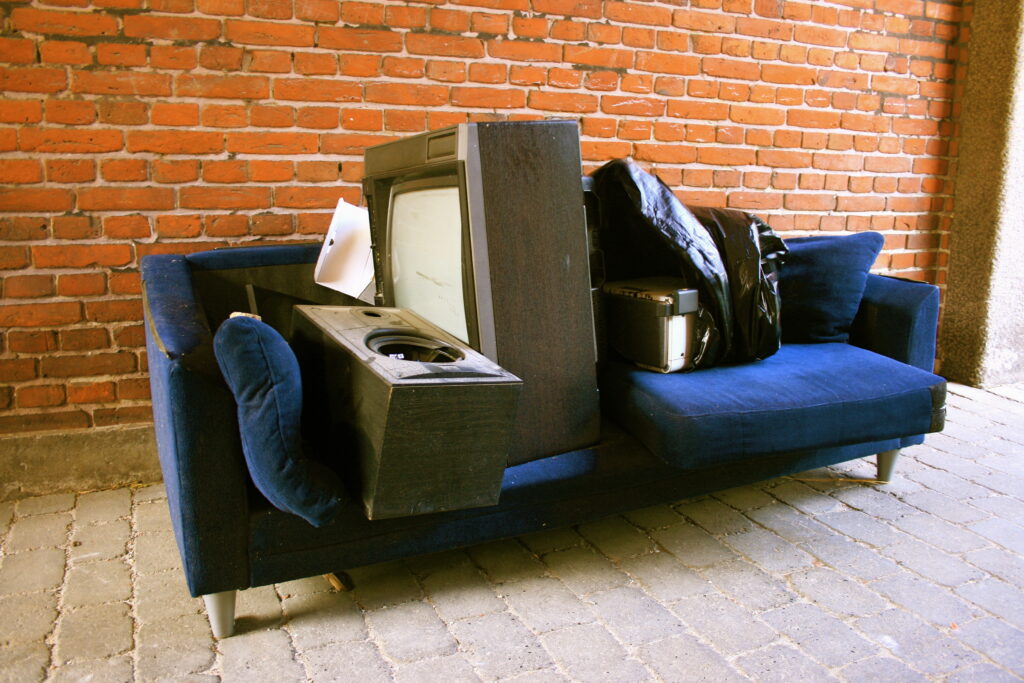 A study conducted by the Frontier Group states that the average American disposes of seven pounds of trash daily. That equates to 2,555 pounds of waste per person annually. Nearly 30% of the trash that Americans throw out is product packaging. Another 20% of garbage in American households comes from nondurable goods, including newspapers or clothing.
No matter if it's household trash or debris from a renovation, trash and junk removal services are beneficial, especially around a big move. But how much does junk removal cost? Junk removal prices depend on your location and the types of removal services you need.
Kinds of junk removal
Depending on your location, the number of items, and their weight, junk removal prices can vary. Below are some standard examples:
Boat, camper, or heavy hauling: If they're too far gone to sell, boats, junk campers, and other vehicles too heavy to haul yourself can be carted off by junk removal companies.
Construction debris removal: A good contractor will usually clean up after their work, but it's not always included. Whether it's DIY drywall or leftover piping, schedule a pick-up to remove construction debris.
Dumpster rental: Ideal for people who are renovating or clearing out spaces over a period of time. The junk removal companies drop off appropriately sized dumpsters that you can fill for a future pick-up.
Furniture removal: Junk removal companies committed to recycling will pick up furniture and bring it to a charity or recycling center depending on its condition. Furniture removal cost depends on what they're picking up and where you are.
Old appliance removal: Heavy things you can't recycle, like some washers and stoves, need a pro.
Truck hauling: Like a dumpster rental, this option involves having a truck arrive at your location with a dumpster on the back. You can fill the dumpster and, when you finish, the truck hauls everything away. This works if you have piles of trash ready for pick-up.
Junk removal prices
Junk removal prices vary according to your location and what you want the company to haul away. For example, if you're living in Beverly Hills and want to have your washer, a recliner, and a twin mattress hauled away, the junk removal cost ranges between $248 and $308. Hauling those same things from a Chicago location ranges between $158 – $198. The table below shows the price ranges for the various categories of items for Beverly Hills, Chicago, and Boston.
Items:
Price: 90210
Price: 60007
Price: 02445
Appliances

·       Washer

·       Dryer

·       Stove

·       Refrigerator

·       Grill

$95 – $478
$75 – $318
$99 – $515
Couches and chairs

·       Chair

·       Loveseat

·       Couch or sofa

·       Recliner

·       2-piece sectional

·       3-piece sectional

·       Couch with recliner or sleeper

$95 – $658
$75 – $518
$99 – $728
Electronics

·       Large TV

·       Small TV

·       Computer

·       Printer

·       Fax

$95 – $308
$75 – $198
$99 – $334
Mattresses

·       Twin or full mattress

·       Queen or king               mattress

·       Twin or full boxspring

·       Queen or king boxspring

$95 – $368
$75 – $238
$99 – $393
Miscellaneous items

·       Bike

·       Exercise machine

·       Black garbage bag

·       Moving box

·       Lawnmower

·       Tool chest

·       Hot tub

$95 – $658
$75 – $518
$99 – $728
Tables and dressers

·       Table

·       Dresser

·       Desk

·       Small entertainment center

·       Large entertainment center

$95 – $428
$75 – $278
$99 – $460
Source: https://www.junk-king.com/pricing/pricing-estimator Prices as of 9/11/2020
What junk removal companies won't accept
The bottom line
If you still have questions about junk removal prices, your best option is to contact your area's junk removal companies. Explain to them what you need them to pick up and your location. They'll talk to you about whether it's best to have them drop off a dumpster or use their truck haul-away services. Then, they'll discuss drop-off or haul away scheduling and pricing.
Frequently asked questions
How can I find junk removal places in my area?
It's best to compare at least three companies' junk removal prices, what they pick up, and their availability. Use word-of-mouth referrals from friends and family or check your city or town's website for recommendations. Certain movers may even have a few user reviews you can find.
Do I tip my junk removers?
Tipping isn't a requirement or expectation for junk removers, but they appreciate it when it happens. You'll find this is especially true if they're removing heavy or difficult to move items. If you're unsure how much to tip, think about the percentages you use when tipping waitstaff or traditional moving companies.
What do removal companies do with my junk?
Because junk removal companies have access to several resources, they can recycle or scrap most of the junk they pick up. If furniture or appliances can still be reconditioned, reputable haulers will look for places to donate them.