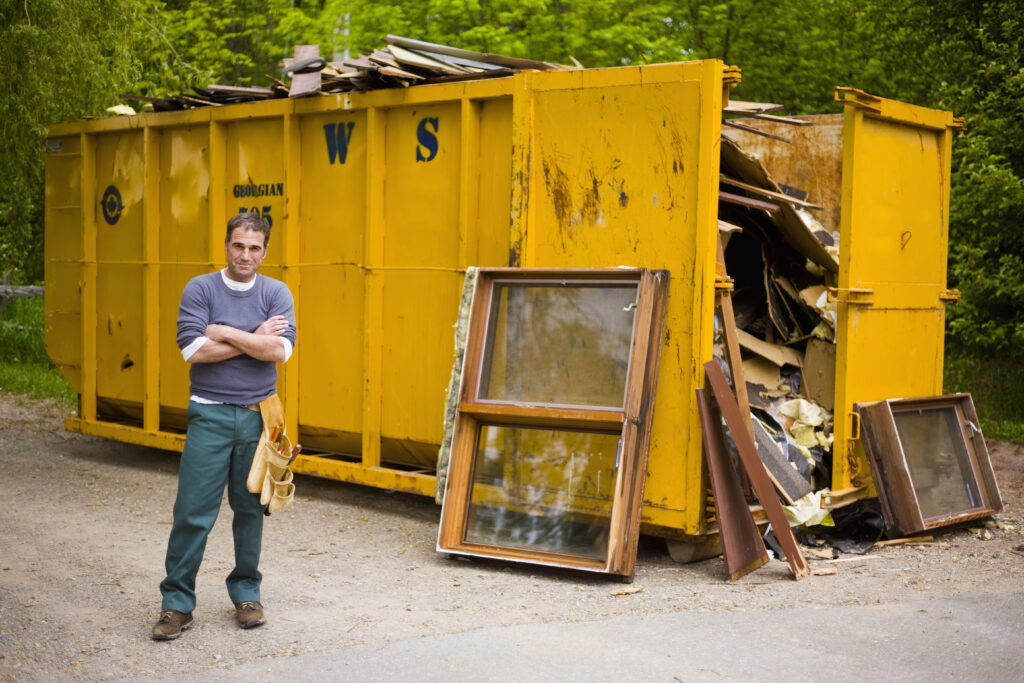 Renting a dumpster can come in handy for a number of purposes. You might be remodeling a home and need somewhere to put the debris. You might be a business owner and need large dumpster rentals. Cleaning projects like spring cleaning or junk removal before you're moving out may necessitate a small dumpster rental. Below we'll look at types of dumpsters and answer the question of how much is a dumpster.
Dumpster rental prices
There are four main categories dumpsters fall into. The most common type you'll see for rent from dumpster companies is the roll-off dumpster. These are the large-capacity bins that you might think of when you picture dumpsters.
Commercial dumpsters are most commonly used by businesses, as the name would suggest. These are the types you might see sitting outside the back of a restaurant. They come in front-loader and rear-loader models. The front loader models often have slats on the side that a truck can fit spikes into for unloading.
The most extensive option for large dumpster rentals, compactors are enclosed bins that have a metal blade that compacts trash inside the bin. This allows them to hold more trash between hauls, as well as controlling odor and pests. They're used for very large-scale volumes of waste.
Specialty dumpsters are often used to throw away only one type of debris. For instance, you might find options from dumpster companies that are only for brush and stumps, making them good for larger landscaping projects. Others might only be designed to hold concrete or brick during construction or remodel projects.
How much does it cost to rent a dumpster? Review the chart below detailing how much to rent a dumpster. We collected dumpster cost quotes from dumpster companies for an idea of price. Though keep in mind that price can vary by location, size, and the length of time renting. You may still have to search "dumpster rental prices near me."
| | | | |
| --- | --- | --- | --- |
| Dumpster name | Size | Standard cost | Used for |
| Roll-off dumpster | Commonly 10 – 40 yards | 12 yards, one week rate: $453.47 | Large-scale constructions or remodeling projects |
| Commercial dumpster (front loader and rear loader) | Commonly 2 – 8 yards | 4 yards, one month rate: $124.59 | Business uses with moderate trash, like restaurants |
| Compactors | Commonly around 2 – 40 yards | 42 yards, three year lease runs rate: $400 per month | Business with a high volume of trash, like recycling centers or hospitals |
| Specialty dumpsters | 10 – 25 yards | 20 yards, two week rate: $638.10 | Typically home projects like cleaning or smaller remodel/landscape projects |
How to rent a dumpster
Renting a dumpster from dumpster companies is fairly easy:
Start by looking at who rents a dumpster near you. You can complete a Google search to see businesses that pop in your area, and you can review their ratings. You might search "dumpster rental prices near me" or simply a brand like "waste management dumpster." You can also check our guide for junk removal companies.
Most dumpster companies have dumpster rental prices on their websites. You usually can enter your address, dumpster type, and time you want to rent the dumpster, then the dumpster rental prices will pop up. If not, you may have to call for dumpster rental prices.
Get quotes from at least three companies, if you can, to compare the dumpster rental cost in your area.
The dumpster company will either have you reserve and schedule your dumpster online or with a customer service rep.
Keep in mind, if you have only a few items that need to go, it can make more sense to simply pay for a junk removal service. You can review junk removal prices in our guide.
The bottom line
Small dumpster rental and trash bin rental are wonderful options if you have a lot of trash that needs to go. They're great for if you have an extensive spring cleaning goal. They're also useful if you are doing a home remodel, construction project, or landscaping project. However, for these uses, a roll-off dumpster or a specialty dumpster is your best bet. If you need large dumpster rentals for commercial uses and have a very high volume of trash, commercial dumpsters or compactors are best.
Q:
How much does it typically cost to rent a dumpster?
A:
Dumpster rental prices vary by the size, location, type, and how long you are renting. It's common for dumpster rental to run over a hundred dollars as a flat rate for a week of rental or more.
Q:
How much can fit in a 10-yard dumpster?
A:
According to Waste Management, a 10-yard roll-off dumpster can handle 10 cubic yards of waste. This is the equivalent of four pickup loads.
Q:
What are standard roll off dumpster prices?
A:
According to some online quotes from Waste Management, roll-off dumpster prices for one week run $453.47 for 12 yards, $518.65 for 20 yards, and $583.77 for 30 yards.