1-800-GOT-JUNK Reviews, Prices, and Guides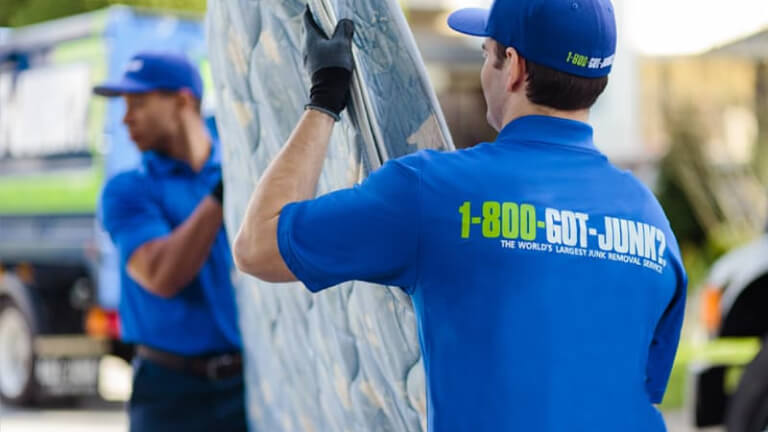 1-800-GOT-JUNK is a popular junk removal service that helps you declutter your home, and does so responsibly and sustainably. If you need to get rid of large items before a move, it's a very convenient way to empty out your home in a hurry. That said, it's more expensive than taking the items somewhere yourself, or arranging for pickup with your garbage company.
Pros
Removers are professionally trained and experienced.
Cost-effective and convenient way to declutter your house.
1-800-GOT-JUNK tries to repurpose or resell items, donate items in good condition, and recycle when possible.
Cons
Can be more expensive for some items.
1-800-GOT-JUNK prices your junk based on the volume utilized in their trucks. This might not be the best option if you have a high volume of junk that needs clearing.
How much does 1-800-GOT-JUNK cost?
1-800-GOT-JUNK rates generally range from $200-$1,00. However, these prices will vary based on how much junk you have and where you live. 1-800-GOT-JUNK also requires a free onsite estimate before they'll give you a specific price.
Pricing is based on how much space the unwanted items take up in the truck. To give you an idea of the truck's size, each truck can fit eight full-sized, stand-up refrigerators (which are each 10 feet long, 8 feet wide and 5 feet high).
Here's how pricing breaks down for an apartment in Seattle:
1/8 truckload: $197
1/4 truckload: $447
1/2 truckload: $657
3/4 truckload: $827
Full truckload: $967
To be more precise, 1-800-GOT-JUNK pricing depends on different factors like the quantity and nature of the junk. It can also fluctuate with the gas prices, locality, and the ease of access to your house.
The good news is that there are no surprises or hidden fees. Once 1-800-GOT-JUNK takes a look at your stuff and gives you a price, it is guaranteed to be the price you will pay. And if you don't like the price you're given at the start of the job, there is no obligation for you to move forward.
How 1-800-GOT-JUNK works
1-800-GOT-JUNK is a full-service junk removal service that is operating through more than 200 franchises in Canada, North America, and Australia.
To clear out your clutter using 1-800-GOT-JUNK, start by making an appointment:
Make a pile of everything you want to get rid of.
Go to the 1-800-GOT-JUNK website. Choose your country of origin from the dropdown on the top right.
Enter your ZIP code in the prominent box and check for the availability of a franchise in your area.
List the major items in your junk pile. Select a date and time for the pickup. Choose a 2-hour time slot if it's available in the morning, afternoon, or evening. Enter your address and contact details. You also need to specify if it's a residential or a business pickup.
Check your details and confirm the pickup.
What 1-800-GOT-JUNK picks up
1-800-GOT-JUNK is a full-service recycler that takes anything as long as it isn't a hazardous material and can be lifted by two crew members to their trucks. The company offers comprehensive residential and commercial junk pick-up services.
What 1-800-GOT JUNK will pick up
As you can see from the long category of junk items 1-800-GOT-JUNK accepts, household items are well-covered. You can even use the service to get rid of yard waste. According to their site, TV, computer monitors, refrigerators, and mattresses are some of the in-demand junk for recycling.
Some of the everyday items 1-800-GOT-JUNK will take include:
Electronics (E-waste)
Appliances
Bicycles
Carpeting and rugs
Renovation waste
Furniture
Household trash
Tires and rubber
1-800-GOT-JUNK is also a debris removal company that can manage the huge piles of construction waste.
Give them a call to clear your doubts on any throwaway item.
What 1-800-GOT-JUNK will not pick up
Any hazardous material (chemicals, oil drums, asbestos, or paint).
Items that are too heavy for the two-man crew to lift and take to their truck.
Construction materials that could potentially be harmful.
Old automobiles (a partner company can do that).
Where does 1-800-GOT-JUNK take my junk?
Once you give the go-ahead, custom-built trucks will arrive at your doorstep and blue-uniformed personnel will then proceed to move through your stuff before they haul it away.
But where does it all go? Does the haul help you reduce your ecological footprint?
According to their site, the destination of the junk depends on its type. Some of the materials are taken to a transfer station and the rest to the dump.
The idea is to always recycle, repurpose, resell, or donate. This minimizes burial in landfills through waste management. 1-800-GOT-JUNK has connections with recycling centers, landfills, incinerators, and charities.
All 1-800-GOT-JUNK franchises work with local charities and international organizations like the Salvation Army, Goodwill, and Habitat for Humanity.
1-800-GOT-JUNK reviews
1-800-GOT-JUNK reviews are generally good, but it's important to note that 1-800-GOT-JUNK is a franchise-based model. So customer experiences can vary across locations.
Customer reviews on Facebook give the company an overall 4 out of 5 stars.
Yelp, Better Business Bureau, and other reviews vary by franchise location.
Frequently asked questions
Q:
Can 1-800-GOT-JUNK take everything?
A:
1-800-GOT-JUNK does not take hazardous material, automobiles, and anything that cannot be carried by two crew members to the truck.
Q:
How much does 1-800-GOT-JUNK cost?
A:
1-800-GOT-JUNK franchises have a wide footprint across three countries. It can be difficult to give a baseline figure as costs depend on the volume and quality of items that are hauled away. Prices also fluctuate by the location of the customer premises.
Q:
Do I need to be at home when they come to collect my junk?
A:
The company will call you 15 to 30 minutes before arrival to let you know they are on the way. It is recommended that you be on-site to receive the final estimate of your junk. If you are not there, they will review it in your absence and then call you for confirmation.
Q:
Why does 1-800-GOT-JUNK say it's a full-service junk removal company?
A:
A "full-service" junk removal service saves you time and labor. You just have to collect your trash and they will haul it away.