How to Donate Items to Charity and Have Them Picked Up for Free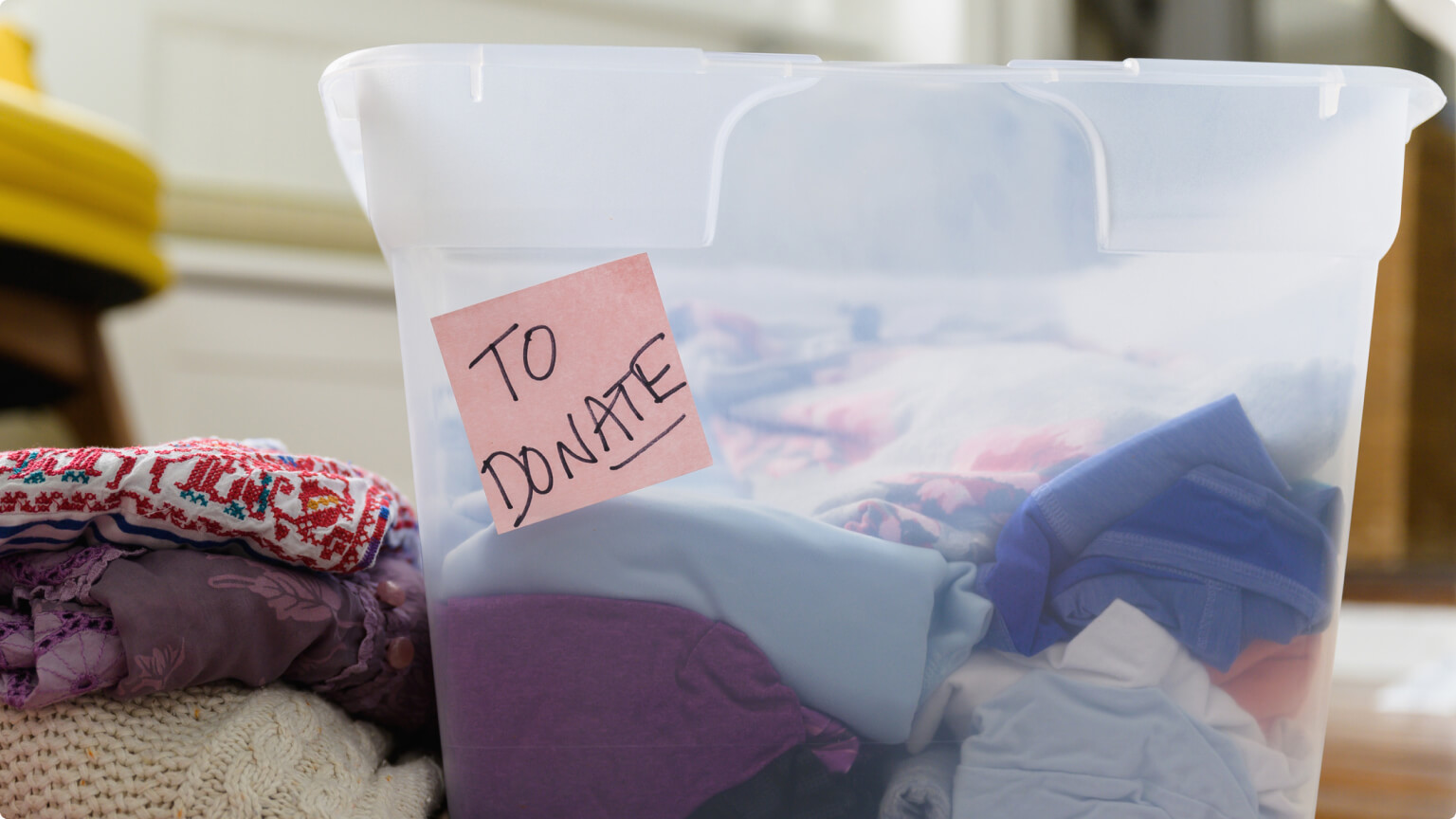 Reasons to donate unwanted items
Moving to a new home is a great time to take stock of household items you no longer need. Here are some other great reasons to donate items instead of throwing them away:
Helps you de-clutter before your move.
Many charities offer free donation pickup.
Furthers the life-cycle of your gently used belongings, which reduces your carbon footprint.
Charitable donations are tax deductible.
Helps provide affordable furniture and clothing to families in need.
8 national charities that have free donation pickup
Here's a list of organizations that will pick up donations, free of charge:
1. GreenDrop
GreenDrop is a program serving the East Coast. In addition to the free donation pickup, GreenDrop offers Home Clean-Out, a free service that helps you sort and donate large volumes of clothing and household items — ideal for pre-move organization.
How your donation helps: After collecting your items, GreenDrop sells your donations to area thrift stores, and the funds go to support the charities listed above.
Items that GreenDrop accepts: Clothing, household goods, electronics, tools, toys, and more. Being a company that takes used furniture for free, they made a detailed list of items they specifically won't accept, saving donors time and doubts.
Learn more: GoGreenDrop.com
2. The Salvation Army
The Salvation Army, an international organization founded in 1865, is an evangelical part of the universal Christian Church. They help people with a variety of different needs, including disaster relief, hunger, poverty, addiction, human trafficking, and more.
Online services for scheduling aren't available for all ZIP codes for the Salvation Army donation, but the website provides a local phone number you can use to arrange a furniture donation pickup.
How your donation helps: When you donate items to the Salvation Army, they sell them in their thrift stores. These proceeds go toward a number of needs, including their rehabilitation centers, food pantries, homeless shelters, and disaster relief.
Items that The Salvation Army accepts: Clothing, appliances, kitchen items, automobiles, and more. Due to recalls or government rules on re-selling, the Salvation Army donation center won't accept items such as particle board furniture, metal desks, TV armoires, and baby items (such as high chairs and car seats).
Learn more: SalvationArmyUSA.org
3. Habitat for Humanity
Habitat for Humanity is a nonprofit organization that helps build safe and affordable homes for families who need them. They work in all 50 states across the U.S., as well as 70 countries internationally. In addition, they also act as a furniture pickup and donation center.
Habitat for Humanity offers free donation pickup once a week. Enter your ZIP code to find the nearest store, then call or use their website to schedule your pickup.
How your donation helps: Furniture donations are sold at their ReStores, Habitat for Humanity's resale locations that sell gently used furniture, appliances, and building materials to the public. Proceeds from sales go towards building homes, as well as repairs made by the organization.
Items that Habitat for Humanity accepts: Furniture, appliances, and building materials.
Learn more: Habitat.org
4. Goodwill
Goodwill stores work on the local level to provide job training and employment services to people in need. They have 156 community organizations across the U.S., Canada, and 12 other countries. In addition to a clothing donation drop off, most Goodwill locations also offer free pickup for furniture and other large items. Contact your local Goodwill to find out if pickup service is available in your area.
How your donation helps: Goodwill sells your donations in stores and on Goodwill's online site to raise money for employment training and job placement services for people in your community.
Items that Goodwill accepts: Furniture, clothing, accessories, dishes and glassware, collectibles, and electronics. Most Goodwills also accept cars, trucks, SUVs, boats, RVs, campers, riding lawn mowers, and more (they don't even have to be in working condition!).
Learn more: Goodwill.org
5. Pick Up Please
Pick Up Please is a program of the Vietnam Veterans of America (VVA). It handles scheduling through an easy-to-use online calendar, and your furniture donation can often be picked up within 24 hours — you don't even have to be home when the truck arrives. Just box up the items and label them "VVA Donation Pick up," and the driver will load the boxes and leave a tax deduction receipt.
Where to donate with Pick Up Please? Currently, the service is available in California, Colorado, Connecticut, Delaware, Florida, Louisiana, Michigan, New Jersey, New York, Oregon, Pennsylvania, Maryland, and Virginia. You can visit its website to see where to donate.
How your donation helps: VVA sells the items you donate to private companies in order to fund their local, state, and national programs.
Items that Pick Up Please accepts: Acceptable donations include gently-used household goods, clothing, toys, electronics, and smaller furniture, such as nightstands and office chairs.
Learn more: PickUpPlease.org
6. Furniture Banks
Your donation to the Furniture Bank helps battered women and children, immigrants, the unemployed, the working poor, and the previously homeless set up their home. The Furniture Bank is available in 34 states. Head to their website to find a location near you, and call to schedule a free furniture donation pick up.
How your donation helps: When you donate furniture to Furniture Banks, they redirect your items directly into the hands of families in need. They offer free furniture donation pickup in some areas, but others will charge a small fee.
Items that Furniture Bank accepts: Furniture, dishes, pots and pans, and small appliances.
Learn more: Furniturebanks.org
7. The Arc
With over 600 local chapters, the Arc helps those with intellectual or developmental disabilities gain access to the information, advocacy, and skills they need to support their full inclusion in the community. You can see if your local chapter accepts free donation pickups by visiting the Arc's website. That way you can get a quick answer to your questions on "where to donate furniture near me."
How your donation helps: The Arc sells your donated items in its thrift stores in order to support its programs.
Items that The Arc accepts: Furniture, clothing donations, shoes, books, toys, kitchen items, electronics, decor, cars, and more.
Learn more: TheArc.org
8. AMVETS
AMVETS, or American Veterans, supports local veterans and their families by providing assistance, jobs, and other service programs.To see where to donate in your area, you can visit its website to fill out the donation pickup form. If they offer pickup services, you'll pack everything into boxes, mark them for AMVETS, and leave them outside of your door by 7:30 a.m. the day of pickup.
How your donation helps: AMVETS sells your items in thrift stores in order to generate revenue for its Veterans Programs.
Items that AMVETS accepts: Clothing donations (for men, women, and children), electronics, small appliances, kitchenware, lamps, curtains and drapes, books, bicycles, bedding, and more. They also take flat-screen TVs, computers, and exercise equipment if they are less than 5 years old.
Learn more: AMVETSPickup.org
There are many regional charities that offer free donation pickup
In addition to these nationwide charities, there may be organizations local to your area that also offer free donation pickup for your gently used items.
How to schedule your donation pick up:
Packing your home into boxes, remaining tidy, and decluttering take up time and energy. Scheduling a free home pickup donation is one way to simplify this process. Here's how:
Step 1: Find a local organization that offers furniture donation pickups.
Go online or call one of the companies above to locate the nearest branch. Double-check that they're offering free home pickup donations.
Note: Make sure to sanitize and disinfect any items, boxes, and furniture you plan to donate. This extra step ensures you keep organization workers and donation recipients safe.
Step 2: Make sure the organization accepts the items you're donating.
Each nonprofit that takes used furniture donations may have different requirements for what they do and don't accept. A torn, soiled, stained, or otherwise damaged item will not be accepted in most cases. GoGreenDrop has made a donation guideline that is general enough to be used for other companies, but we recommend contacting the organization that is taking your furniture for free so that they may confirm your items' qualifications.
Step 3: Arrange an appointment time.
After deciding on a company to help your decluttering process, choose an hour and day that suits both of your schedules. The day of the week can impact availability, so if you may squeeze in this process during weekdays, your options will likely expand. Most declutter and moving operations occur during the weekend which increases demand and perhaps wait times.
Another circumstance to be wary of is weather. A warm day is great for moving. A cloudy day is even better. Consider avoiding rainy or windy days as these settings may compromise moving safety and the integrity of the items being donated for furniture pickup.
To make sure your appointment makes it on the organization's calendar, schedule the pick up at least two weeks before Moving Day. The earlier you schedule, the better!
How to decide what you should keep, donate, or trash:
Do you need help decluttering? Use our donation decision tree to decide if an item is worth bringing to your new home, dropping off at the charities above, or simply throwing away.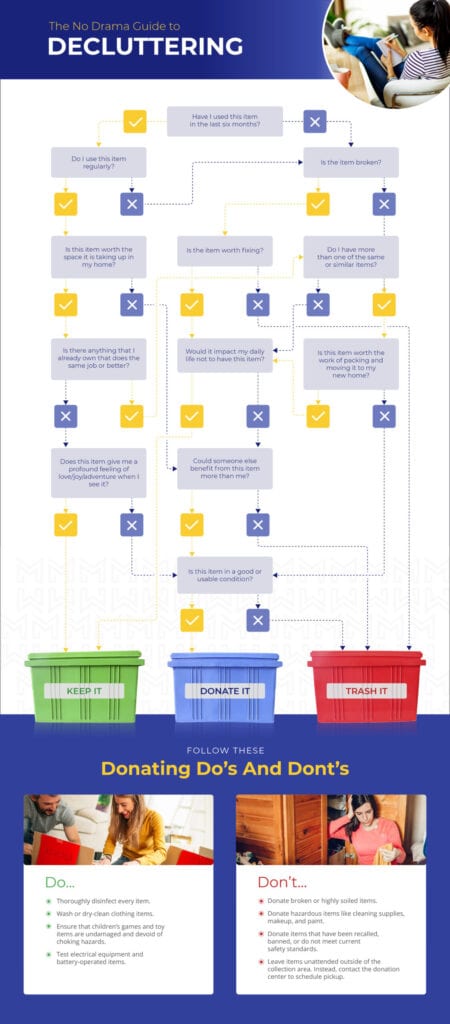 The bottom line
Donating items you no longer use is a great way to get organized and make your packing process easier. Different companies have made the process even easier by offering free furniture donation pickup. Apart from making life easier on your end, your contributions to a donation company can empower and assist those that would benefit from your gently used furniture, clothes, and home goods.
Frequently Asked Questions
Q:
Where can I donate furniture?
A:
Many local charities like Goodwill, Salvation Army, or Habitat for Humanity will take gently used furniture. You can also use the app NextDoor Neighbor to see if anyone is in need or wants free furniture. Lastly, you could check with local civic or church groups, as some have furniture banks.
Q:
Does Goodwill pick up donations?
A:
In many cases, Goodwill will pick up your donations. Visit Goodwill's website to see if they offer these services in your area.
Q:
Are my donations tax-deductible?
A:
Yes, your items can be tax-deductible. If you plan to itemize your tax deductions, you'll need a receipt from the charity you donated the items to. Additionally, many charities such as Goodwill offer prices on commonly donated items like clothing and furniture. And it's always a good idea to follow the IRS's rules on charitable contributions.
Q:
What condition do my items need to be in for donation?
A:
Generally, charities accept gently-used items, especially in the instances of furniture and other household goods, since they'll be used for resale.
Q:
Who will pick up donated items for free?
A:
The following charities will come to your doorstep and pick up your items, free of cost.
Q:
Who will pick up a donated piano?
Q:
Who takes used furniture for free?
A:
Below, you will find a list of charities that offer free furniture donation pickup:
Disclaimer: Free pickups will be specific to your location, and COVID-19 could affect hours of operation, so calling your local agencies is advised.