Moving on a Budget: 11 Tips to Save Money on a Move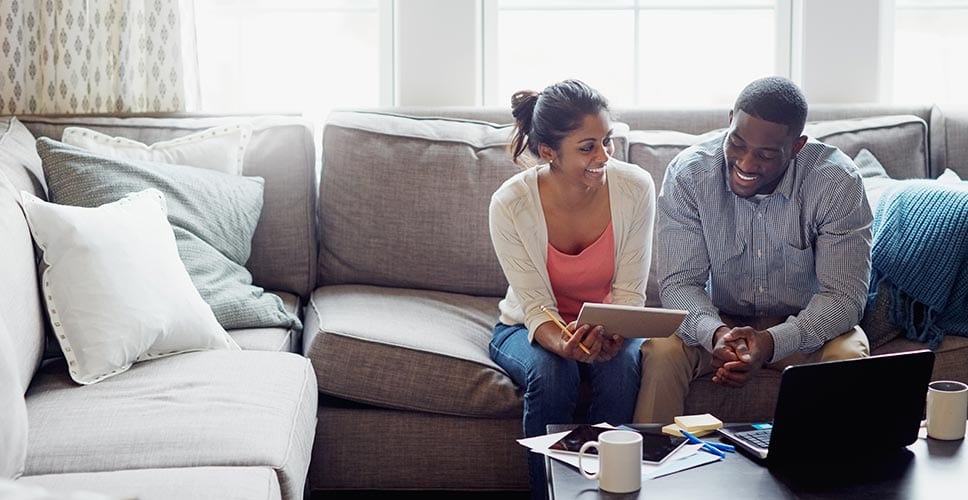 Whether you're moving across town or to the opposite coast, relocating can be both exciting and stressful. You may be moving for your career, for a relationship, to be closer to family, or to fulfill a lifelong dream. Whatever your reason, it's a big job that can get expensive, which means it's important to budget moving costs early.
Research from Zillow puts the average cost of moving across town using professional movers at almost $500. If you plan to move across the state or the country, those costs can increase significantly, so it's important to map out a moving budget. Before you get started packing, you need to make a plan so you can find the cheapest way to move long-distance or locally that fits your needs, your wallet, and your timeline. Let's discuss how to move on a budget.
Here's everything you need to know about how to move cheaply:
11 tips for moving cheap
If your number one goal during this process is to find the cheapest way to move, there are a few tips you should keep in mind. With some time, effort, and dedication, you can shave off hundreds—or potentially thousands!—of dollars from your moving budget.
1. Look for free moving boxes and packing supplies
Know someone who moved recently? Check with them to see if they have any free moving boxes to offer. You can also ask your local grocery or big box store if they have boxes headed to the recycling bin that you can have.
2. Consider renting a moving trailer
If you're moving a short distance and the weather is nice, you can save money by renting a trailer instead of a truck. Moving trailers are often cheaper than moving trucks, so you'll save money right off the bat. Plus, trailers can be a great storage solution if you need to store your belongings before you're ready to unpack them.
3. Hunt for moving discounts
You may have access to moving discounts through organizations such as AAA and the military. Many companies also offer moving discounts for students. And if none of those groups apply to you, many moving companies offer more general deals.
Use our free tool to contact multiple moving companies and compare quotes from companies. We recommend getting at least four estimates so you can find the best deal.
5. Make your move tax-deductible (ONLY for active military)
If you're an active member of the military, you can deduct un-reimbursed moving expenses when you file your taxes.
6. Borrow a truck
A great way to budget moving costs is to cut things out of the equation. A friend or family member who's willing to loan you their truck will help you avoid spending money on a truck rental.
7. Recruit your friends and family
Don't want to spend money on movers? The cheapest way to move is by recruiting free help packing, loading, and unloading from your friends and family. But be kind and pay them with pizza, please.
8. Use containers you already own
Minimize the amount you need to spend on moving boxes. Use containers you already own — such as plastic tubs, dressers, chests of drawers, and file cabinets — to pack miscellaneous items.
9. Get rid of unnecessary or unwanted items
Use what Marie Kondo taught you and get rid of anything that does not bring you joy. Fewer possessions mean less to move. Many organizations will pick up donations for free, so you don't have to worry about them.
10. Find free storage
If you need to store some of your items for a time during or after your move, look for free options, such as the attic or spare bedroom at a family member's house.
11. Get creative with packing
There are tons of life-hack videos online that will teach you how to use what you have and save room when you pack. Learn and apply hacks that will help you pack with extreme efficiency to cut down on supplies and space needed.
What to consider when setting a moving budget
If moving cheap is the goal, then you need to set a moving budget from the very beginning. Several unexpected expenses may come up during a move if you do not take the time to consider what it will cost to either hire professional help or do it yourself.
Here are some factors to consider when creating your moving budget:
Timeline: 
Your timeline is the factor (other than your budget) that will have the biggest impact on what moving services you decide to pay for. If you need to be moved into your new home right away in order to start a job, then it may be worth the cost to hire movers who can get you packed and moved quickly. If you're not in a hurry to move, you can save some money by going the DIY route.
Physical resources: 
Budget moving means knowing which of your physical resources will impact what moving services are right for you.If you can't lift heavy boxes and load them onto a moving truck, you'll need the help of some strong friends or professional movers.
Moving experience:
Your level of experience with packing and moving can help you decide if you need help from professional packers and/or movers. Do you know how to pack a box in a way that maximizes the available space? Have you ever driven a moving truck? If you're short on time, space, and experience, it may be worth your money to call in the pros.
Tools and equipment: 
There are a number of tools that make the process of moving easier and quicker. For example, a dolly and moving straps are essential when moving heavy appliances and cutting down on multiple trips. Do you have the tools you need for a quick and safe move? Are you willing to purchase what you need?
Supplies: 
Do you have other important supplies like moving blankets, bubble wrap, and a roll of plastic on your list? Consider the cost of purchasing these things in relation to what it would cost to hire professional movers who bring their own supplies.
Determine which type of move works best for you
There are several options available if you want to know how to move cheaply. You can do everything yourself and save money, but potentially sacrifice time. Or, if you do not have the luxury of taking your time, you'll need to spend a little bit (or a lot) of money to get help with the move. The good news is that there are a number of different moving strategies you can explore in order to find the one that works best for your situation, so you'll like the outcome when figuring your budget moving costs.
Keep reading to learn about different types of moving services, and get help figuring out how to choose a mover if you decide that you need professionals.
When setting your budget, consider the different types of moving services:
DIY move: 
If you're looking for how to save a lot of money moving, a DIY is probably it. This type of move is one where you handle every aspect of the move on your own. If you find free boxes, borrow a friend's truck, and recruit friends to help you carry furniture, then this is the cheapest way to move. While this may be the most inexpensive option, it's also typically the least efficient and most time-consuming choice as well.
Rent a moving truck, but pack and load yourself: 
If you can afford to spend a little bit of money, you can rent a moving truck and significantly cut down on the number of trips you have to make between your old place and your new home. Packing and driving the truck yourself can help keep costs down.
Rent a moving container: 
Another hybrid option on the DIY and full-service move spectrum is to rent a moving container. This can be more expensive than renting a truck, but it's also more convenient. Companies (like PODS) will deliver the container to your current place, then you pack it up, and they deliver it to your new place where you can unpack.
Hire laborers to help load/unload the truck: 
You also have the option of renting a truck and packing your own boxes, but hiring help when it comes to carrying and loading. This way, you'll save some money by doing the packing yourself and will also save time by letting the pros get everything onto the truck.
Hire full-service movers: 
Hiring a full-service moving company is by far the most expensive moving service on this list and not super in line with budget moving. Full-service movers will take care of packing, loading, and moving all of your things from your old place to your new place. All you have to do is unpack the boxes that they drop off at your new home. They'll ensure all your beloved furniture and belongings make it to the new place safely. This option is definitely not the cheapest way to move, but it provides convenience and is a quick way to get where you need to go. That being said, you may be able to find inexpensive moving companies to do the full-service treatment.
The Bottom Line
There are many factors to consider when creating your moving budget, but this should be something you examine early on in the moving process. You need to decide what type of move is right for you, whether you do it all yourself or hire professional help. That, along with the time and distance of your move, will factor into the final cost.
Frequently Asked Questions
Q:
How much should I budget for moving expenses?
A:
Zillow estimates the average cost of an in-town move is $475. The further away you move, the higher the expense—it may be in the thousands for a cross-country, full-service move. Use our free moving quotes tool to get estimates based on the specifics of your move.
Q:
Are there tax incentives for moving?
Q:
Is it cheaper to move during the week?
A:
The cost of hiring movers can be lower during the week, but if you're saving money by getting help from family and friends, the least expensive time to move is whenever they're available to help.
Q:
What is the cheapest truck rental for moving?
A:
The cost of renting a moving truck varies wildly depending on where you live, the size you need, and how far you plan to drive it. Major moving truck retailers include Budget, U-Haul, and Enterprise.
Q:
Will my employer pay for my move?
A:
Some employers will pay for relocation assistance as part of their offer. Talk to your employer before agreeing to move to determine if you'll be reimbursed for your moving expenses.
Q:
How do I determine if the cost of moving is too high to switch jobs?
A:
Calculating a moving budget before you agree to move for a job change can help you determine if the moving costs are too high to justify the move.