The Cheapest Way to Move Locally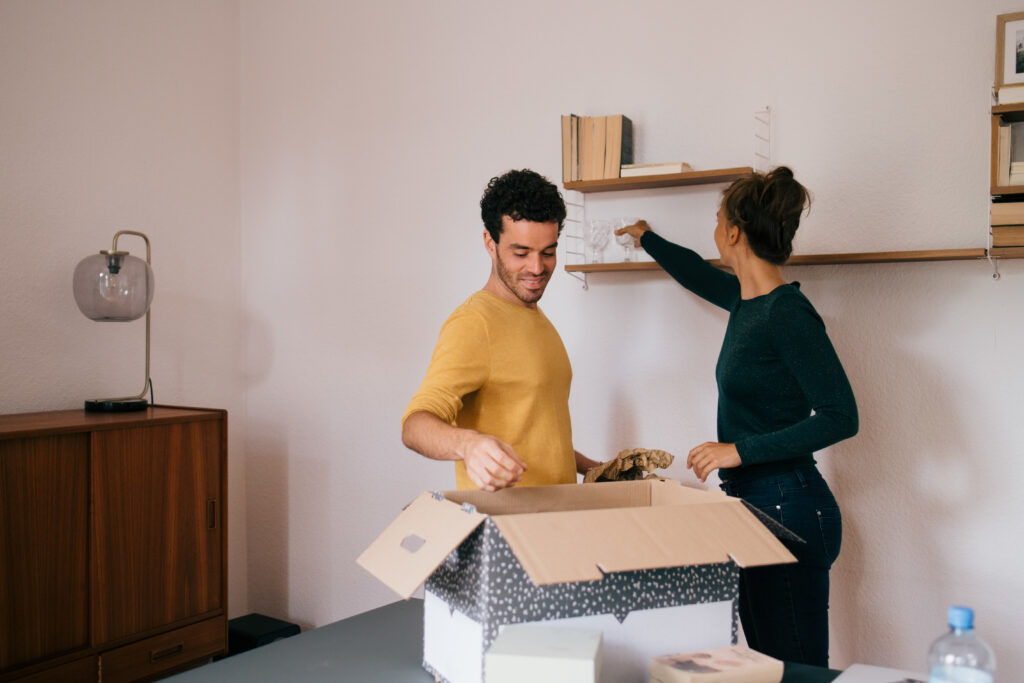 Moving is generally pretty expensive. But it doesn't always have to be. Our essential guide on the cheapest way to move locally will help you decide what works best for your relocation. Read on for insider tips and resources.
How much does a local move cost?
The cost of a local move can vary greatly and depends on the circumstances surrounding your move. Consider factors such as your space, the number of items to move, how much help you have on hand, and your deadline. For example, moving the contents of your small studio apartment DIY-style may involve the cost of gas (along with a pizza or two for the friends that helped). In contrast, moving the contents of a large home filled with heavy furniture, boxes, or bulky items will come at a greater cost.
7 options if you're looking for the cheapest way to move locally:
1. If your budget is tight: Recruit volunteers and pack up your own car.
As you research the cheapest way to move, you may get a bit of sticker shock. A professional move often includes packing up and boxing all your stuff for you. But if will bust your budget and you're moving locally, assemble your own packing team. Recruit family and friends to help you pack up your place and load up your car. Though this can be extremely cost-effective, keep in mind the expenses that come with it, like all the safe-packing materials plus gas — especially if you'll need multiple trips.
2. If you want to cut down drive time: Rent a moving truck and DIY
Moving all of your stuff in the car sounds fantastic, but is it realistic? If you have oversized furniture, it will be impossible to fit it into the back of your small sedan. With a rented moving truck, you'll be able to pack the contents of your home into one place. Moving truck costs vary by company, truck size, and amount of time needed.
For example, Home Depot offers "Load 'N Go Rentals" by the hour starting at $19, while Enterprise Truck Rental rents by the day starting at $75. Avoid rush hour and move in off-peak hours to save time and gas. While moving truck rentals can be cheap, but make sure to look into the cost of necessary add ons like dollies, furniture pads, and straps.
3. If you don't have a time constraint: Rent a portable storage container.
If you have the option to pack at your own pace without a hard deadline, a portable storage container gives you the freedom to disassemble your home on your schedule. Portable storage containers are delivered directly to your home (typically in your driveway). You choose the size, set the drop-off and pickup time, and direct the company where to deliver your packed storage container. Our top picks for moving container companies are PODS, ZippyShell, ReloCube, 1-800-Pack-Rat, and U-Haul.
Note: If you don't have a driveway or proper space in front of your home, this may not be the best choice.
4. If you own a car or truck with a trailer hitch: Rent a tow-behind cargo or utility trailer.
Does your vehicle have a trailer hitch? If it does, a cargo or utility trailer is a good compromise if you have too much stuff for your car but not enough to warrant renting a moving van. Keep in mind, this only works for vehicles with hitches.
5. If you aren't moving into your new place right away: Rent a self-storage unit.
If your lease is up or you've sold your house faster than anticipated, you'll need a place to store everything until you move. Unlike portable storage containers that stay sealed after packing, self-storage units provide easy access to items as often as you need them. Storage unit costs vary based on the unit (indoor, outdoor, and size). One downside? You'll need to move your stuff into and out of the unit.
6. If you can't pack everything on your own: Hire packing professionals.
Packing takes a huge chunk of time. If you're navigating the move solo or don't have the downtime to box up the contents of your entire home, relieve some pre-move stress by hiring packing professionals. They may charge by the hour, the size of the home, or the number of contents, so be sure to confirm pricing. If you need packing materials or have specialty items to be secured, that adds cost.
7. If you need to complete your move quickly: Hire a professional moving company.
If you're on a tight deadline to pack up and out, a professional full-service moving company can quickly and efficiently complete this major undertaking. If it takes weeks to move DIY, a team of pros may be the most cost-effective route. Keep in mind that even the cheapest moving companies come with potential fees over and above your base contract. Always fully review your agreement and possible charges. Is your street or driveway wide enough for the moving truck? Do you have large, bulky items on the second floor? Anticipating these things will avoid expensive surprises.
Pro tip: Are you looking for the best local movers? Compare free moving estimates with MYMOVE!
Save money on your local move by following these tips:
Tip #1: Contact local stores for free boxes.
There's nothing better than free when trying to find the cheapest way to move. Buying boxes can add up quickly. For example, a six-pack of large moving boxes is $25 (and you'll most likely need more than six). Contact your local liquor, grocery, or office supply store for free moving boxes. Or post on NextDoor to see if anybody local has boxes to unload.
Tip #2: Get creative with packing supplies and materials.
Use what you already have on hand! Moving cheap is all about getting creative. Put your luggage, laundry hamper, storage ottoman, and even dressers to good use. Instead of packing paper, wrap dishes and glassware with newspaper or T-shirts. Use trash bags for non-breakable bedding, pillows, and stuffed animals.
Pro tip: Print out MYMOVE's complete list of moving supplies to ensure you have everything you need!
Tip #3: Don't be shy; ask for a discount.
If you hire professionals, whether a moving company or labor by the hour, don't be afraid to ask for a discount. The odds are in your favor if you're moving off-season, mid-week, or paying cash.
Tip #4: Don't pack items you won't use in your new home.
Think "out with the old" as you look for the cheapest way to move. Is that treadmill collecting dust? Do you have more wine glasses than Crate & Barrel? The more you have, the more it will cost to move. Decluttering saves time and money. List them on sale sites such as Facebook Marketplace or Craigslist or drop them off at your local donation center and claim the tax deduction.
Pro tip: Use MYMOVE's complete packing checklist to organize your moving prep!
The bottom line
Before you decide the cheapest way to move, think carefully about your personal needs based on your home contents. Armed with these money-saving tips, you can save some cash to celebrate your exciting new journey.
Frequently asked questions
What is the cheapest way to move? 
Think about how much you have to move, if you'll have any help, and your move out/in deadline. This will help you decide if you should rent a moving truck, hire professional movers, or completely DIY!
Are PODS the cheapest way to move? 
Local moves with PODS start at $299. Other factors that affect cost are the size and number of containers, time of year, and distance of the move. Those needs will determine the cheapest way to move.
What is the cheapest truck rental for moving? 
With a base price of $29.99/day for a 12-foot or 16-foot truck and $39.99/day for a 26-foot truck, Budget Truck is the best truck rental deal for your budget.