How to Host a Moving Sale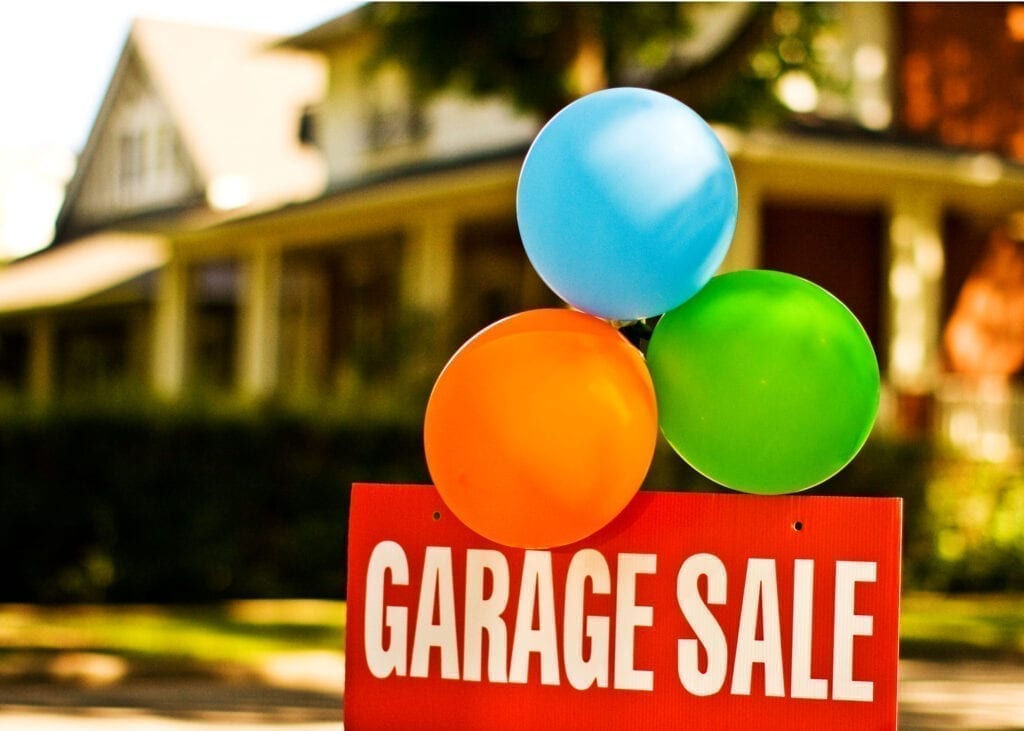 Whether you're downsizing or moving across the country, your bottom line is this: get rid of anything nonessential ASAP. Consider throwing a moving and garage sale!
We get it, you're pressed for time and energy prior to a move, but this one-and-done sale is your best bet for clearing house before moving on. How can you ensure the juice is worth the (somewhat time-consuming and exhausting) squeeze? Follow these steps for moving sale success:
Plan for your moving and garage sale
Collect these items before your moving sale
Stock up on essentials. Start saving grocery bags. Many buyers won't expect this, but the convenience factor alone can dictate whether they leave with a handful or an armful. Purchase some painter's tape to price items — it's easier to remove than stickers and bright enough to stand out. Stock up on cash and change. You don't want a buyer leaving that piece of furniture they love simply because you don't have enough change.
Assemble your moving sale team. Talking others into helping you host a moving sale is like finding someone to help you move. You find out who your real friends are. Are friends or family willing to assist? Embrace it! Extra arms come in handy when buyers need help moving large pieces (anything to keep the purging process moving). Offer to let them sell their own items or give them a small cut of your profit. If you can't twist any arms, see if they can spread the word verbally or on social media, if applicable to where you live.
Gather as many money-makers as possible. Buyers are more attracted to a table brimming with eye-catching finds rather than a table with a few figurines. When assessing items to sell, include anything that's not begging to be trashed (despite your emotional attachment). Almost trash time? Include items in a "FREE" section at your sale, perhaps near the checkout, to keep clutter moving.
Style your moving sale to turn heads
Position eye candy in plain view. You only have a few seconds to convince potential buyers in the comfort of their car that your sale is worth stopping for. Make it count by featuring your best items at the forefront. Larger furniture, blatant brand names, and colorful pieces will help draw in a crowd that's contemplating stopping at your sale.
Dress each item at the best possible price. Here comes the hard part. Because the goal is to get rid of everything, be realistic when pricing your used items. A sale full of overpriced products is sure to turn people off and away. Remember that buyers can't see the emotional value (nor do they care, sorry!) this item has in your eyes. They've dedicated their Saturday to garage sales because they want the lowest possible price.
Help buyers envision the potential. Group like items to create mini vignettes. For example, stack some books and a lamp you're selling onto a desk for sale. Hang clothing on a rack so that an appealing dress is more apt to catch eyes than if it was shoved in a cardboard clothes box. Helping buyers envision how they could use your items through staging is certainly an extra step — but it's one worth taking for the extra profit.
Consider the flow of the sale. Make sure everything is not only organized nicely and laid out in an attractive way, but that you have enough room for customers to move through your space. Shoppers should be able to see and navigate through everything you have for sale. You've drawn them in with the eye candy, but you want to keep them exploring.
Place your freebies by the cash register. Much like stores that ensnare shoppers with candy and small baubles while they wait in line, place your giveaways – stuff that hasn't sold all day but you don't want to toss – where buyers who are winding down might be convinced to add one to their bags.
Reassess once the sale storm has calmed
Consider a second-day sale. Are you really going to want to do this all over again the next day? No. Will it offer you a last chance to purge lingering items? Absolutely. At the end of the sale, assess whether a Sunday sale would be worth it. It's a way to capture churchgoers — and you won't be competing with many other sales. Blanket everything as 50% off the marked price. The goal at this point is to clear it out once and for all.
Donate, donate, donate. Whether you decide to have a second-day sale or not, the final purging step is to drop off items at a Goodwill or Salvation Army. You'll be helping others with your donations and you'll be able to consider it a tax write-off. Score!
Keep COVID-19 in mind: There are obviously far fewer people out and about these days, which can affect your sale. The pandemic will most likely prevent you from bringing the sale inside and may cut down on the number of friends willing to help set up your sale. With COVID-19 in mind, you might have to accept that people are not willing to risk buying used items and find yourself donating more things than you'd like.
The bottom line
We always recommend purging your belongings before a move. Whether you get rid of a few things or a ton, a moving sale is a great way to make some extra money to either put toward paying for your new place or even buying yourself some new things once you get there.
Frequently Asked Questions
Q:
Is it cheaper to move your stuff or buy new stuff?
A:
This varies based on what you have and how far you're moving, but selling your stuff can save you money in the long run. Selling items before you move will mean less in moving fees, plus the money you make from the sale will go toward new items after you've moved.
Q:
What should you not sell at a garage sale?
A:
Don't bother with anything that's too used or doesn't work. You'll have a hard time selling them anyway. Take care in selling something you know is worth a lot of money. For higher-valued items, you're better off contacting an expert or resale shop for help.