Spectrum Packages for Your Home Internet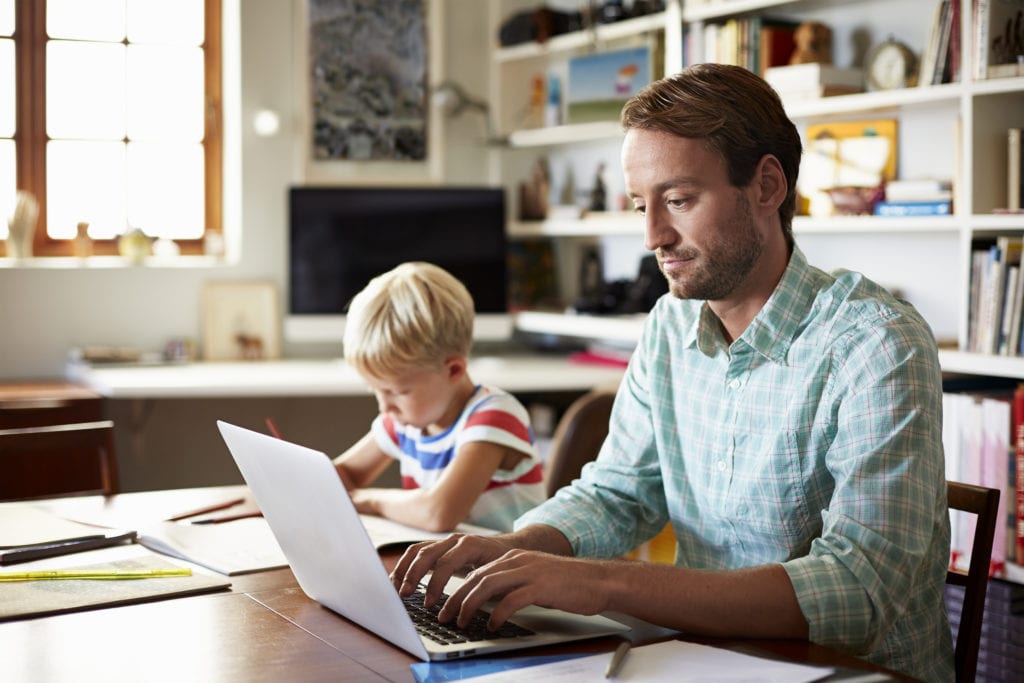 What you need to know about Spectrum
Once you're all done with the heavy lifting and hard work that comes with a move, it's time to settle into your new home and set up your internet service. When you research "best internet providers near me," Spectrum may pop up as a primary ISP in your area. With a business reach that spans 41 states from the eastern seaboard to the pacific northwest, Spectrum (also known as Charter Spectrum) is one of the larger internet service providers out there, covering over 33% of the U.S. population.
Owned by parent company Charter Communications, Spectrum offers a broad array of cable internet, TV, and phone services. In 2016, Charter also bought Time Warner Cable and brought them under the Spectrum brand, further expanding the ISP's coverage footprint to extend to over 28 million residential and business customers.
Spectrum plans and prices
Spectrum offers both internet-only and bundle options to all customers that fall under the ISP's service area. There are also authorized third-party resellers that sell Spectrum's services in places where their direct presence is absent. Here's a break-down of Charter Spectrum's offerings:
Internet-only packages
| | | |
| --- | --- | --- |
| Plan | Starting Price | Internet Speeds |
| Spectrum Internet | $49.99/mo. | Up to 300 Mbps |
| Spectrum Internet Ultra | $69.99/mo. | Up to 500 Mbps |
| Spectrum Internet Gig | $89.99/mo. | Up to 1000 Mbps |
*Prices as of 11/21/22 for a customer in Charlotte, N.C. Please note that prices and offerings vary by location. 
Spectrum bundled packages: Internet and TV
Spectrum also offers internet and TV bundles. Here's how those bundled Internet and TV packages are tiered:
| | | | |
| --- | --- | --- | --- |
| Plan | Starting Price | Internet Speeds | Channels |
| Internet + TV | $109.98/mo. | 300 Mbps | 125+ |
| Mi Plan Latino TV + Internet | $89.98/mo. | 300 Mbps | 145+ |
*Prices as of 11/21/22 for a customer in Charlotte, N.C. Please note that prices and offerings vary by location. 
Spectrum internet features
Spectrum offers a large array of features, services, and bundle packages for customers to choose from. Their packages are designed to fit various user needs, with attractive features accompanying bundled packages. Some of the more prominent perks customers can look forward to seeing with Spectrum services include the following:
For the Spectrum Double Play Select and Double Play Silber, you get a free internet modem.
The Spectrum Double Play Silver includes HBO, SHOWTIME, and NFL Network.
The Spectrum TV App
Spectrum TV Anywhere
Free Included HD Television
TV On Demand
In-Home Wi-Fi
Digital Phone Service
*Information as of 11/21/22. Please note that prices and offerings vary by location. 
Make sure to check for these Spectrum deals
Spectrum offers a variety of bundled deals for new customers. Spectrum's TV, Internet, and phone bundles are especially attractive to new customers (especially movers) that want the convenience of having all of their services come from one provider.
For a starting price of $9.99/mo., you can add phone services to your Spectrum package, making it a Triple Play package. Here's how those offerings break down:
| | | | | |
| --- | --- | --- | --- | --- |
| Plan | Starting Price | Internet Speeds | Channels | Phone |
| Internet + TV + Voice | $129.97/mo. | 300 Mbps | 125+ | Home phone |
| Mi Plan Latino + Internet + Voice | $109.97/mo. | 300 Mbps | 145+ | Home phone |
*Prices as of 11/21/22 for a customer in Charlotte, N.C. Please note that prices and offerings vary by location.
Spectrum reviews:
The American Customer Satisfaction Index (ACSI) has Spectrum in the middle of the pack with a score of 59, three points below the average score for internet service providers — 62. Spectrum also received a 2.5-star overall satisfaction rating (out of 5) from Consumer Affairs. There were a number of things that stood out for active customers, but concerns with hidden fees and higher average costs seemed to be the most common negative reviews. But other reviewers wrote of positive experiences with the ISP, citing easy installation and a good customer service experience.
Digging deeper: Spectrum pros & cons
Charter Spectrum has grown into a major competitor for regional areas where many other service providers share the same space. But like service with any ISP, there are both positives and negatives to consider. Let's take a look at some of the pros and cons of Spectrum internet service.
Pros:
There are packages that fit a variety of budgets – With the lowest price point starting at $49.99, Spectrum's basic internet-only service is an affordable option for frugal customers. Higher-tier options are also affordable.
Spectrum has a large service footprint – Spectrum's reach covers 41 states. That reach is even greater with third-party service providers offering the full suite of services in areas where other ISP options are absent, or extremely limited.
Frequent promotions and deals for new and current customers – Charter Spectrum has made it part of their sales model to offer as much functionality and customer perks as possible for their customers. This manifests itself in frequent promotions and deals for both new and existing users.
Cons:
Throttling Internet Speed during "Peak Hours" – Many customers, according to reviews listed on the Consumer Affairs website, are frustrated with degrading services during times where they're expected to run smoothly. Some customers have reported a reduction in the quality of the internet connectivity of as much as 35%.
Being Charged Extra for Hardware – Many customers that left feedback were pretty frustrated by the quality of the hardware issued to their households. Router and set-top box issues were arguably the most common issues )encountered by Spectrum customers.
Advertised Pricing isn't always accurate – Customers have recorded frustration over the distinctive differences in pricing between promotional and advertised pricing, and the 'standard' price point that normally kicks in after the promotion ends. Depending on the area, additional fees and taxes can increase your respective bill a great deal.
Frequently Asked Questions
Q:
Where can I get Spectrum as my internet service provider?
A:
Charter Spectrum has a footprint in 41 states currently as a direct service provider.
A:
Spectrum has internet-only packages that range from $49.99 for 300 Mbps to $89.99 for 1000 Mbps.
Q:
Does Spectrum have a data cap for its services?
A:
At the present time, Spectrum service does not have a data cap for any of its broadband services.
Q:
Does Spectrum offer internet phone service as part of their package offerings?
A:
Yes. In some of the bundles they offer, there are options for phone service. Phone service can also be added a-la-carte to other existing packages.
Q:
Are Spectrum and Time-Warner Cable the same?
A:
Time-Warner Cable was bought by Charter Communications in 2016. It was then re-branded under the Charter-Spectrum umbrella as Spectrum Internet. They are now one and the same.
Q:
Is Charter the same as Spectrum?
A:
Yes. Charter and Spectrum are the same. Charter is the parent company of the Spectrum brand.
Q:
Can I bundle Spectrum cable and internet?