An Internet Safety Guide for Your New Home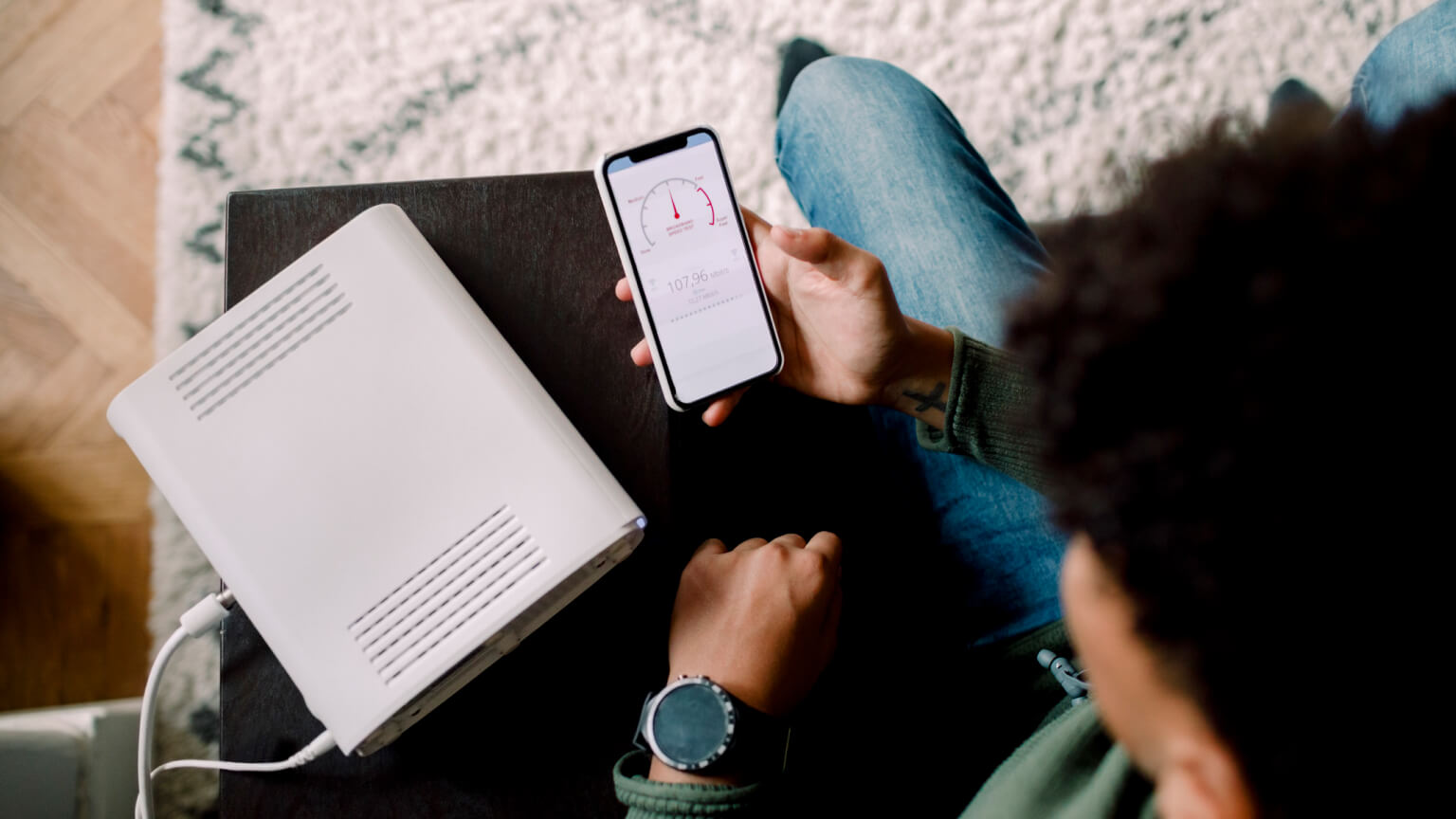 The pandemic shifted the way we work, learn, and play. Americans began to rely on the internet for most aspects of life. The virus even caused us to move from home to home more than usual.
In fact, over 15.9 million people moved during the first part of the coronavirus in early 2020, according to USPS® data. Up 4% from the previous year, U.S. residents were clearly on the move to be closer to family, to find a cheaper place to stay, or simply move away from congested areas.
For a large number of us, moving means changing your internet service provider, and setting up new devices and password protections. It's easy to let cyber security take a backseat to all the things you must remember to make a successful move, but it's a major concern.
Younger people and seniors are often the most targeted, as they tend to be the most vulnerable and the least likely to spot an issue with cyber safety. Ahead, we'll provide you with cyber safety tips, the importance of internet safety for children, and outline some of the dangers of the internet.
Setting up a safe internet connection in your new home
Securing your internet connection
As you set up your new home, there are a few ways you can secure your new Wi-Fi network, including:
Change your network name: Routers come with a default name and can be a signal to hackers you haven't secured your network yet
Use strong passwords: Don't include any personal information in your passwords and make it around 16 characters
Purchase a Virtual Private Network (VPN): This allows you to create a private network across a public one for added security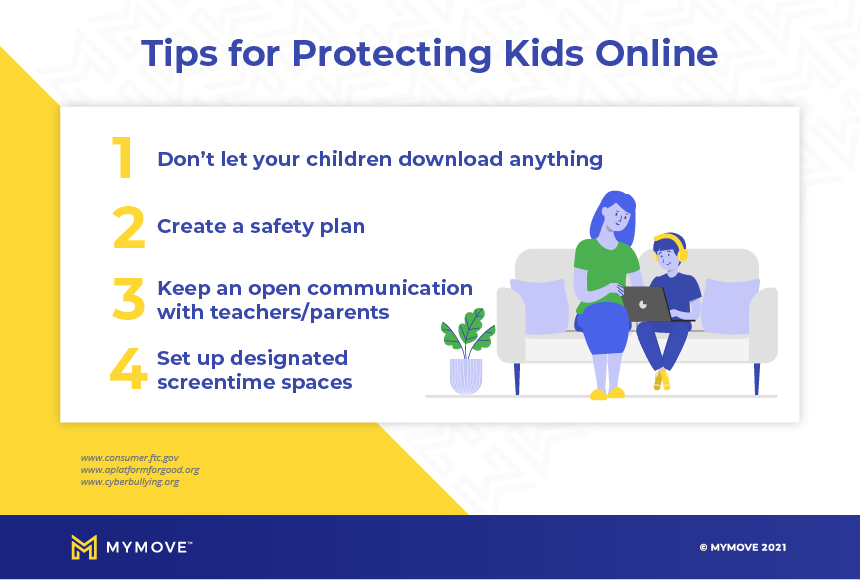 Youth safety online
Many kids across the country are experiencing blended learning, where they have internet-based assignments or classes and are required to be online part of their day. Kids have become incredibly vulnerable when it comes to internet safety, simply because of the amount of time they spend online.
Internet safety for kids often comes down to cyberbullying and online predators. This could be coming from their fellow students or adults who prey on children. It's critical that you educate your children on the safety measures that come with being online so that they don't get taken advantage of or find themselves in dangerous situations.
Moving to a new school and neighborhood can be stressful for any child, so keep in mind that they can be more susceptible to cyberbullying as they try to fit in with potential new friends.
Tips for protecting kids online
Don't let your children download anything: When it comes to cyber safety for kids, you'll want to keep an eye on any games, apps, or programs being downloaded on your child's devices. Something that looks like an innocent game to them might not be that at all, so you should oversee anything being downloaded, just in case.
Create a safety plan: Set up strict guidelines for your children's internet usage and make them aware of it. It's important to share with them how dangerous the internet can be, so they'll hopefully take it seriously. You don't want to scare them, but you want to educate them.
Keep open communication with teachers/parents: If you're a teacher, keep parents apprised of any unusual behavior you see in your students, as it could be a result of cyberbullying or other related concerns. If you're a parent and your child tells you they're having trouble with online schooling or internet safety, make the teacher aware.
Set up designated spaces: Make certain areas of the home designated for the computer and make other areas places where no computers will go. Online safety for kids might mean you don't let your child have devices in their bedrooms so that can be their relaxing safe haven. Or maybe they only use the computer in the kitchen where you can monitor them.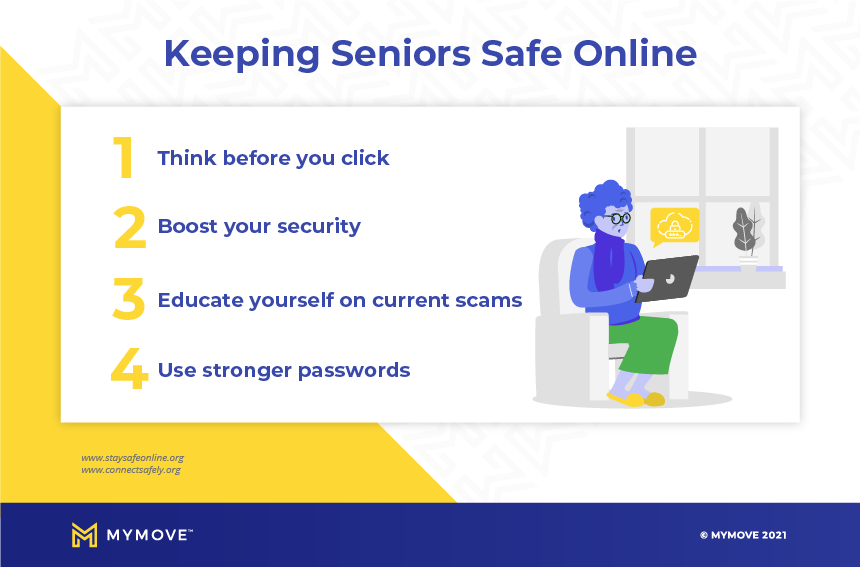 Senior safety online
Seniors are another group that is extra vulnerable when it comes to internet safety. This comes along with them being forced to do many things online that they perhaps didn't before, thanks to COVID-19. Many of them are now communicating with their family online, shopping online, and even paying bills online.
It may come as a bit of a surprise, but according to the IC3's 2019 report, almost 40% of all internet crime victims were over the age of 50. Their 2019 report showed that those over the age of 60 lost the most amount of money to internet scams. This can perhaps be due to the fact that those over this age are not as internet savvy, simply because they didn't grow up using it as the generation after them. They are more comfortable with doing things the old-fashioned way — in person — so internet scams don't jump out at them as much as someone a bit younger. Here are some internet safety tips.
Keeping seniors safe online
Think before you click: Ask yourself if something seems off before you click on it. Did you receive a message that you won a prize you didn't enter for? Did you receive a message from someone asking for money? Did you see a post about a video that seems weird but intriguing, but it was posted to a website you've never heard of? Ask yourself if something seems odd or too good to be true. Chances are, any of those situations could land you in hot water.
Boost your security: Install a VPN and use anti-virus software. If you aren't sure where to start with extra internet security, ask at your local electronics store. The employees will be happy to help you set up your computer so that it's more secure for you.
Educate yourself on current scams: If you watch the local news, you might hear about scams going around. The bigger scams hit the news, mostly so the media can put a stop to it. Don't feel like you have to do a google search for scams all the time, but just make sure you're aware of anything fishy going on lately.
Use stronger passwords: Password123 might be easy to remember, but it's also really easy to hack. Make your password as strong as possible by using uppercase and lowercase letters, numbers, and special symbols. Also make it longer rather than shorter. If you have to write it down to remember it, that's fine, just only write it down at home and keep it tucked away where only you can find it.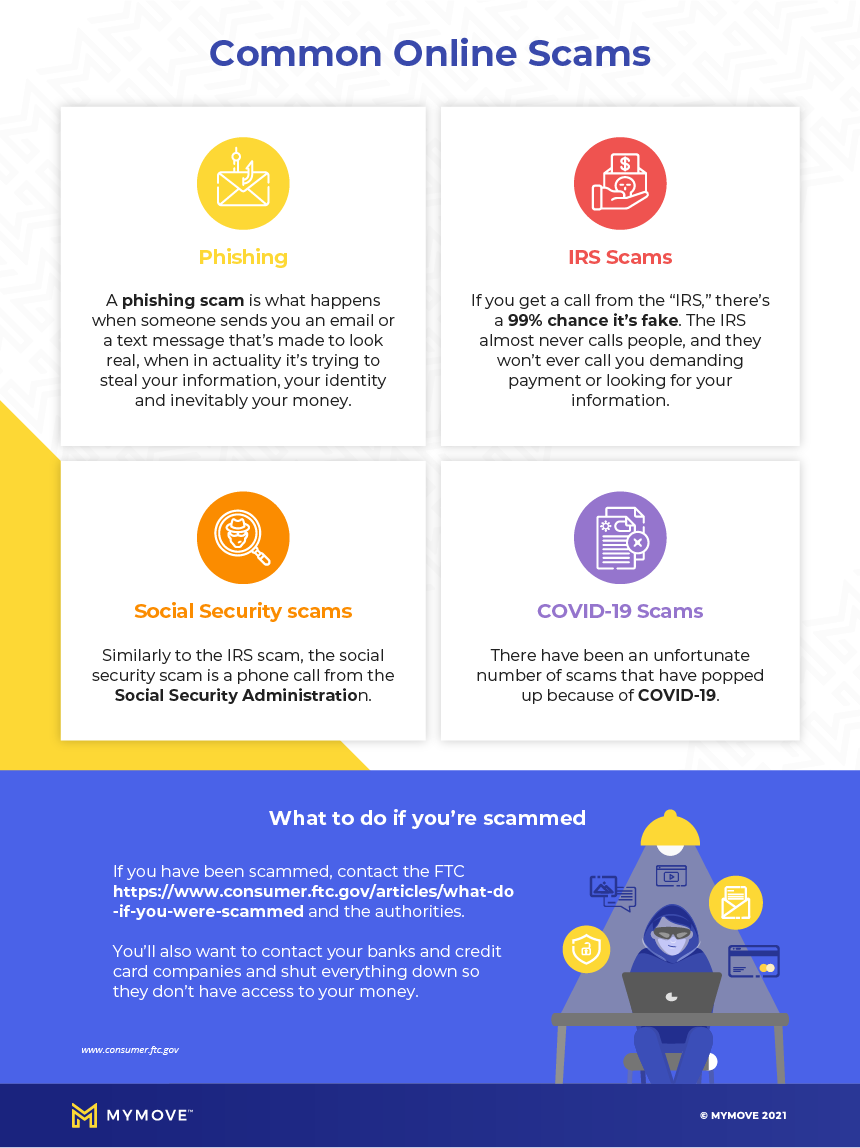 Common online scams
If you've asked yourself, "Why is internet safety important?" then perhaps this statistic will tell you the answer. According to the FBI's Internet Crime Complaint Center, "In 2020, the IC3 received 105,301 complaints from victims over the age of 60 with total losses in excess of $966 million." Nearly $4.2 million in victims' losses were reported as well. Seniors are not the only targets of scammers, unfortunately. The report found that there were over 88,000 victims between 30 and 39, and nearly 100,000 between 40 and 49.
No matter your age, to protect yourself and your loved ones from falling victim to these scams, you should familiarize yourself with what's floating around the web so you don't fall for it.
Phishing
A phishing scam is what happens when someone sends you an email or a text message that's made to look real, when in actuality it's trying to steal your information, your identity, and inevitably your money. You might get an email that looks like it came from Amazon and tells you to click on the email to input your name, phone number, mailing address, and any other information, and you might do it because it looks like it came from Amazon.
If you aren't expecting an email or text message from someone asking for your information, don't open it. If the email asks for your social security number, especially don't click on it. You can also look at the return email addresses for validity. The display name may look real, but the email address usually gives away if it is or not. It might say "Amazon" is the sender, but the email address is spam4u@ymail.com. Definitely not Amazon.
If you get a questionable email or text like this, report it to the FTC or the Anti-Phishing Working Group. They're always on the lookout for these scams.
IRS scams
If you get a call from the "IRS," there's a 99% chance it's fake. The IRS almost never calls people, and they won't ever call you demanding payment or looking for your information. As expected, these are people using scare tactics to get you to hand over your information and your money. If they're questioning your tax payment or the taxes you filed but you know you already did it, then you know it's a scam. If they call and say you owe money, tell them you want to call them back to verify the call is legitimate. Hang up the phone and call an official number for the IRS. (Or don't, because it's almost definitely a scam, but if you want to be sure, you can call.) If you get a call like this, report it to the FTC.
Social Security scams
Similar to the IRS scam, the social security scam is a phone call from the Social Security Administration. The call usually claims your number has been compromised, blocked, or stolen for nefarious use, and you need to pay a fee to clear it. Guess what? This doesn't happen. The Social Security Administration won't call you. Ever. And if something does happen with your Social Security number, this isn't how it will be handled. If you get a call like this, there's no chance it's real. You should report it to the FTC, though.
COVID-19 Scams
There have been an unfortunate number of scams that have popped up because of COVID-19. There have been some scams where people have created fake charities to get donations, and those can be hard to spot. Most charities have a 501(c), which you can verify online if you're concerned. You might even come across people tugging at your heartstrings with sad stories or looking for "love," all due to COVID-19, but it all comes down to trying to steal your money. Be extra vigilant with any posts about COVID-19 and report them to the FTC or FraudSupport.org.
What to do if you're scammed
First of all, if you get scammed, know you're not the first, nor will you be the last. It can be devastating and humiliating, but it happens to a lot of people. Hopefully, if you did get scammed, you have some sort of paper trail that you can use to get money back that might have been stolen and even lead the authorities to whoever scammed you. Most likely many others have been caught in the same scam.
If you have been scammed, contact the FTC and the authorities. Even if you're ashamed of falling for a scam, it's important to report it so that you can help put a stop to whoever took advantage of you. You'll also want to contact your banks and credit card companies and shut everything down so they don't have access to your money.
Internet safety resources
This is just the beginning of what you need to know about internet safety. It's so important to be vigilant, especially now when everyone is practically living on the internet. Making sure you're aware of online activity, as well as common scams, can keep you and your loved ones protected. Check out some of these resources to learn more and download them to print here:
For kids and parents
The FTC's website has plenty of resources for parents and educators, as well as more for kids to prevent cyberbullying and internet dangers: https://www.consumer.ftc.gov/features/feature-0038-onguardonline
A Platform for Good has guides for both parents and children to help them stay safe online: https://aplatformforgood.org/
The Cyberbullying Resource Center stays up to date with current online threats and has even tailored its guides toward COVID-19: https://cyberbullying.org/
Common Sense Media has a curated list of further resources for students, parents, and teachers: https://www.commonsense.org/education/articles/23-great-lesson-plans-for-internet-safety
For adults
The National Cyber Security Alliance has a wealth of information for staying safe from online dangers: https://staysafeonline.org/get-involved/
Connect Safely has a section dedicated to helping seniors learn what to watch out for online: https://www.connectsafely.org/seniors/