Ask an Expert: How to Help a Child Adjust to a New School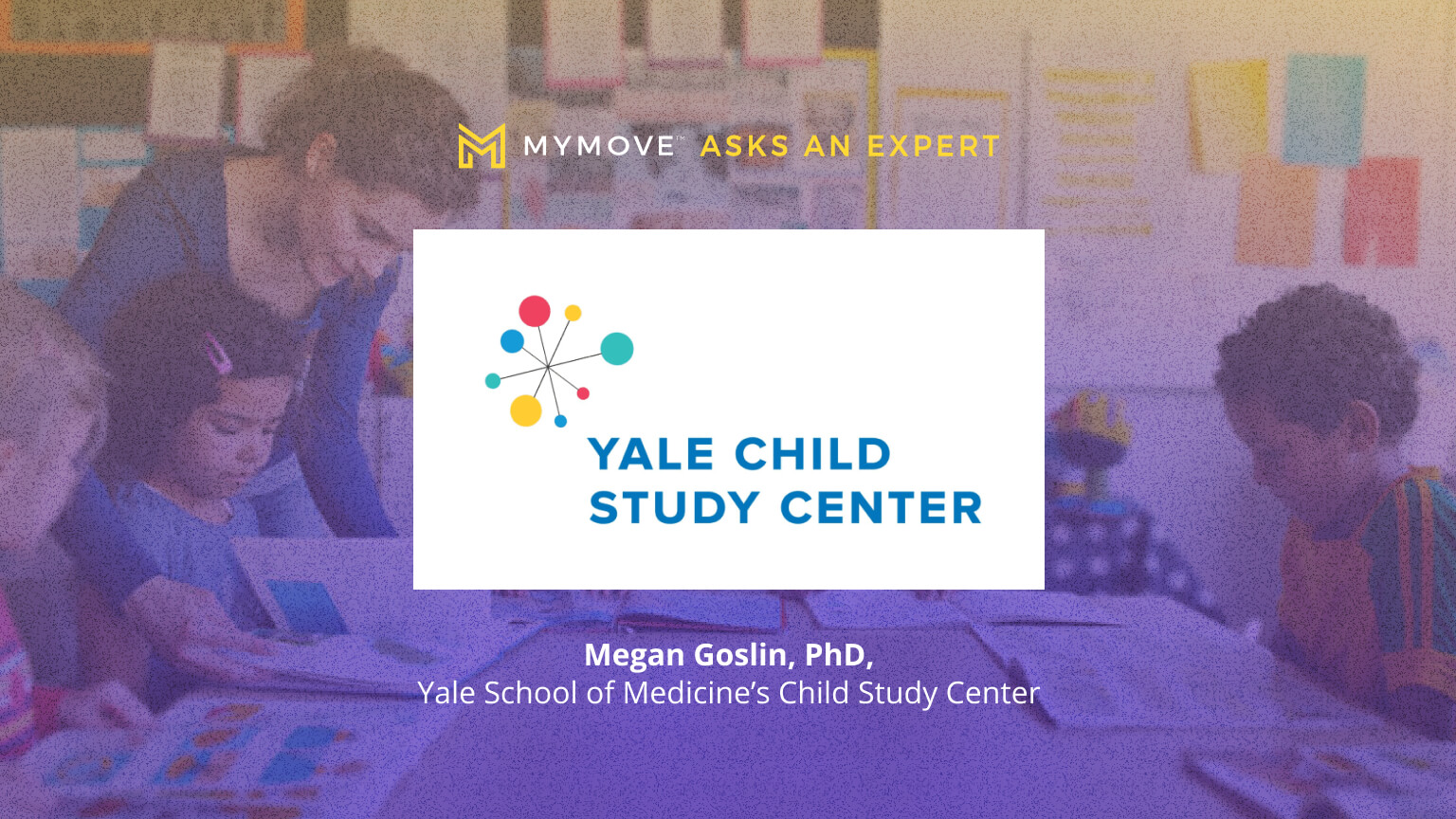 Moving is a lot to take on for anyone. For a child, it often means moving twice: to a new house and a new school. To learn how to make this transition easier, we spoke with Megan Goslin, PhD, a clinical psychologist and associate research scientist at the Yale School of Medicine's Child Study Center. Below is a lightly edited transcript of our conversation.
---
MYMOVE: What are some of the difficulties kids face when moving to a new school?
Megan Goslin, Ph.D.: When we're thinking about supporting kids during a move, we want to consider all the different transitions that kids can have on their plates.
Sometimes when a family is moving, it's for really good reasons for the parents. Maybe the parent has a new job. Maybe parents are moving because they think there's a better school fit for the child. There can be lots of really great reasons that make sense for adults, but children may not always see it that way.
So we want to think about all the different things that the kid is adjusting to. So if, for example, the move is occurring in the context of a parental divorce or separation, that's obviously something that the child is adjusting to in addition to all the challenges of getting started in a new school.
The point is that moves look really different for different kids. So if a kid is moving homes but staying in school districts that might feel much less disruptive than moving to a new state and having to start completely from scratch.
How kids are going to adjust also depends a lot on their developmental stage. I do think that moving is easier at certain ages and it can be more challenging at other ages. For example, if a kid has to move from their neighborhood elementary school, where it's relatively small and everybody knows each other, and they move to a middle school, where it's much bigger, they have to adjust to the changing schedule, different teachers — that can be a more dramatic move for kids.
But of course, when you ask kids what is uppermost on their mind — and everyone is different — they will often focus, understandably, on social issues. They'll talk about what they're leaving behind and what they're afraid of facing in the new context. And what they're leaving behind is often really good friendships and a familiar setting. Even if they don't have the words to say this, they're often worried about being isolated, not having any friends, or even worse, they're worried about being picked on, rejected, or bullied.
MYMOVE: When should those conversations about the move start and what should those look like?
Goslin: This one also depends on the age of the child. For very young children, time means something very different than it does to older adolescents. Young children are focused on the here and now and maybe the immediate future (next couple of days or a week, at most). I think how far out you want to talk about a move with kids depends on the kid's age, with generally more advanced warning for older children.
That said, kids are like sponges. Even very young children often pick up on what's going on around them in their environment. If parents are stressed and on the phone and making lots of arrangements and there's a flurry of activity, kids need to have an explanation for what's going on there, even at a young age.
Oftentimes when parents talk to me about having hard discussions with their kids, they often want to know the right things to say, which makes a lot of sense. But often the most important thing parents need to do is actually listen. Parents do need to provide some basic information, but then instead of rushing in to reassure, parents actually need to pause and stop talking and listen to what their children's worries and questions are.
Oftentimes, the things that are on adults' minds and the priorities and the things that are hardest for adults, are often really different than the things that the kids have on their minds — their questions and their worries. As parents, we really need to hear what the worries are and not assume we know.
And also, there may be some excitement, too. It's often a mixed bag for children. When kids are moving, there might be things that they're looking forward to. Maybe they get to have their own room and don't have to share a room with a sibling. Maybe there is a big backyard.
So there may be lots of mixed feelings, but the parents need to actually listen to the kid before they jump in with a bunch of explanations and reassurances that are actually really driven by the parents' own anxiety.
MYMOVE: What kind of warning signs should a parent look for if their kid is struggling?
Goslin: I think that an adjustment period to a new move is normative. I wouldn't think of it as a clinical level of concern if reactions are relatively mild and they're relatively short lived, meaning the kid ultimately settles in, is doing well academically, is making friends, is sleeping well, is eating well, seems to recalibrate to their normal self within a couple of months. I would consider that to be a normative transition time.
If, on the other hand, a parent is noticing very significant reactions like a child who refuses to go to school — even if that is only happening for a week — that could potentially have a really significant impact on the child's development. Or if a child is having really intense, dramatic mood changes, certainly if a child articulates anything about wanting to hurt themselves or wishes to hurt somebody else, the parent should act immediately. If the child's reactions are more intense, or if after a couple of months, the child is still not seeming to recalibrate, then it might be worth consulting with a professional.
Schools in many states are actually mandated to have mental health folks that are embedded right there. So that can be a nice first start: a school social worker, guidance counselor, or school psychologist. It's often a low stigma and easily accessible way to begin to get support, and that school-based professional may have good observations about how the child is doing at school. A pediatrician is another good resource that's not stigmatized and, of course, there are folks that do what I do — child mental health professionals in an outpatient setting, that could consult.
MYMOVE: Do you have any tips for parents who might be dealing with their own anxieties about this whole process?
Goslin: Unfortunately, sometimes a move isn't what the parent wants either. Maybe there was a job loss, maybe there's a separation. Sometimes when parents are feeling guilty or worried about the impact on their kids, we may skip over this step of validation that it's actually really hard for us, too. We may rush too quickly to that reassurance and, "Here's why it's all going to be okay."
Then that just feels really hollow to kids and feels untrue because it's not true. A much better strategy with oneself and with one's kids is acknowledging that, it is hard. Moving is hard. Changes in the world are hard.
There's research about the most stressful things that humans have to face in life and moving is up there. That doesn't mean that it's necessarily going to be really bad for all people. But just acknowledging the potential for high levels of stress and being kind with oneself can be very important.
Just like that adjustment period for kids, parents should give themselves some grace. "I'm not feeling like my usual self right now. I'm having a little more trouble sleeping. Maybe I'm more irritable with my partner or at work. That makes sense because I'm going through a lot." It is important to recognize the psychological signs and symptoms as being understandable in the context of our lives feeling and looking really different.
But I would say the same thing as for children, that if parents' reactions are very intense, or if the reactions persist for a period of time that feels like, "Gosh, I should have been bouncing back by now," then the adults should also think about getting support.
MYMOVE: Are there any strategies that parents can employ in the days leading up to school?
Goslin: Some schools will really welcome kids who are a little bit worried about going to a new school, and the administrators will allow the kid to visit beforehand. That can be a really nice thing, when the child gets acclimated to the space without having to simultaneously get acclimated to all the people in the space.
Part of what is hard about moving is that there's so much unknown and so much that's unpredictable. Kids feel like so much is out of their control. So it can be very helpful for kids when we make things as predictable as possible. Maybe the parent can practice walking the kid to the bus stop. They could practice a walk to school, or the drive to school. Strategies that increase a child's sense of predictability and knowing what to expect can help relieve anxiety and help kids feel more in control.
At the younger ages, sometimes school principals would even allow the child to meet their teacher without the other students being there. So that can be really helpful when the child is able to walk into a new elementary school and make eye contact with that adult who they already have started to make a relationship with.
Not all schools have the capacity to meet these requests, but it doesn't hurt to ask. Other schools have created web-based strategies and similar resources that support new students. There might be a virtual tour that the child can do of the building. The child might at least be able to see the school's layout and identify where the cafeteria and the bathrooms are. So that's worth checking out on the school's websites.
Dr. Goslin's five tips for helping a child adjust to a new school:
Listen to their worries without rushing to reassurance.
Acknowledge that moving is hard and it's going to take some time to adjust.
Practice walking to the bus stop or driving to school.
Arrange a meeting with their teacher ahead of time.
If your child is still having significant trouble after two months, you may want to speak with a mental health professional.