10 Ways to Add Glitz and Gold to Your Home Interior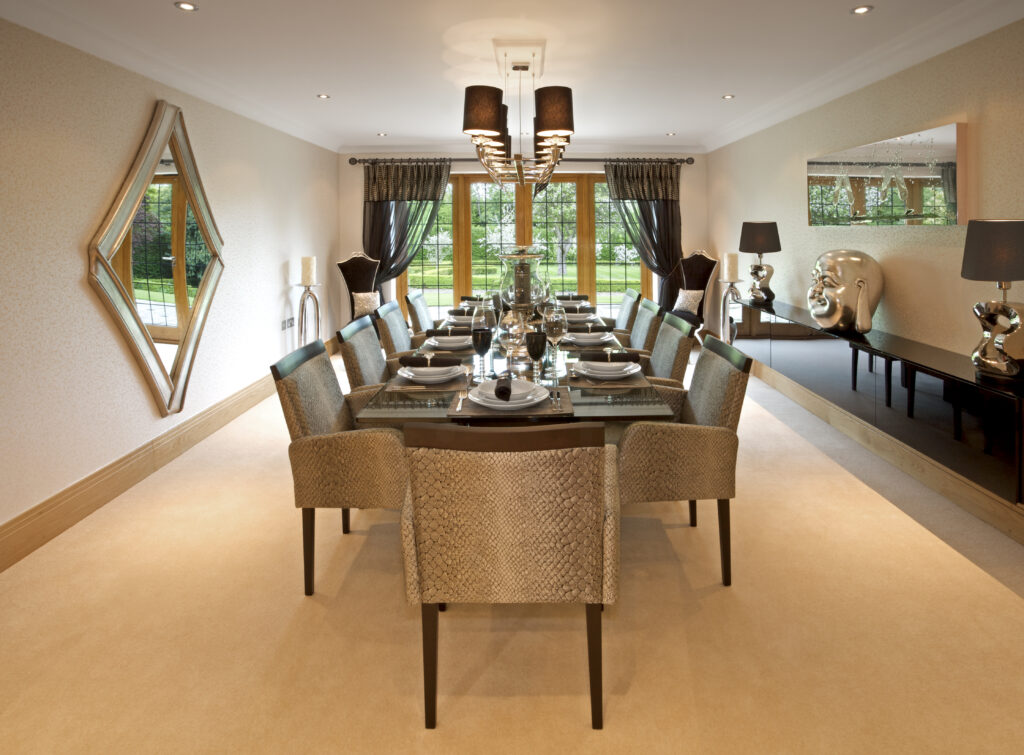 With the holidays just around the corner, it's very likely that your to-do list is shaping up to be rather intense. You want your home to look glamorous and well-decorated for visitors and dinner guests. However, isn't that what you want year-round—a glitzy, glamorous home?Gold accents are a hot trend right now and we dare say that this classy trend may be here to stay. Luckily, there are some easy, fun and surprisingly inexpensive steps you can take to add gold to your home interior.Here we will show you how to add year-round touches of glamour, gilt and gold to your home— without it looking tacky or overdone.
1. Chandeliers
A chandelier is the best place to start infusing your home with shine. We recommend that you choose an elegant chandelier that adds a bit of whimsy to your room.For instance, choose one that is not heavy on the metal, but has more glass, with a touch of gold on the arms. This will give your dining room, living room, den, or bedroom a more elegant feeling.Yes, chandeliers are not only just for dinging rooms anymore—consider adding one to an unexpected room for added glamour.
2. Gold Furnishings, Fabrics & Paints
Gold furniture is hot right now!  Look through any current decorating magazine and you are certain to see elegant rooms that have hints of gold and glitz placed strategically throughout the room.How can you pull off this look without making your home look tacky? Try swapping out your curtains, linens, area rugs, pillows and other fabrics throughout your home with ones that have hints/accents of gold colors. Or switch one neutral- colored wall to an accent wall of glimmering gold paint. If a wall seems to daring, then consider painting an accent piece such as a coffee table in gold paint.If this seems to be too much gold for your taste, consider adding a few throw pillows that have specks or swirls of glittery gold trim running throughout—- big or small your home deserves some glamour!
3. Take It To The Table
Any table in your home can be glamorized by adding a simple gold runner that is perfect all year long. Paired with the perfect centerpiece, this becomes an understated way to make a gold statement in your home.If you are hosting a special dinner, you could decorate the table with gold place settings, gold napkins, and get out your good china – perhaps rimmed in gold – for that added glitz and glamour.Even something as simple as some gold decorative balls place in a gold-rimmed bowl or golden tray can add the perfect hint of glitz to your home. Look to the modern decor on the side table in the image below —two small gold birds sit atop the gold table, making it a perfectly elegant way to add a hint of gold.
4. Gold Accessories Add Sparkle
Not all candles are meant to burn and this is particularly true when it comes to adding a touch of gold to your home décor. Try adding a few over-the-top glittery gold candles to your table or an end table in the living room and watch a little shine go a long way.If candles are not your thing, then consider accessorizing a tabletop with a runner in a shiny gold fabric, topped with a glass vase filled with gold decorative balls—there are so many ways to create a glitzy, glamorous centerpiece .And remember to arrange your centerpieces or arrangements following the rule of three—it's a great interior decorator secret that is fool-proof.
5. Gold Hardware
Brass is back! No, we are not talking about those 1980's shiny brass fixtures, rather the new brass remains shiny, but in a much more modern light.Look to the kitchen in the image below—the brass hardware adds a bright more formal touch to an other wise simple kitchen.Consider adding gold accents to your home through brass hardware, fixtures, and accessories. If shiny gold seems too much for you, then consider an aged brass finish that allows you to add sheen without being too flashy.
6. Window-Wide Upgrade
The great thing about gold as an accent color is that it can be paired with practically anything. Add a single gold sash to the top of your curtains for a glamorous touch.If you're looking for something a little more bold, try putting gold sheer curtains directly over the top of the curtains you already hung and give them a stylish new dimension.If you're not into changing up the curtains, you might consider just changing up the curtain hooks. Generally easy to remove and change out, adding a pair of gold, glittery curtain hooks can give you that sophisticated touch you're looking for without requiring a full curtain make over.
7. Framed In Fashion
One of the most simple gold accents to add to any wall or table in your home is a picture frame. Simply replace frames you have with intricate gold borders and watch your walls take on a new and glamorous life.If you like the frames you have, but want to make them glitzy, consider using gold leaf. You simply brush on the gold leaf using specific glue, and then viola – you have amazing gold frames in the style you already love. Plus, your home immediately looks more expensive and elegant.Take a cue from the picture arrangement in the image below—it certainly adds understated elegance to this bedroom.
8. Golden Accents
Most home goods stores host a home décor section and it's here that if you get digging, you'll usually find some amazing sales on single gold accent pieces such as floral designs or even sparkly metal abstract pieces.Arranging these single pieces together on your wall, much like a bouquet, can give you a glamorous, golden statement piece that is easily interchangeable when the holiday season comes to a close.You may also consider hanging a few sconces throughout the home that are gold-plated for a little more glitz or copy the idea in the image below by adding a gold room divider.
9. High-Class Columns and Trims
You don't have to renovate your home's entrance to add a sophisticated golden column to your home's décor.Interior-sized foam or plastic columns are available to fit corners and edges in your home, and can be spray painted gold or given a little spritz of glitter spray.The best part is they can be moved from place to place to fit your changing home designs. Also, these columns can be cut to size and used to create upscale-looking end tables that are perfect for a lightweight lamp.
10. Light Up Your Style
Lamps are a great place to start when looking for easy ways to add gold to your home's interior lighting.Pairing a neutral lampshade with a gold base can give any corner of your home a brilliant new style! Lampshades can also add some sparkle to you home.Try finding a basic black lampshade that has a gold lining on the inside of the shade—the light reflects of this golden interior and truly lights up your room with a wonderful, golden glow. In addition, similar to the picture frames, you can spray your current lamp bases gold, which will reduce your expenses while still making your home go from drab to fab.
When it comes to adding gold and glitz, the power of the overall effect is in the placement. Don't overdo it, just trust that purposefully placed accent pieces throughout the house will deliver the sleek and subtle glamour your home deserves all year long – and not just during the holidays.What is your favorite way to add glamour your home?