How To Infuse Glamour Into Your Interiors (Without It Feeling Too Over-The-Top)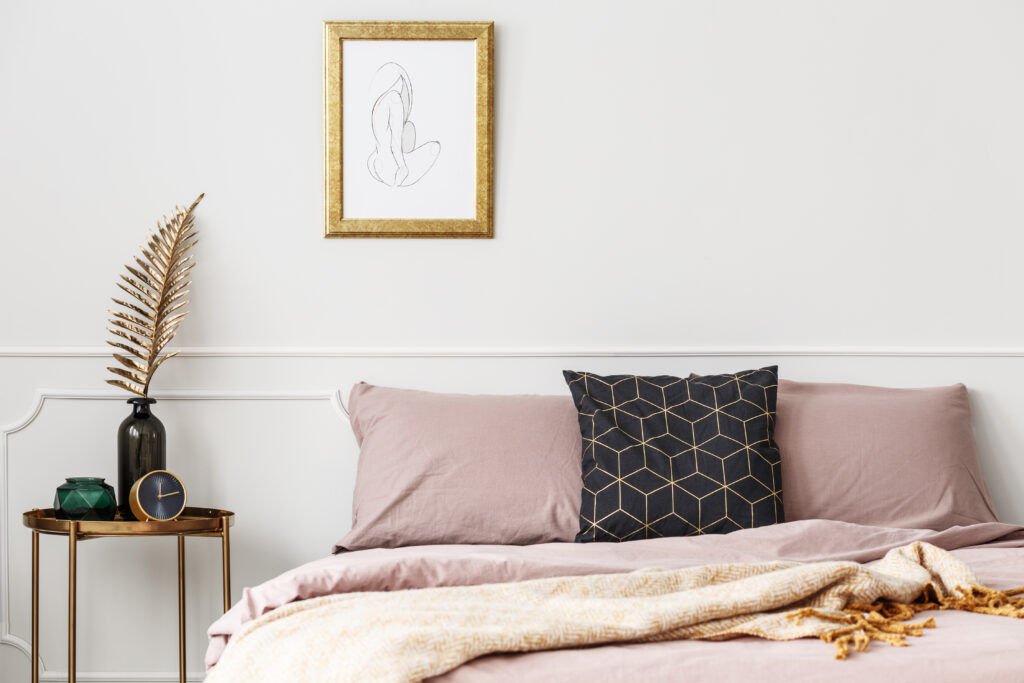 Some peoples' personalities are just meant to shine. If you fit that bill, there's no reason why your interiors shouldn't do the same. Glamorous designs, featuring plenty of glitz, sparkle and show-stopping shine, are simple to put together if you follow the right steps. Here's how you can make it happen in a way that feels properly balanced, rather than over-the-top, ensuring all eyes end up exactly where you want them.
Go bold with colors and prints
Glamorous interiors are all about making a big statement, and there's no better way to do that than with bold colors and loud patterns. Start by picking a color or pattern that speaks to you, and build the rest of your design around it.
Whichever look inspires you, remember the 60-30-10 rule (when using a three-color palette, decorate 60% of a room with the dominant color, 30% with the secondary color, and 10% with the remaining color). Typically, we'd recommend having a neutral shade as the dominant color, but feel free to switch it up. However, if you do choose a bold hue to cover 60% of the space, add neutral touches throughout the rest of the room, creating places for the eye to rest.
Make sure that any other colors utilized in your design compliment your bold hue. If needed, review the color wheel to determine which shades work best together. Once you've chosen a palette of 2-3 shades, repeat each one a few times throughout the design. Repetition helps bold colors feel easier on the eyes.
Play with shape
Shape is also a great way to infuse plenty of personality into a room. Instead of building your design around the same boxy, almost-modular furniture pieces everyone else uses, hunt down pieces with more character. Focus on selecting furniture that's full of elegant curves and lots of angles to add visual interest.
In addition to furniture, keep an eye open for other opportunities to disperse interesting shapes throughout your design. Light fixtures are a great way to do this, as are accessories and décor items. It's tempting to want to play around with a variety of different shapes and sizes, but again, we suggest picking 2-3 and repeating them in various applications, giving your space a sense of cohesion.
Introduce plenty of shine
When introducing glamour into a space, shine is an absolutely essential component for catching eyes and demanding attention. Make sure to include plenty of it in your design.
As for how to make it work, there are a few different tactics to choose from. The first is to introduce shine through your lighting elements.  Use metals, crystals, or both to create visual impact. If you go this route, we suggest making the lighting fixture your focal point. Consider hanging a bold fixture above a formal dining table, in an entryway, or above the bed.
Metals are incredibly on trend right now, and are another element you can use to easily incorporate more shine into your design. You can choose any metal that fits your aesthetic—or even go for a mixed application—but be sure to opt for a polished finish, which will give you maximum shine. Brushed or oiled finishes are a little duller.
Don't forget balance
Balance is key for making your glamorous interior design a success. While eye-catching pieces are a must, including too many of them will have an opposite effect, causing the room to appear (and feel)overwhelming. It's hard to focus when so many elements are vying for attention.
Creating enough balance for the room to feel unified is all about striking a compromise. If you're opting for a bold pattern, consider choosing one that uses neutral colors. If a piece of furniture features a bold hue, make sure it has straighter lines. If you've found the perfect statement piece for a room, highlight it by making the rest of the space a little more subdued in comparison.
Eventually, you'll find a sense of balance that works well with your style. Until then, we recommend relying on your instincts. As you put the room together, step back every so often and take it all in. Pay close attention to how the room makes you feel. If you feel overwhelmed—or even underwhelmed—don't be afraid to tweak your design until it feels just right.Glamorous décor items aren't hard to find, but bringing them together in a way that makes sense requires a little more effort. On the one hand, you'll want to include enough glitz to allow your personality to shine through. But, on the other, it's important to keep you design from becoming too over-the top.
Have you been searching for ways to add more glamour into your interiors? Which design elements are glamorous must-haves for you? Tell us in the comments.