10 Creative Ways to Use Columns as Design Features in your Home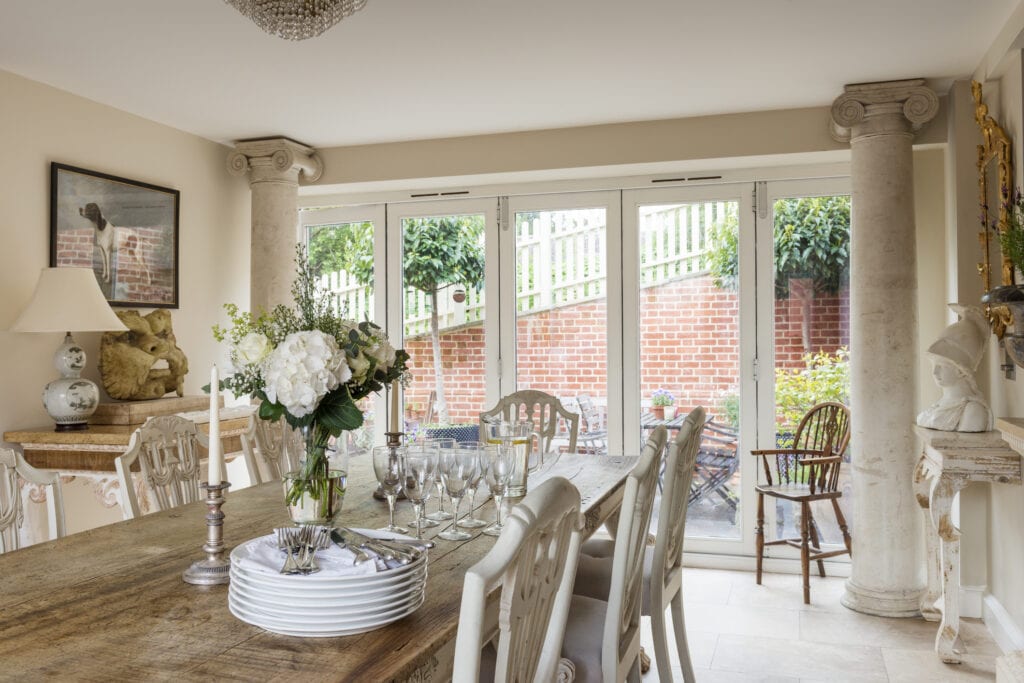 Shop These Products Now: Patio Sofa – Planter Pots

Throughout architectural history architects and designers alike have had to find creative ways to address the issue of structure versus aesthetics in building homes. Columns are one of those design challenges that are essential for structural support to carry the loads from the roof, upper floors, or other weight bearing loads down to the ground to support your home. While you may think that columns have to be covered there are some gorgeous ways to display them proudly! Here are 10 creative ways to use columns as design features in your home.

[deals-hub-ad]
1. When designing your home think about the structure first:
If you are fortunate enough to have a hand in the design and aesthetics of your home, talk to the structural engineer and architect about options for creatively addressing columns. Especially in large great rooms such as living and family rooms or open kitchens that may have a second story above, ask the design professionals if you can plan how you will use the space so large columns aren't stuck in inopportune places if possible.
Shop These Products Now: Modern Coffee Table – Throw Blanket
2. Plan your furniture layout around your columns:
For many homes columns can become the focal point of your space. Exterior decks are a great example of how wood, stone, stucco and brick can be creatively displayed as column wraps and outdoor furniture seating arrangements can use similar materials and colors to play off of the aesthetics. Don't be afraid to try and plan your furniture around the columns for an enjoyable seating arrangement for guests.
3. Adding luxurious details with the addition of columns 
If you want to add grandeur and scale to your interiors, there is no better architectural feature than columns. Classical columns with eye-catching capitals (the top of the column) can be displayed as basic Doric and Tuscan style with simple lines or can be as elaborate as Corinthian style with intricate leaves, swirls and detailing. Used in a main foyer or even in your large master bathroom will create a luxurious and classical atmosphere.
Shop These Products Now: Antique Wall Mirror
4. What architectural style of columns could your home benefit from?
Architectural periods have come and gone and there are features from every period that characterizes how they addressed structure and columns. Consider researching architectural periods or asking an architect what style of columns would match the architectural theme of your entire home. This will help keep your home true to a specific design era.
5. Create a focal point using greenery around your exterior columns
While you may only think about columns for utilitarian uses they can also serve as creative focal points, especially on an outdoor patio or terrace. Trellises and arbors have always used greenery to vertically display greenery and so can columns. Ask a landscape designer what type of foliage is ideal for climbing or clinging onto your specific exterior materials. Climbing ivy is a popular climbing plant in the United States and can be used vertically and horizontally in outdoor applications.
Shop These Products Now: Hedge Roll Decor
6. Choosing the best material for your interior columns
Depending on the design style of your interiors, consider what type of material will work best in your home. For many chic urban lofts the appeal of exposed steel columns that can be painted or left unpainted is a design aesthetic many love for their industrial-inspired homes. While if your home lends itself more towards refined and traditionally appointed interiors then drywall wraps around columns are a beautiful way to finish off an open basement or large room.
7. Customize your interiors with faux columns
While the original intent of columns were solely structural, designers and architects have found that using non-structural or faux columns to create a certain aesthetic in interiors is a great design element. Non-load bearing columns look beautiful in foyers and entryways and look beautiful in a colonnade on your outdoor porch.
Shop These Products Now: Wooden Dining Chairs – Curtains
8. Using columns as design elements in your home
Another design element to consider: use columns as the base for bookshelves, display niches and other creative display areas in your interiors. Many architects use columns to flank a fireplace on both sides and use built-shelves to display books, entertainment center media, sculptures and more.
9. Don't assume a column can just "be removed" in your design
Many homeowners when trying to renovate or modify their homes take the careless assumption that they can just remove a column in order to open up a room or create a desired look they are going after. Consult with a structural engineer before deciding to remove existing columns. Damage to your home can result if removed or you and others can get seriously injured in the process.
Shop These Products Now: Lounger Chair – Wooden Patio Sofa
10. Add visual focal points to break up outdoor spaces with columns
While columns are used for structural purposes they also serve as wonderful ways to break up outdoor space. A colonnade of columns aligning an outdoor entertaining space or used on a veranda overlooking a pool can look gorgeous. Try using the same materials of your exterior home to clad exterior columns for a pulled together and integrated look to your outdoor home.Freshome readers tell us how you useolumns in your home to create a home you love to live in.