The House coupons and promo codes
Moving often brings money-related stress. Let us help you save with some amazing The House deals. We refresh our website every day, but note that offers are subject to vendor exceptions and amendments.
How to redeem your The House coupon
Click "Continue to store" to navigate to the The House website.
Add your merchandise to your shopping cart, and proceed to the checkout by selecting "Credit Card" or "PayPal."
Type in your email so they can inform you when your order is shipped, select the ship or pick up delivery method, and add your shipping address.
Add you payment details, and select whether your billing address is the same as your shipping address.
Add your The House coupon codes where the system asks for a discount code or gift card, and click on "Apply".
Review your order and click on "Complete Order."
The House customer support
Contact the customer care team by calling (800)409-7669, or chat in real-time via live chat on their platform. Or fill out their digital contact form explaining the nature of your query.
Customer service representatives are available Monday-Friday between 10 a.m. and 6 p.m. CT, and on Saturdays from 10 a.m to 5 p.m. CT. Sunday customer support hours are from 12 p.m. to 4 p.m. CT.
The House delivery options
The House deals can be shipped to locations throughout the USA, Canada, and globally. Curbside pickup options are also available to customers in Minneapolis from Mondays through Fridays between 10 a.m. and 7 p.m. CT, and on weekends from 10 a.m. to 6 p.m. CT.
Orders more than $50 have free ground shipping and:
Take approximately 3-6 working days.
Come with an email confirmation when your parcel is about to be shipped.
Only qualify for free ground shipping in the contiguous USA.
The House return policy
Please adhere to this return policy for The House deals:
The House accepts returns on all merchandise returned to their warehouse within 90 days from the day the products were shipped.
Customers need to fill in a refund form to be eligible for a refund.
Returns must be sent back with accessories and tags.
Items must be in its original condition, unused, unwashed and not worn.
Use your product's original packaging when sending it back.
Bikes must be returned within 30 days, post delivery.
The House trade-in policy
There is no trade-in policy for The House.
The House price matching
The House has a price matching guarantee, although it cannot be applied when used in conjunction with The House coupon codes. For non-coupon deals, they will match the price if it's from a bona fide online dealer, and if the merchandise is identical.
How it works
We have discounts and coupon codes from top brands across a number of categories. If you're searching for a Wayfair coupon, look under "furniture" or "home improvement and decor." To get your hands on an Amazon coupon, look under "top retailers."
Find deals for whatever you need and explore offers from popular retailers like Home Depot, Kohl's, Walmart, Dollar General, and Nordstrom. And get insider information on sales, free shipping, BOGO deals, and more!
How do I get a coupon code?
Once you find the offer you want, simply click "get deal" on the bottom right corner. The offer will be a promo code that you can manually copy, or that automatically saves to your pasteboard. Simply apply your deal at checkout!
Do coupons and promo codes expire?
We show you the latest offers from your favorite brands. But once you access your offer, don't dally! Some deals don't last forever, so check the top right corner of the offer and make a note of the expiration date.
But if your deal does expire, have no fear! Our system updates coupons daily, so you can find the latest discounts on the things you want and need.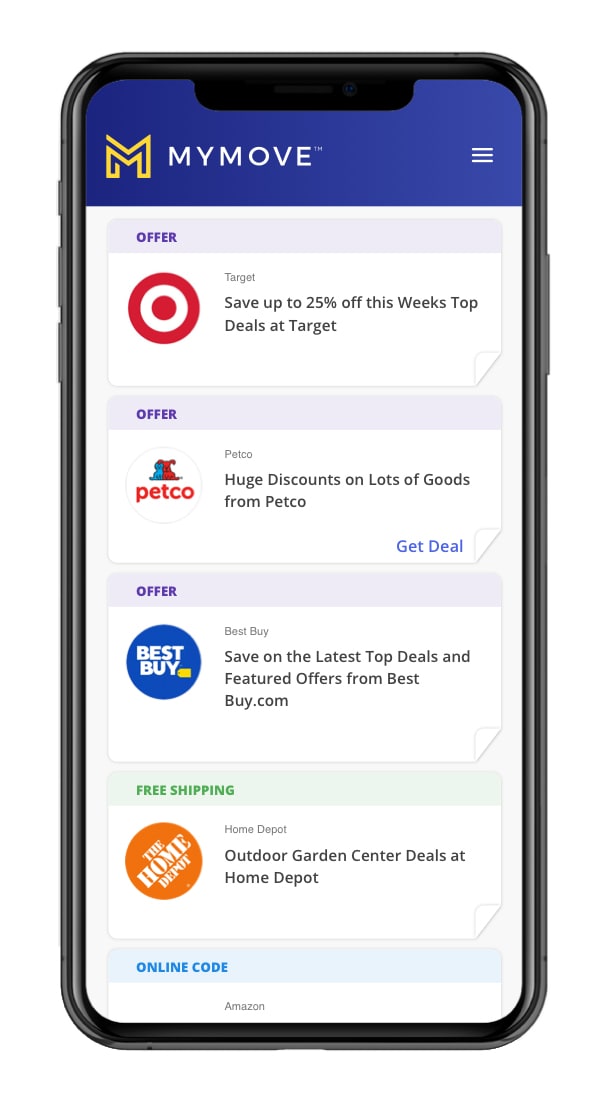 Learn money-saving tips and tricks