9 Ways to Modernize Your Outdated Kitchen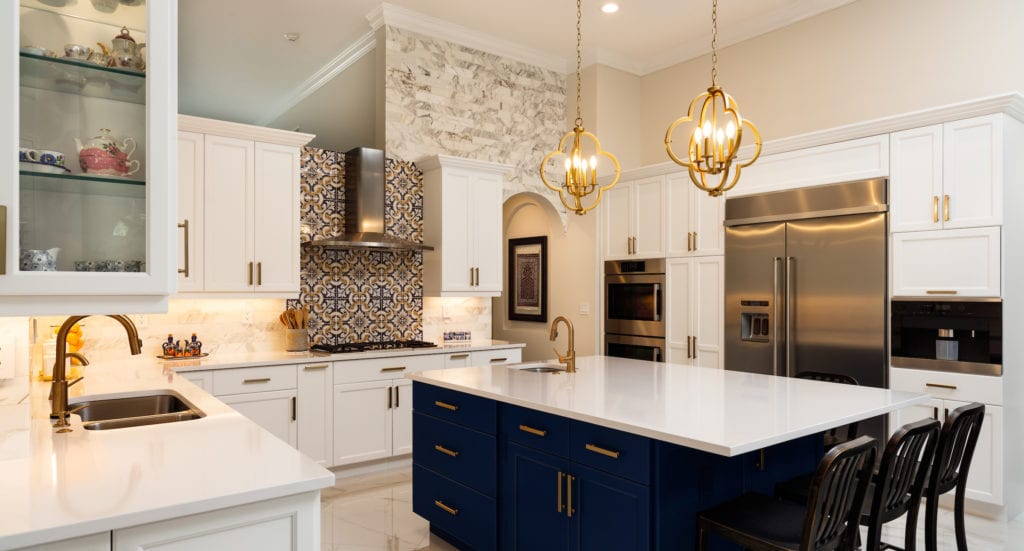 Whether your kitchen is a true fixer-upper from decades ago or your once-trendy laminate countertop and linoleum flooring fell out of style fast, it may be time to modernize your outdated kitchen. With new design trends showcasing creative uses of colors, modern appliances, and functional design, there are endless ways to bring your kitchen into the present day. Whether you are trying to sell your home, or if you plan on staying in your space for generations to come – these ideas can help you transform your kitchen into the cooking space of your dreams.
1. Upgrade your metals
Outdated kitchens were made with materials that were popular decades ago, including metals used for kitchen hardware. With manufacturers releasing new and innovative materials, it may be time to rethink your drawer pulls and lighting fixtures. Try a few of these modern metals in your kitchen cabinetry, lighting fixtures, and range hood.
Matte aluminum
Stainless steel
Brushed gold
Copper
2. Swap out your flooring
Flooring is a large part of your kitchen that is often forgotten but plays a major role in bringing your entire kitchen together. If your flooring is keeping you in the past, try switching from your traditional rolled vinyl or linoleum flooring to a more resilient, timeless material like wood, tile, or stone. These materials will last longer as well as boost the value of your home. You can also try ceramic tile or slate.
3. Consider replacing kitchen appliances
Age is usually the deciding factor in what makes something considered 'old'. And for some, old can also mean outdated. If you have older kitchen appliances, consider replacing them with new, stainless steel ones. The older an appliance gets, the more likely it is to break down too. You can save yourself a future headache and modernize your kitchen at the same time.
If an appliance upgrade is in your future, you may choose to go the energy-efficient route. You'll get a modern look while saving water and energy — good for the earth and your bills.
4. Update your countertops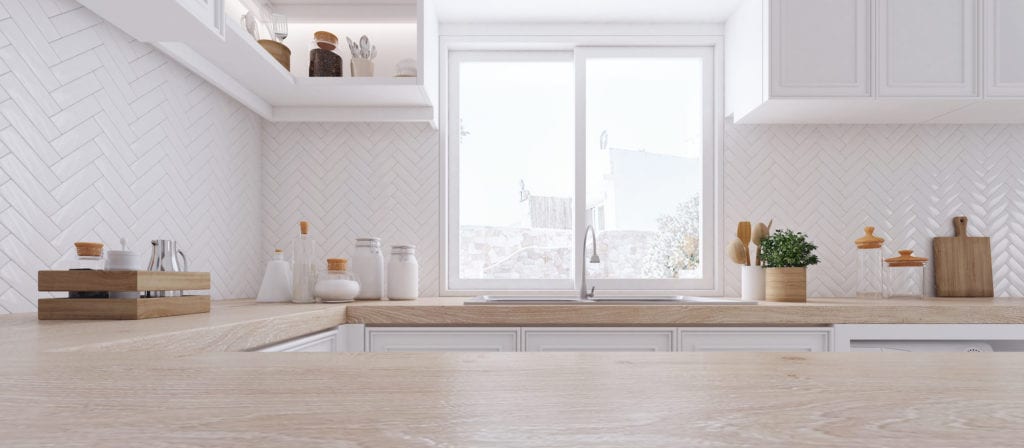 Your countertops also get a large portion of real estate in your kitchen. While outdated kitchens may have the inconvenient tile-and-grout or cheap vinyl for workspace, the variety of countertop surfaces options out there today are endless. From solid surfacing to natural stone, there's an option for everyone's style and budget. Here are a few material options for your new modern countertop.
Marble
Granite
Soapstone
Wood
Quartz
Tile
Brick
5. Have seating available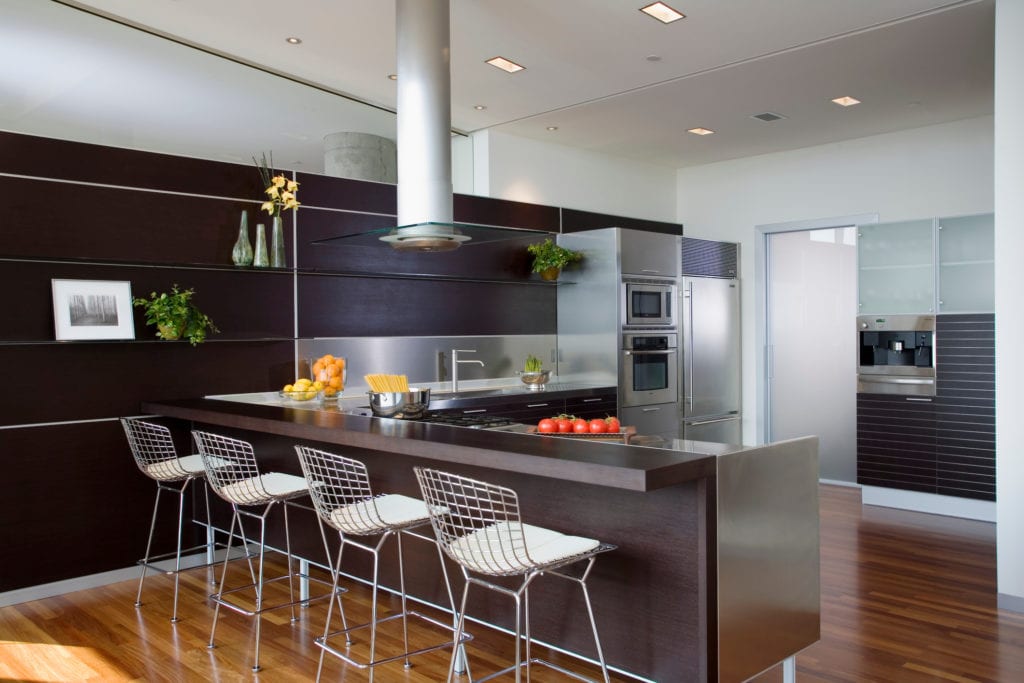 Your kitchen is most likely the busiest area of your home and the place people are most likely to gather in. Modern kitchens embrace this by adding seating to the kitchen. Whether you choose countertop stools and seats at a breakfast bar, or you opt for a banquette or bench at a window side table, seating can make your kitchen have a whole new appeal.
6. Paint your existing cabinetry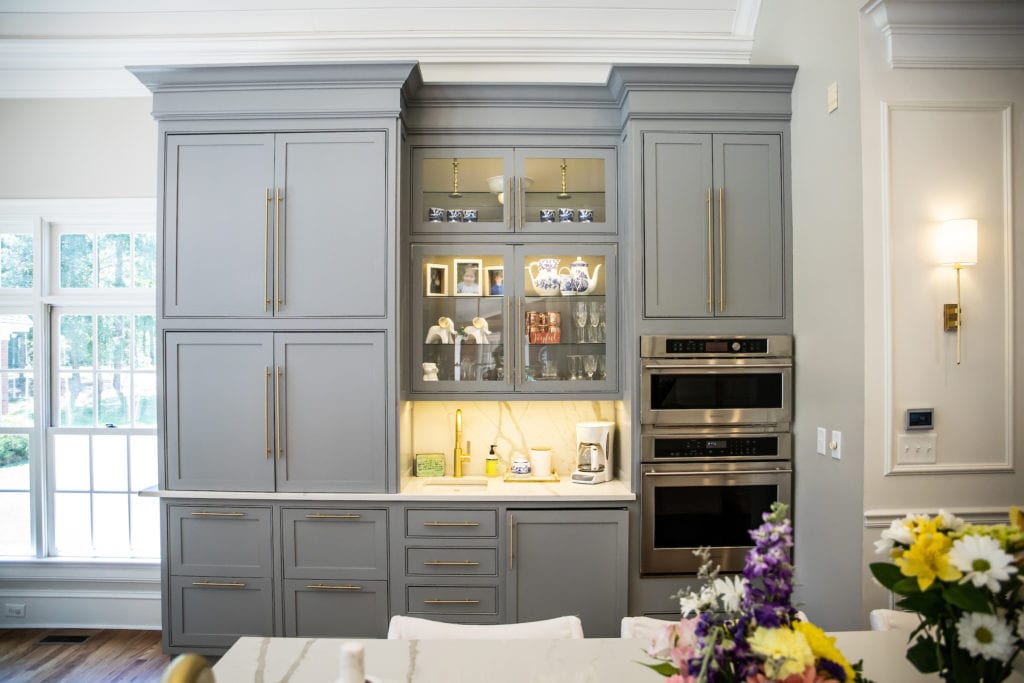 Are new cabinets not an option for you? Painting and staining your kitchen's existing cabinetry is a great option for homeowners on a budget. From distressing doors to paint glazes and stains, you will be surprised how your elbow grease and some additional color will transform your old cabinetry into new. Here are a few color options to gleam up your cabinetry. 
Black
Coral
Cream
White
Navy blue
Forest green
7.  Install new lighting options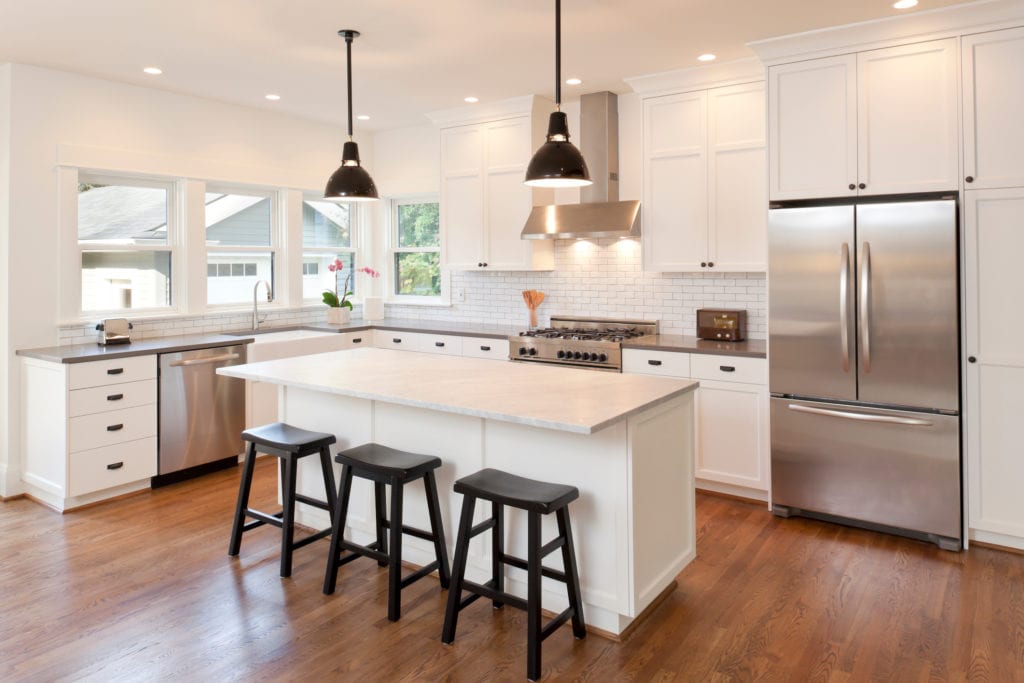 Don't forget the lighting! While kitchen lighting can sometimes be an afterthought, it is essential for the safety, ambiance, and versatility of your kitchen. If your kitchen solely contains one overhead ambient lighting fixture, look into recessed lighting for a modern illumination source.
Consider installing a dimmer switch for versatility while entertaining, cooking, or just relaxing for a midnight snack! Pendant lighting over a kitchen island, under cabinet lighting to illuminate countertops, and chandeliers are all becoming great options for updated lighting sources.
8. Add decorative elements
Your kitchen is a great place to add decorative elements that bring a sense of personality and lifestyle into your kitchen. Need some inspiration? Here are a few kitchen decor ideas.
Place shelves on top of cabinets for plants and artwork.
Showcase your favorite cookbooks or china sets.
Add a vase of flowers to the counter.
Put out a bowl of fruit for some color.
9. Give your walls a new paint color
Painting your walls can be done anytime – no need to wait until your next home renovation. A new coat of paint can breathe new color and life into any room, so why not touch up the kitchen? For an extra little touch, you can make your kitchen blend well with any adjacent rooms by choosing a complementary color. If you have brick or tile on your walls, you can try painting over those as well
The bottom line
From updating finishes and materials to bringing in color, illumination, and space, there are options abound for your outdated kitchen. Pick out what's right for your home and give your kitchen that modern face-lift it deserves.