How to Modernize Your Outdated Kitchen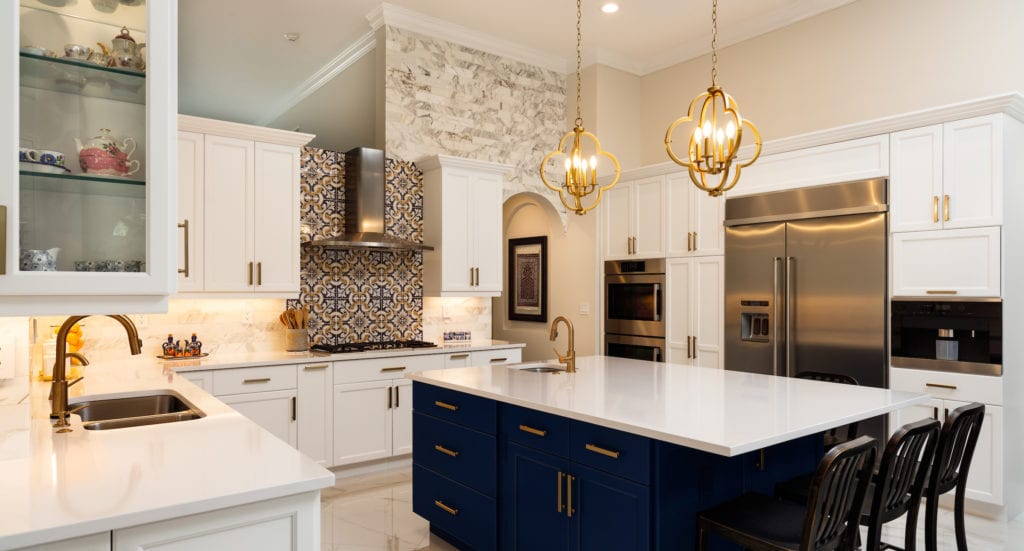 Whether your kitchen is a true fixer-upper from decades ago or your once-trendy laminate countertop and linoleum flooring fell out of style fast, it may be time to modernize your outdated kitchen. With new design trends showcasing creative uses of colors, modern appliances, and functional design, there are endless ways to bring your kitchen into the present day.Whether you are trying to sell your home, or if you plan on staying in your space for generations to come – these ideas can help you transform your kitchen into the cooking space of your dreams.
Here are 10 creative ways to make your dull, outdated kitchen feel new and inviting once again.
Shop These Products Now: Chandelier – Antique Faucet
1. Upgrade your metals
Outdated kitchens were made with materials that were popular decades ago, including metals used for kitchen hardware. With manufacturer's releasing innovative materials and design trends following suit, it may be time to rethink your drawer pulls and lighting fixtures.Metals going modern in kitchen design include matte aluminum, stainless steel, brushed gold, and copper – try these materials out in your cabinetry hardware, pendant lighting, and range hood options.

Shop These Products Now: Wooden Tiles Flooring – Dining Chairs
2. Swap out your flooring
Flooring is an area of your kitchen that is often forgotten, and yet plays a major role your entire kitchen. If your flooring is keeping you in the past, try switching from your traditional rolled vinyl or linoleum flooring to a more resilient, timeless material — we're talking wood, tile, or stone.These materials will last longer as well as boost the value of your home. In recent years, ceramic tile that mimics the look of hardwood has become popular, as well as travertine and slate.

Shop These Products Now: Dinnerware – Wall Shelves
3. Consider removing your upper cabinetry
Many outdated kitchens were built to include walls and walls of upper cabinetry to house dishes and cookware. Often times, these cabinets consume the eye and make the kitchen feel crowded. If you're looking to open up the space of your kitchen and don't have and room to grow outwards, consider removing the upper cabinets. This frees up the wall, allowing for modern open shelving with a few decorative items and dishware.

Shop These Products Now: Utensil Holder – Countertop Accessories
4.  Modernize your countertops
Your countertops also get a large portion of real estate in your kitchen. While outdated kitchens may have the inconvenient tile-and-grout or cheap vinyl for workspace, the variety of countertop surfaces options out there today are endless. Foom solid surfacing varieties that consist of resin and polymers to natural stone varieties such as marble and granite, there's an option for everyone's style and budget.Over the last few years, designers are becoming increasingly creative and are using heavy-duty structural materials for countertops. So add concrete, brick, tile, to your list, too.

Shop These Products Now: Fruit Bowl – Counter Chairs
5. Give people a place to sit
Your kitchen is most likely the busiest area of your home, and the place people are most likely to congregate in. Modern kitchens embrace this by adding seating to the kitchen. Whether you choose countertop stools and seats at a breakfast bar, or you opt for a banquette or bench at a window side table, seating can make your kitchen have a whole new appeal. Busy families with children doing homework to parents entertaining friends while cooking make seating essential in your modern kitchen.

Shop These Products Now: Kitchen Appliances – Burner
6. Get energy efficient with your appliances
We're all trying to lessen our carbon footprint, and your outdated kitchen appliances are a great place to start. If an appliance upgrade is in your future, be sure to make it energy efficient! You'll get a modern look while saving water and energy — good for the earth and your bills.Consider replacing plumbing fixtures as well, as low-flow kitchen faucets save a lot of water. Updating your kitchen shouldn't only be for aesthetics; it should also help save you money and the Earth's resources.

Shop These Products Now: Cabinet Storage – Golden Faucet
7. Paint your existing cabinetry
New cabinets not in the cards for you? Painting and staining your kitchen's existing cabinetry is a great option for homeowners on a budget. You could choose a vibrant and bold blue, or a dark, modern black finish to cover up outdated wood and dingy colored cabinets of yesteryear. From distressing doors to paint glazes and stains, you will be surprised how your elbow grease and some additional color will transform your old cabinetry into new.

Shop These Products Now: Hanging Lamp – Cabinet Lights
8.  Install new lighting options
Once you have modernized the major components of your kitchen, don't forget the lighting! While kitchen lighting can sometimes be an afterthought, it is essential for safety, ambiance, and versatility of your kitchen. If your kitchen solely contains one overhead ambient lighting fixture, look into recessed lighting for a modern illumination source.Consider installing a dimmer switch for versatility while entertaining, cooking, or just relaxing for a midnight snack! Pendant lighting over a kitchen island, under cabinet lighting to illuminate countertops, and chandeliers are all becoming great options for updated lighting sources.

Shop These Products Now: Flower Pots – Wall Basket – Range Hood
9. Add decorative elements
While you may not think about it, your kitchen is a great place to add decorative elements that bring a sense of you and your lifestyle into your kitchen. For many homeowners, plant shelves on top of cabinets allow room for plants, artwork, and other decorative items.Built-in display shelves below your kitchen island can showcase your prized kitchenware, your favorite cookbooks, or display an heirloom set of china passed down through generations. Add a vase of flowers, and a fresh bowl of lemons for a shot of color.

Shop These Products Now: Kitchen Cart – Counter Stool
10. Take down walls
The compartmentalized and boxed-in feeling of outdated kitchens built generations ago is very common. If you're looking to open up your kitchen and share the view with an adjacent dining room or living room – consider knocking down some partitions! This method works well for non load-bearing walls that don't carry any structural value. Your kitchen can grow in size or it can just get opened up to other areas of your home.While your kitchen could look fabulous as-is, what would it look like without that bothersome wall? If you're unsure if this is possible – consult a structural engineer or architect to see what possibilities there are for your kitchen.From updating finishes and materials to bringing in color, illumination, and space – the options abound for your outdated kitchen. While you may not use all 10 of these ideas, see which ones are perfect for your lifestyle, budget, and family. We can't wait to see what you'll do with your space!Any tips or tricks wessed? Reach out to us in the comments below, or on our social media pages!