30 Hacks Every Mover Needs to Know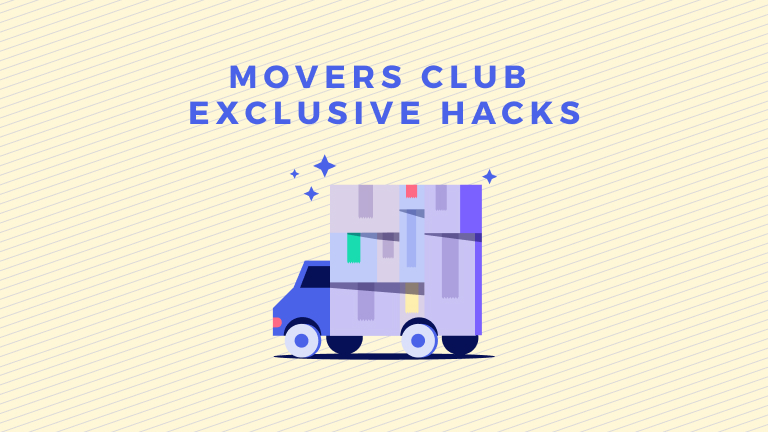 Let's be honest – hacks are fun. Even if you don't make use of every life hack you see, just the knowledge alone can feel rewarding enough. Especially so, if they save you time, space, and money. No matter where you are in your moving journey, we've got at least a few hacks to make life easier. So without further ado – here are 30 hacks every mover needs to know.
Jump to:
Moving hacks
Planning out your move? Use these tips to help save you from future frustrations.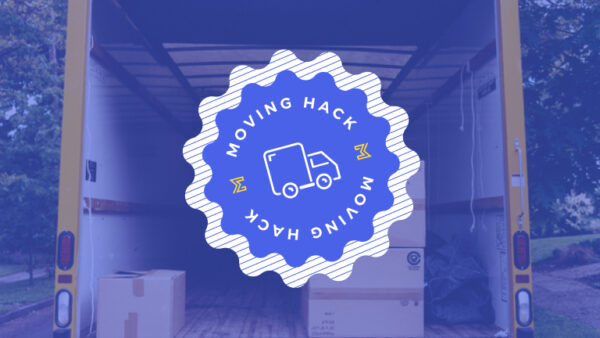 1. Take pictures of everything in your home before you start packing
Let the camera do what it does best – holding memories. Take pictures of all the rooms in your house before you move to easily replicate furniture and decor placement in your new home.
2. Save money on movers – book a mid-week move
Movers don't need to cost a small fortune. Save money by booking your movers mid-week. Now you have a little extra money for your new home shopping spree!
3. Get the internet taken care of a week before your move
You'll want to settle down with some Netflix after a long moving day. Get the internet taken care of a week before you move so that you have access on night one.
4. Get free moving boxes
Buying your own moving boxes is overrated. You can often score used boxes in good condition at storage facilities, liquor stores, and truck rental locations.
5. Donate your unwanted items and schedule free pickup
Don't be so quick to label your unwanted furniture items as junk. Many nonprofits offer free donation pickup for larger items.
6. If you can't move it – ship it
It doesn't all have to fit in the moving truck.If there's not going to be enough room in the moving truck, have some items shipped to your new home.
7. Send your friends and family a moving card
You can't keep it a secret forever. Send out a moving announcement card to let your friends and family know that you've moved (and so has their guest room).
8. Use bar soap to touch up any nail holes
Ah yes, the cursed nail holes that we all leave behind. You can easily fill any pesky little nail holes with bar soap if you're not handy with spackle.
Packing hacks
No more randomly throwing things in boxes! Use these tips to make your packing process easier.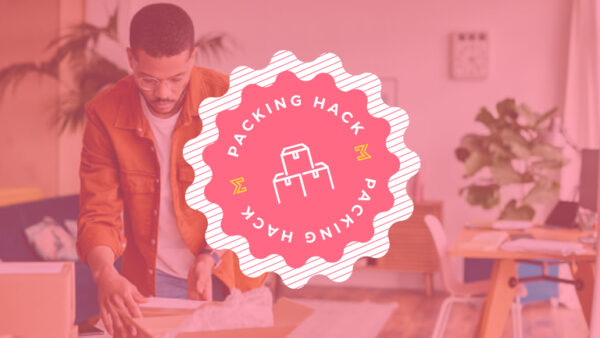 9. Don't empty your drawers
Save yourself a few moving boxes (and time unpacking them) by leaving your clothes in your dresser drawers. Just wrap your dresser in a layer or two of plastic wrap to keep the drawers from popping open.
10. Pack a night-one essentials box
Night-one may feel like you're 'roughing it' in your new home. Eliminate this feeling by packing a night-one box with all your essentials, so they're all in one easy-to-access place (and yes that includes the toilet paper).
11. Have a color code system for your boxes
Your days of unloading boxes and asking yourself "wait, what's in this box again?" are over. Use stickers or colored tape to color code boxes by room.
12. Fill gaps in moving boxes with your soft linens
Need a substitute for packing peanuts? Set aside pillows, comforters, sheets, and towels to fill in gaps inside your moving boxes. Now you don't need to figure out how you're going to get rid of styrofoam and boxes.
13. Leave your clothes on their hangers
You can save so much time and space by not packing clothes in boxes. Put your clothes on hangers and slip a trash bag over them to save space and keep them from getting dirty.
14. Pack your dishes vertically
Just the thought of moving the dishes is enough to make any mover cringe. Thankfully, it doesn't have to be that hard. Pack and layer your dishes vertically and use shirts, socks, and towels as free packing supplies.
15. Keep cords rolled and separated to avoid a giant cable mess
Tired of opening your moving boxes to a rat's nest of cables? Stuff cords in empty paper towel rolls or rubber band them, so they don't get tangled. Labeling which cord goes to what device helps to avoid the "what does this cord do?" question later on.
16. Cut out handles in your moving boxes
Handles make life so much easier. Do yourself a favor and cut out handles in your heavy boxes, so they're easier to carry.
17. Fold tape corners on your boxes
You're going to be opening a lot of boxes. Make opening them easier by folding a corner of the tape back on all your boxes. You'll thank yourself later.
18. Push all your packed boxes by the front door
Moving boxes scattered about can be a huge tripping hazard. Pushing packed boxes to the front door means they are ready to get out of your house and into the moving truck.
19. Make an unpacking schedule
What goes in the box must eventually come out at some point. Organize your boxes and set up a room-by-room unpacking schedule, so you don't stress.
Home hacks
You've gone this long without knowing some of these essential home hacks. That ends today!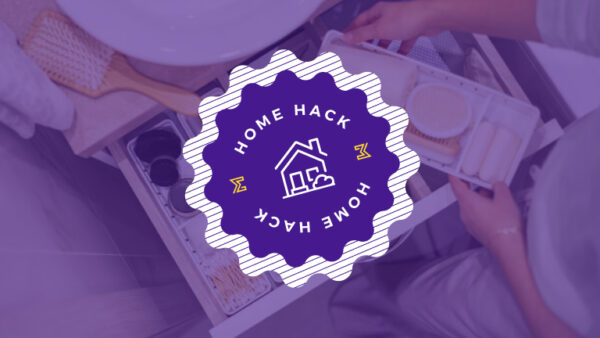 20. Use a silverware tray to organize your bathroom
It's easy to let the bathroom countertops get cluttered. Organize your bathroom essentials with a silverware tray and slide it into a drawer. It can also work as a small jewelry organizer.
21. Put coffee grounds in your garden
Pests never fail to find some way to irritate you (and your plants). Add coffee grounds to your garden to keep bugs and insects away. You may love coffee, but pests sure don't, which is the best part.
22. Use a lint roller to clean screens
Lint rollers always help us out in a pinch. If your window or porch screens aren't too dirty, you can use a lint roller for a quick glow-up. Just be careful not to push too hard.
23. Hide the trail of cords with a PVC pipe
No one likes looking at a mess of cords (or tripping over them). Keep your home office and living room spaces organized by using PVC pipe to hide cords. Out of sight, out of mind.
24. Rent a pressure washer for an outdoor deep clean
No need to scrub anything to give the outside of your home a deep clean. Rent a pressure washer to give your driveway, siding, and walkways a 'like-new' look.
25. Use a hairdryer to get crayon marks off the walls
To a kid, a wall may look more like a giant blank canvas. Unwanted crayon marks on the wall are not the end of the world. Melt the crayon off the wall with a hair dryer and then just wipe it away.
26. Save cabinet space by using your old file or magazine holders
Do people even have file/magazine holders anymore? If you do, you can make use of your old file/magazine holders to store your canned food in your cabinets. If you organize them just right, it can even become a mini can vending machine.
27. Use oven cleaner to strip off brass finish
Scrub away any brass plating on your metals using oven cleaner. A little oven cleaner and elbow grease can go a long way in modernizing your home.
28. Use wall-mounted racks and save space in the kitchen
More things on the walls mean more space in the cabinets. Use wall-mounted racks in your kitchen to hang coffee mugs and kitchen tools to save space in drawers and cupboards.
29. Let bats move into your yard
We all despise mosquitos…but bats don't. Build a bat house to help keep your yard bug-free. Take care of your local bats, and they'll take care of your yard.
30. Organize shower supplies with a shoe organizer
Shoe organizers can organize so much more than just shoes. Hang an over-the-door shoe organizer on your shower curtain rod to store and organize your shower stuff. Just don't let it get too heavy.