Straight Talk deals and coupons
Eliminate your moving anxiety with these Straight Talk deals. We update our discounts on a daily basis to help you save, although retailers may make changes or exclusions.
How to redeem your Straight Talk discount
Choose the deal you wish to redeem, then click "Continue to store" to navigate to the Straight Talk website.
Select your item, indicate whether you'll be paying the full price or via instalments, and add the item to your shopping cart.
Add your ZIP code, choose your payment and protection plan, view your order summary, and proceed to the checkout.
Type in your shipping information and delivery preference.
Type in your payment information.
Fill in your Straight Talk discount code.
Review your order and submit.
Straight Talk customer support
You can call Straight Talk on 1(877)430-2355 or via 1(855)222-2355 if you're a SIM customer. Their customer service operating hours are from Monday through Sunday between 8 a.m. and 11:45 p.m. EST.
You can also reach out to them via their home telephone line on 1(800)299-7784, or via their mobile hotspot on 1(877)430-2355 .
Straight Talk delivery options
The retailer provides free shipping on orders with Straight Talk discount code ST. Deliveries take place:
Within 1 to 3 business days once payment has been received.
Between Mondays to Fridays, but not on holidays.
Via USPS, FedEx, and UPS.
Note that you should always select a shipping address where there is someone available to sign for your order.
Straight Talk return policy
The return policy for Straight Talk coupons is as follows:
You are allowed to return a phone within 30 days after delivery.
Phones can be exchanged if you don't want a refund.
When you return a product, you're liable to pay the shipping costs.
Your phone's IMEI will need to be confirmed.
Only phones bought from the official website are eligible for return.
If you bought your phone from one of Straight Talk's third-party partners, follow that retailer's return policy.
Your phone has to be returned in its original packaging.
All accessories must be shipped with the phone.
The phone must be working and not damaged.
Always include a copy of your proof of purchase with your return.
Straight Talk trade-in policy
This vendor has a trade-in program that allows you to swap your old phone for cash. Don't know what your phone is worth? No worries, as you can appraise your old device via the Straight Talk website. Once you've done this, simply ship your phone to them, and they will pay you cash.
Straight talk price matching
There is no price matching for Straight Talk deals.
How it works
We have discounts and coupon codes from top brands across a number of categories. If you're searching for a Wayfair coupon, look under "furniture" or "home improvement and decor." To get your hands on an Amazon coupon, look under "top retailers."
Find deals for whatever you need and explore offers from popular retailers like Home Depot, Kohl's, Walmart, Dollar General, and Nordstrom. And get insider information on sales, free shipping, BOGO deals, and more!
How do I get a coupon code?
Once you find the offer you want, simply click "get deal" on the bottom right corner. The offer will be a promo code that you can manually copy, or that automatically saves to your pasteboard. Simply apply your deal at checkout!
Do coupons and promo codes expire?
We show you the latest offers from your favorite brands. But once you access your offer, don't dally! Some deals don't last forever, so check the top right corner of the offer and make a note of the expiration date.
But if your deal does expire, have no fear! Our system updates coupons daily, so you can find the latest discounts on the things you want and need.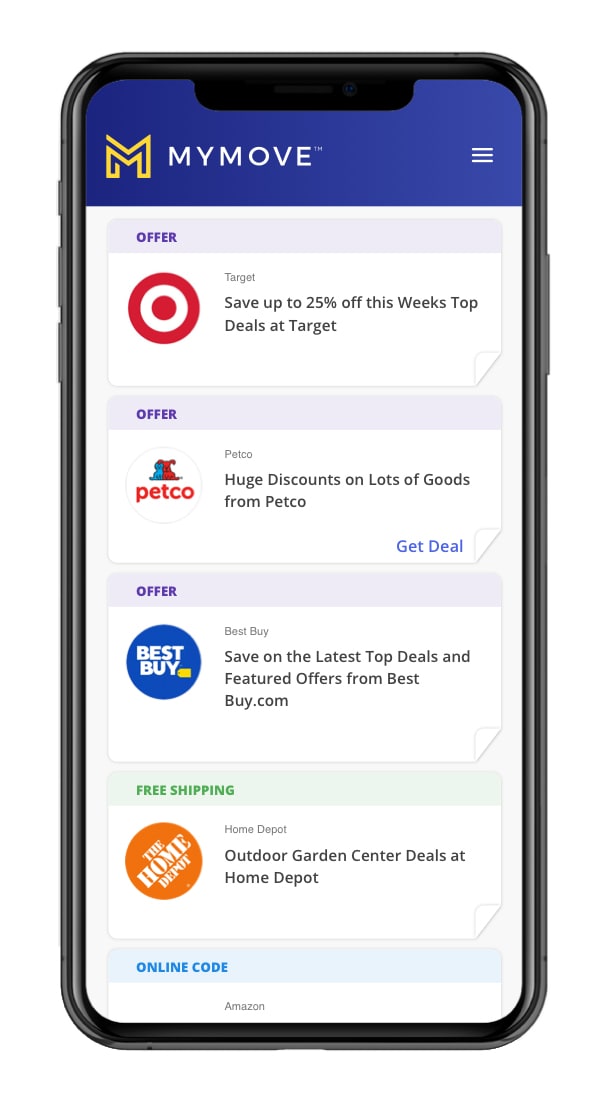 Learn money-saving tips and tricks