Merrell coupons and promo codes
Our goal is to take the worry out of moving and help you save money by offering deals and discounts like these Merrell coupon codes. Merrell deals are updated daily, but promo codes are subject to change by the retailer and exclusions may apply.
How to redeem your Merrell coupon
Choose the deal you wish to redeem, then "Continue to store" to navigate to the Merrell website.
Once you've added all of your products to the cart, click the shopping cart in the top right corner to begin checkout.
Below the items in your cart, click the "Apply Promo Code" dropdown, enter your Merrell promo codes and hit "Apply."
Click "Checkout" in the top right corner, confirm shipping information, shipping options, billing information and Merrell promo codes.
Review your order and submit. dropdown
Merrell customer support
You can contact Merrell Customer Service by phone with questions about your Merrell deals Monday through Friday, 8 a.m. to 9 p.m. EST, and on the weekends from 9 a.m. to 6 p.m. EST at 1(800)288-3124. Merrell Customer Service can also be reached via chat Monday through Friday, 9 a.m. to 9 p.m. EST, and on the weekends from 9 a.m. to 5 p.m. EST.
Merrell delivery option
Merrell offers free standard shipping on orders of $49 or more and free express shipping on orders of $120 or more. All orders within the continental United States (excludes Hawaii and Alaska) are shipped using FedEX. Shipping and tracking information will be made available via email once your order is placed.
There are three types of deliveries offered within the continental US:
Standard: Free shipping on orders over $49, $5 shipping on orders less than $49; estimated delivery in 2 to 6 business days
Express: Free shipping on orders over $120, $15 shipping on orders less than $120; estimated delivery in 2 to 3 business days
Rush: $30 shipping cost; estimated delivery in 1 to 3 business days
Express shipping is available to Hawaii and Alaska for $15 on orders over $75 and $20 on orders under $75. Second day air shipping is available to United States Military Post Offices with an estimated delivery of 10 to 20 business days.
Merrell return policy
Merrell customers can return all unworn merchandise within 30 days from the date of purchase. Simply place items back in their original packaging and return via mail. A return shipping fee of $5 will be deducted from your refund.
Merrell trade-in policy
Exchanges remain free of charge at Merrell.
Merrell price matching
Merrell does not offer price matching services.
How it works
We have discounts and coupon codes from top brands across a number of categories. If you're searching for a Wayfair coupon, look under "furniture" or "home improvement and decor." To get your hands on an Amazon coupon, look under "top retailers."
Find deals for whatever you need and explore offers from popular retailers like Home Depot, Kohl's, Walmart, Dollar General, and Nordstrom. And get insider information on sales, free shipping, BOGO deals, and more!
How do I get a coupon code?
Once you find the offer you want, simply click "get deal" on the bottom right corner. The offer will be a promo code that you can manually copy, or that automatically saves to your pasteboard. Simply apply your deal at checkout!
Do coupons and promo codes expire?
We show you the latest offers from your favorite brands. But once you access your offer, don't dally! Some deals don't last forever, so check the top right corner of the offer and make a note of the expiration date.
But if your deal does expire, have no fear! Our system updates coupons daily, so you can find the latest discounts on the things you want and need.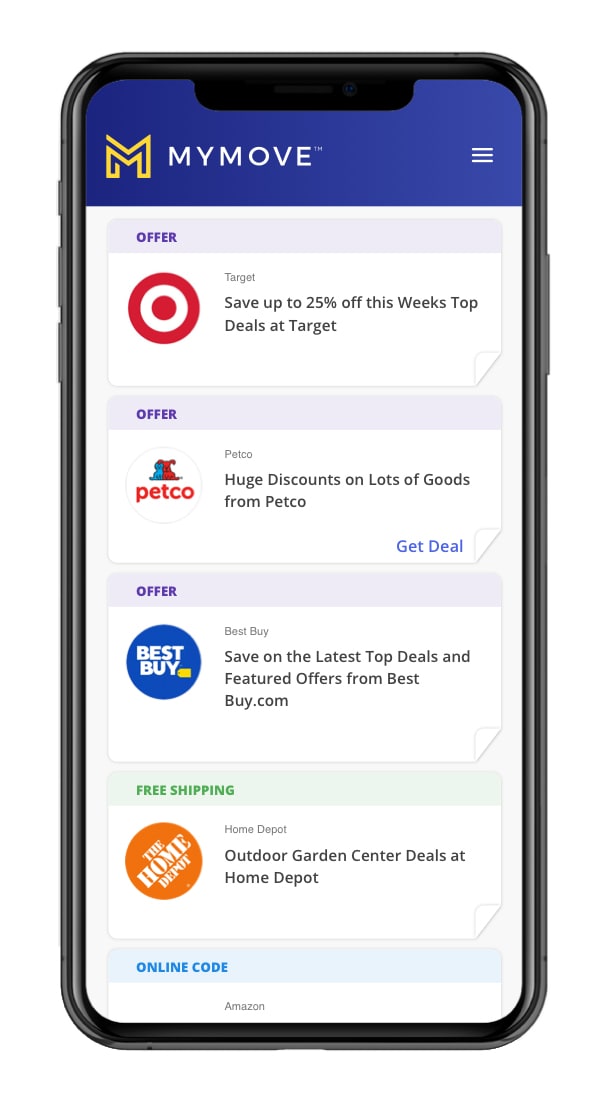 Learn money-saving tips and tricks